Strahm makes big statement in rotation bid
Myers stays hot with homer; Padres' bullpen struggles vs. Brewers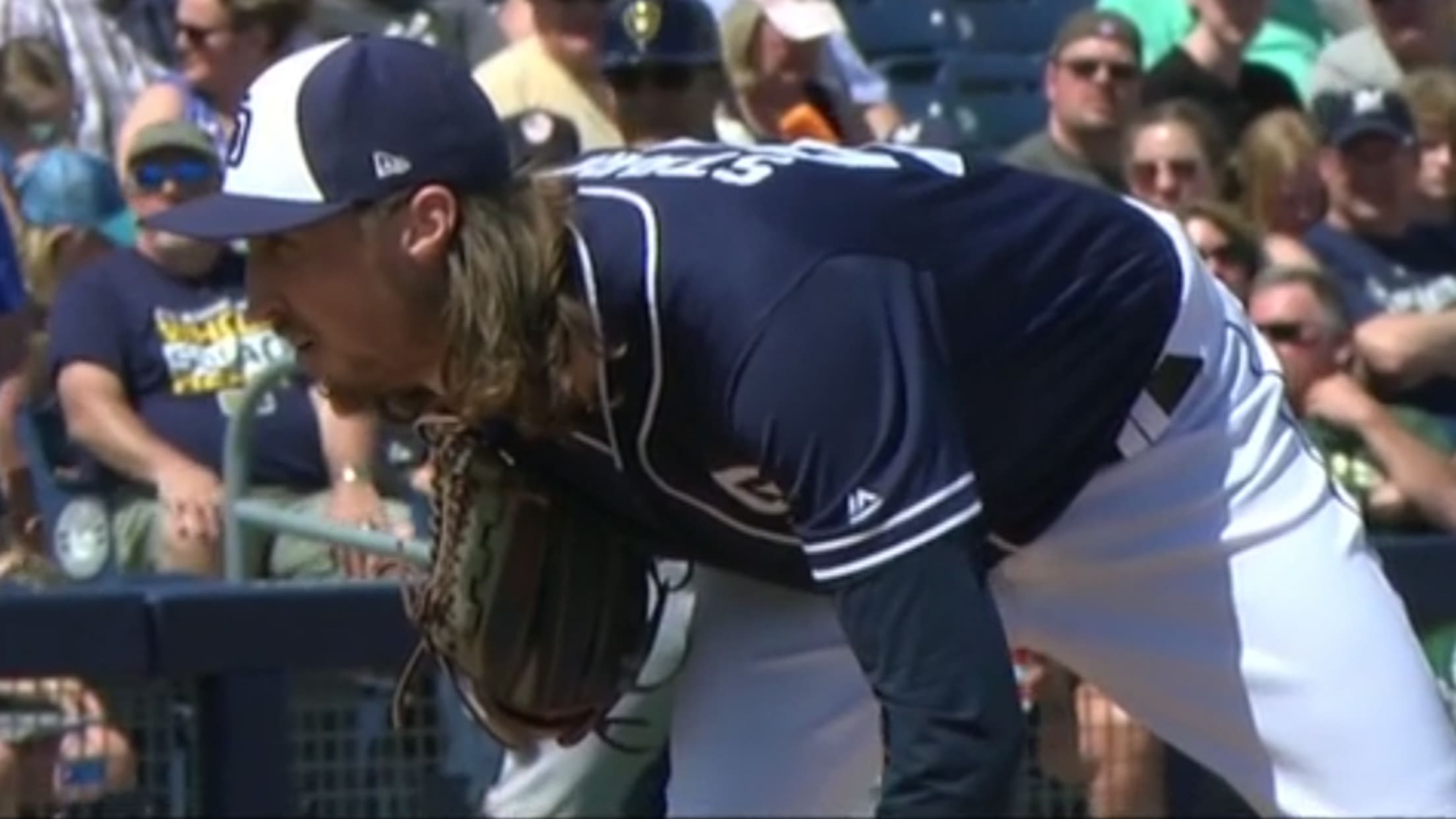 PEORIA, Ariz. -- Pencil Matt Strahm into the Padres' Opening Day rotation. Heck, it might be safe to use pen. The 27-year-old left-hander further solidified his case for one of three available starting jobs during San Diego's 10-7 loss to Milwaukee on Wednesday at the Peoria Sports Complex. Strahm needed
PEORIA, Ariz. -- Pencil Matt Strahm into the Padres' Opening Day rotation. Heck, it might be safe to use pen.
The 27-year-old left-hander further solidified his case for one of three available starting jobs during San Diego's 10-7 loss to Milwaukee on Wednesday at the Peoria Sports Complex. Strahm needed 65 pitches to work five scoreless frames. He wasn't at his sharpest, but he allowed just two hits and a walk while striking out four.
Strahm has been arguably the Padres' most dominant pitcher this spring. In five outings, he's scuffled only once, and he owns a 2.65 ERA with 19 strikeouts in 17 innings.
Most importantly, Strahm has shown no ill effects of his transition to the rotation after he spent nearly all of 2018 in the bullpen. His start Wednesday marked the first time Strahm has pitched five innings since June 2017 with Kansas City. That was before season-ending knee surgery the following month and a trade to San Diego shortly thereafter.
"It's good to get it under my belt and know that, hey, my legs feel fresh after five," Strahm said.
So fresh, in fact, that Strahm waited half an inning, then retreated to the right-field bullpen and threw about a dozen more pitches.
He seems to have left little doubt that he can handle the workload of a starting pitcher. After a grueling offseason in which he bulked up by about 20 pounds, the work is paying dividends.
"I feel like I've always been able to do it," Strahm said of starting. "It's just the fact now I'm getting the opportunity to do it."
Mesmerizing @MattStrahm 👀

5 IP, 2 H, 0 R, 1 BB, 4 K #PadresST pic.twitter.com/Dljk3zB7JX

— San Diego Padres (@Padres) March 20, 2019
The Padres will almost certainly treat Strahm differently than their other starting pitchers this year. Chances are, they'll monitor him closely in-game. He won't be working deep into games, at least during the first month or two of the season.
But when the Padres acquired Strahm from the Royals at the 2017 Trade Deadline, they envisioned he'd be a starter. Coming off surgery last season, Strahm wasn't physically ready for that role. But he still showed off a four-pitch mix in which he used all three offspeed pitches relatively evenly. In 41 appearances (five starts) last season, Strahm posted a 2.05 ERA.
"We, overall, felt great about his mix and thought it would translate to the rotation," Padres manager Andy Green said. "The question was just durability, coming from where he's come."
Thus far, Strahm has answered that question emphatically.
Machado reacts to Trout deal
Less than a month ago, Manny Machado put pen to paper on one of the biggest contracts in professional sports history, a 10-year deal with the Padres worth $300 million.
Since then, that number's been eclipsed twice – first by Bryce Harper who received a 13-year deal worth $330 million, and most recently by Mike Trout, whose 10-year, $360 million extension is nearly final.
Count Machado among those who feel Trout earned his record-setting payday.
"It's awesome, just awesome," Machado said. "He's the best player in the game. Him going out there and getting that contract was very well deserved."
Worth noting
• Wil Myers homered on Wednesday for the second time in two games, swatting a hanging breaking ball from Jacob Barnes onto the left-field berm. It's been a rough spring for Myers, who is hitting just .216, but he appears to have broken out of that funk.
• Eric Hosmer went 1-for-2 with a double and a walk, bringing his spring OPS up to .870.
• The Padres' bullpen was roughed up, with Gerardo Reyes, Craig Stammen and Sammy Solís all surrendering multiple runs. Stammen is a lock for the Padres 'pen, but Solis and Reyes are fighting for jobs at the back end and did themselves no favors on Wednesday.
Up next
The Padres are off Thursday before sending left-hander Eric Lauer to the hill on Friday night against the Rockies at Salt River Fields. Lauer is practically a rotation lock, and he's still in the mix to start Opening Day. First pitch is slated for 6:40 p.m. PT. The game can be seen live on MLB.TV.