Padres' roster unsettled late in spring camp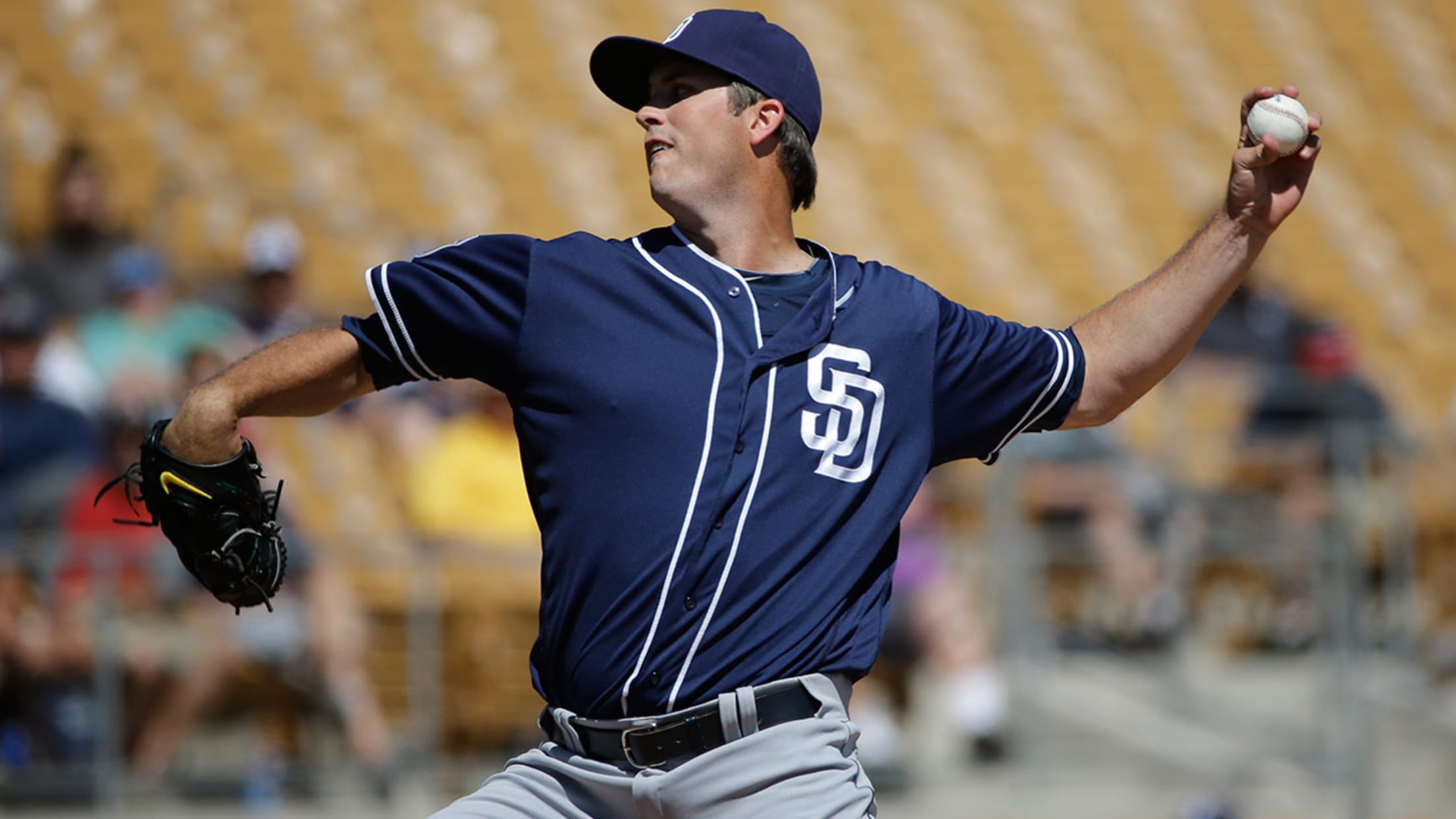 Whether left-hander Drew Pomeranz will be part of the starting rotation or come out of the bullpen is yet to be determined. (AP)
PEORIA, Ariz. -- Entering the final week of Spring Training, the Padres have plenty of decisions to make in order to trim their roster to 25 for Opening Day.Not one aspect of that roster -- the rotation, the bullpen or the bench -- is completely settled.Rule 5 pick Smith returns
PEORIA, Ariz. -- Entering the final week of Spring Training, the Padres have plenty of decisions to make in order to trim their roster to 25 for Opening Day.
Not one aspect of that roster -- the rotation, the bullpen or the bench -- is completely settled.
Rule 5 pick Smith returns to White Sox after clearing waivers
There's always the chance that the Padres look for help externally during the final week. But given the club's current makeup, here's a breakdown of how the roster races might shake out.
Rotation
Locks: Andrew Cashner, Tyson Ross, James Shields
Candidates: Robbie Erlin, Brandon Morrow, Drew Pomeranz, Colin Rea
With Brandon Maurer back to the 'pen, it's essentially a three-horse race for two spots -- that is, until Morrow is fully recovered from his offseason shoulder surgery.
Pomeranz is the most experienced option of the three, but he's also been very successful out the 'pen (2.14 ERA, .194 batting average against in his career as a reliever).
As for Morrow, it's extremely unlikely he'll be fully recovered by April 13 -- the first day the Padres would need a No. 4 starter. But when he's healthy, he can be a serious asset for the rotation, as the Padres learned early last season.
Bullpen
Locks: Maurer, Fernando Rodney, Carlos Villanueva
Candidates: Jose Dominguez, Jon Edwards, Phil Humber, Josh Martin, Luis Perdomo, Pomeranz, Kevin Quackenbush, Matt Thornton, Nick Vincent
The battle for the available bullpen spots will most likely come down to the final day, according to manager Andy Green.
"It's possible that ... we're literally sitting in San Diego after the exhibition games making determinations," Green said of his bullpen. "It doesn't have to be that way if we come to a conclusion sooner. I don't think we'll put it off just for the sake of suspense. We'll let these guys know where they're going to go as soon as we have a solid idea. But there's a lot of guys doing really well."
If Pomeranz isn't in the rotation, he's got a spot in the 'pen locked up. Green also said earlier in camp that Quackenbush and Vincent are favorites to win a job. (Vincent is out of options, Quackenbush is not.)
That would seem to leave 1-2 spots available for a host of pitchers. Thornton, a non-roster invitee, has struggled in his last two outings, but he could be the lefty presence the Padres need and has posted a 1.98 ERA since 2014.
Perdomo -- a Rule 5 Draft pick -- is an intriguing option, given his ceiling. (He's only 22 and the club's No. 12 prospect, according to MLBPipeline.com.) But he's never pitched above Class A and has looked overmatched against big league hitters this spring.
Bench
Locks: Christian Bethancourt, Brett Wallace
Candidates: Alexi Amarista, Jabari Blash, Travis Jankowski, Jose Pirela, Adam Rosales, Jemile Weeks
With Green's announcement that the club will only carry two catchers, Austin Hedges seems ticketed for Triple-A. That leaves six players for three bench spots, assuming Wallace (sore right foot) is healthy by Opening Day.
Amarista, Rosales and Weeks are in the mix for the super-utility role, and Weeks has put forth a very impressive spring -- having played five positions with an average hovering around .400.
Weeks and Rosales are non-roster invites and Amarista still has an option remaining. Among that trio, the Padres will take either one or two, but probably not all three.
Blash is another Rule 5 pick, and his power is plentiful, but so are his strikeout totals. Still, his Rule 5 status gives him a leg up. Pirela has mashed this spring and is turning heads with his exit velocity. And Jankowski represents the best defensive option as a potential outfield backup.