Jankowski going into Stony Brook Hall of Fame
Notes on time, Chacin, Spangenberg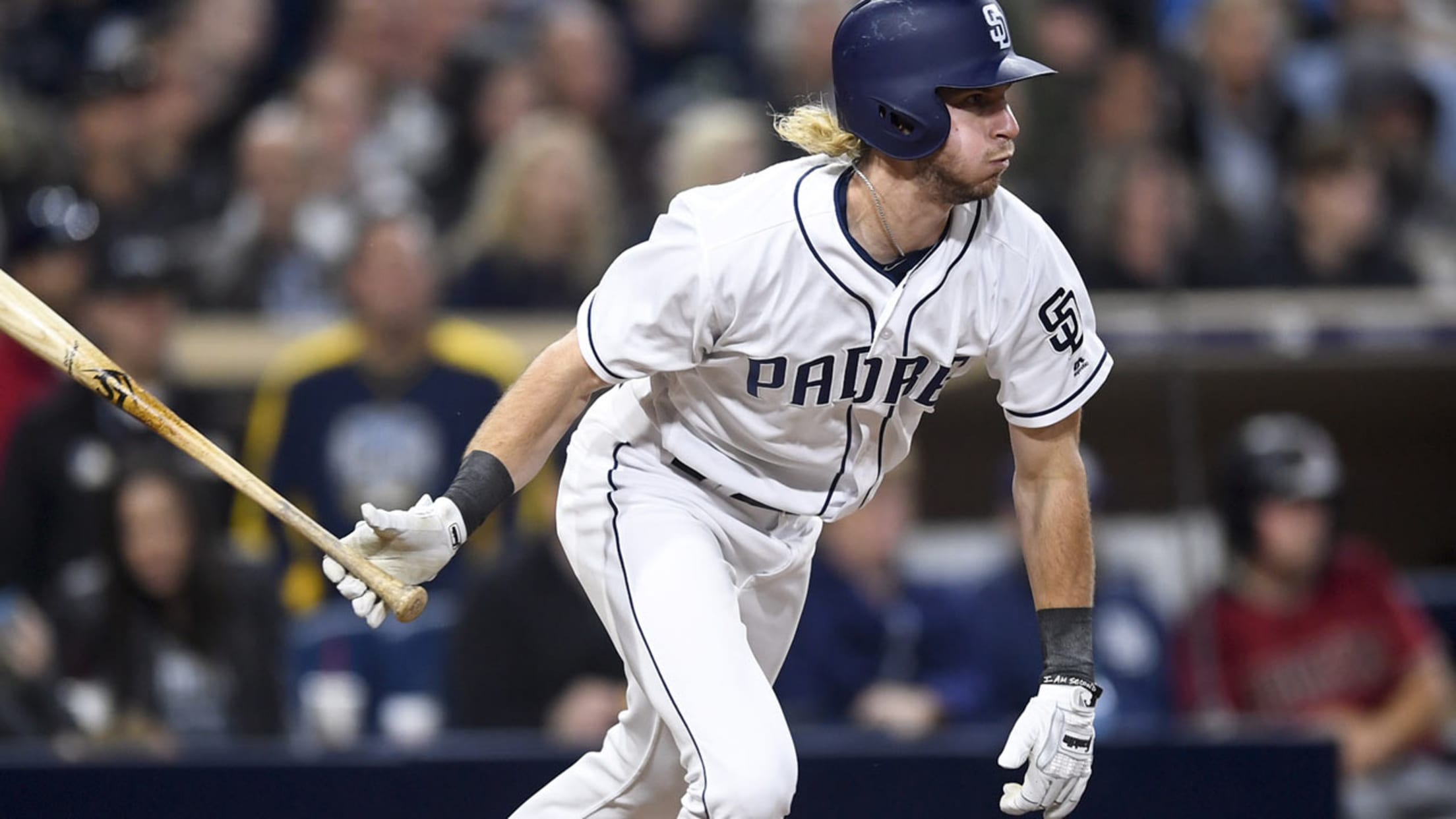 Outfielder Travis Jankowski is being inducted into the Hall of Fame at Stony Brook University, his alma mater. (Padres)
Bill Center, longtime sportswriter for U-T San Diego, is an employee of the Padres.Travis Jankowski is going into a Hall of Fame.Stony Brook University in New York announced on Friday that the Padres' outfielder is being inducted into its Hall of Fame.In 2012, Jankowski was the centerpiece of one of
Bill Center, longtime sportswriter for U-T San Diego, is an employee of the Padres.
Travis Jankowski is going into a Hall of Fame.
Stony Brook University in New York announced on Friday that the Padres' outfielder is being inducted into its Hall of Fame.
In 2012, Jankowski was the centerpiece of one of the best stories in college baseball. Behind Jankowski, Stony Brook reached the College World Series after winning two regionals. The Seawolves hadn't been there before ... or since.
Jankowski was named the America East Conference Player of the Year in 2012 and set seven, single-season Stony Brook records -- batting average (.414), hits (110), triples (11), runs scored (79), stolen bases (36), at-bats (266) and games played (66).
That June, Jankowski was the 44th player taken in the Draft, as the Padres' supplemental-round pick after the first round.
Jankowski is currently on the Padres' 10-day disabled list with a right foot injury. He has been out since April 23 and has yet to resume baseball activities. He is not expected to return until the end of the month at the earliest.
Game notes
• Right-hander Jhoulys Chacin turned in his third straight solid start at Petco Park, although his run of scoreless innings ended. In three starts at Petco Park this season, Chacin has allowed one run on 10 hits and five walks with 13 strikeouts in 20 innings. That is good for a 0.45 earned run average and a 0.75 WHIP. Chacin is 2-0 at Petco, limiting hitters to a .147 average (10-for-68).
• Friday night's game was the longest nine-inning game in Padres history, home or away. It took the Padres four hours and 11 minutes to complete their 8-2 loss to the Dodgers at Petco Park. The second-longest nine-inning game in Padres history was four hours and 10 minutes on July 27, 1996, at Florida. The old mark for longest home game was four hours and 4 minutes against the Pirates on June 2, 2014.
• Cory Spangenberg is 6-for-16 (.375) with a double, two walks, an RBI and three runs scored during a five-game hitting streak.
• Righty Miguel Diaz gave up four runs in an inning of work on Friday night. He has allowed at least one run in eight of his nine appearances -- giving up a total of 12 runs on 15 hits (including four homers) and four walks with seven strikeouts over a total of nine innings in his nine appearances. The Rule 5 Draft pick opened the season with 4 1/3 perfect innings. His ERA is now 8.10.