Paddack, sharp in final start, cracks rotation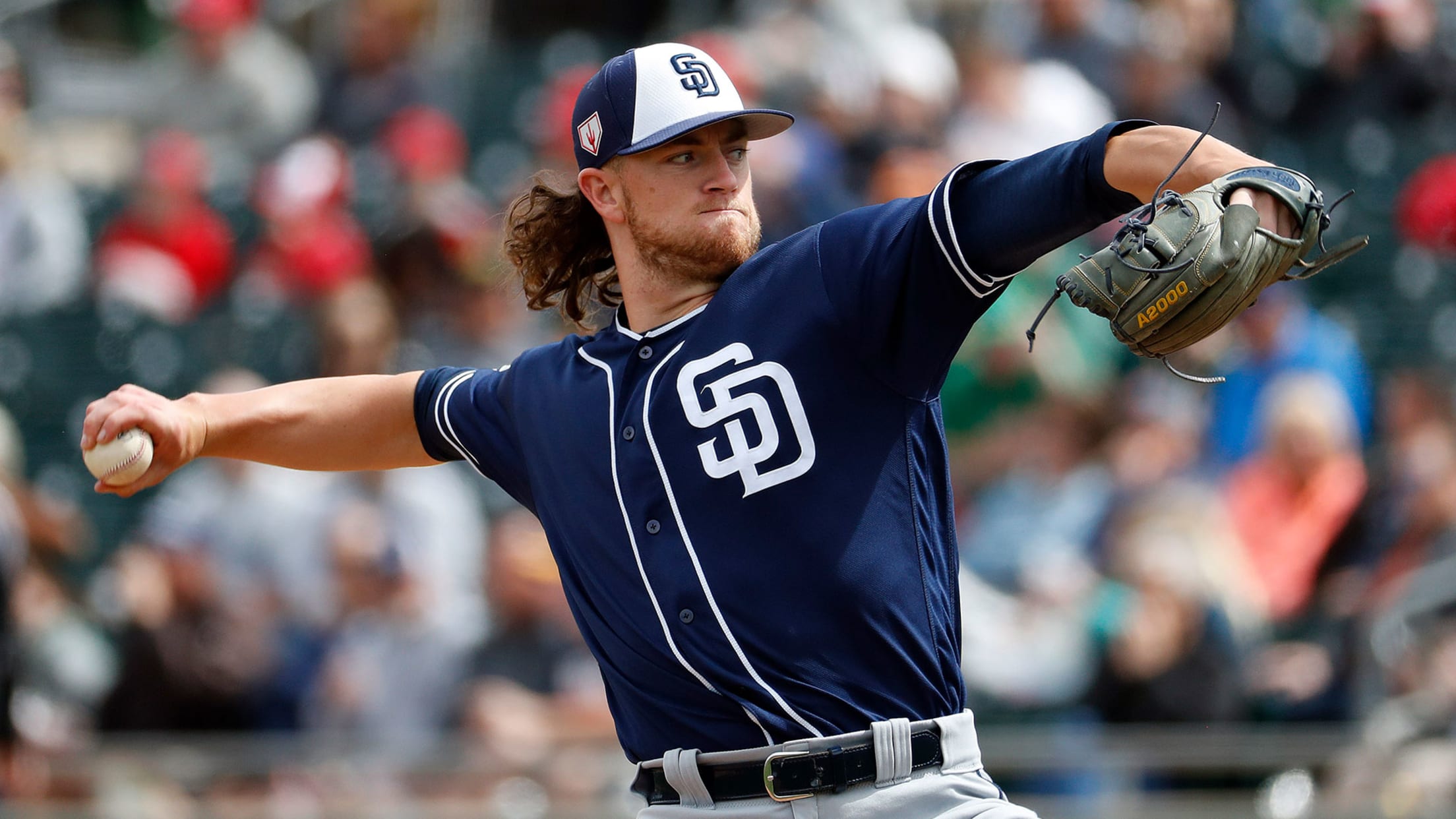 SEATTLE -- As Chris Paddack reached his 49th pitch of what was scheduled to be a 75-pitch outing Monday against the Mariners, he became somewhat bewildered as Padres manager Andy Green emerged from the dugout. Green gathered the Padres infield around Paddack. Instead of dissecting batter Mitch Haniger, the skipper
Tatis Jr. makes his case for opening in Majors
'I feel like I'm ready,' says baseball's No. 2 overall prospect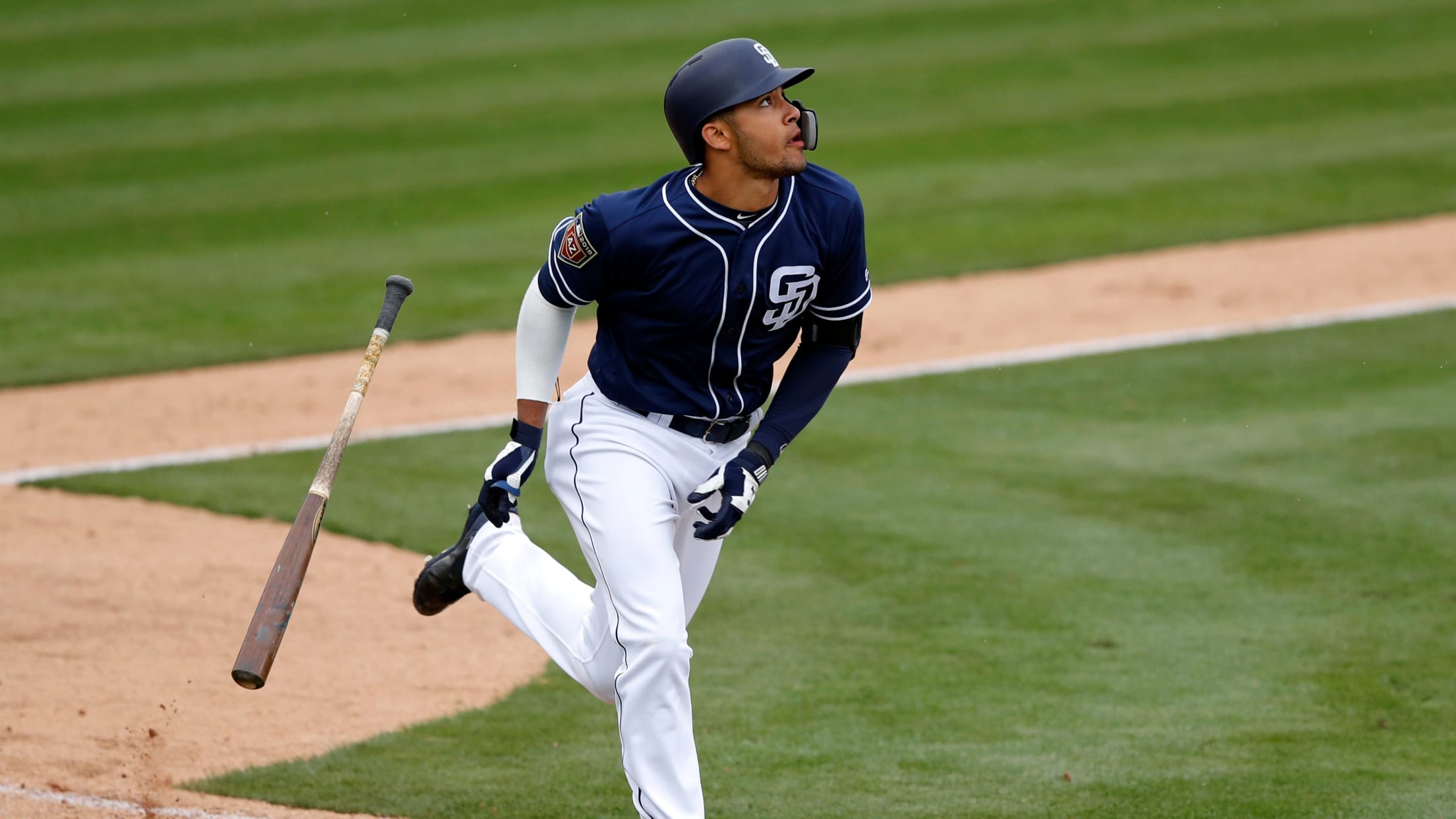 SEATTLE -- With just three days until the regular season, the Padres intend to push their roster decision on star prospect Fernando Tatis Jr. to the last possible moment. And though it seems inevitable that the standout shortstop won't open the regular season with the big league club -- service-time
Tatis' speed, savvy on display in exciting play
Padres' top prospect has impressed this spring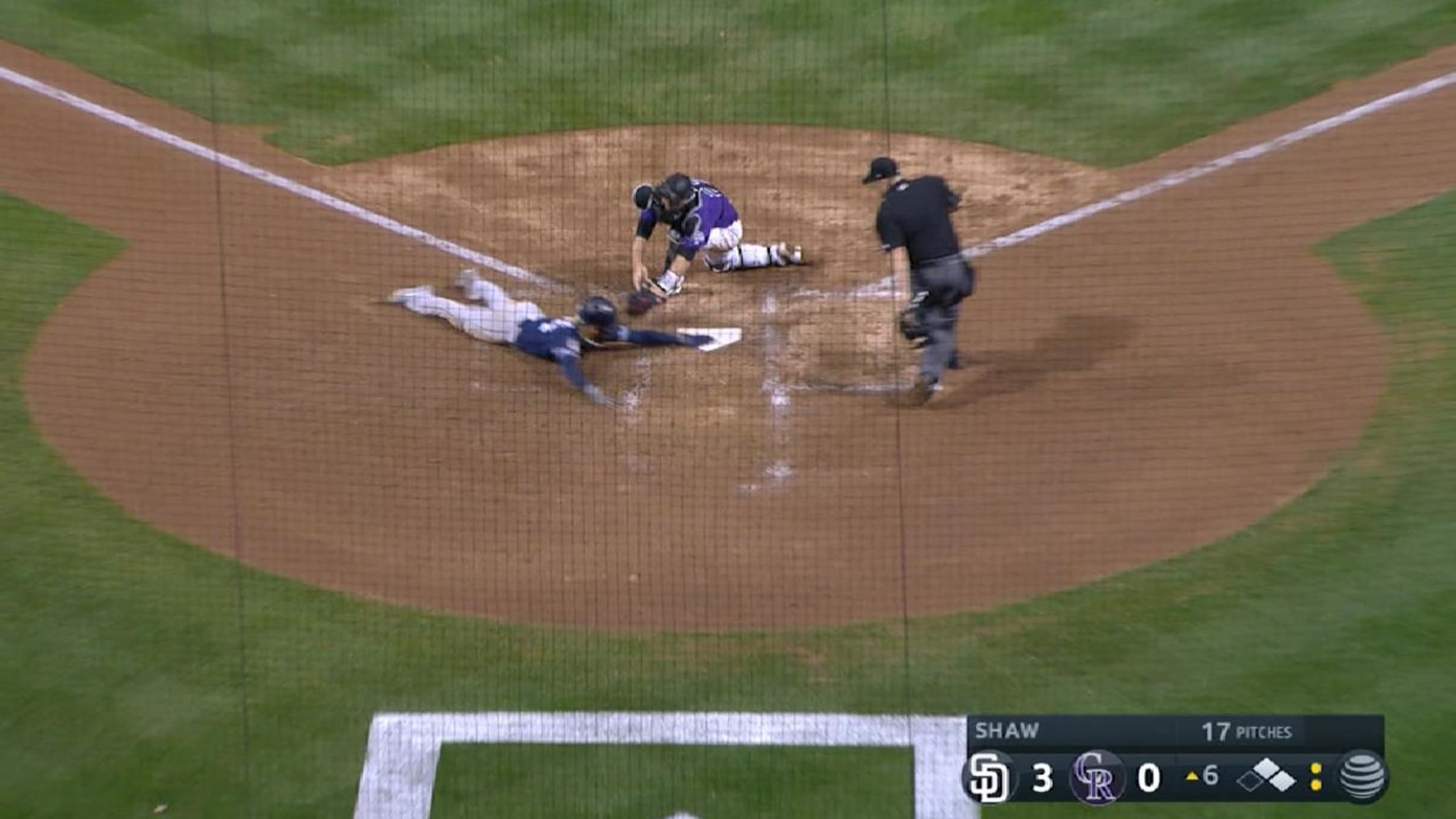 PEORIA, Ariz. -- It won't be long before Padres top prospect Fernando Tatis Jr. gets to put his five-tool talents on display in the big leagues. With one play in a 6-5 loss to the Rockies Friday night, Tatis offered a glimpse of what's to come. The 20-year-old shortstop reached
Gore, Patino talk pitch arsenals, friendship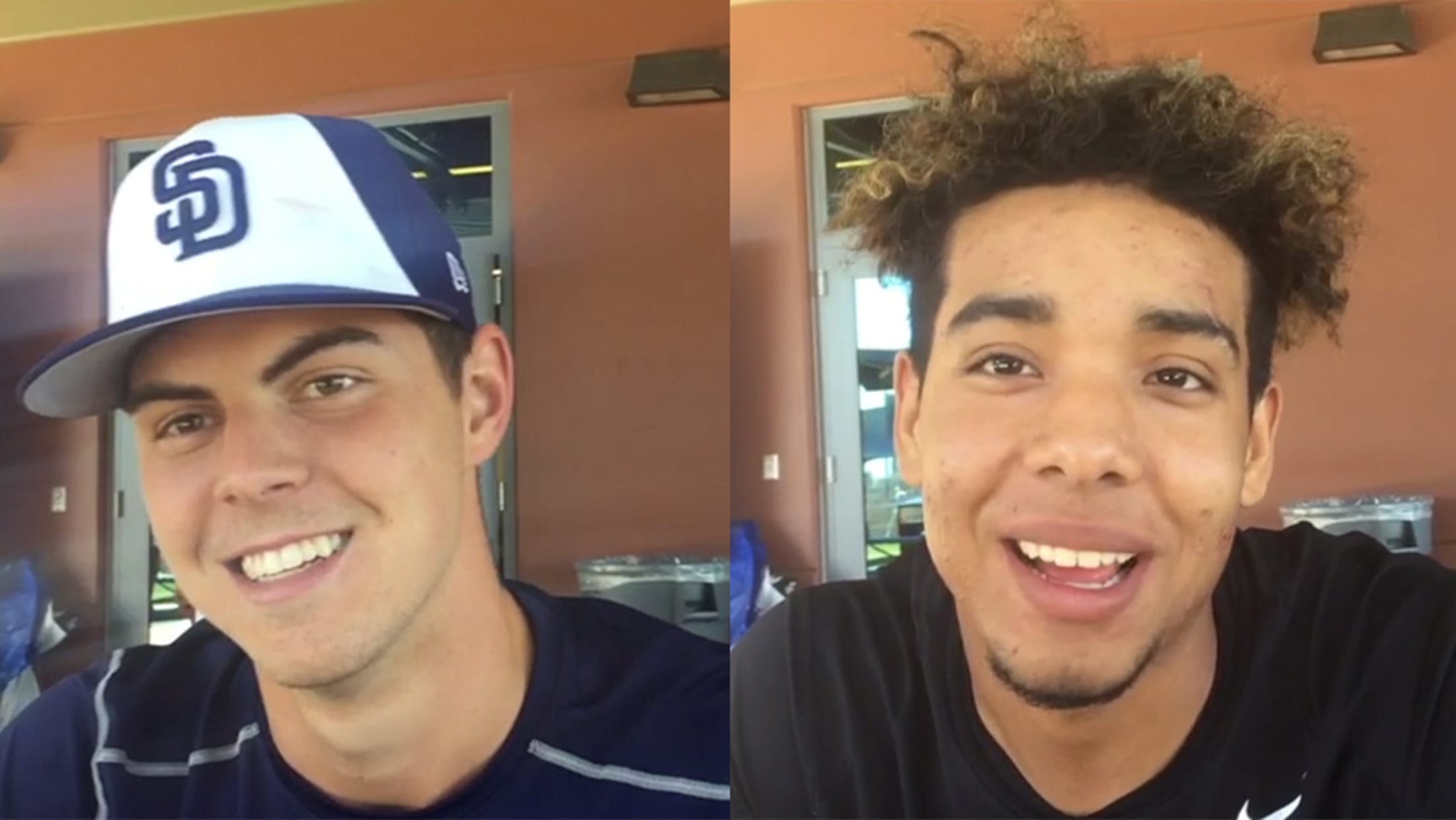 PEORIA, Ariz. -- A 21-year-old lefty from a high school in North Carolina who signed for $6.7 million and a 19-year-old Colombian that signed for $130,000 don't figure to have all that much in common. However, that hasn't stopped MacKenzie Gore and Luis Patino from becoming close friends. Gore and
Despite rocky start, Paddack still eyes rotation
Padres right-hander allows 4 runs in Minor League game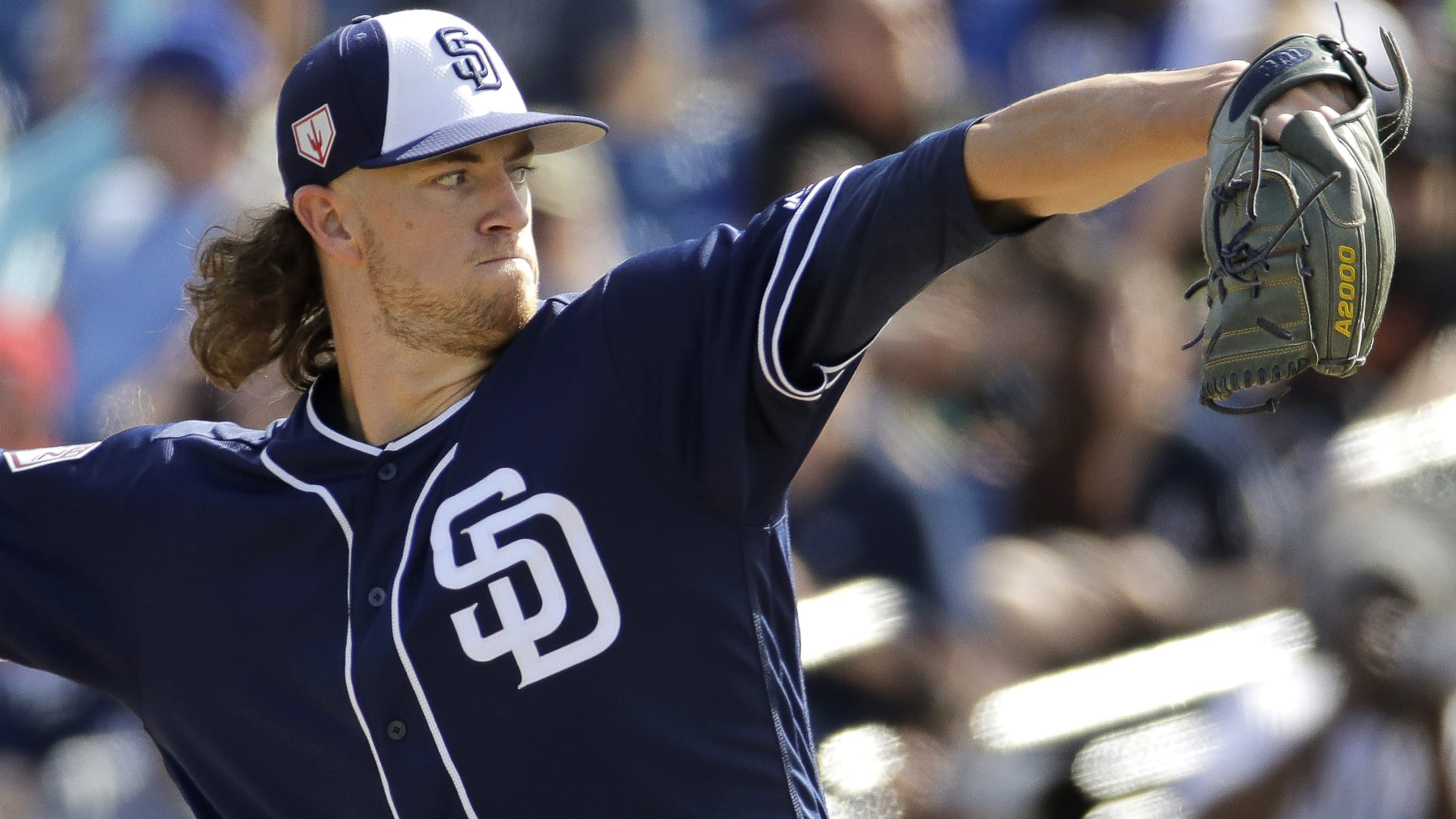 PEORIA, Ariz. -- For all his dominance this spring, Padres prospect Chris Paddack was destined to come down to earth at some point. Surprisingly, his first spring speed bump came Tuesday against Mariners Minor Leaguers -- though the 23-year-old right-hander remains a strong favorite for the season-opening rotation. Paddack threw
Potts among cuts, but he impresses Padres
His bat inspires confidence, though his future position is uncertain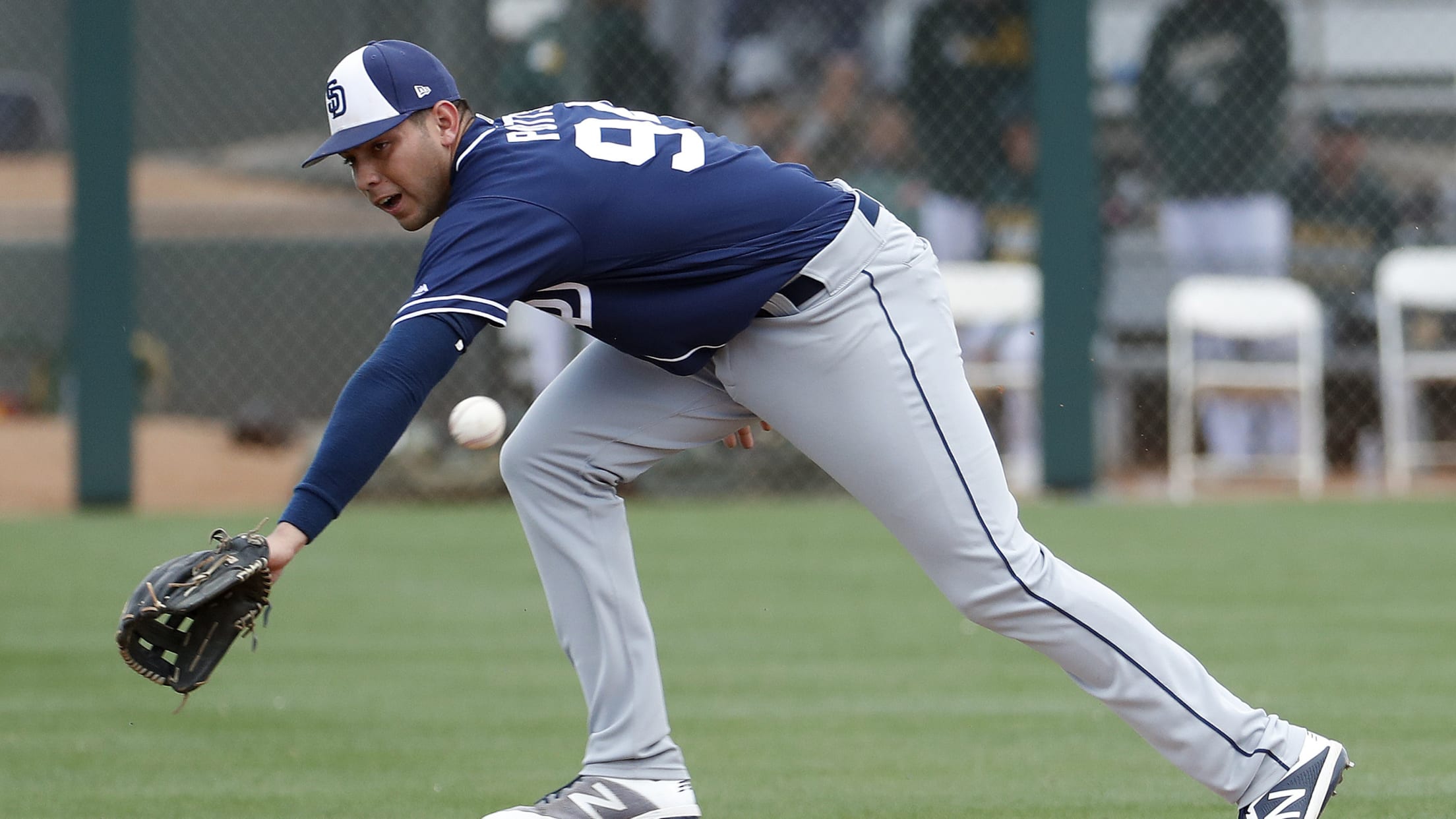 PEORIA, Ariz. -- Third-base prospect Hudson Potts arrived in Peoria last month with little chance to break camp with the Padres. Then, four days after the full squad reported, Manny Machado arrived, cementing that fact. Indeed, the 20-year-old Potts will not break with the big league club. He was reassigned
Prospect Nix sidelined with arm soreness
Injury could shuffle Padres' No. 5 starter competition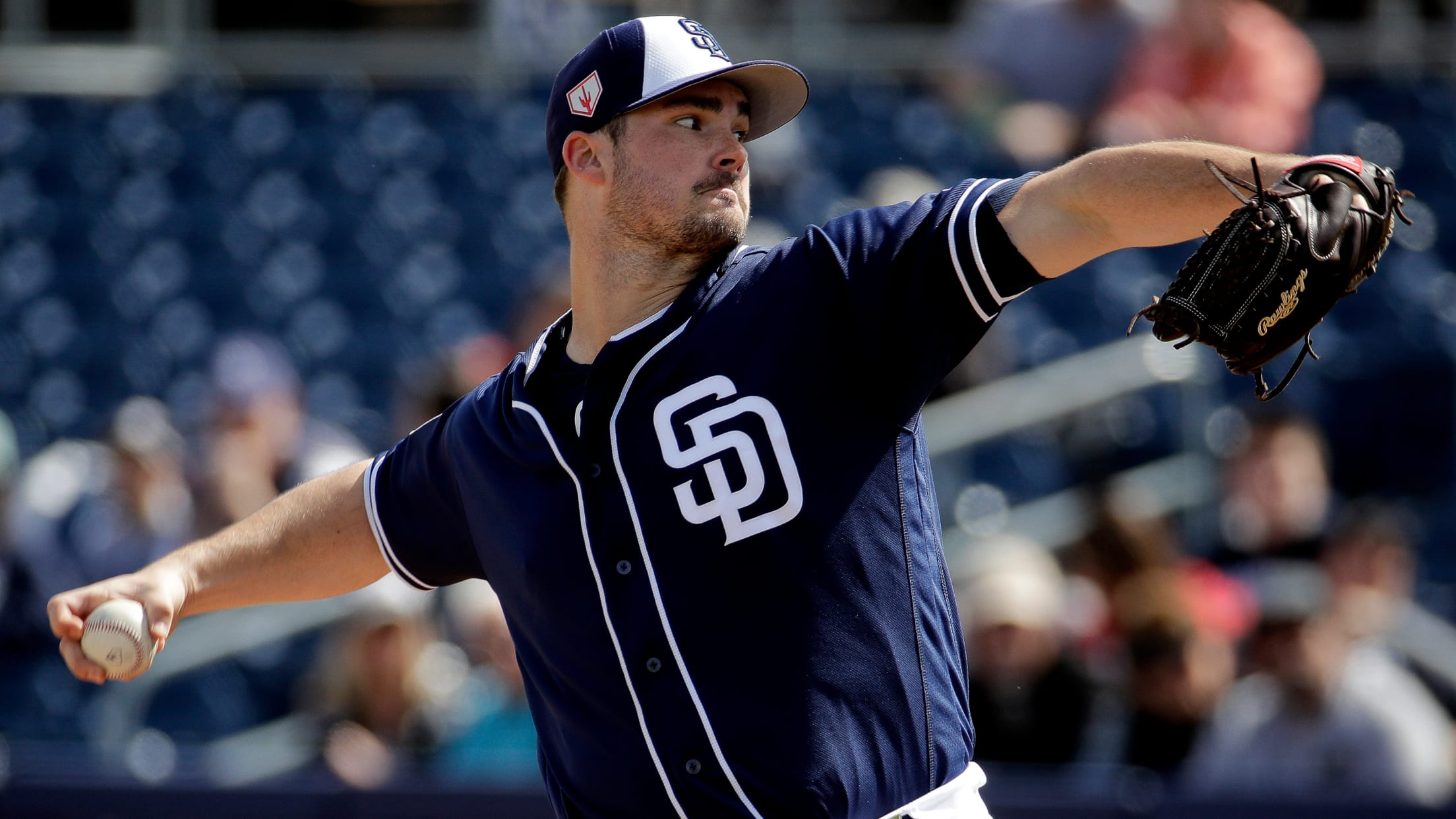 PEORIA, Ariz. -- Padres right-hander Jacob Nix has been shelved with soreness in his right arm, throwing an unfortunate wrench into the team's rotation battle. Nix threw one inning Tuesday against Oakland before the game was canceled due to rain, and he pitched three more simulated frames in a nearby
Allen, Quantrill making case to join staff
Green on opportunity for young starters: 'It's there. Take it.'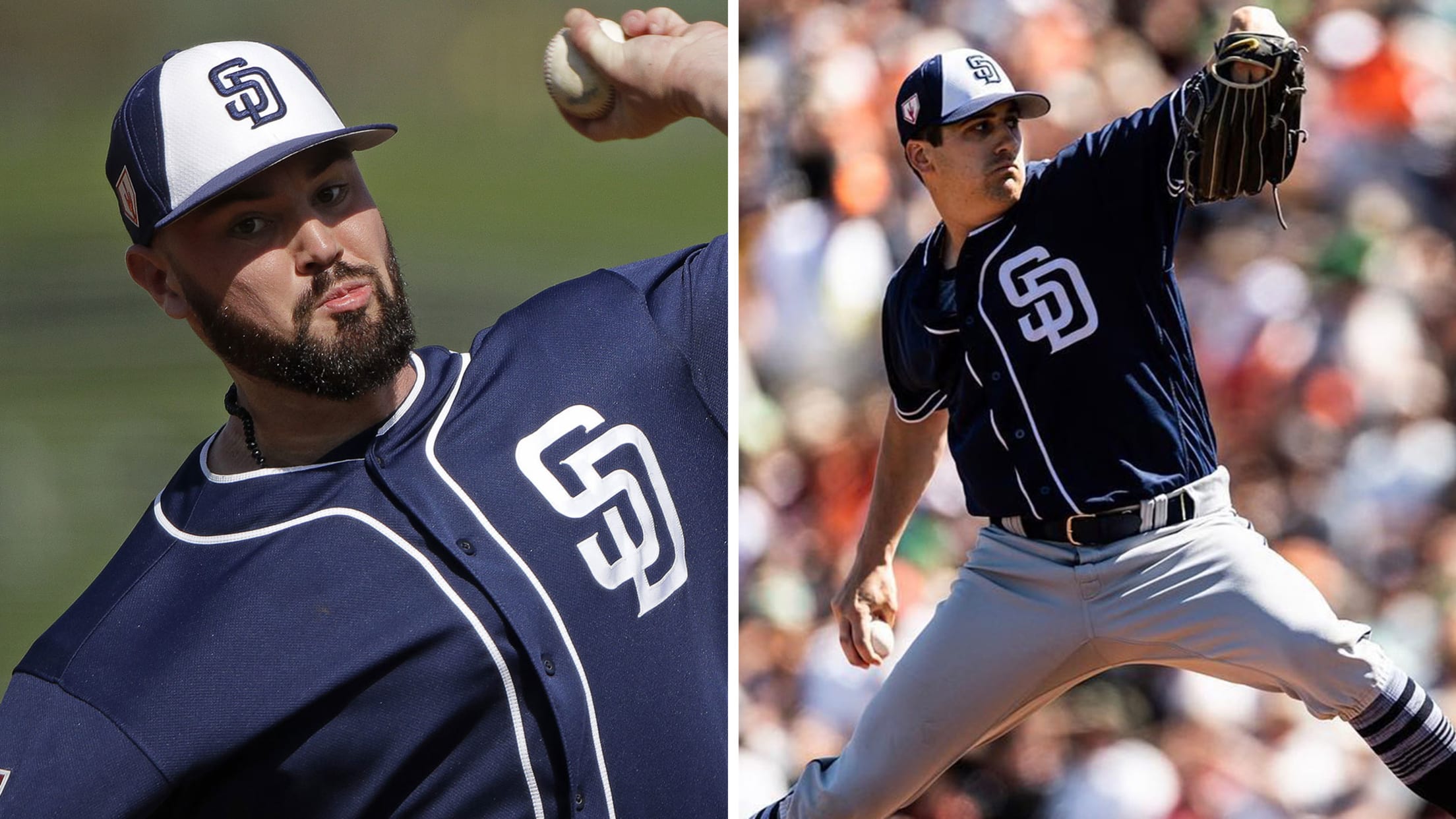 PEORIA, Ariz. -- There's at least one place available in the San Diego starting five right now. Possibly as many as three. Sitting squarely on the rotation bubble are lefty Logan Allen and righty Cal Quantrill, and with 35 miles separating them Saturday, the two prospects took the mound in
Hedges, Mejia have Padres loaded at catcher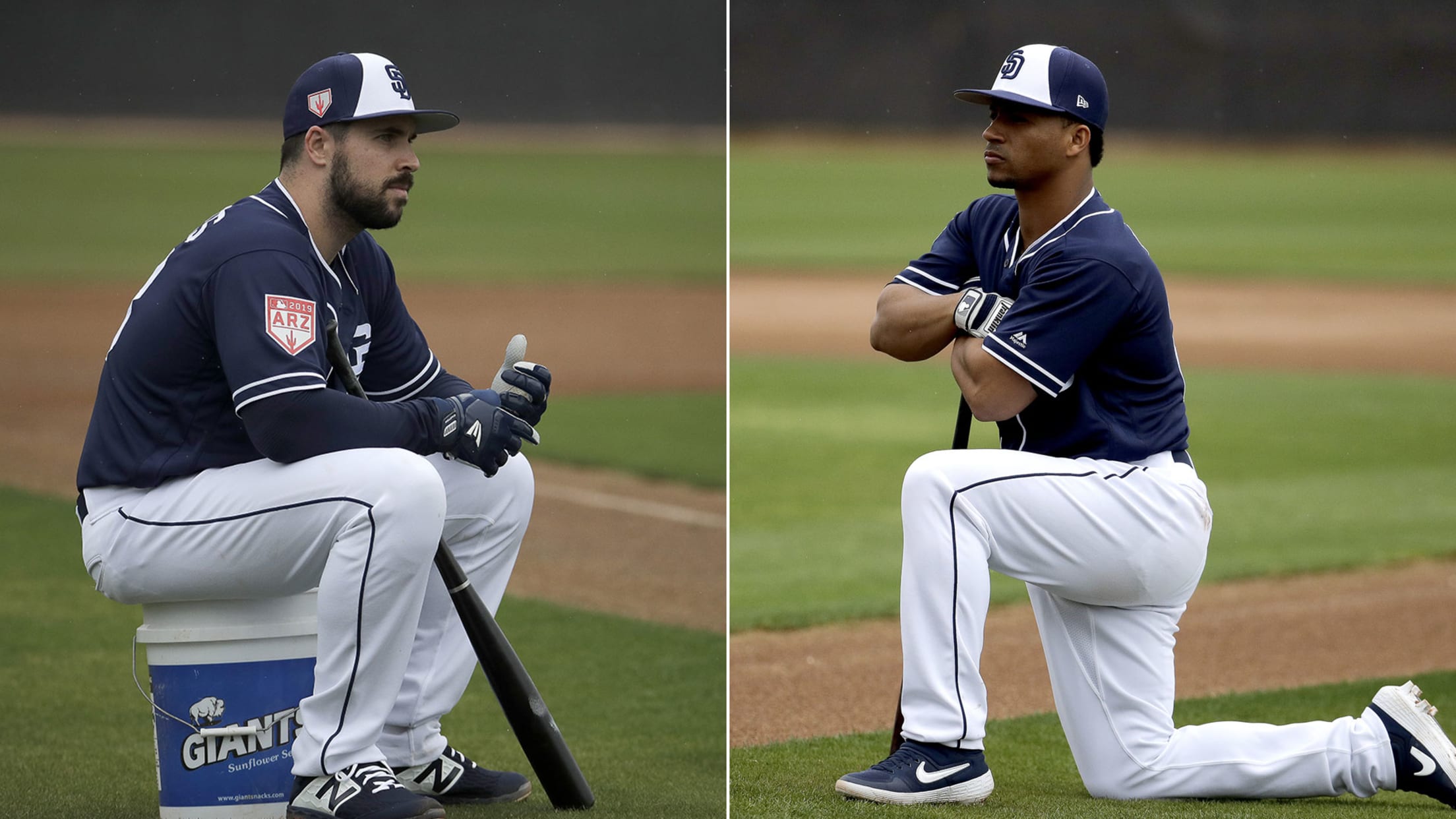 PEORIA, Ariz. -- The Padres don't think you're using the right conjunction to describe their long-term catching situation. It isn't Austin Hedges or Francisco Mejía . It's Austin Hedges and Francisco Mejia.
At Padres camp, MLB's best farm on display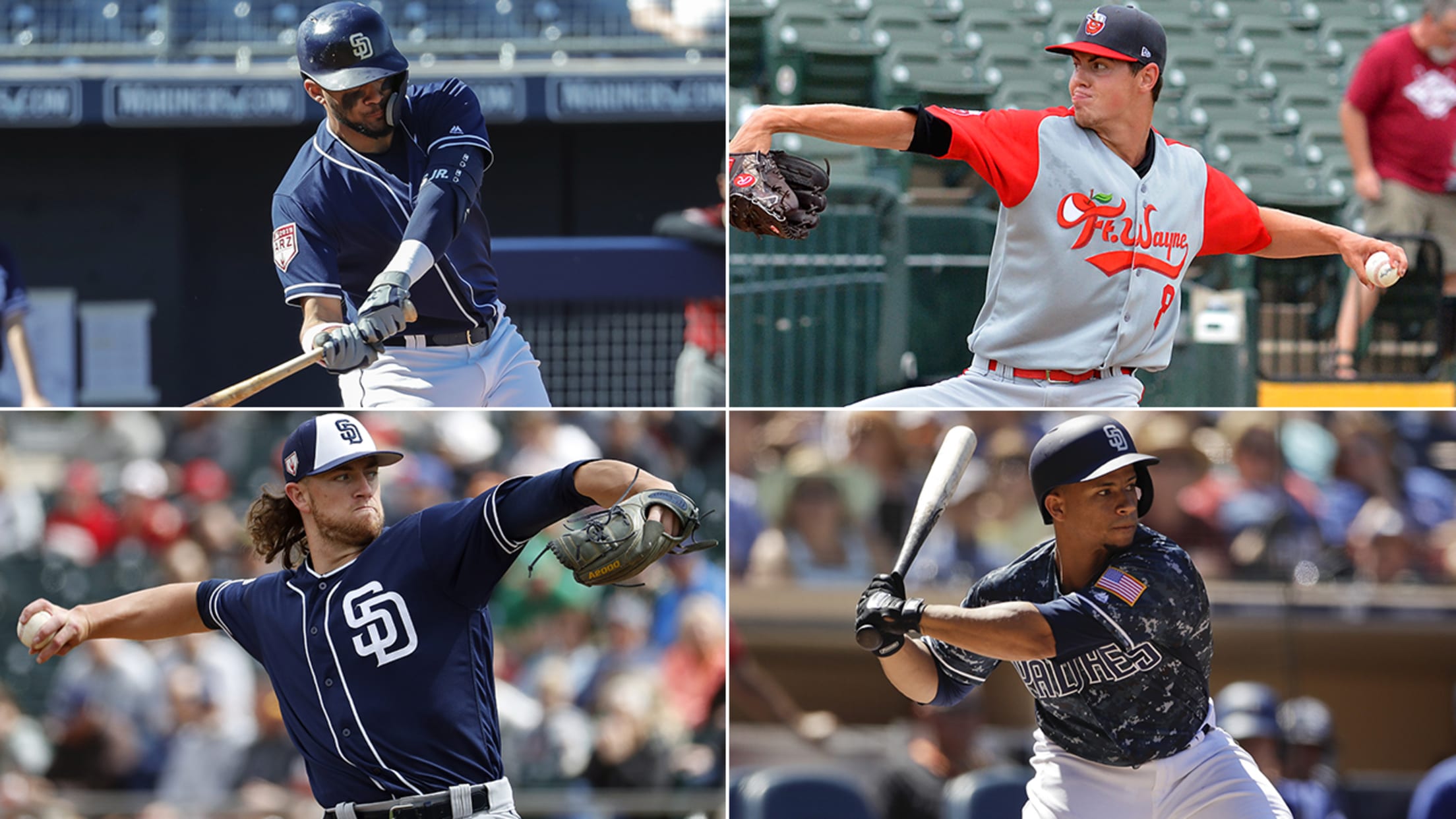 PEORIA, Ariz. -- Manny Machado is far from the only cause for excitement in San Diego. The Padres have the best farm system in baseball, filled with players ready to make an impact in 2019 and waves of talent beyond them. San Diego has finished atop the last three editions
Urias, Allen fend off injury scares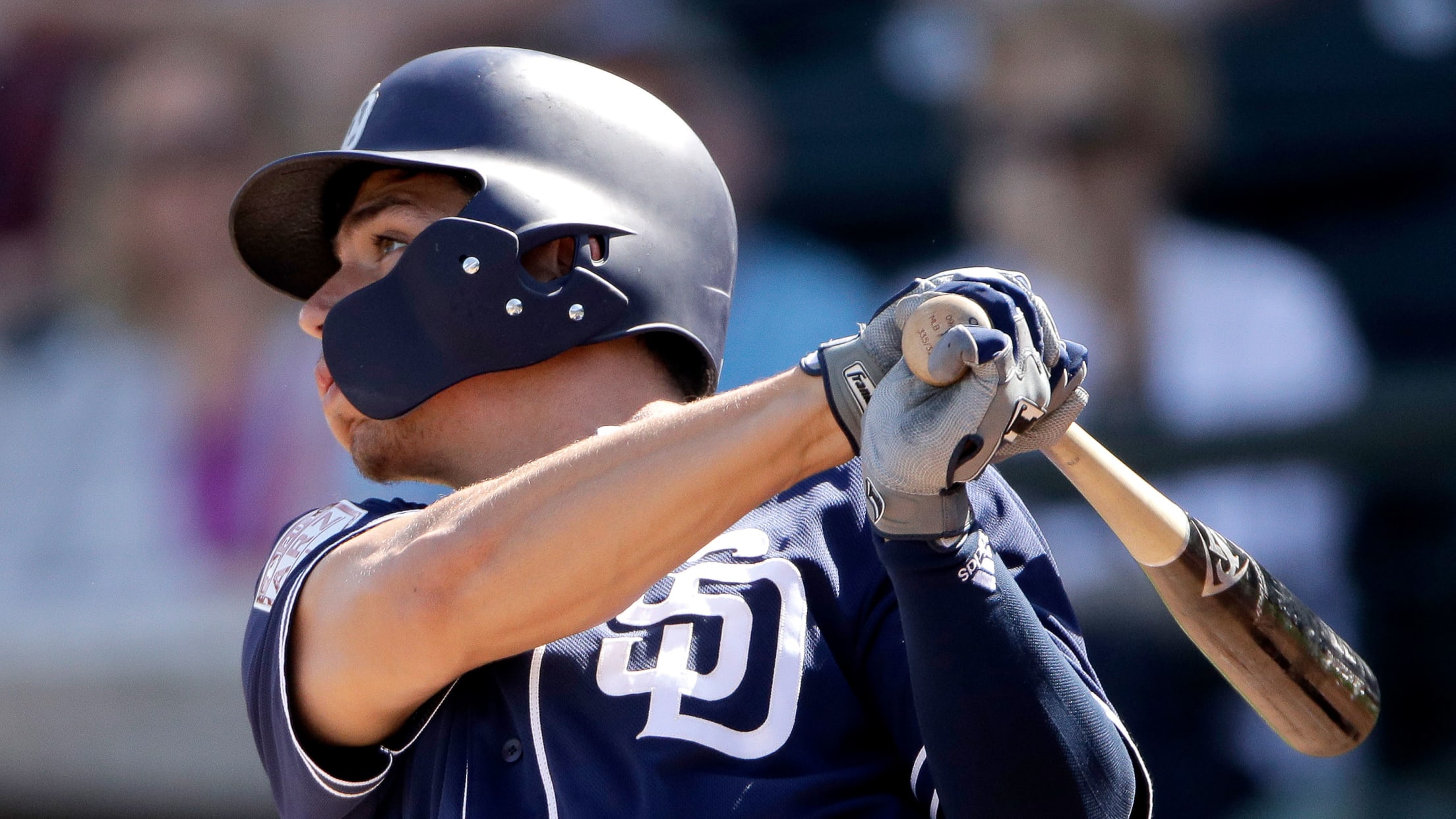 PEORIA, Ariz. -- Padres infielder Luis Urias and left-handed pitcher Logan Allen fell victim to injury scares against the White Sox on Tuesday. Urias was scratched with what the club called general fatigue in his hamstrings. Allen exited early after he was struck by a liner in the thigh. A
Potts plays 2B, seeks increased versatility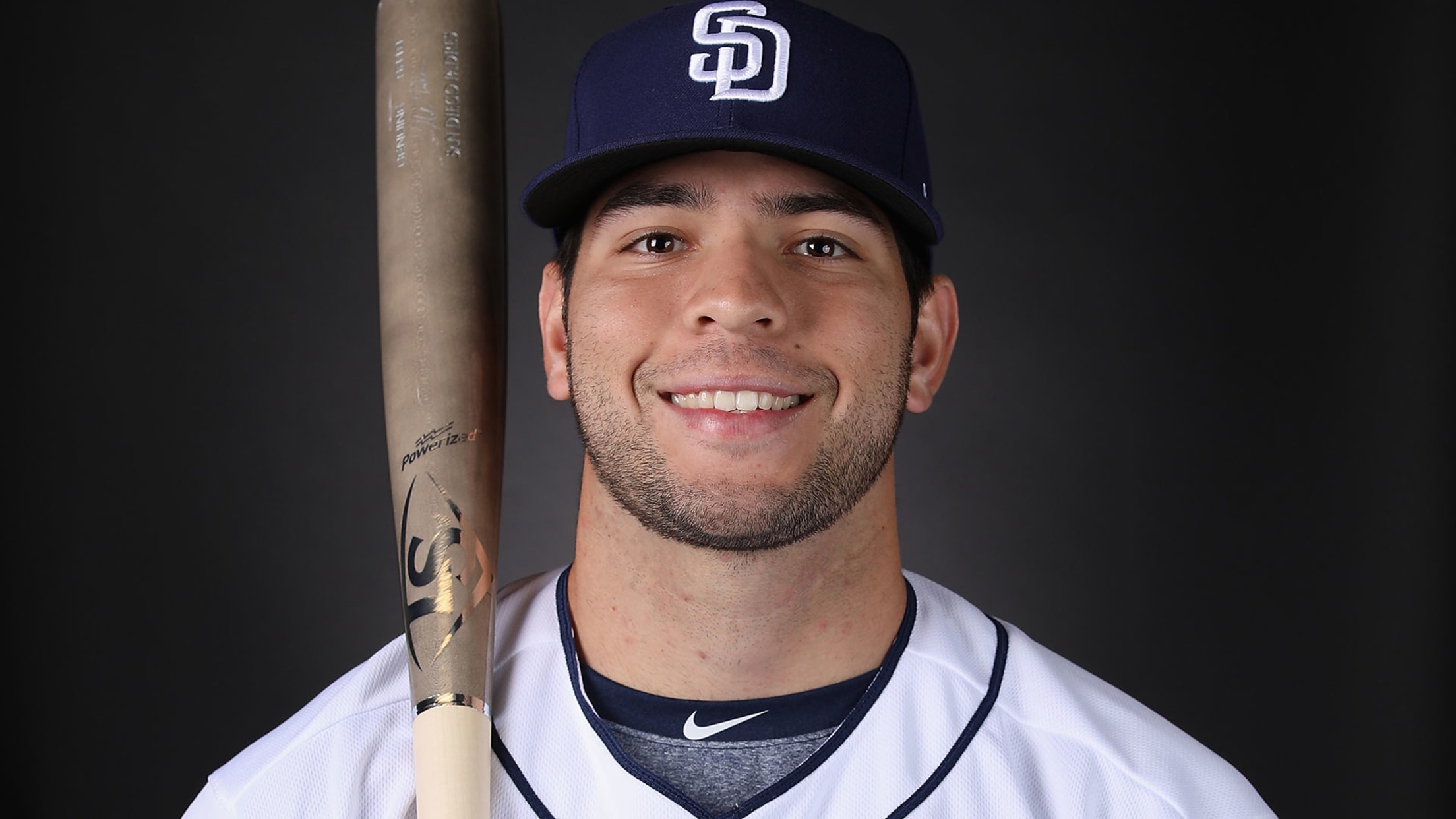 PEORIA, Ariz. -- When Hudson Potts arrived in Peoria last month, more than a few people in the Padres organization viewed him as a serious candidate to become the team's third baseman of the future. Potts has hardly put a foot wrong since. A 20-year-old who made the jump to
Mejia's efforts paying off in spring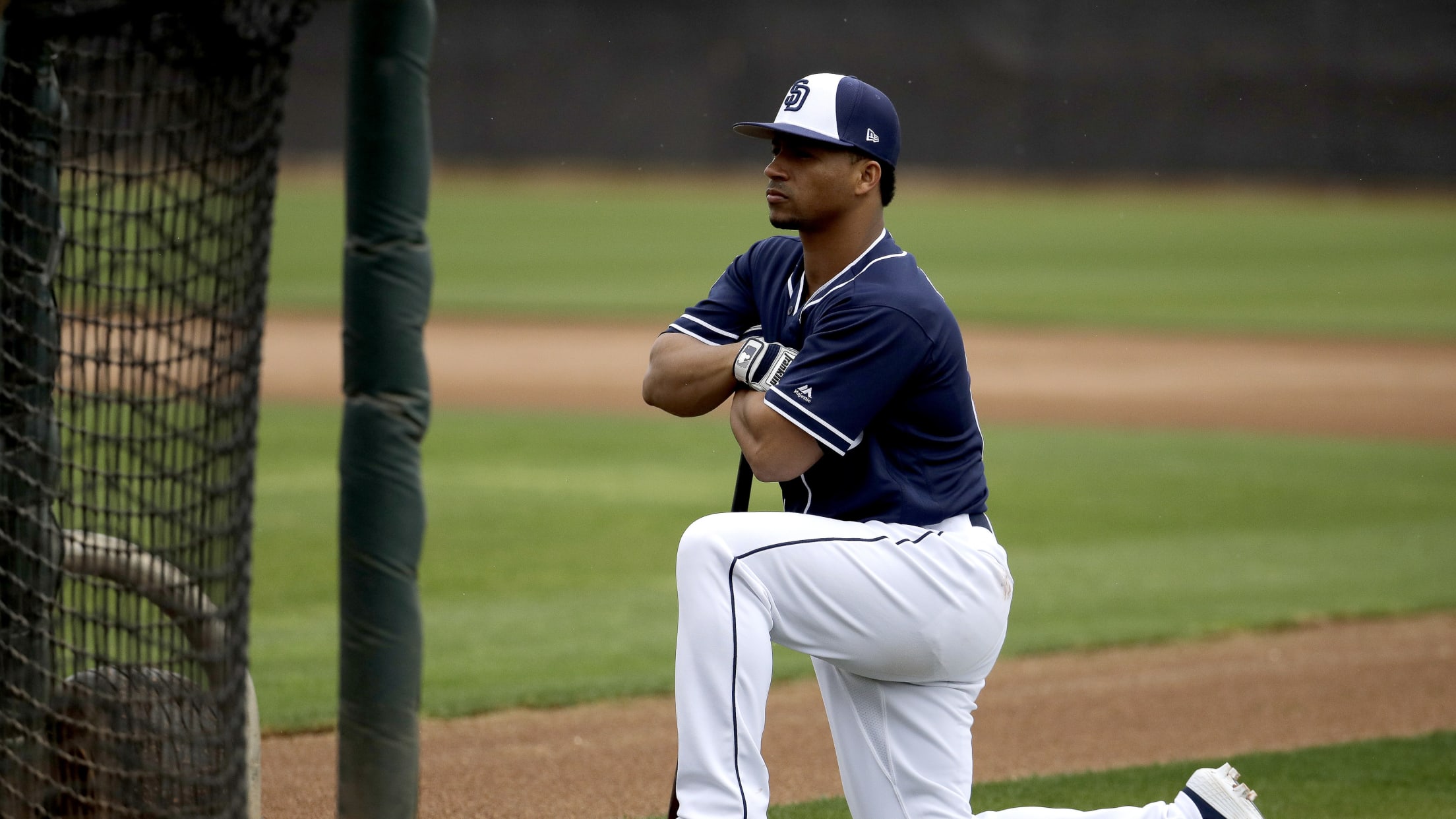 PEORIA, Ariz. -- Francisco Mejía is a dangerous hitter when he swings at the right pitches. He swung at all the right pitches Tuesday. The Padres' No. 4 prospect went 3-for-3 with a double and a homer in a 7-7 tie against Seattle. He's been red-hot all spring and is
Paddack continues push for Padres rotation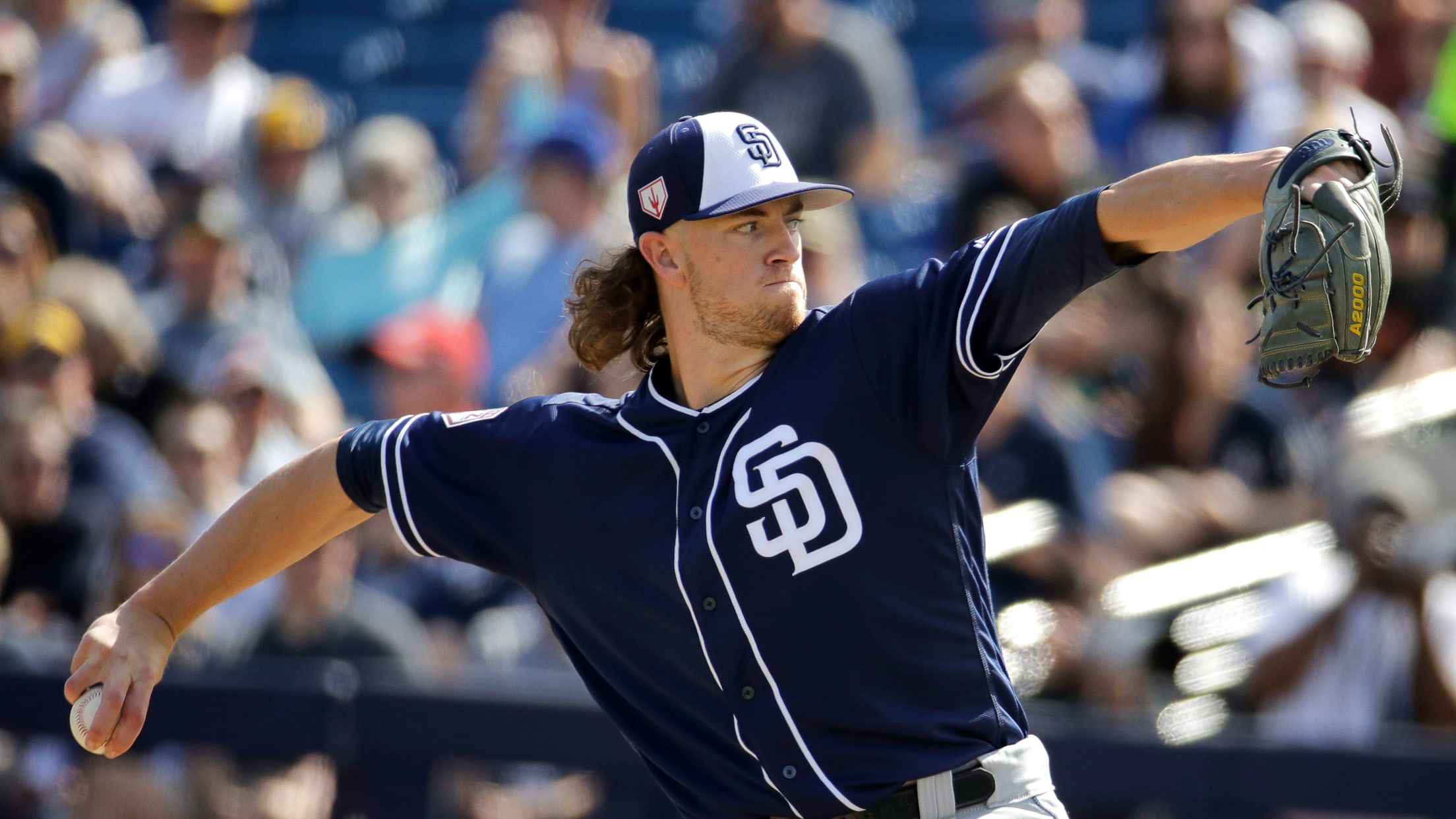 SURPRISE, Ariz. -- Chris Paddack continues to make his pitch for a spot in the Padres' rotation. Sunday's pitch was a curveball. Paddack, ranked No. 34 among MLB Pipeline's Top 100 Prospects, was charged with two runs on four hits in 2 2/3 innings in the Padres' 11-3 loss to
Here are the Padres' 2019 Top 30 Prospects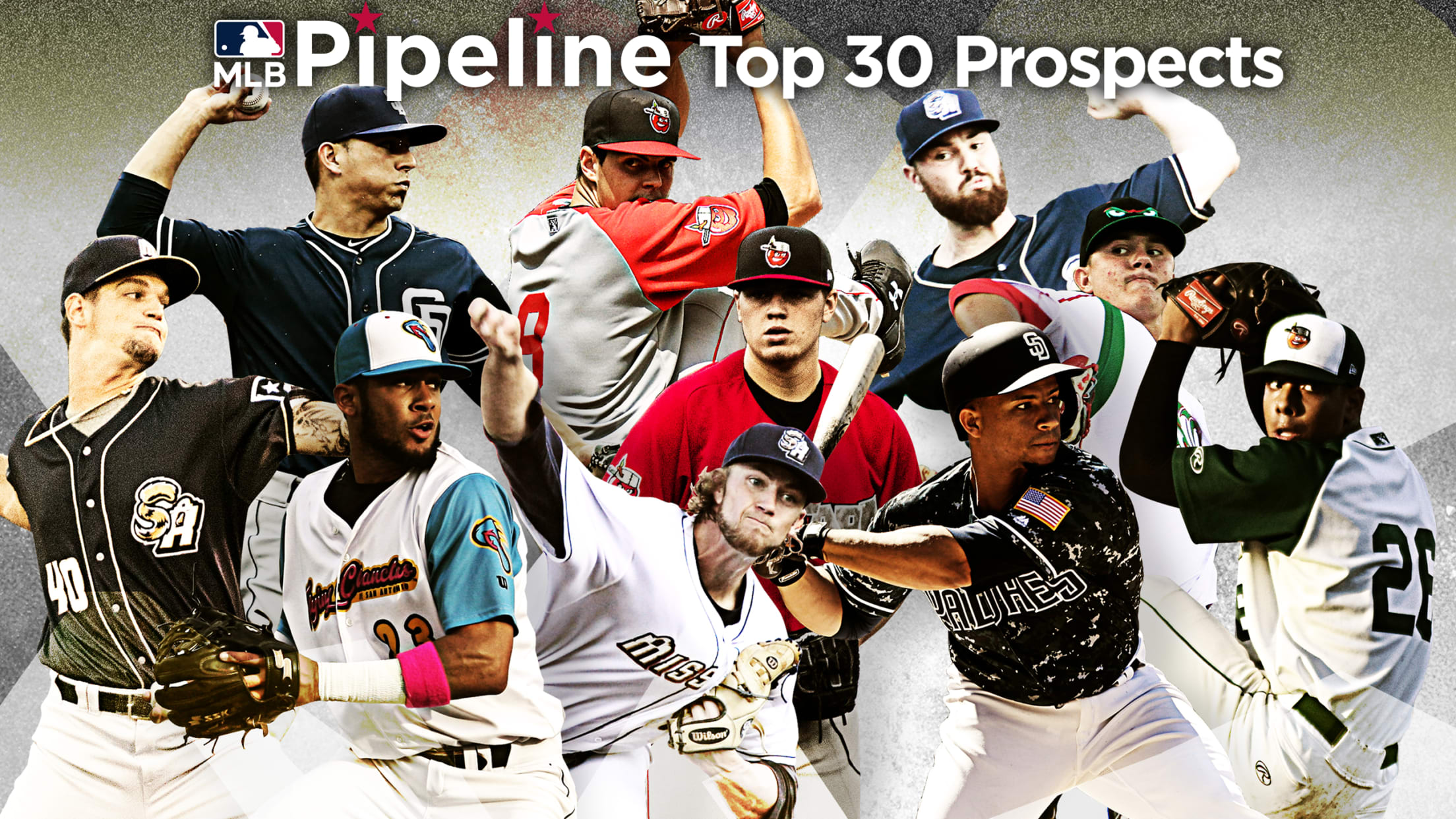 For a second straight year, the San Diego Padres have MLB Pipeline's top-ranked farm system. Of course, that probably doesn't come as a total surprise after the organization placed an MLB Pipeline-record 10 players on our list of the Top 100 prospects for 2019.
Tatis Jr. homers again ... in bottom of 9th
Top prospect showing a flair for the dramatic; Strahm, Myers pass early tests; Kinsler singles in first Padres at-bat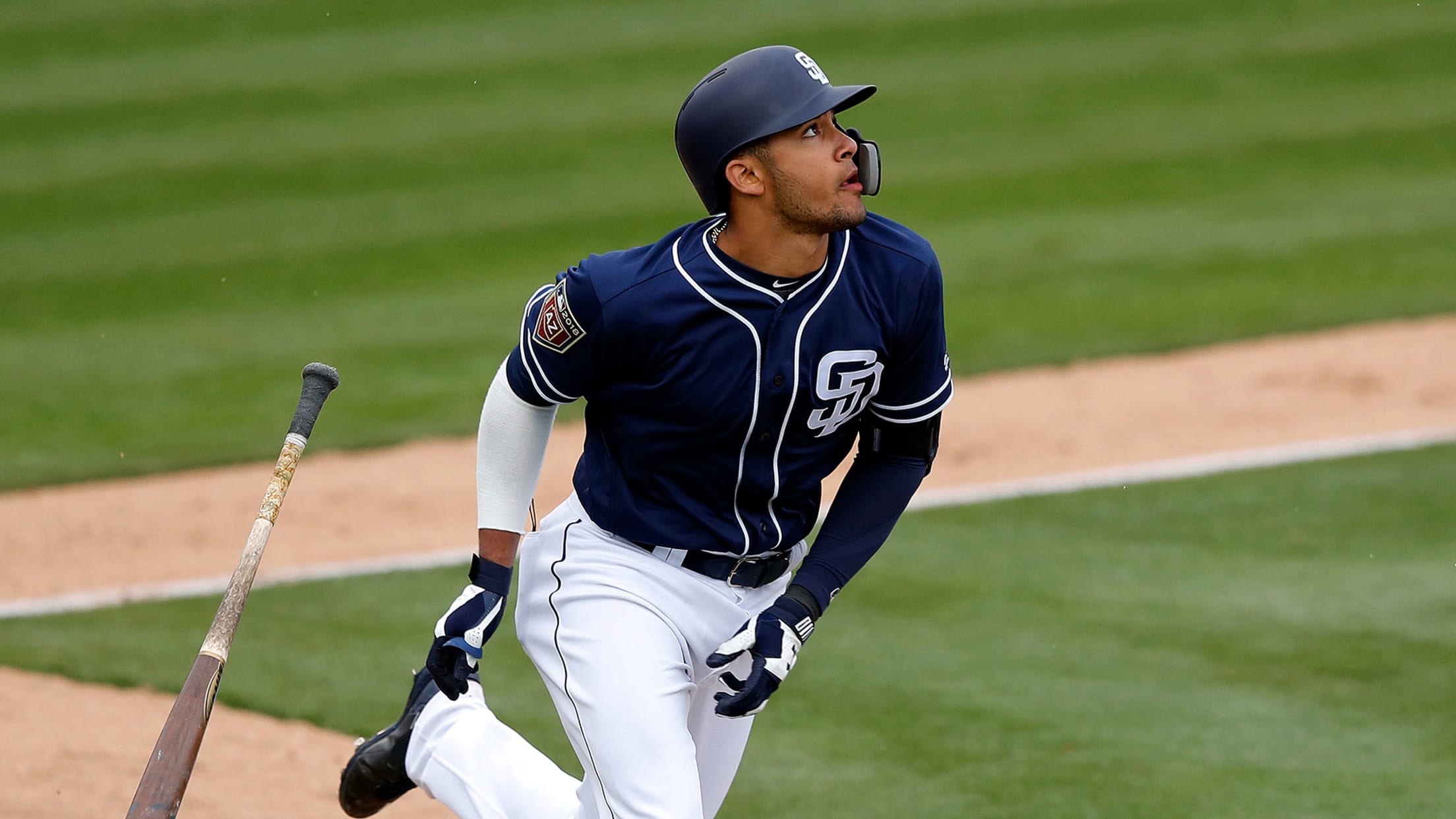 PEORIA, Ariz. -- Two outs. Bottom of the ninth. A one-run deficit against a division rival. The stage was set nicely for Fernando Tatis Jr. on Wednesday afternoon. The 20-year-old shortstop kept his weight back with an offspeed pitch on the outside corner. Then he unleashed a vicious swing, sending
Paddack impresses in bid for rotation spot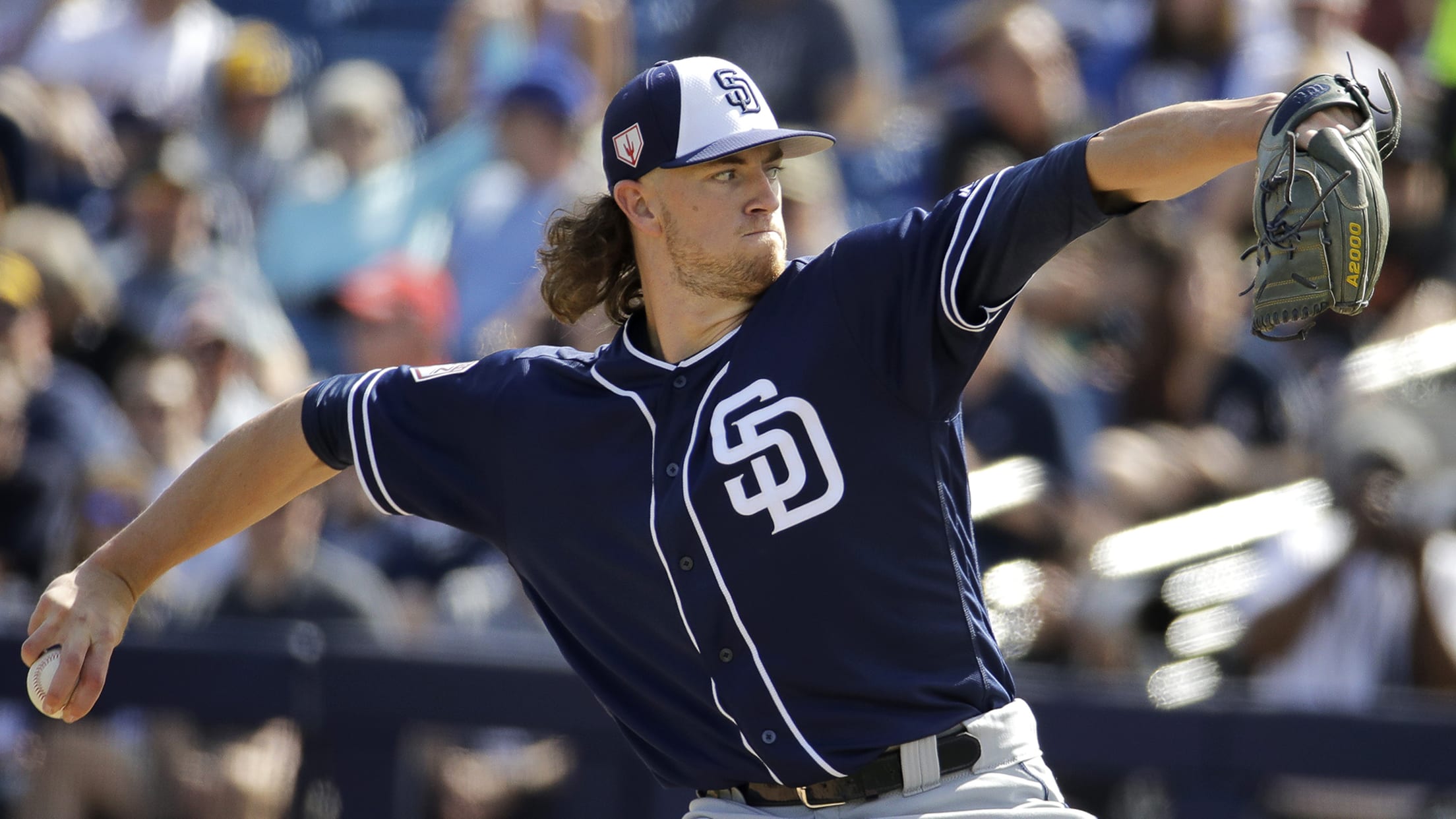 PHOENIX -- It's time to start taking Chris Paddack seriously as a candidate in the Padres' rotation race. He made that very clear on Tuesday afternoon. The 23-year-old right-hander made his Cactus League debut in a 3-1 victory over the Brewers, and he brought it from the start. Paddack's first
Prospect power: Tatis Jr. drills 1st Cactus homer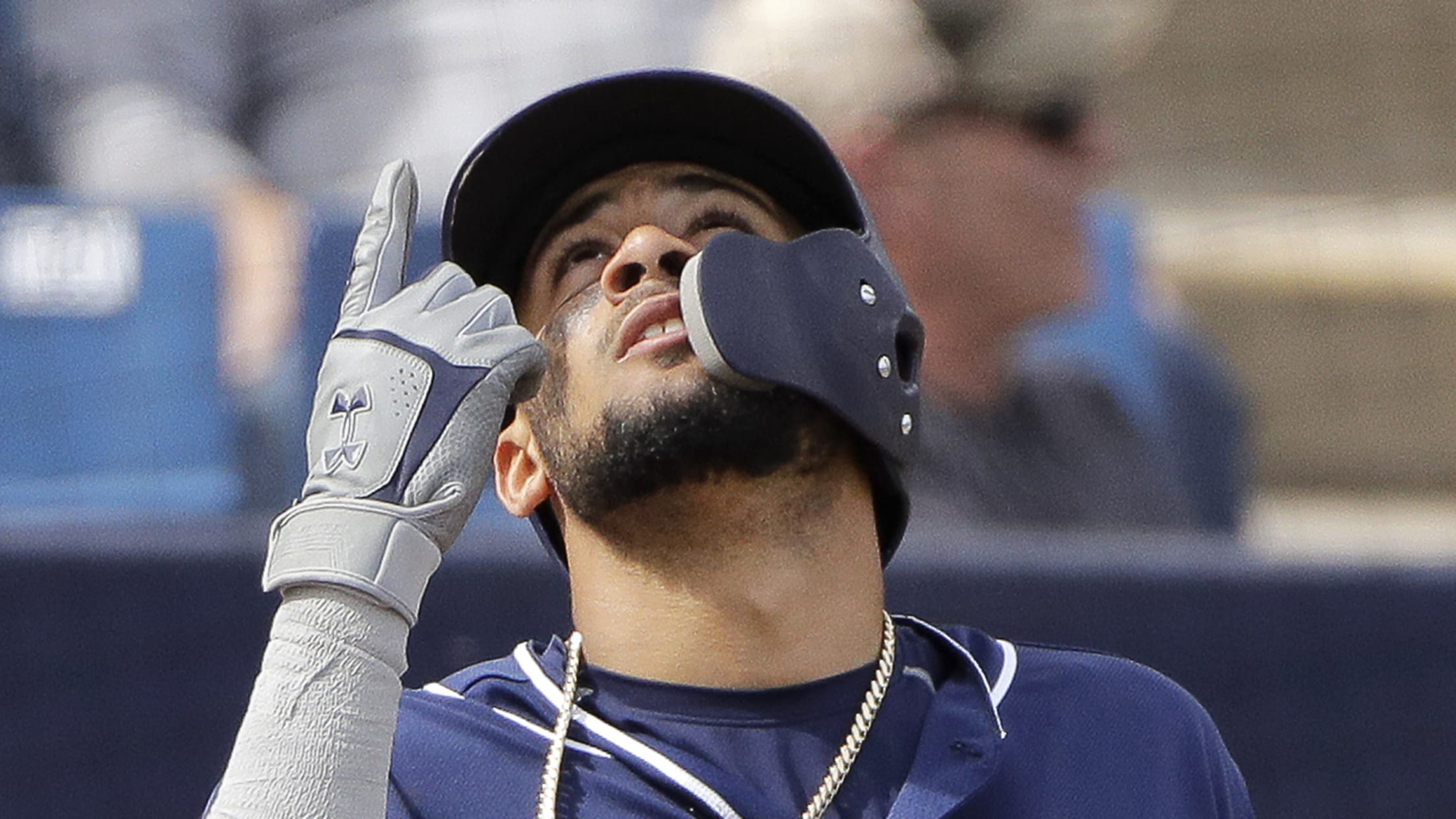 PHOENIX -- Fernando Tatis Jr. hasn't wasted any time reminding the baseball world why he's MLB Pipeline's No. 2 overall prospect -- and the top-rated youngster in an absolutely loaded Padres system. The 20-year-old shortstop, a potential star in the making, made his second spring start on Tuesday in a
Tatis rides championship winter into camp
Padres' No. 1 prospect determined to win roster spot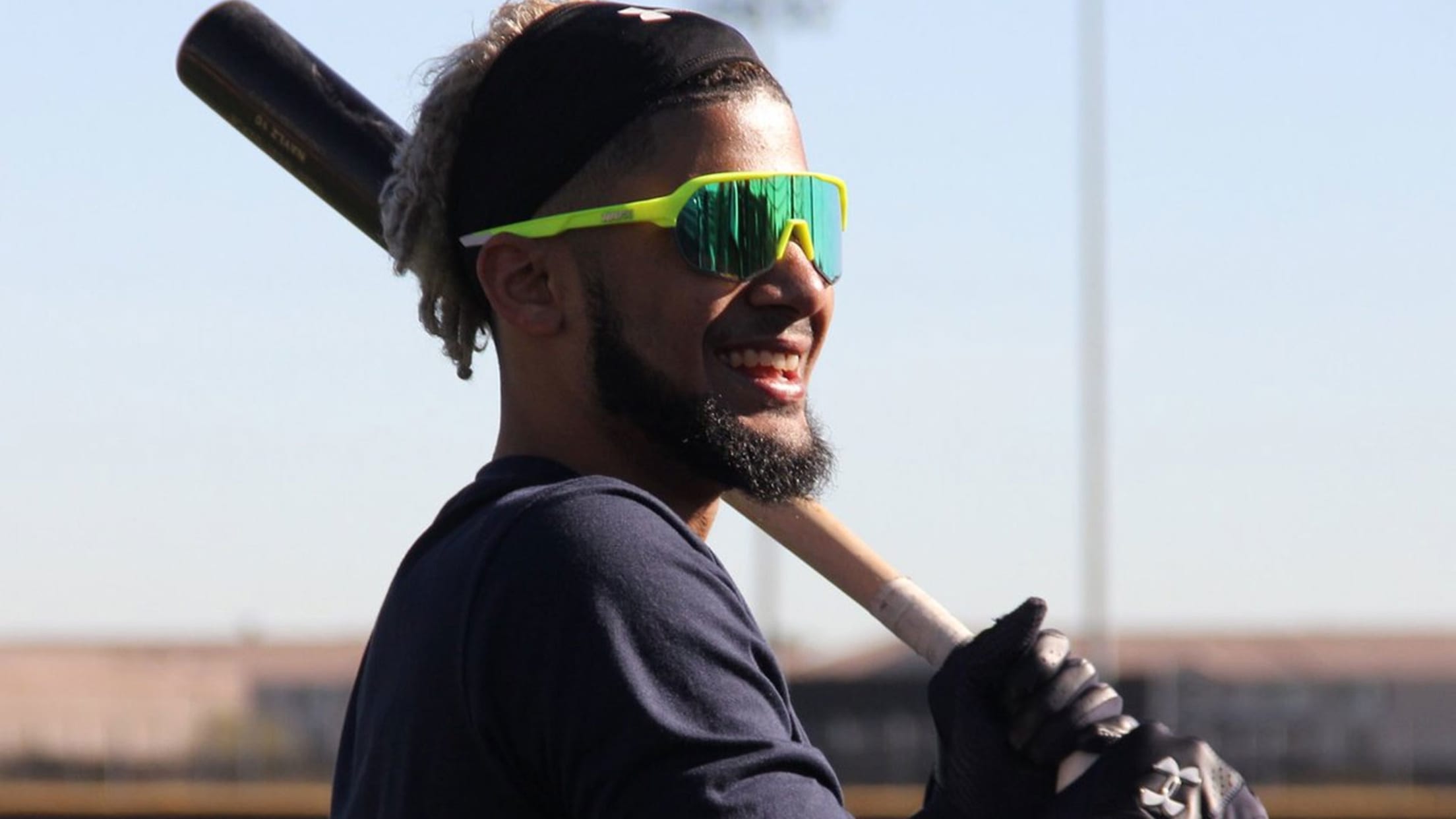 PEORIA, Ariz. -- The offseason, for No. 1 Padres prospectFernando Tatis Jr., lasted all of two weeks."Good to be young," quipped the 20-year-old shortstop from the clubhouse at the team's Spring Training complex on Wednesday.:: Spring Training coverage presented by Camping World ::Tatis, ranked No. 2 among MLB Pipeline's Top
Around the Horn: Padres' youthful rotation
With Spring Training on the horizon, MLB.com is taking an in-depth look at the 2019 Padres, breaking the team down position by position. Today, we preview the San Diego starting pitchers.Around the Horn series:C | 1B | 2B | SS | 3B | LF | CF | RFSAN DIEGO --
Padres land record 10 on Top 100 Prospects list
Tatis (No. 2 overall) leads group of San Diego's future stars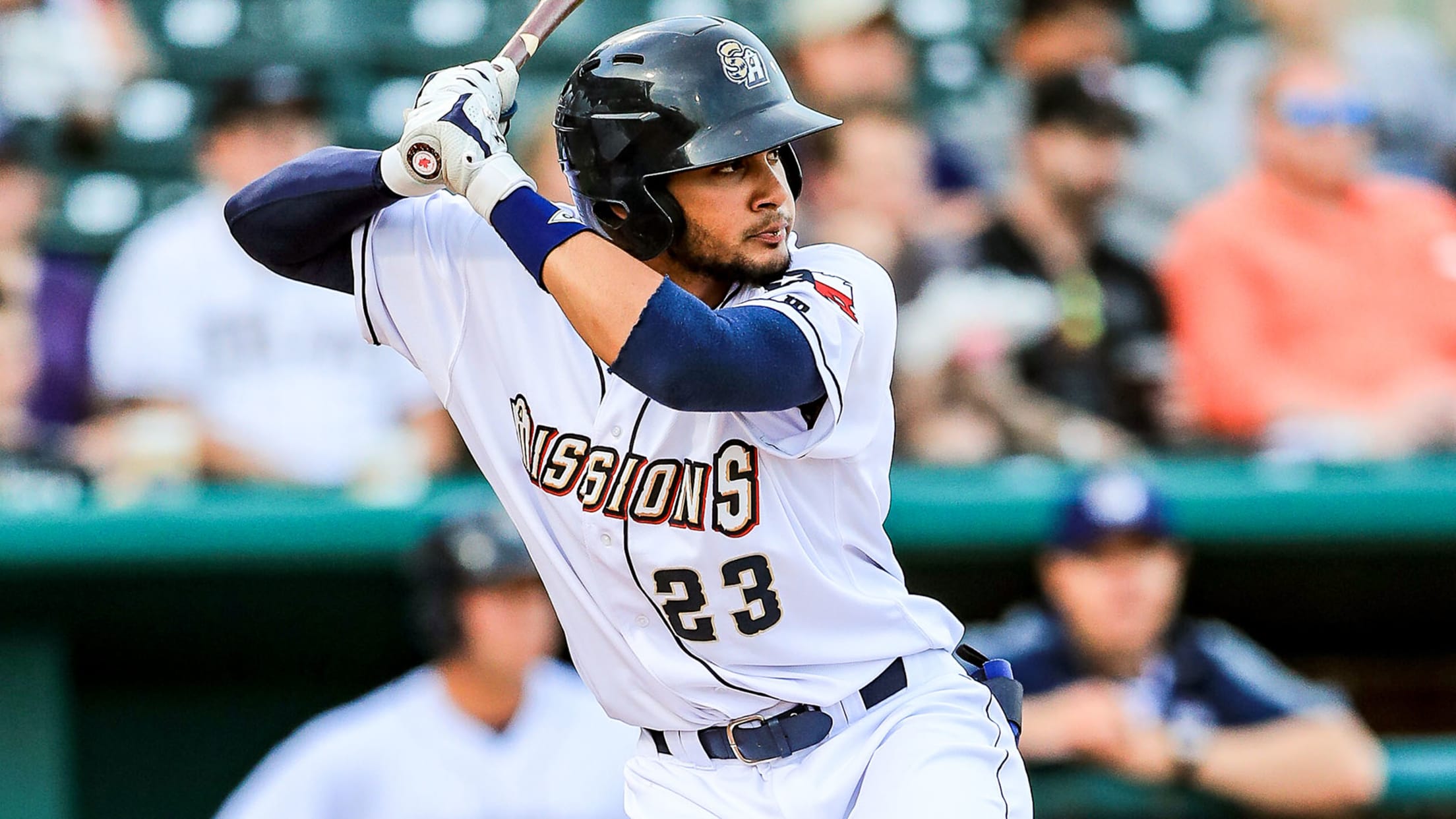 SAN DIEGO -- The Padres' farm system has been the toast of Minor League Baseball for nearly two years now. Believe it or not, that system might actually be getting better.MLB Pipeline released its preseason ranking of the Top 100 prospects on Saturday night, and the list again skews heavily
Tatis atop Padres' prospect-heavy NRI list
No. 2 overall prospect homered in Cactus League debut last spring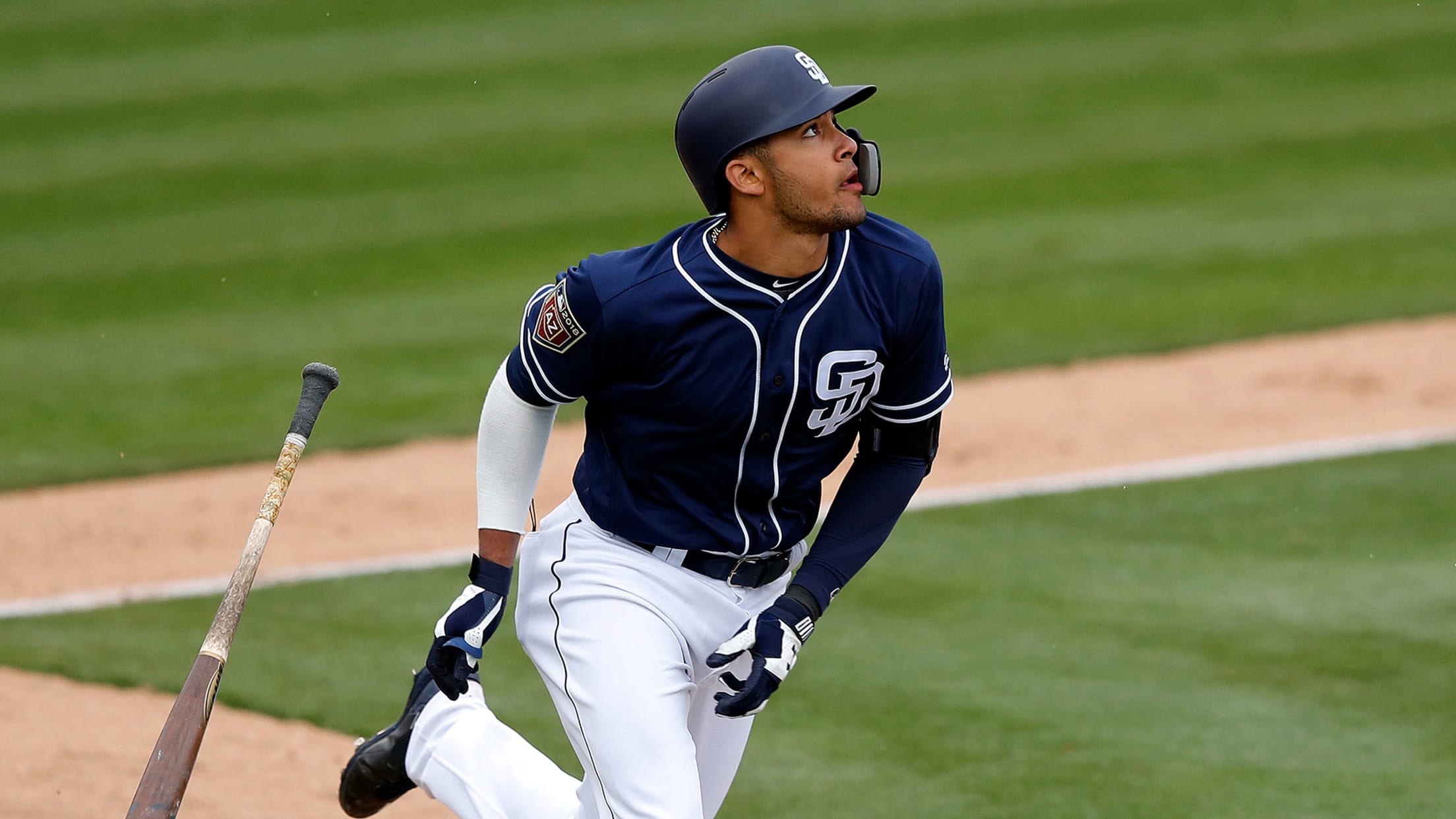 SAN DIEGO -- A loaded group of prospects will report to Padres camp next month, and MLB Pipeline's top-rated shortstop, Fernando Tatis Jr., is the headliner once again.San Diego announced a list of 21 non-roster invites to big league Spring Training on Thursday morning. It's overflowing with highly regarded young
Here's why a 3-team Kluber deal could happen
Breaking down report of potential trade between Tribe, Reds, Padres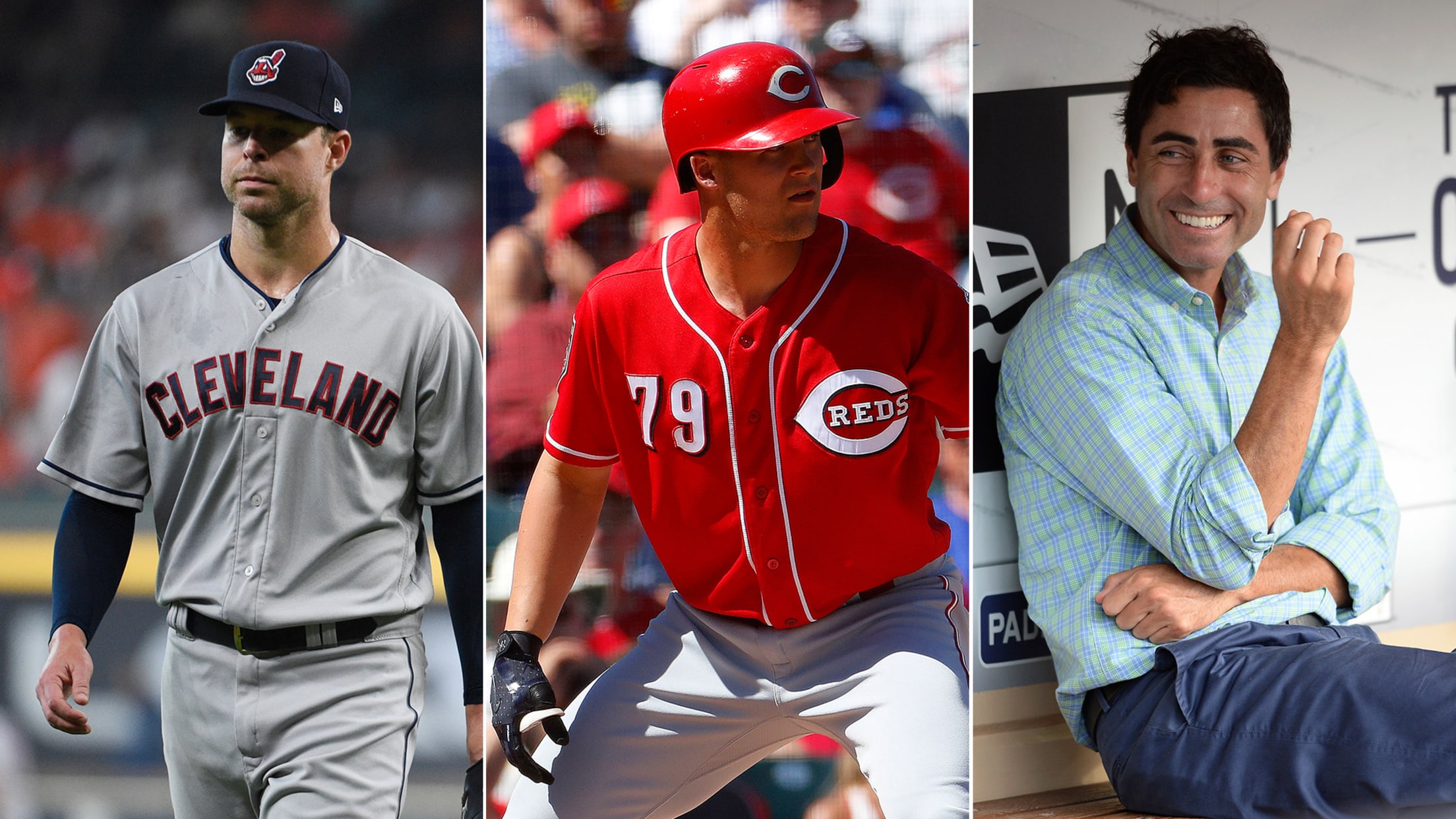 The Reds need a starting pitcher. The Padres are looking for a third baseman. The Indians would like to add outfielders. Could there be a match that would help all three clubs?The Athletic reported on Monday that the Padres had explored a potential three-team trade between the clubs that would
Tatis hits walk-off HR, follows with huge bat flip
Top Padres prospect delivers big blow in Dominican Winter League playoff win
In the near future, Fernando Tatis Jr. could be hitting massive homers for the Padres. But for now, he's continuing to rake in the Dominican Winter League.Playing for Estrellas Orientales, Tatis hit a walk-off three-run home run on Thursday night, lifting his team to a 6-3 postseason win over Tigres
Inbox: What's path for Paddack to Majors?
Beat reporter AJ Cassavell fields offseason questions from fans
SAN DIEGO -- It's the holiday season. That means one final Padres Inbox for 2018.Some important questions linger as the New Year awaits, most of them revolving around the trajectories of some top prospects.Is Chris Paddack on the same path to the bigs as Eric Lauer and Joey Lucchesi?