Padres reshape bullpen with Munoz, Strahm
SAN DIEGO -- After a taxing first half, the Padres' bullpen needed a boost. It arrived Friday in the form of two very intriguing roster decisions. San Diego promoted flame-throwing right-hander Andres Munoz and then announced that lefty Matt Strahm, who had spent the entire season in the rotation, will
Gore impressive on mound in Futures Game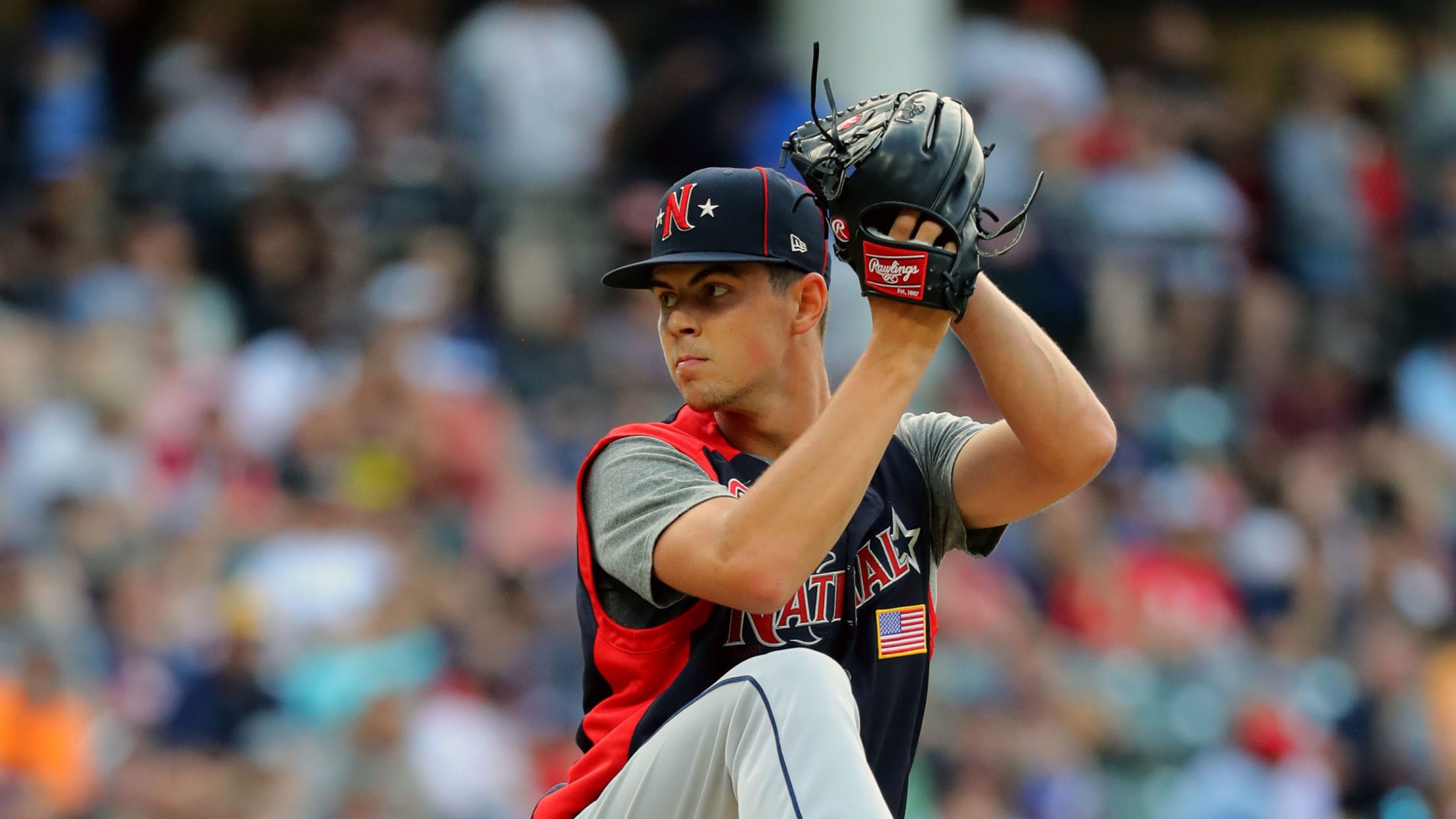 CLEVELAND -- MacKenzie Gore needed one inning on a big stage to remind the Padres why they believe the 20-year-old left-hander is going to be so special. In an organization flush with quality pitching, Gore is projected to be the best of them all.
Padres sign 3 of 4 top int'l prospects
Outfielder Mena, righty Medina, shortstop Preciado, lefty Gutierrez on Top 30 list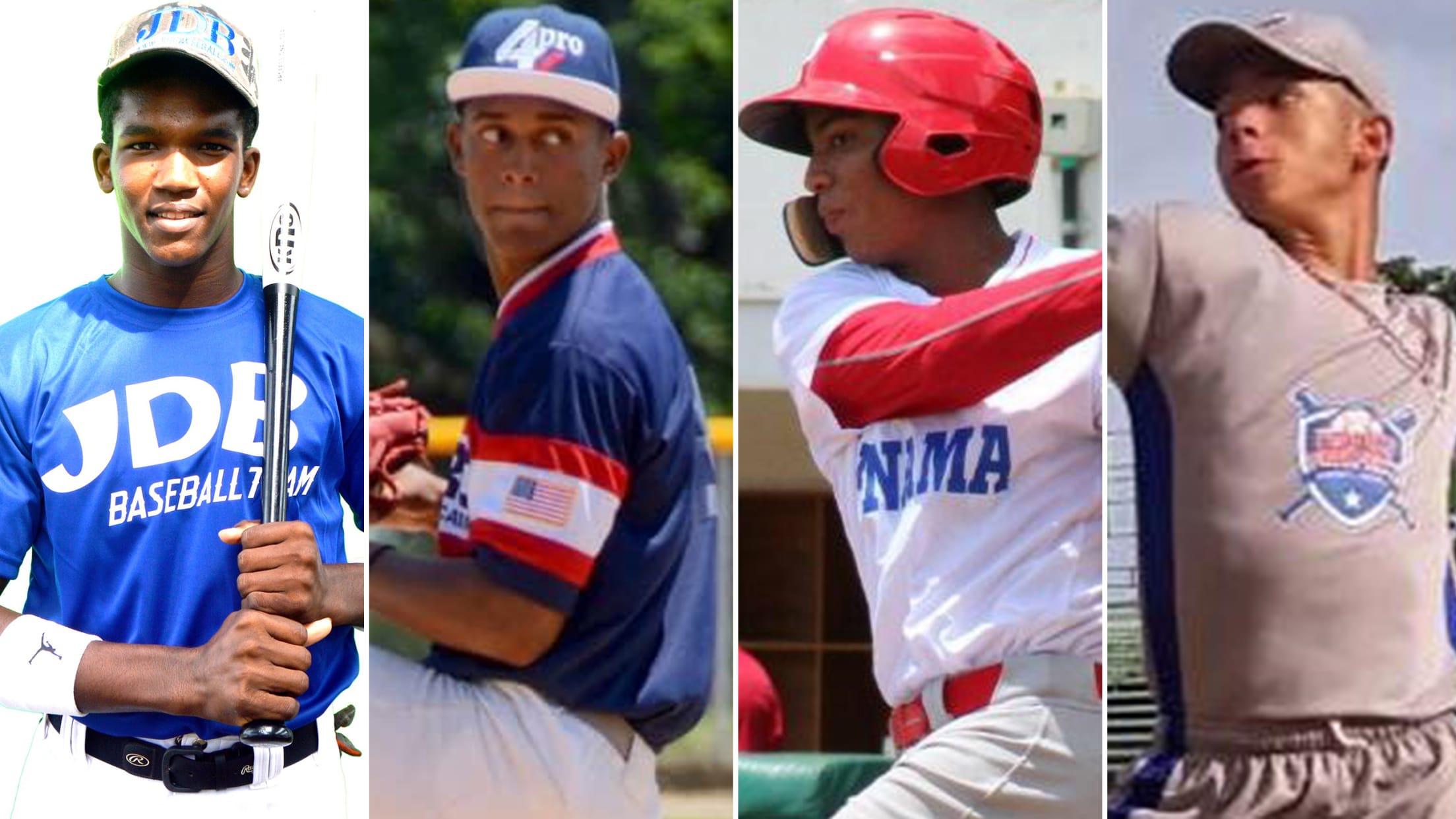 The Padres are generally considered one of the most active teams on the international market, and the club is living up to its reputation once again. According to sources, the Padres have a $2.2 million deal with outfielder Ismael Mena, ranked No. 15 on MLB Pipeline's Top 30 International Prospects
Quantrill on mix of roles: 'Pitching is pitching'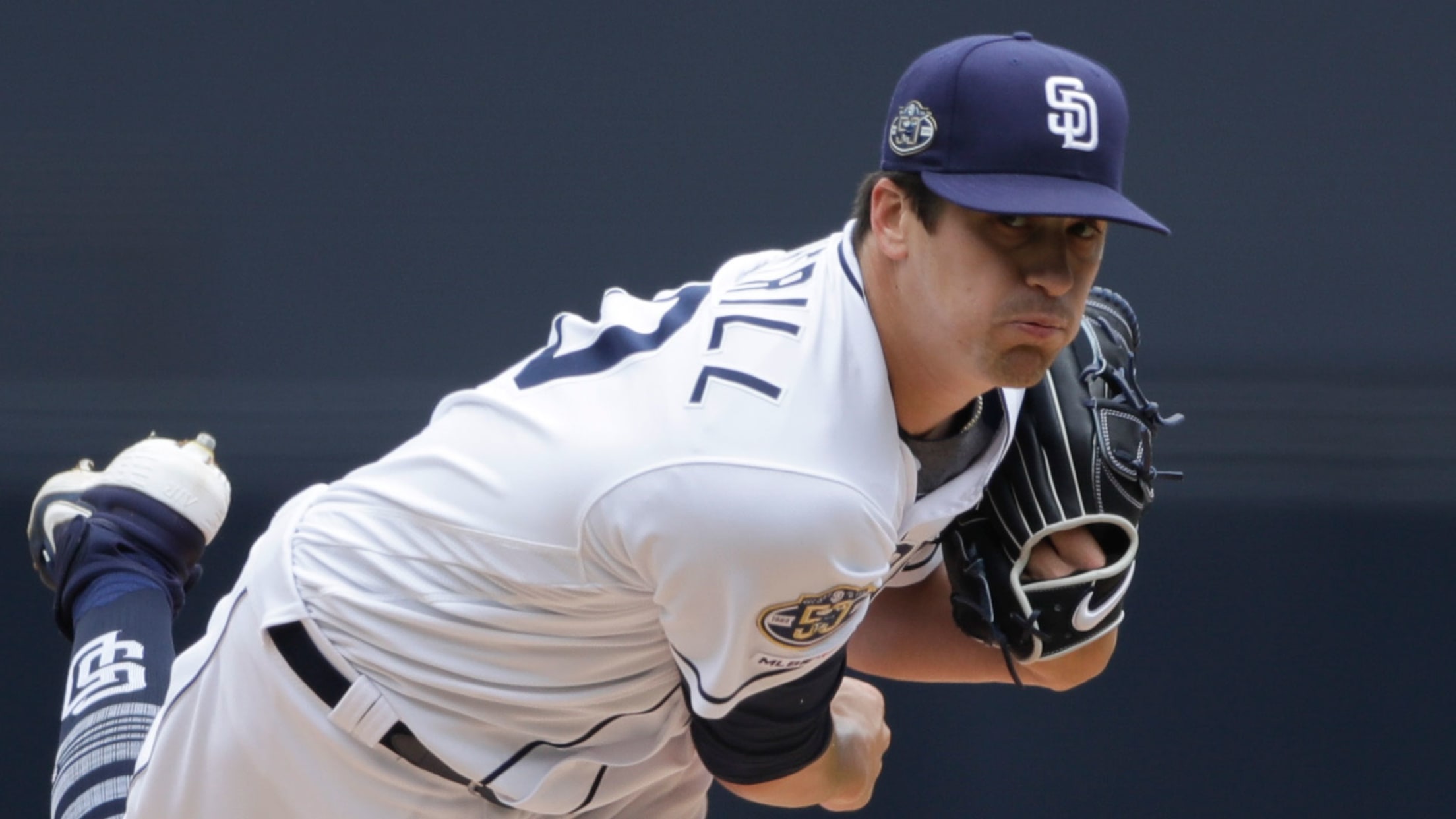 SAN DIEGO -- Cal Quantrill had a bullpen session scheduled for Sunday at Petco Park. The Padres asked their rookie right-hander to hold off until after their game against the Cardinals. Quantrill, after all, has been used in all sorts of roles this season. The team's No. 10 prospect, according
Padres pitching prospects make Futures Game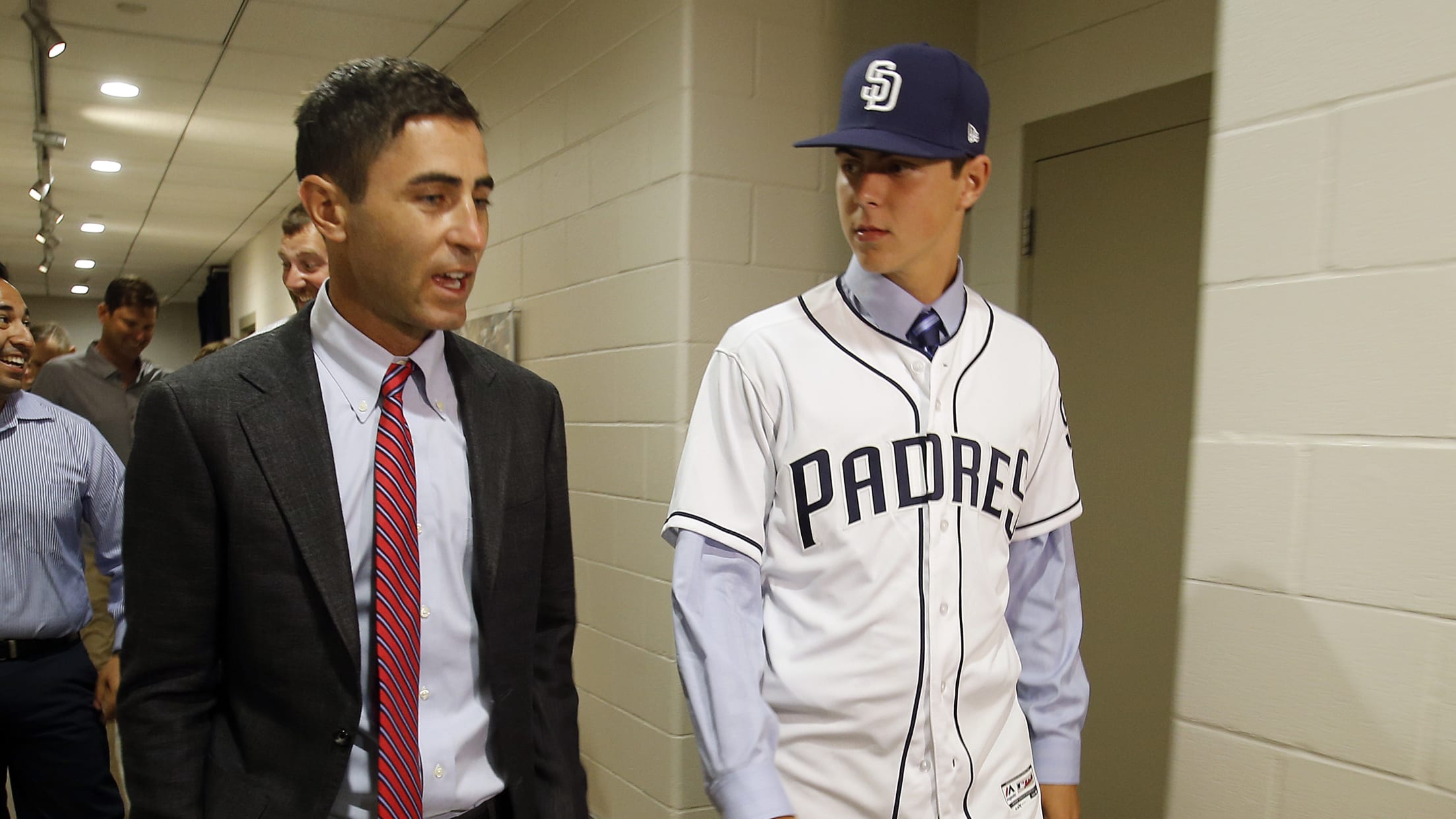 SAN DIEGO -- Over the past two years, A.J. Preller has had countless opportunities to deal from within his top-ranked farm system for rotation help. Not one of those deals has come to fruition. The biggest reason why? The Padres feel like they have top-tier internal options who are close
Allen latest Padres rookie to dazzle in Majors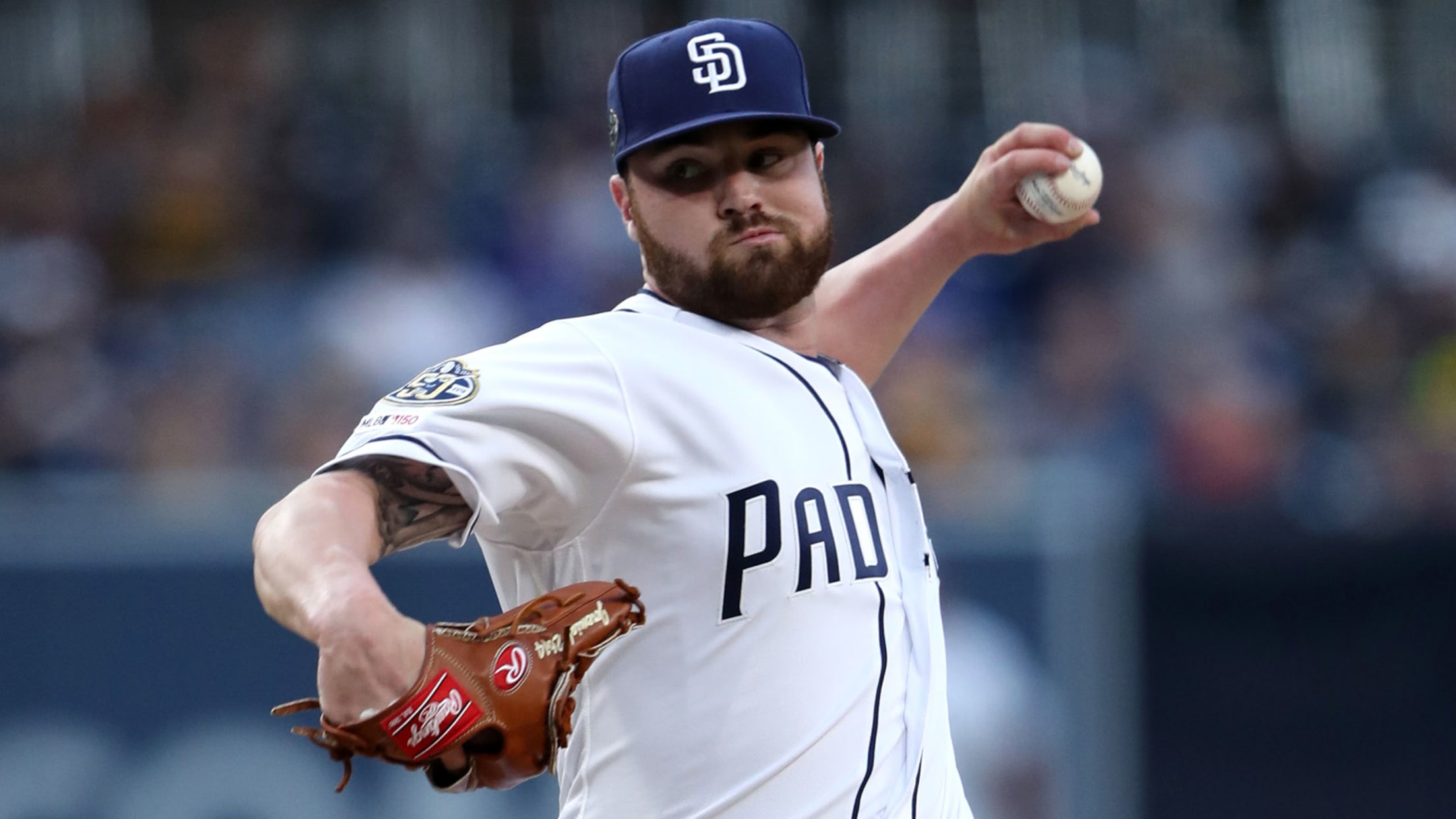 SAN DIEGO -- The kids are growing up so fast. When the Padres promoted Logan Allen on Tuesday afternoon, he became the sixth top-100 prospect to suit up in San Diego this season. Like the rest of them, Allen's arrival inspired talk of the team's bright future. • Box score
John Cena bet this pitcher a dollar that he wouldn't make the Majors, but now he's got to pay up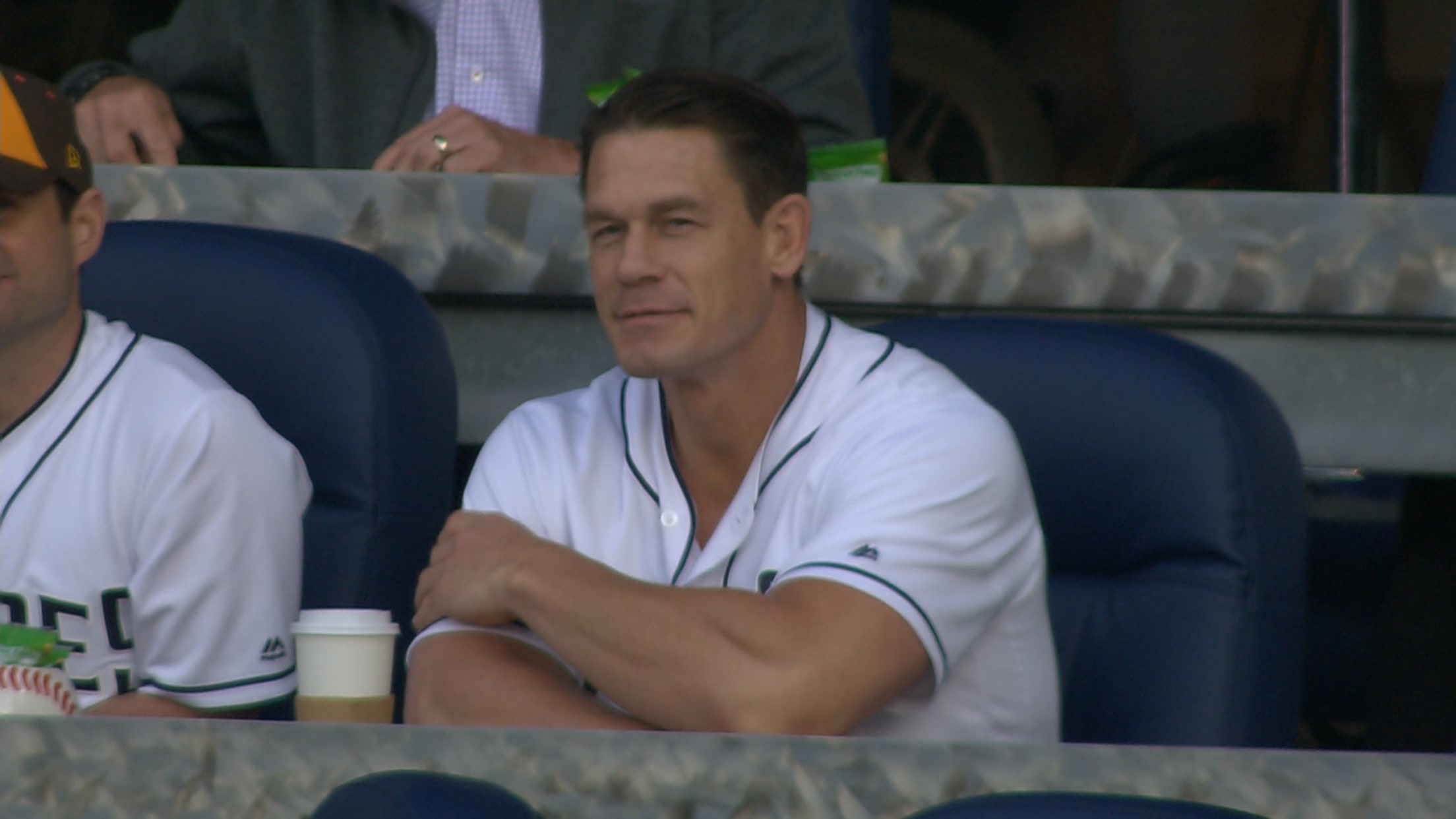 On Tuesday night, the Padres welcomed another top prospect to the Majors when lefty Logan Allen made his debut. The Padres' No. 7-ranked prospect per MLB Pipeline, Allen came out and threw a gem, blanking the Brewers for seven shutout innings. And it all had to do with famed wrestler/actor/entertainment
'It's a good test': Top prospect Allen gets callup
Left-hander ranked No. 5 in San Diego's system, No. 61 overall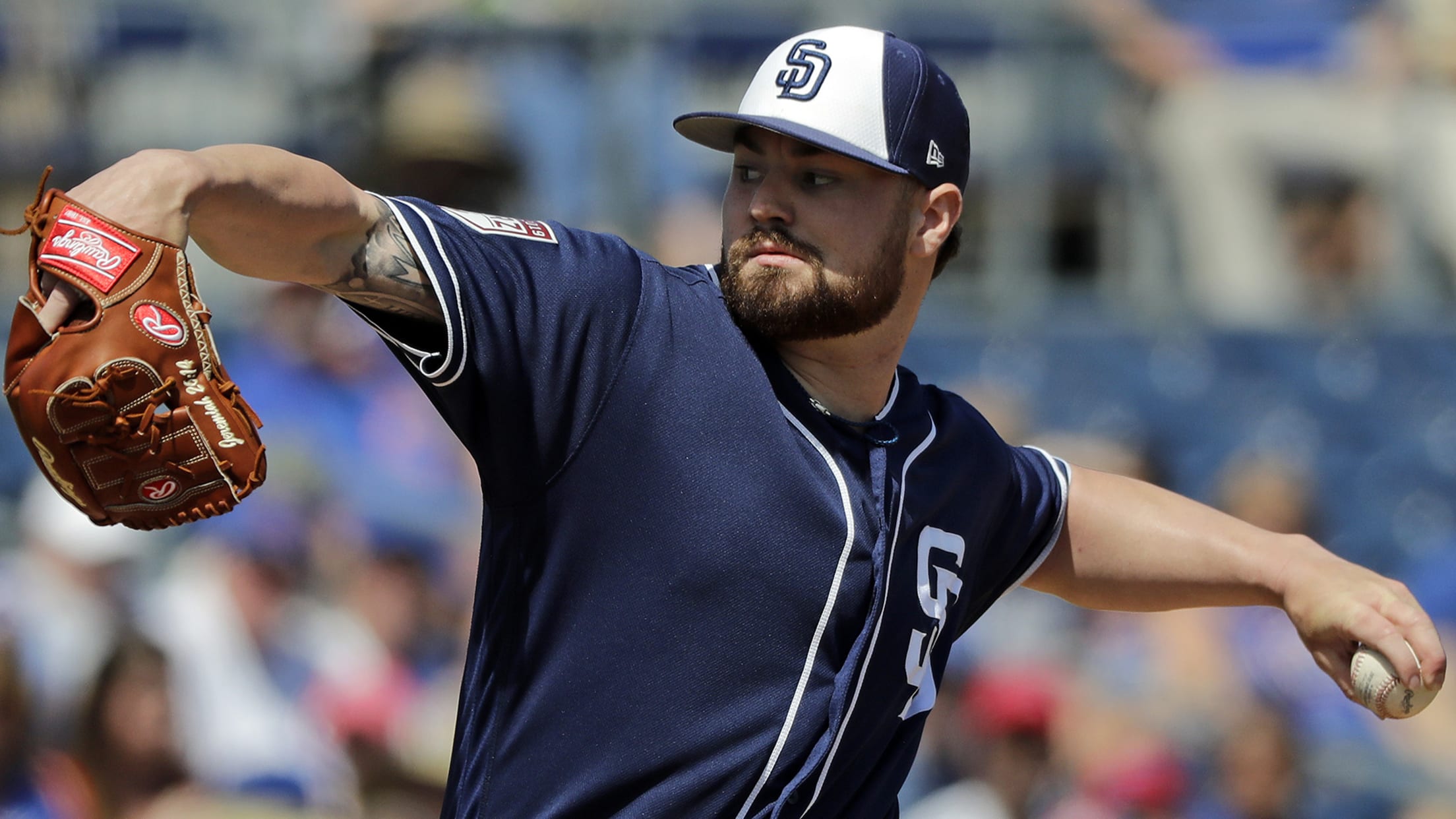 SAN DIEGO -- The Padres have put their bright future on full display this season. The youngest rotation in baseball will get even younger on Tuesday night. Left-hander Logan Allen will be promoted to make his debut in Tuesday's game against the Brewers. Allen is the team's No. 5 prospect
Padres reach terms with top pick Abrams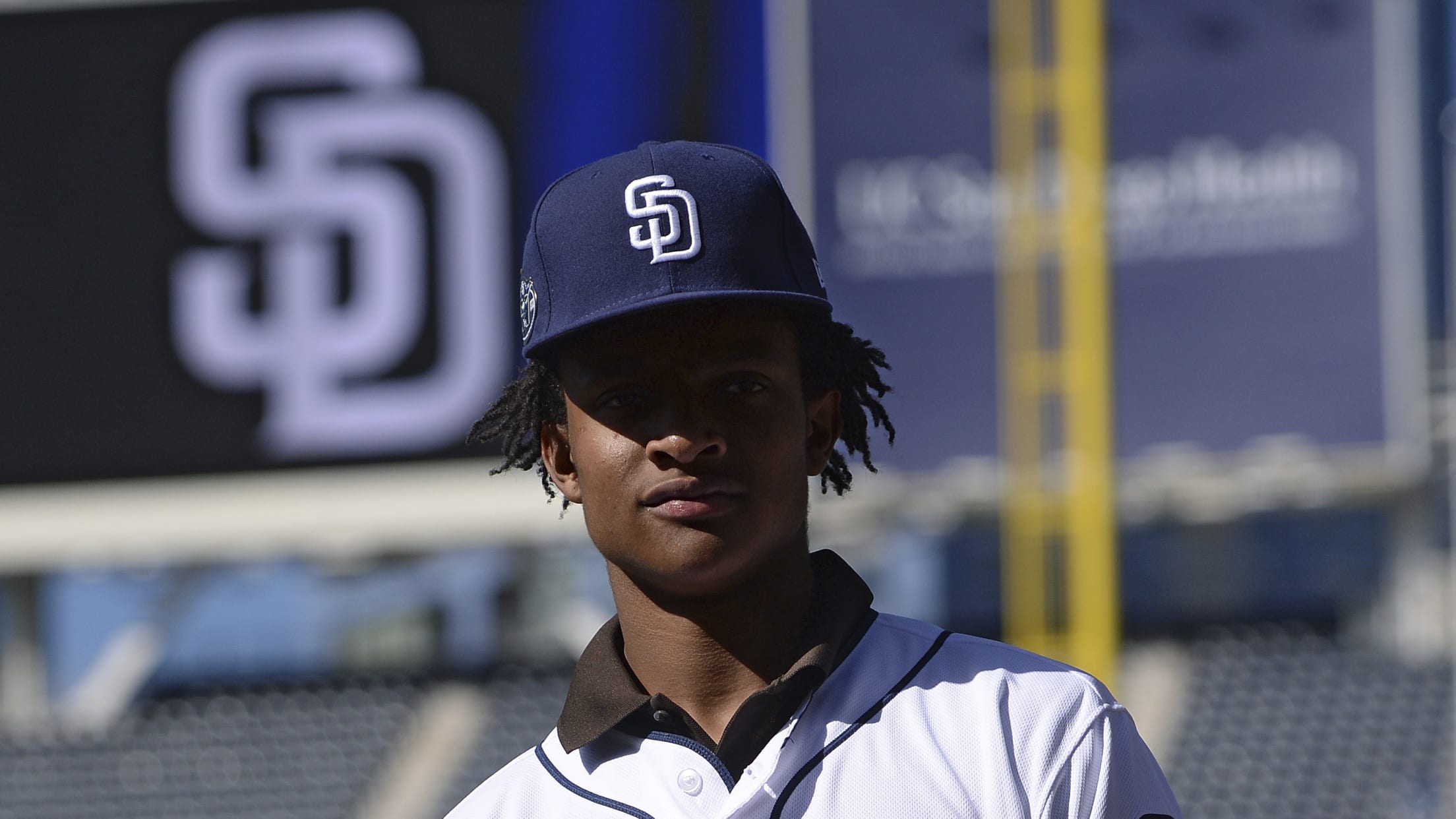 SAN DIEGO -- CJ Abrams arrived at Petco Park on Saturday afternoon, sporting a fresh brown Padres polo to his introductory press conference. Afterward, he strolled through the home clubhouse, watched batting practice and mingled with Manny Machado. "As soon as I can, I want to get out here in
Padres pumped to have Tatis' bat, energy back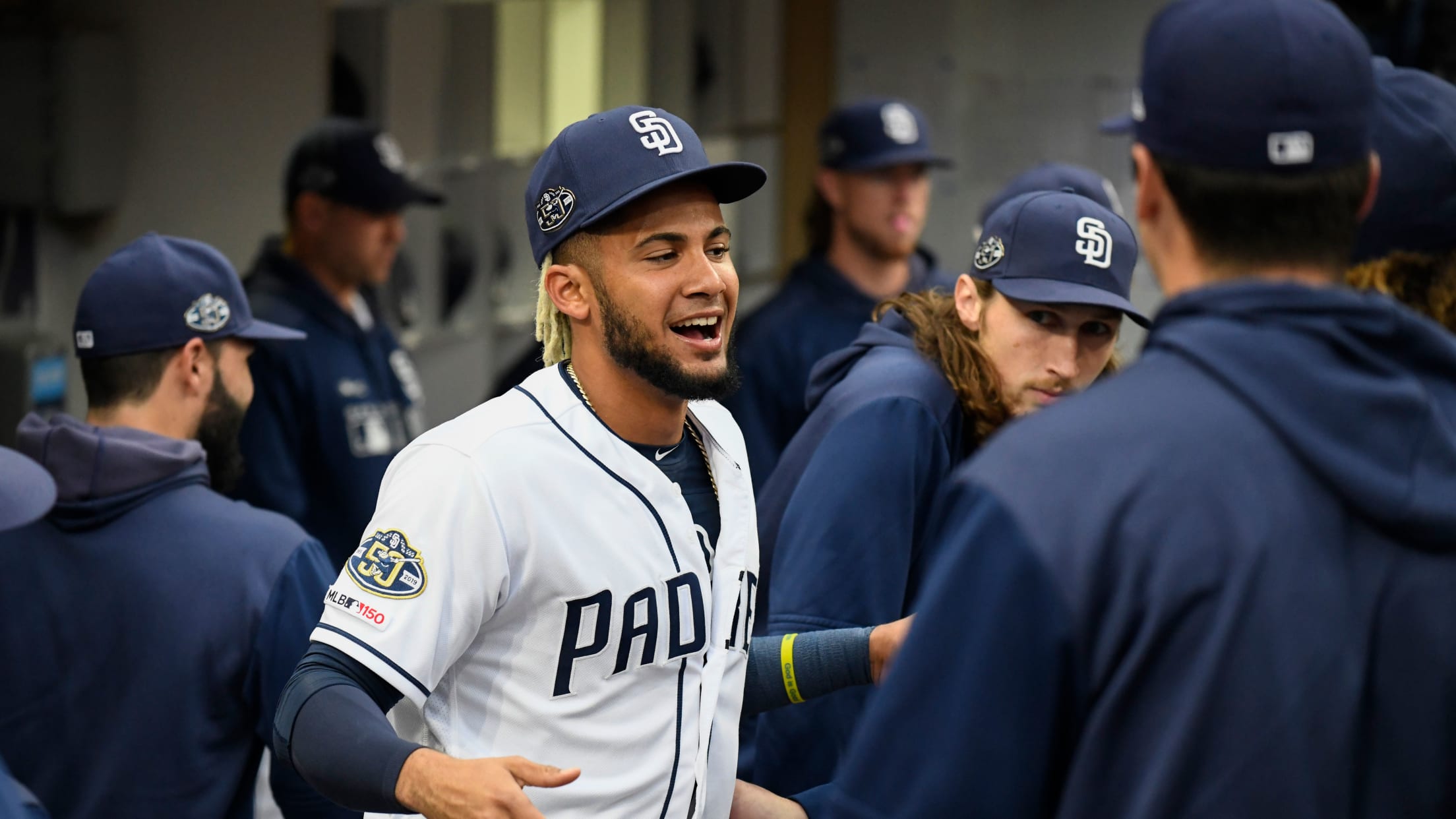 SAN DIEGO -- The days were long in Arizona. As he worked his way back from a strained left hamstring, Fernando Tatis Jr. woke up at dawn every day and reported to the Peoria Sports Complex. He worked out, he took part in games at extended spring training, he got
Padres draft legacy names in Hoffman, Roberts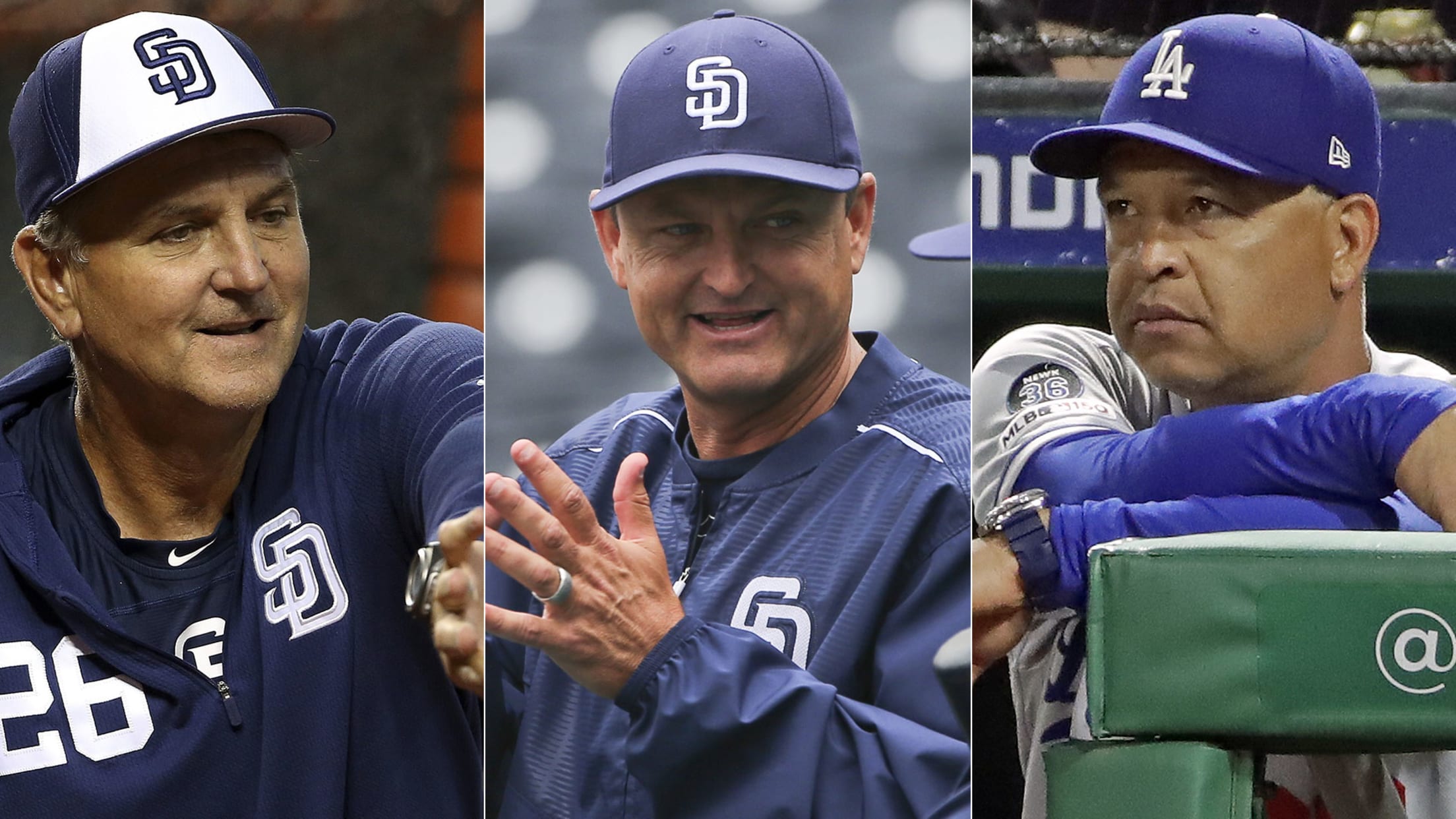 The Padres selected a pair of legacies Wednesday on the final day of the MLB Draft -- first Dave Roberts' son Cole, then Dylan Hoffman, nephew to Hall of Famer Trevor Hoffman and son to Padres third-base coach Glenn Hoffman. San Diego drafted Hoffman, a left-handed pitcher out of Waldorf
Padres draft power-hitting CF, 7 arms on Day 2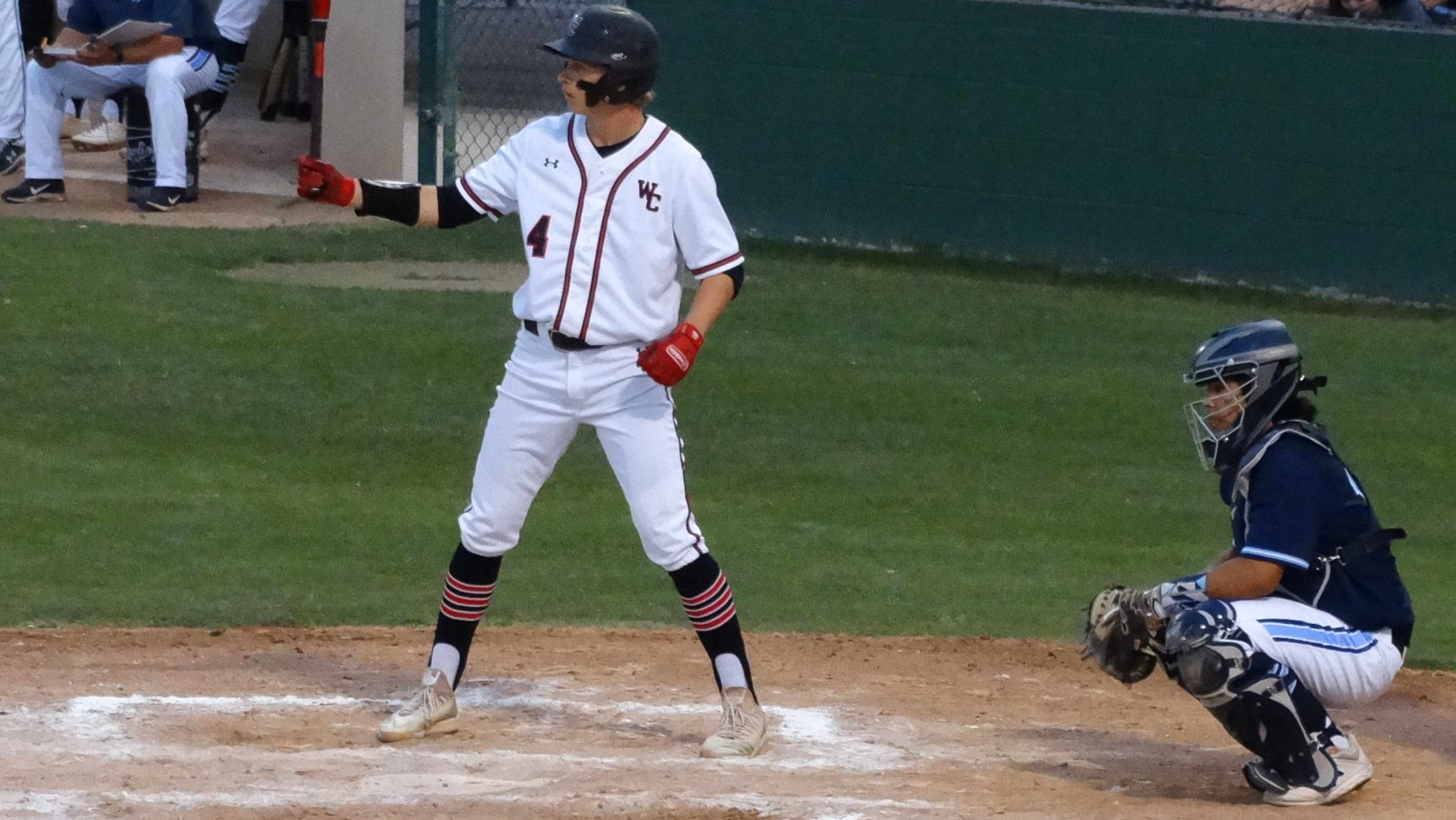 SAN DIEGO -- Mark Conner made a pre-Draft prediction, then he followed through on it. "There's some depth in the pitching," said Conner, the Padres' scouting director, last week in summing up the 2019 class. "It may not be exciting at the top. But as you unfold, it's pretty deep,
Tatis runs wild in first injury rehab game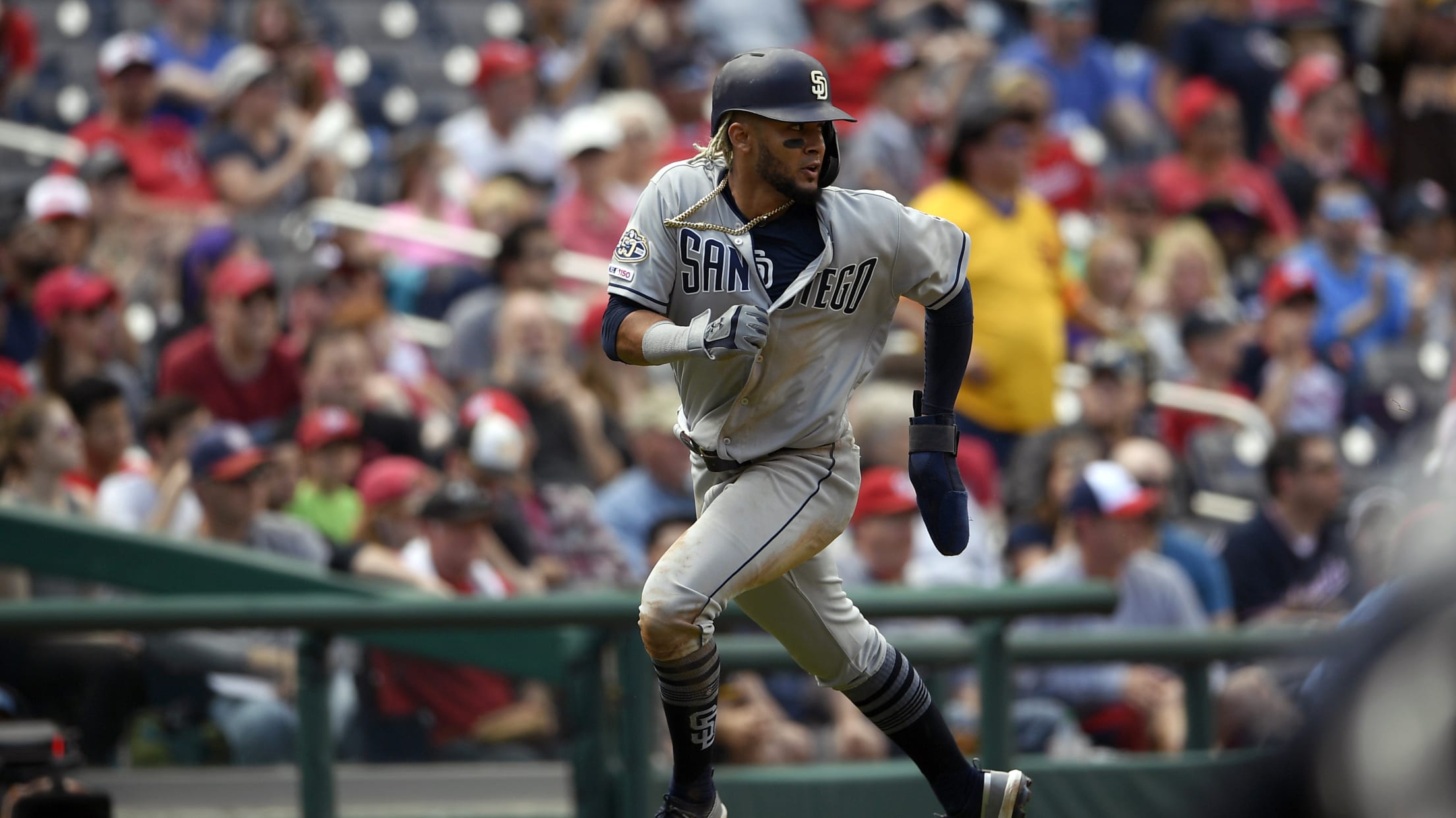 SAN DIEGO -- Fernando Tatis Jr. didn't waste any time showing his usual flair when he started a rehab assignment Monday with Double-A Amarillo. Playing shortstop and batting leadoff against Frisco, Tatis drew a four-pitch walk in the bottom of the first inning. He then stole second base and scored
Padres plan to build on rich Draft past
Outfielder Greene a likely match for San Diego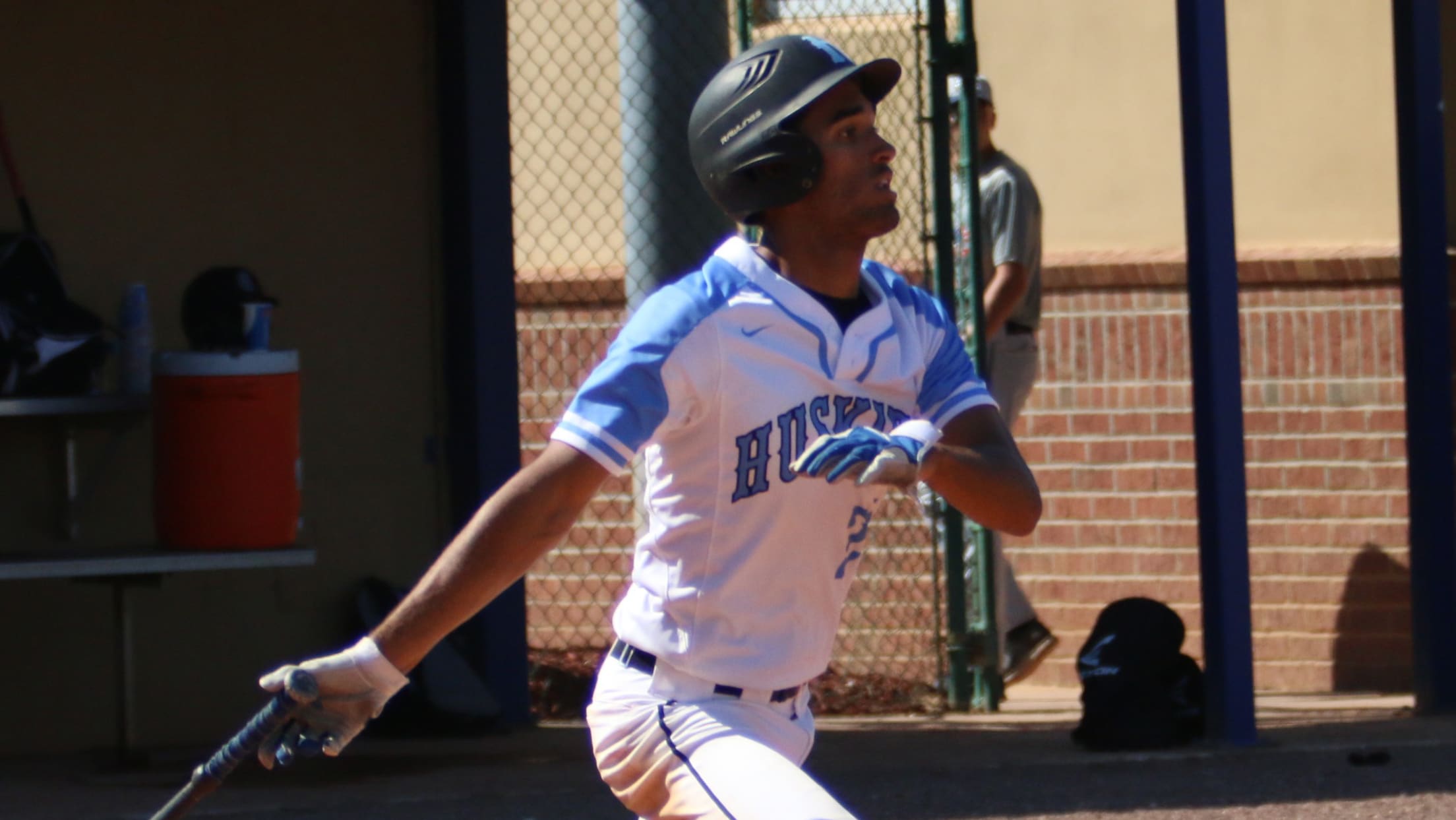 NEW YORK -- The Padres' top-ranked farm system is starting to pay major dividends on their big league roster. That's partly because no team in baseball is shuttling its recent draftees to the big leagues more quickly than San Diego. "Seeing the guys get up there at a fast pace
Naylor swats first HR vs. team that drafted him
Margevicius stumbles in rough 4th inning; rotation decisions loom
SAN DIEGO -- Josh Naylor's life as a ballplayer sure has come full circle over the past week. Seven days ago in Toronto, the 21-year-old outfielder recorded his first Major League hit, mere miles from his hometown of Mississauga, Ontario. Perhaps the slugging outfielder has a knack for storylines and
Tatis Jr. closing in on rehab assignment
Margevicius to start on Saturday; Cordero joins Triple-A El Paso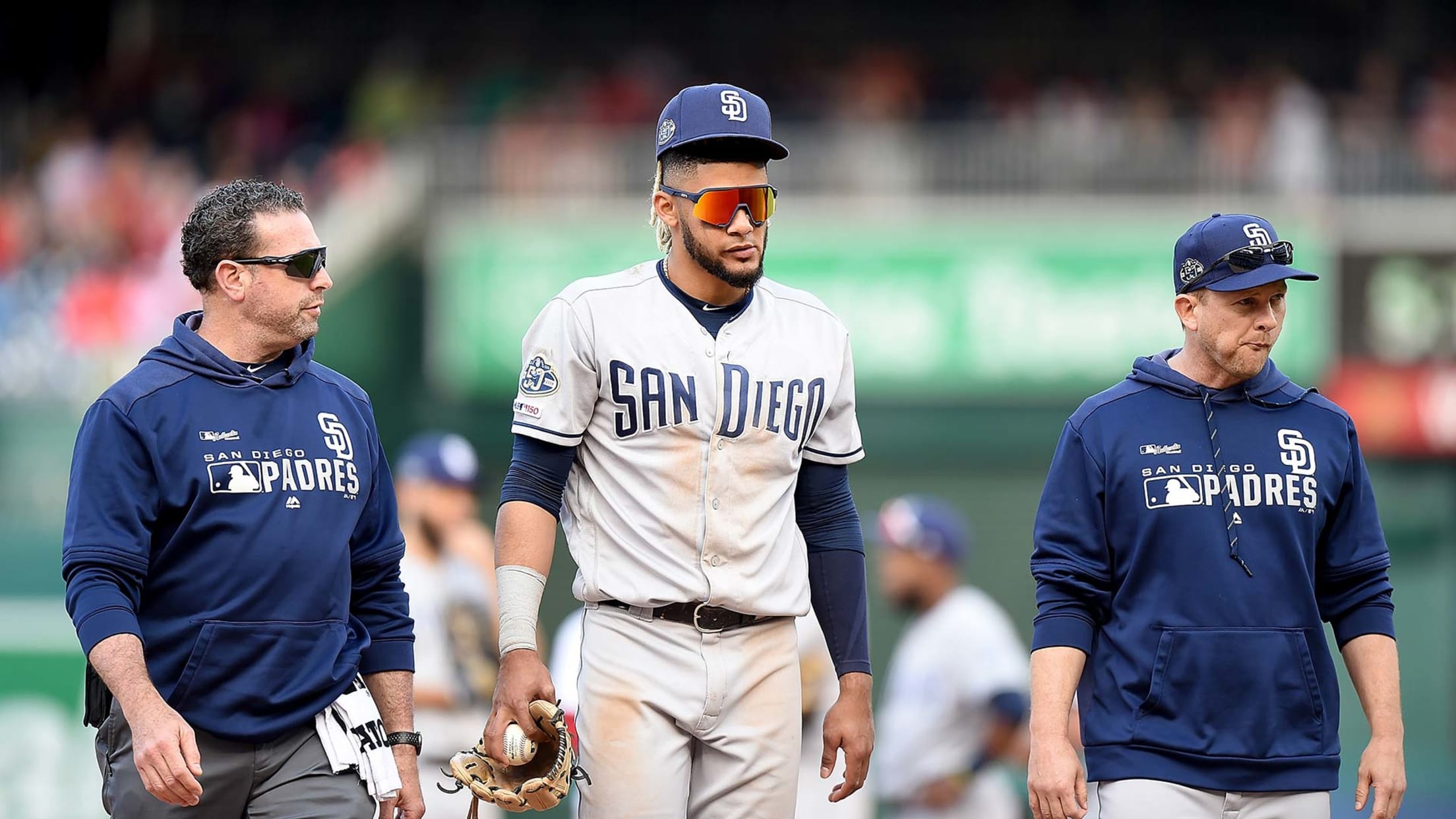 SAN DIEGO -- For the past month, the Padres have gone out of their way to avoid a timetable for the return of Fernando Tatis Jr.. Hamstring injuries are tricky, they said. Tatis would progress at his own pace without the burden of a deadline. Well, Tatis must be making
Toronto homecoming extra special for Quantrill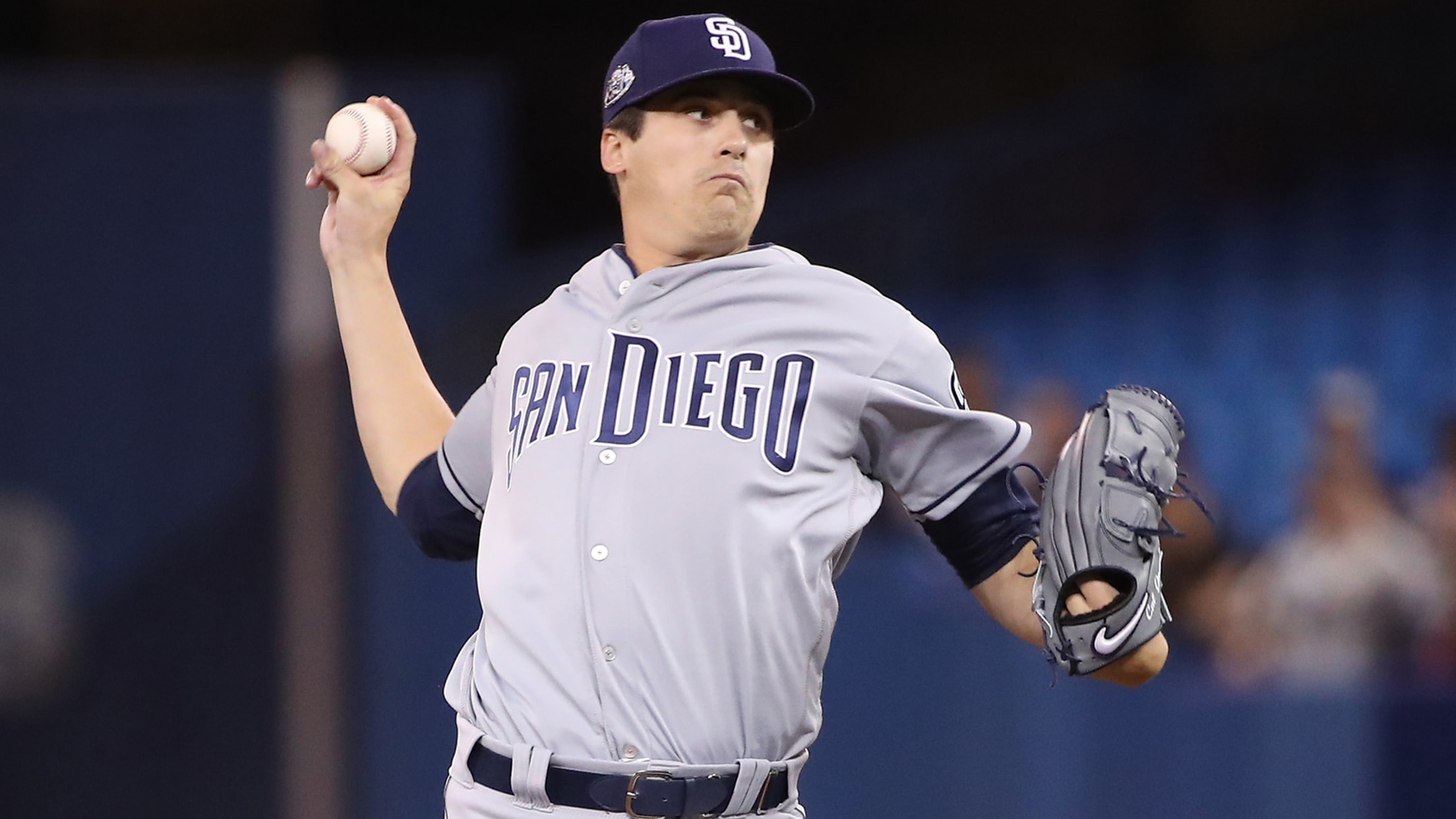 TORONTO -- Almost eight years separated Cal Quantrill's two most recent appearances on the mound at Rogers Centre. When the 24-year-old right-hander took the hill Saturday for his fourth Major League start in the Padres' 19-4 drubbing of the Blue Jays, he was in familiar territory. As a 16-year-old, the
Naylor felt right at home in MLB debut ... literally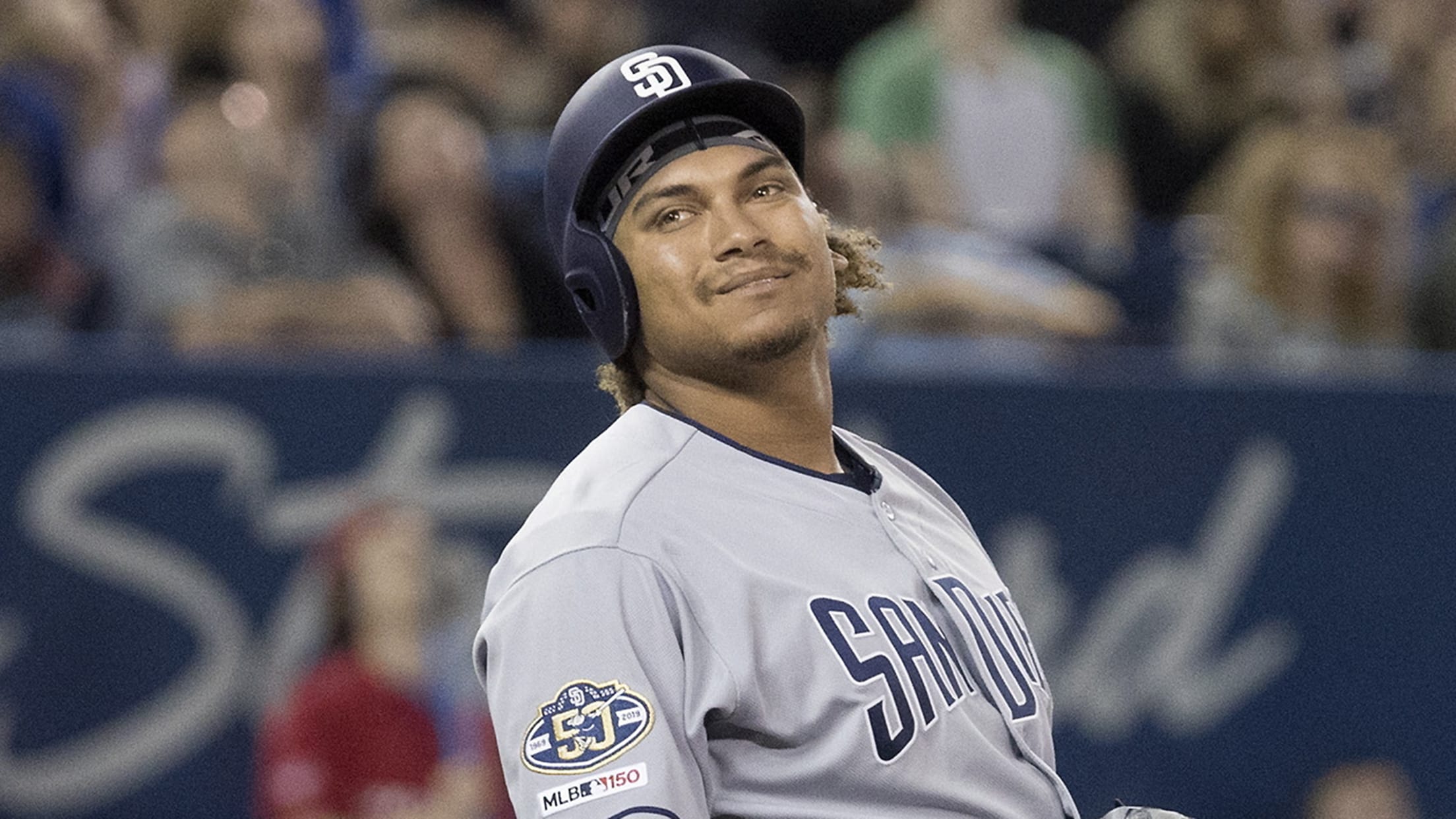 TORONTO -- Josh Naylor was right at home for his big league debut, literally and figuratively. The 21-year-old slugger from Mississauga, Ontario, had played more than a dozen games at Rogers Centre before he even delved into the professional realm, suiting up in the red-and-white uniform for the Canadian Junior
Prospect Naylor makes debut in native Canada
San Diego places Dickerson on 10-day injured list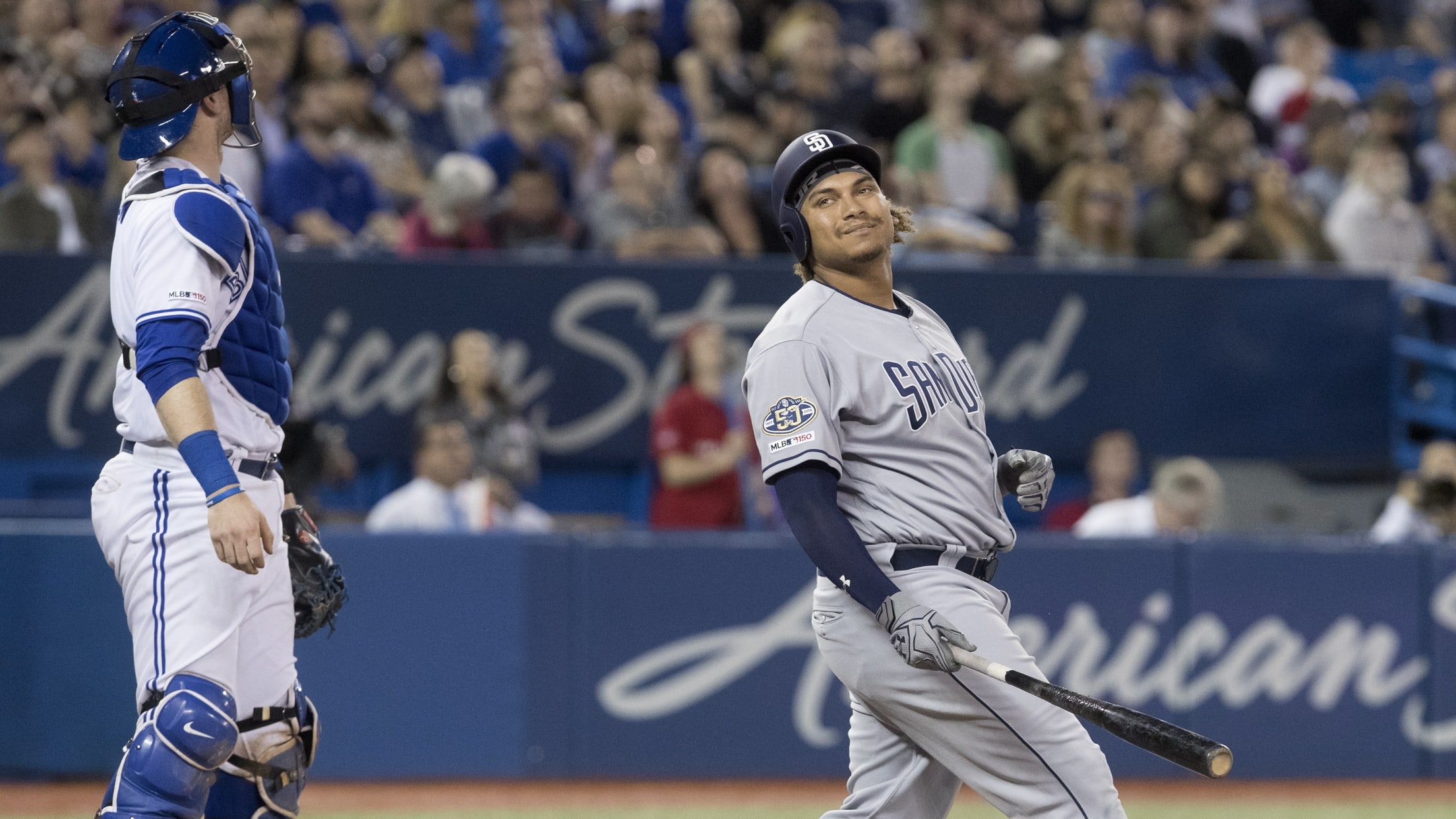 TORONTO -- The San Diego Padres expanded their Canadian contingent just in time for Friday's series opener in Toronto, promoting their No. 9 prospect, Josh Naylor, to the roster for his Major League debut. The power-hitting Naylor is from nearby Mississauga, Ontario, so he expected a large group of friends
Margevicius 'going to work through' rough patch
Padres lefty surrenders 4 home runs in short start against Bucs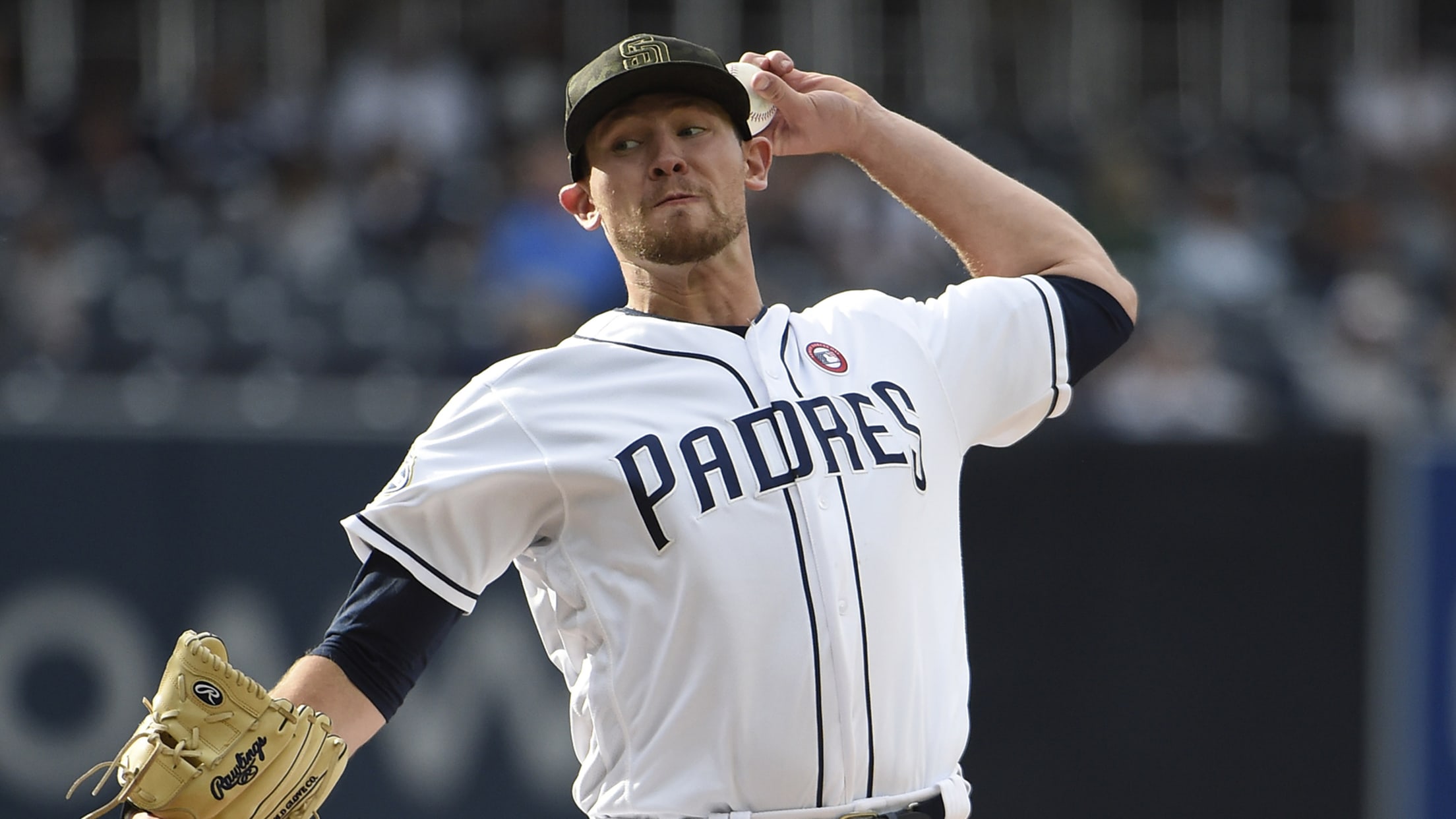 SAN DIEGO -- Since before Spring Training, the Padres have been vocal about their desire to create in-house rotation competition this season. Turns out, they might be staging an impromptu rotation battle this weekend. At the end of camp, Nick Margevicius was named the surprise fifth starter over Cal Quantrill
Inbox: When will Gore debut in Majors?
Beat reporter AJ Cassavell answers questions from San Diego fans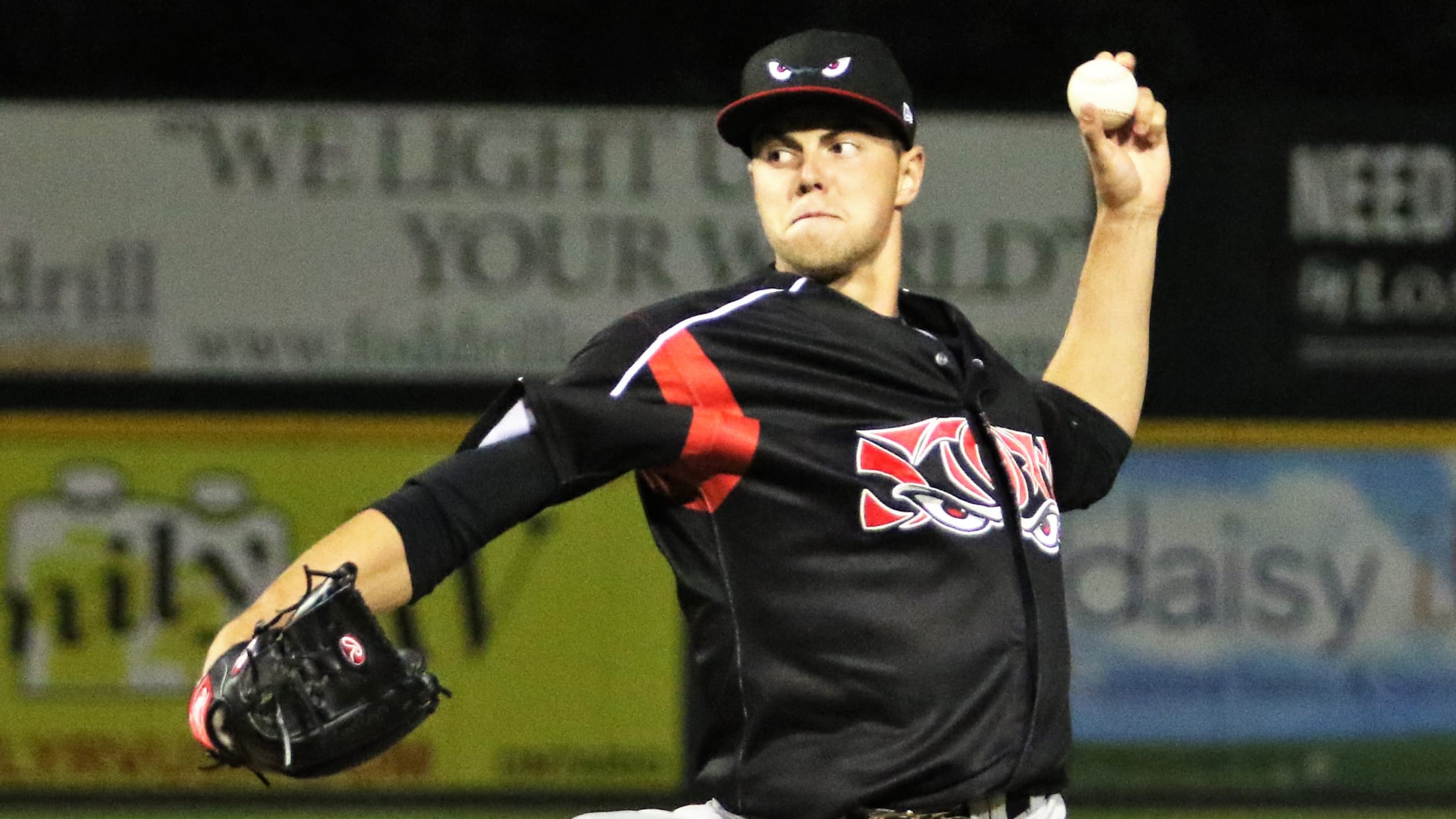 SAN DIEGO -- The Padres' rotation is filled with young starters who moved quickly through the Minor Leagues. Naturally, it's fair to wonder who's next. This week's Padres Inbox focuses on another pitching prospect who could arrive in the Majors ahead of schedule. Plus, it takes a look at the
Allen gets call to Majors as Mejia lands on IL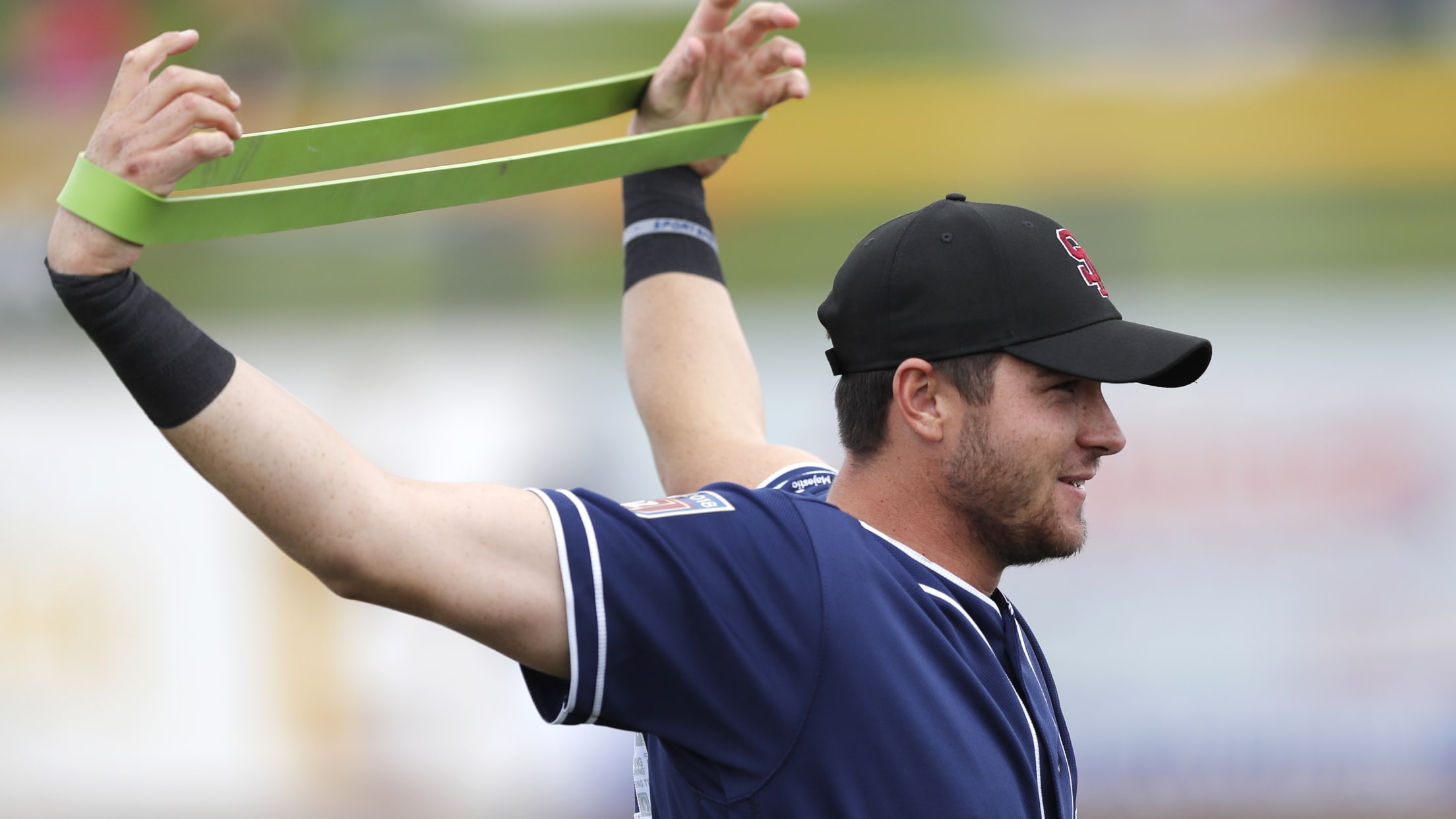 DENVER -- The Padres placed catcher Francisco Mejía on the 10-day injured list on Saturday with a left knee sprain and called up catcher Austin Allen from Triple-A El Paso. Padres manager Andy Green said Mejia has been dealing with the knee issue off and on most of the season.
Tatis Jr. (hamstring) progressing toward return
Rookie's activation this weekend unlikely but not yet ruled out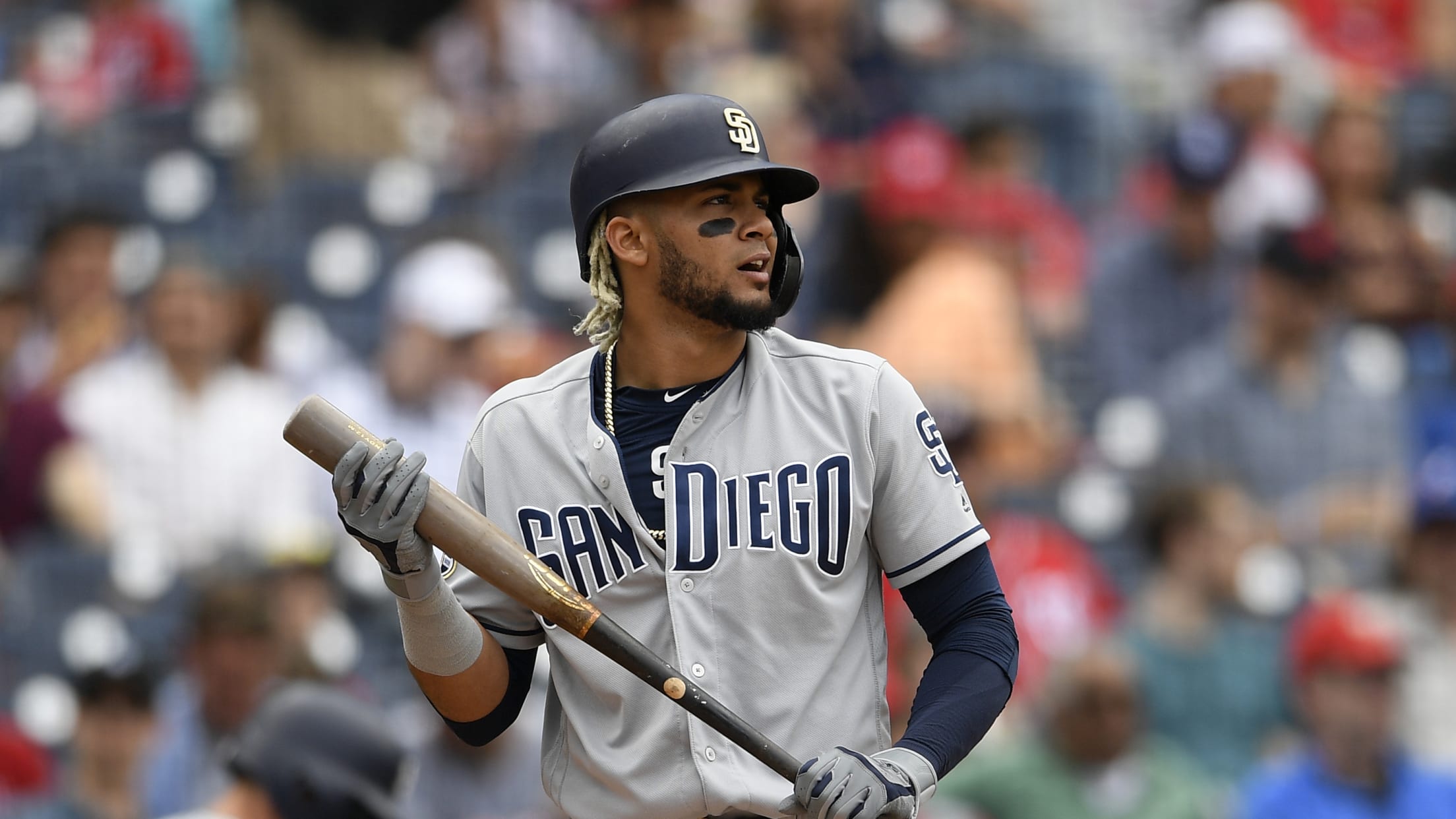 DENVER -- Fernando Tatis Jr. ran at 75 percent and took some ground balls Friday as he rehabs a hamstring injury at extended spring training in Arizona, and while a return to the Padres' lineup this weekend isn't out of the question, it's unlikely, according to manager Andy Green. "It
Tatis Jr. resumes baseball activity
No timetable for return of Padres rookie shortstop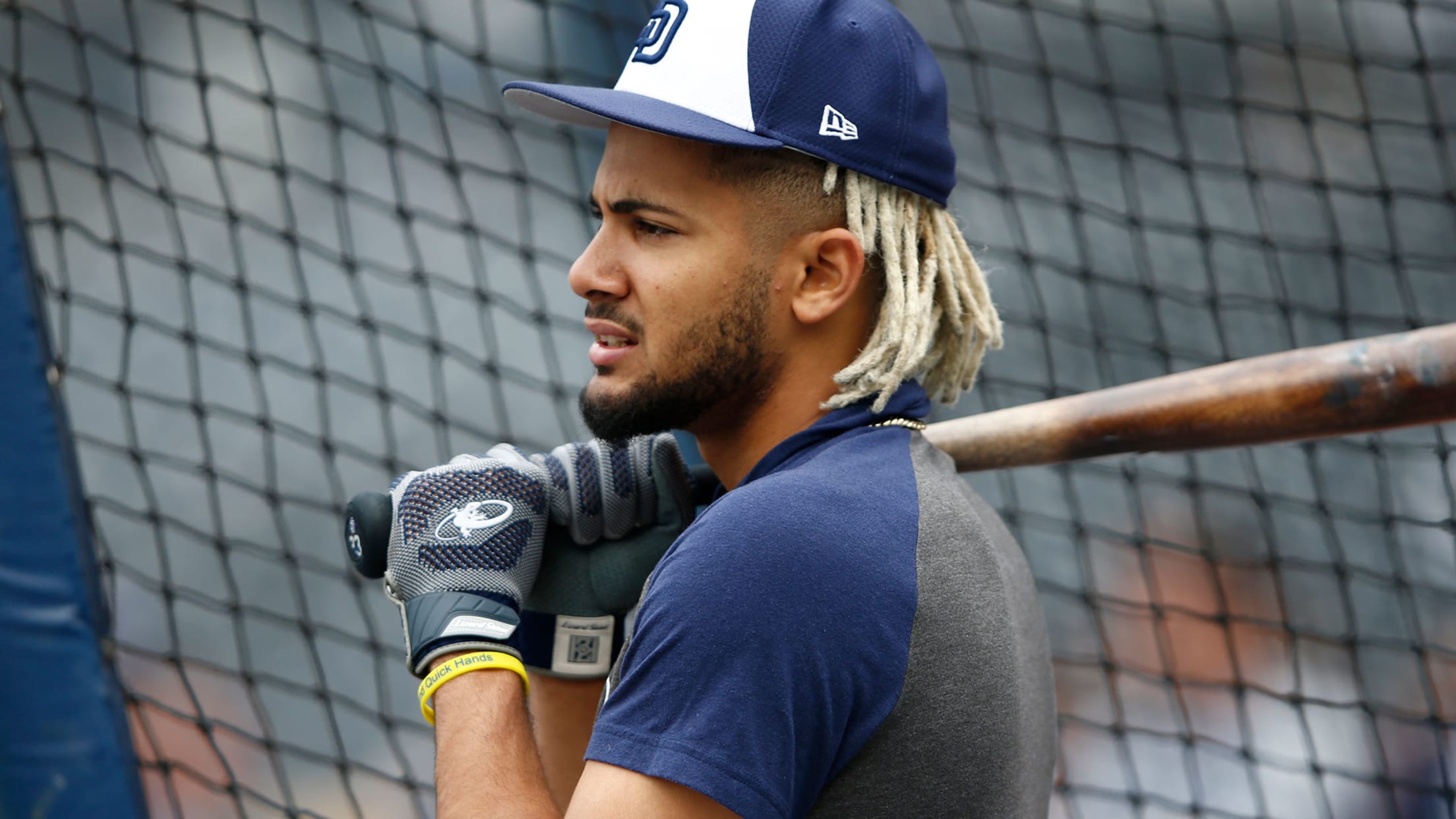 SAN DIEGO -- There's still no timetable for the return of Padres rookie shortstop Fernando Tatis Jr., who is on the injured list with a left hamstring strain. But Saturday offered a welcome sight. The 20-year-old phenom played catch and took a few swings as he returned to baseball activity
Quantrill adds to optimism about young arms
No. 12 prospect pitches into the sixth, gives up two runs vs. Braves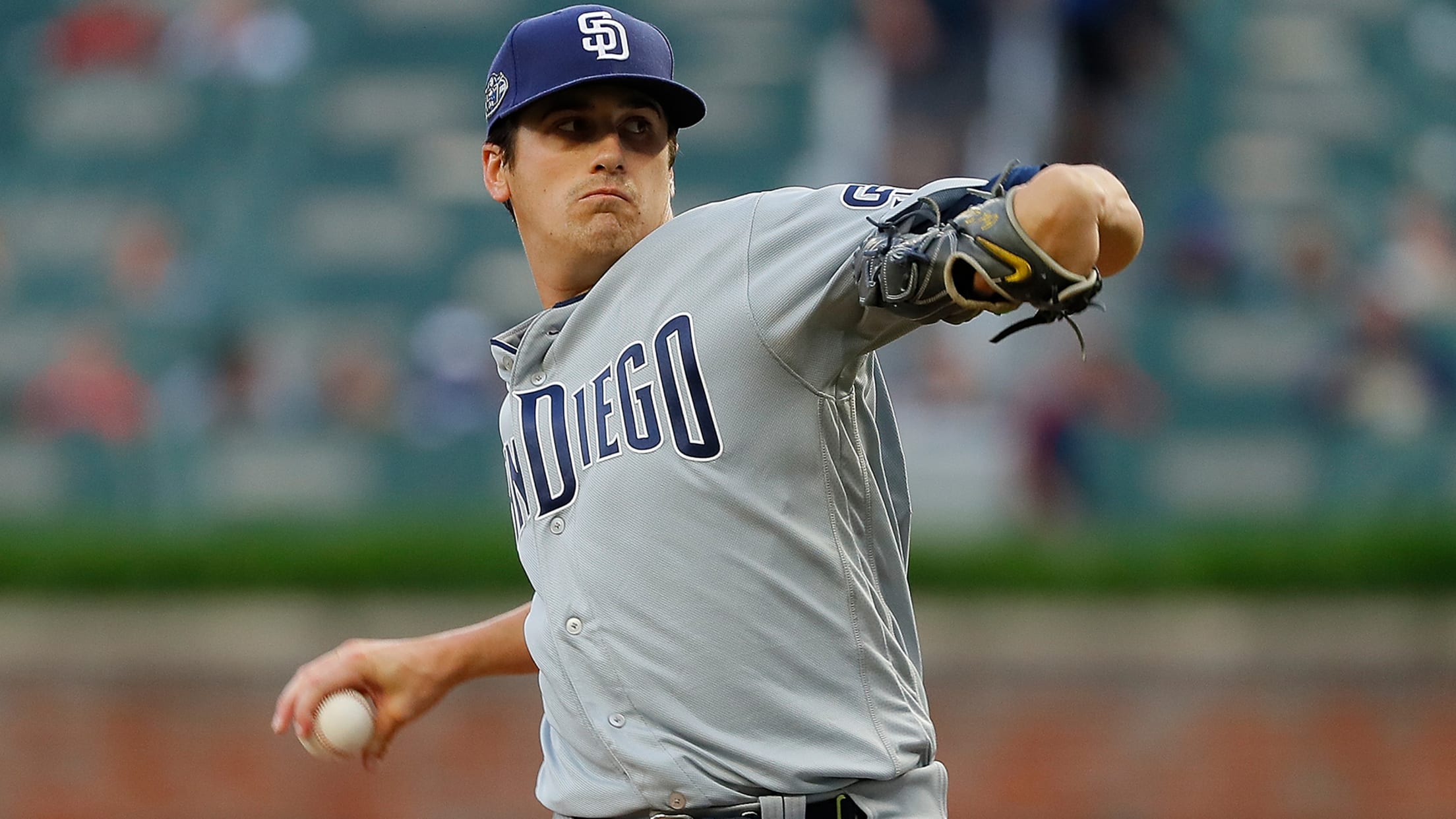 ATLANTA -- There are opportunities available for young pitchers in San Diego's rotation. The Padres made that clear from the start. Cal Quantrill -- the team's No. 12 prospect and 2016 first-round pick -- was the latest to capitalize on that opportunity Wednesday night. In his big league debut, the