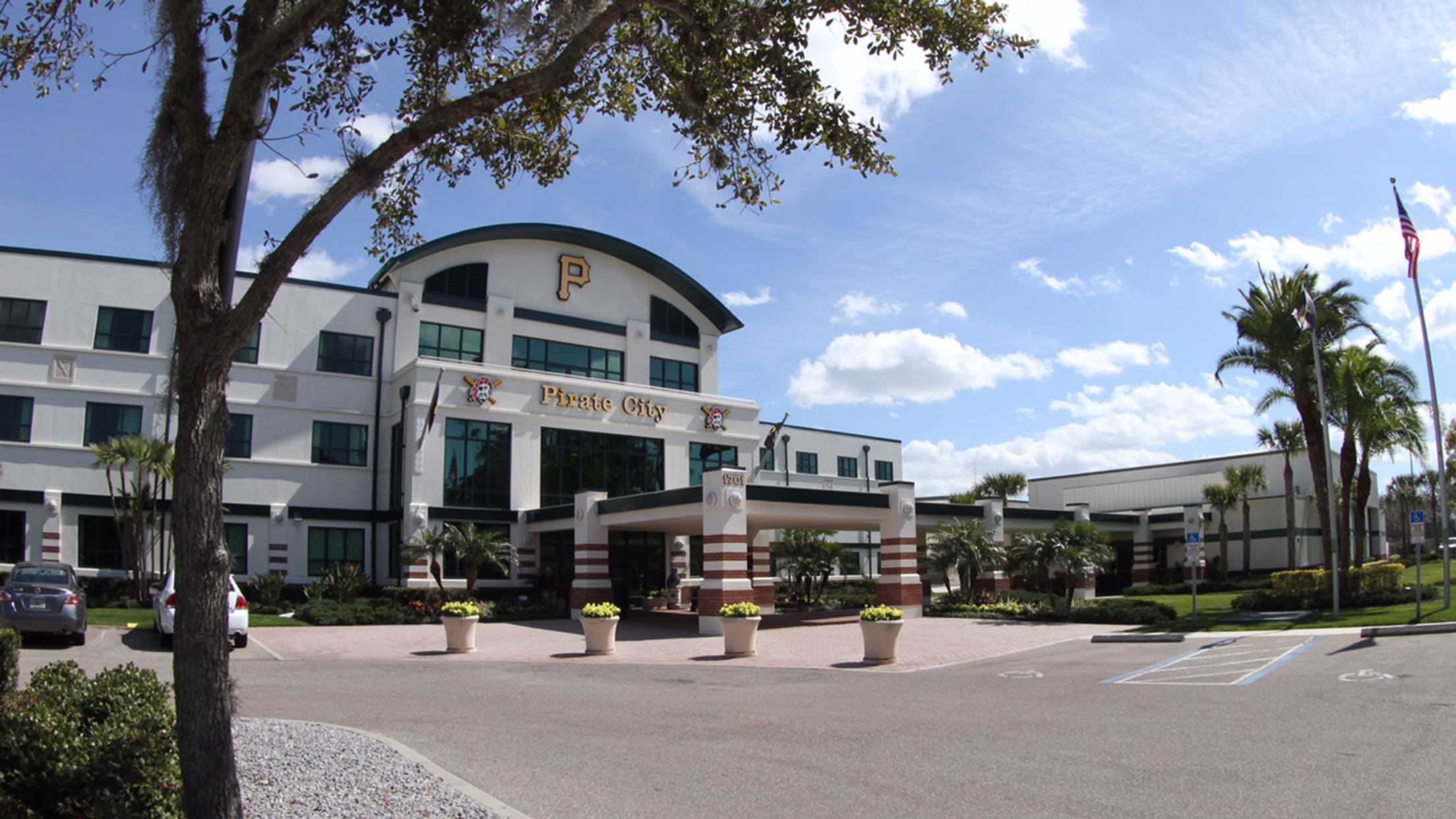 PIRATE CITY EVENT HOSTING
It's a new era for the Pittsburgh Pirates in Bradenton, Florida. The Pirate City complex is a state-of-the-art training facility to rival any other. We'd love for your group or team to help usher in this new era by hosting your event at our facilities.
Even before the recent historic renovations, Pirate City played host to events and camps of all sorts, including:
Baseball groups who eat, sleep and live at the complex. This includes college programs; high school and college showcases & tournaments; and instructional sessions.
Foreign teams' Spring Training.
Corporate Team Building Events including such elements as a softball game and barbecue at Pirate City and now the opportunity for a softball game under the lights at LECOM Park.
Corporate Meetings & Seminars.
Holiday Parties & Banquets.
Wedding Receptions.
Birthday Parties.
Concerts and more...
And now with our new facilities available, we anticipate hosting scores more. From one-day conferences... to overnight corporate retreats... to week-long baseball programs... Pirate City and LECOM Park have the event space to accommodate your group.
Dormitories
Stay in the very same rooms as Pittsburgh Pirates professional baseball players. Pirate City features 83 total dorm rooms on three floors, all completely remodeled and with new furnishings. 75 of those rooms are double-occupancy and feature all the amenities of a first-rate hotel, such as:
Two extra-long twin beds.
Two desks.
Sofa.
Two wardrobe closets.
Private bathroom with walk-in shower.
26" flat-screen HDTV (including the MLB Extra Innings package, of course!).
High speed wireless internet access.
Free local phone service.
Two safes to lock up your valuables.
And more...
To round out the baseball theme, the front door of each room is made out of ash - the material that's used to make the majority of baseball bats. Each room also features a framed picture and bio of a different Pirates All-Star player.
Suites
The dormitories also feature three Suites, which include everything listed above plus:
Kitchen area with full-size refrigerator, sink, cabinet space and dining table.
Living area with sofa & chair.
Additional fl at-screen TV (one in living area, one in bedroom).
King-size bed.
A hair dryer and coffee maker.
Walk-in closet.
There is one Balcony Suite available with a stunning view of Pirate City's four playing fields. Pirate City also includes five ADA rooms, each with a king-size bed and all the amenities of the double-occupancy rooms.
Amenities
On-site catering is provided by Sodexo Food Services. We're sure you'll find an option that suits your needs among their many catering packages. No outside food or beverage is permitted for meals.
All Pirate City facilities are non-smoking. LECOM Park has designated smoking areas. Ask your event planner about discounts on rental fees available for Pirates season ticket holders and Pirates organizational sponsors, as well as non-profit organizations.
Call Pirate City at 941-747-3031 for more information or to book your next event!
PIRATE CITY CONFERENCE SPACE
From small meetings to seminars for 100+, Pirate City can accommodate your conference needs with the following meeting spaces. Copy and faxing services are available for all.
World Series Conference Room
Located on the third floor of the dormitory, the World Series Conference Room is equipped with advanced multimedia capabilities including two 52" fl at screen TVs and a projection screen/projector for presentations, data ports and high-speed wireless internet access, two DVD players and a large wall-mounted dry-erase board. You'll be able to stay for the day with a private restroom and a small kitchen area just outside the room. Step outside onto the outdoor balcony where there is additional high-top table seating.
The capacity for the World Series Conference Room is 100 people.
Board Room
Also on the third floor at Pirate City is the Board Room. Features include a private kitchen area within the space, a large wall mounted dry erase board and 52" fl at screen TV with DVD player. The Board Room can be laid out with furniture set-ups for 10 or 20 people.
First Floor Meeting Room
Located in the dormitory building, the First Floor Meeting Room features two wall-mounted dry erase boards and fl at-screen TV with DVD player.
This space can accommodate 20 people.
Clubhouse Classroom
Get closest to the baseball action with a meeting in the Clubhouse Classroom, which features two TVs and its own full kitchen. This space can be divided into smaller segments but at its largest capacity can accommodate 50 people.
PIRATE CITY BASEBALL FACILITIES AND SERVICE
If you're staying where big leaguers stay, you'll train where big leaguers train. Pirate City features four professionally-maintained playing fields, one half field, and one utility field featuring two infields on one playing surface. You'll walk on 100% Bermuda grass among four fields in a cloverleaf design. Spectators can watch from a common area in the middle of the four fields. Depending upon the nature of your event, entrance to the four main fields can be secured for ticket sales purposes. Your guests will appreciate the convenience of a concession stand (operated by the Pirates) and complimentary parking near the fields. Field water cooler service is provided for all overnight guests.
Available training facilities include twelve bullpen mounds and five batting cages. There is a small turf area adjacent the clubhouse for strength and conditioning exercises; Pirates training services are available upon request for an additional fee.
The Clubhouse is made up of four team locker rooms along with separate locker rooms for umpires and coaches. You'll also find an auxiliary training room and weight room. Pirate City can also provide daily laundry service of practice and game uniforms.
PIRATE CITY COMMON AREAS
Dining Hall
You will enjoy your meals in the same place where the pros eat breakfast, lunch and dinner during their training time at Pirate City. The Dining Hall is connected to the dormitory via a covered walkway and is available to rent for banquets and other private events, in addition to serving as the on-site dining area for overnight guests. The space is equipped with a projection screen, sound system, and microphone & podium. There are private restrooms in the Dining Hall.
The Dining Hall can accommodate 175 people seated and 300 for a standing reception.
Activity Rooms
Other common areas of the dorms include two activity rooms. The first floor features two pool tables, a ping-pong table and three video game systems. Watch a DVD on the 52" TV or use the gaming console of your choice on any of three additional televisions. You'll find two sofas, high-top seating, two microwaves and internet-only computers. The second floor lounge is often used as a mini-movie theater with numerous sofas, chairs & ottomans and a 52" TV.
Amenities
Giving you all the comforts of home during your visit is our priority. Your stay also includes daily housekeeping, 24-hour security, coin-operated laundry, mail service, and complimentary parking. To avoid having to travel off-site, we also have a convenience store that offers necessities including beverages, snacks and toiletries.