Located in Bradenton, Florida, approximately 50 miles south of Tampa, LECOM Park is the Spring Training ballpark of the Pittsburgh Pirates.
ABOUT LECOM PARK
LECOM Park was originally built in 1923. It has undergone a number of significant renovations over the last three decades to provide fans modern amenities while maintaining the feeling of a classic ballpark. The iconic Spanish mission style façade was constructed during a significant facelift of the stadium in the early 1990s. Lights came about in 2008.
The centerpiece of the renovations came in 2013 when the Pirates, the City of Bradenton, and Manatee County partnered on a $10 million renovation of fan areas which included a 19,000 square foot boardwalk spanning the outfield. Updates also included new group areas with enhanced sight lines to the field, expanded restroom facilities, new concessions locations and an enlarged Fan Plaza. Massive palm trees now dot the landscape, augmenting the charm of the 90-year-old stadium. Every individual reserved seat was removed from the park, and 4,600 new, more comfortable seats were installed. And new covered bleachers with 570 seats were added in left field, expanding LECOM Park's capacity to more than 8,500. In addition, a new state-of-the-art clubhouse and office building was built in 2015, giving the Pirates one of the best spring training facilities in the Grapefruit League.
"The rebuilding project at LECOM Park speaks to the strength of our partnership with Bradenton and Manatee County," said Pirates Chairman of the Board Bob Nutting. "It is a partnership of that, I believe, is the strongest in Major League Baseball thanks to the local leadership of Mayor Poston, the City Council, the County Commission, Tourist Development Council, Bradenton Downtown Development Authority and, most importantly, the support of the Bradenton community."
LECOM Park, which is also home to the Bradenton Marauders of the Florida State League, received the top honor of the 2018 Best of the Ballparks fan vote for High-A facilities, conducted by Ballpark Digest. The same publication has previously recognized The Friendly City's ballfield as "Best of the Ballparks" in the Grapefruit League. LECOM Park has held the top spot among Florida Spring Training destinations since 2016.
"Tradition means a lot in the Grapefruit League and spring training, and LECOM Park is certainly one of the most traditional venues in all of baseball," said Kevin Reichard, publisher of Ballpark Digest and Spring Training Online. "With some great updates in recent years that really enhanced the fan experience, LECOM Park really is best of both worlds."
LECOM Park renovations from 1991-93 included new grounds, wide access ramps, concession stands, kiosks and improved sight lines, all while maintaining a ballpark's classic ambiance. The palm-tree lined park was integrated into the already 1920s Spanish-mission style by using masonry, stucco and structural steel materials. LECOM Park was even pulled back from the street, allowing for the creation of a public plaza and walkway around the park. Inside McKechnie, fans moved closer to the field by expanding seating capacity from approximately 4,200 seats to more than 6,500 seats.
The ballpark was originally named McKechnie Field, in honor of Pittsburgh native, former Bradenton resident and Hall of Fame manager Bill McKechnie. The new name, LECOM Park, was announced on February 10, 2017.
About LECOM
Founded in 1992, the Lake Erie College of Osteopathic Medicine (LECOM) has grown to become the largest medical school in the country. Enrollment in the College of Osteopathic Medicine, School of Pharmacy, School of Dental Medicine, School of Health Services Administration and Graduate School of Biomedical Sciences has surpassed 4,500 students at campuses in Erie and Greensburg, Pennsylvania, Bradenton, Florida, and Elmira, New York. LECOM consistently graduates more primary care physicians than any other U.S. medical college while maintaining one of the lowest tuitions of any private medical school in the country. The college is the core of the nation's only osteopathic academic health center, LECOM Health, a highly innovative, multi-faceted health care and education system. Today more than 15,000 LECOM alumni are providing health care to patients across the U.S. To learn more, visit LECOM.edu.
SEATING CHART AND DIMENSIONS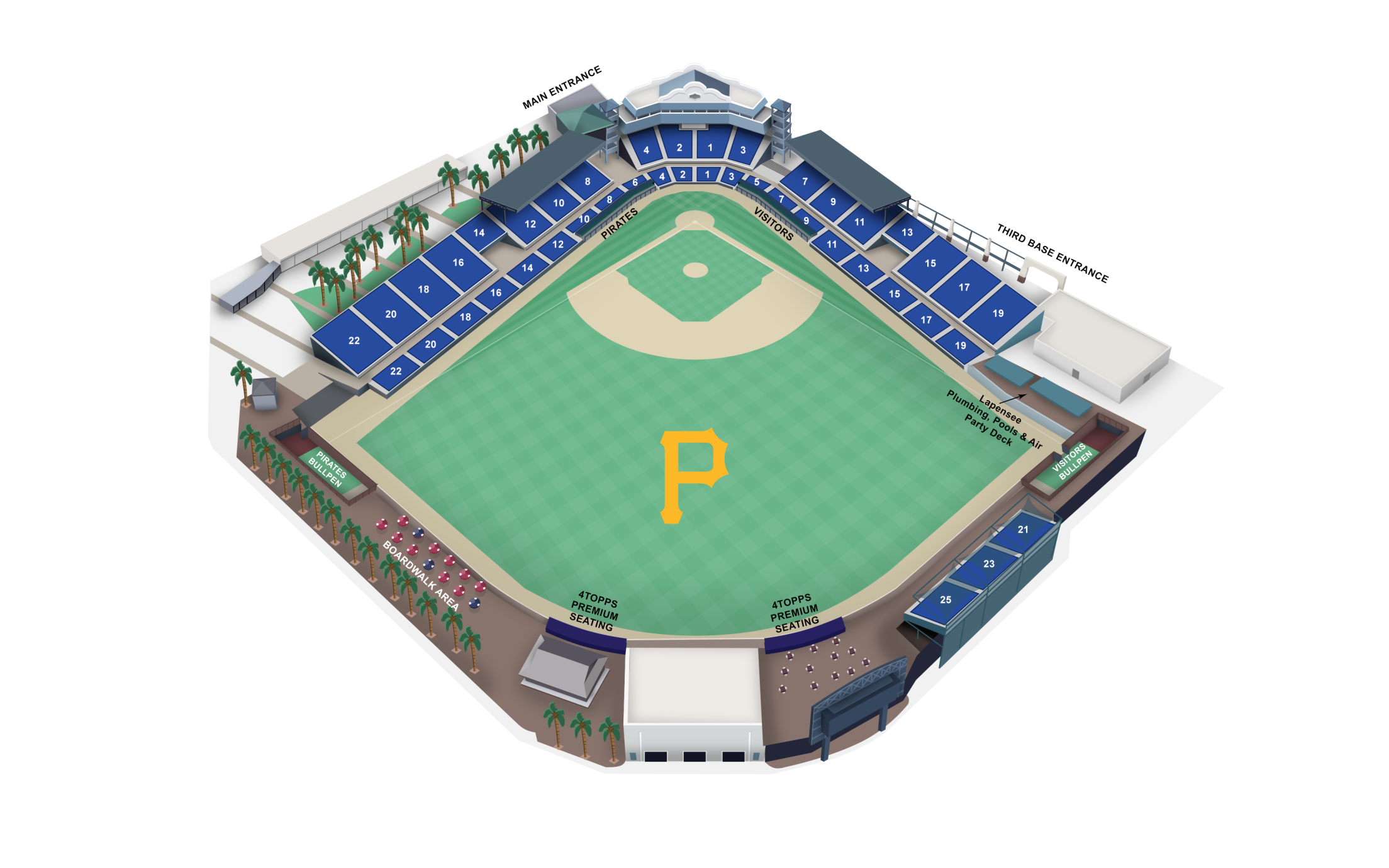 The ballpark dimensions are 335 feet down the lines, 375 feet to the alleys and 400 feet to center field.
DRIVING DIRECTIONS AND PARKING INFO
Bradenton
Nestled between the tropical blue waters of the Gulf of Mexico to the west and Tampa Bay to the North, the Bradenton Area -- and Florida's Gulf Islands of Anna Maria and Longboat Key -- is a great place to explore historic attractions, fishing adventures, golf and shopping.
Bisected by the Manatee River, the small city of Bradenton lies on the river's southern shore with the municipalities of Palmetto and Ellenton to the north.
LECOM Park
The Spring Training ballpark of the Pittsburgh Pirates is located 1/2 mile West of Highway 41 on 9th Street West at 17th Ave. West.
Address and Phone:
1611 9th Street West
Bradenton, FL 34205
(941) 747-3031 (Ticket Office)
(941) 747-9442 (Fax)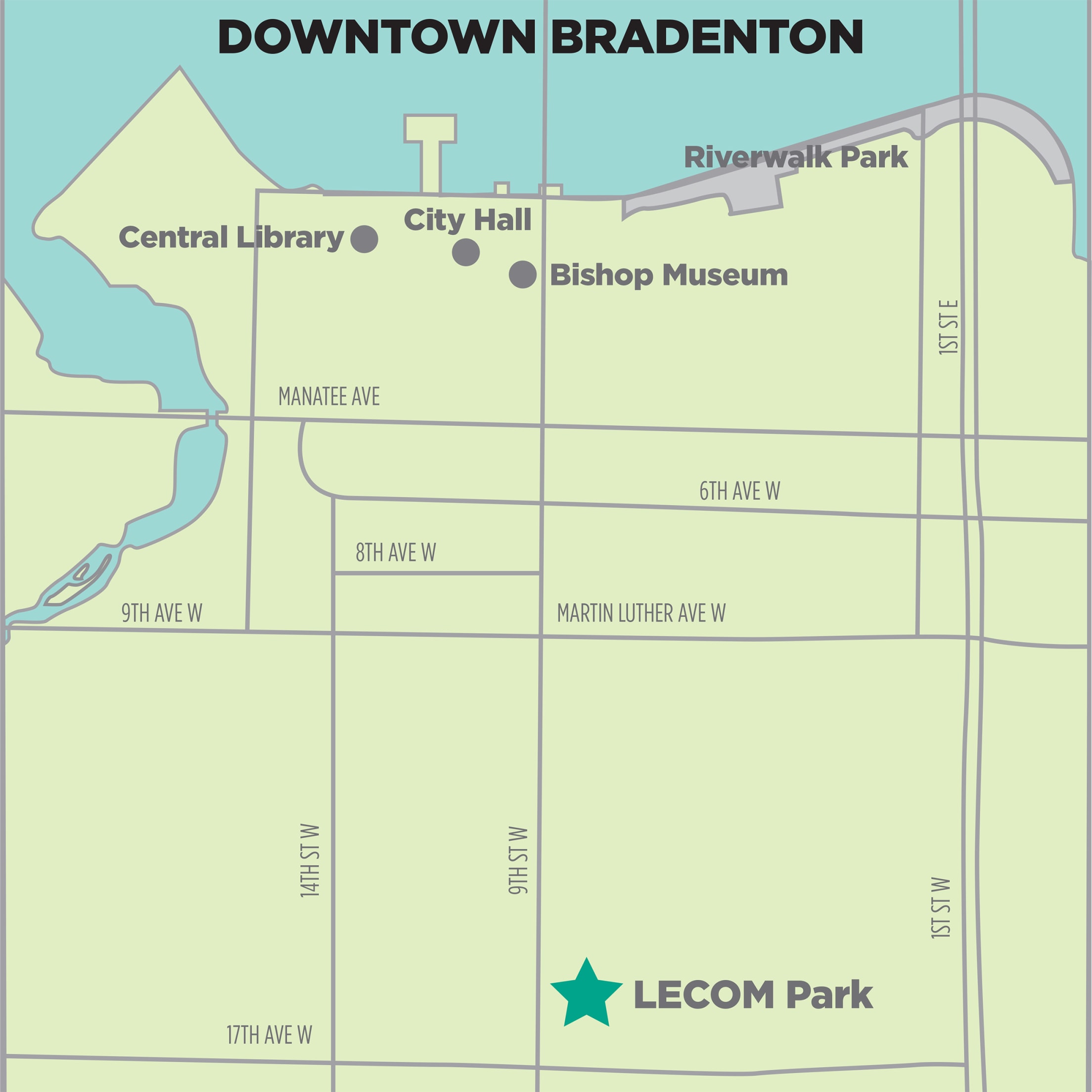 Directions:
From North (St. Petersburg): Go over Skyway Bridge to Exit 5 (US19 South). Continue on 41 South (Bradenton/Sarasota). Make a right turn onto 17th Avenue West and continue to LECOM Park.
From South (Sarasota): Take Route 41 North to Cortez Road, go straight onto Business 41 and turn right onto 17th Ave. West. Ballpark is located at intersection of 17th Avenue West and 9th Street West.
From Interstate 75: Exit I-75 at S.R. 64 West (exit 220 if traveling south, exit 220B if traveling north). Go west on Route 64 to 9th Street West and turn left to the ballpark.
Parking:
Day-of-game parking is available at several recommended locations. The Outfield Parking Lot north of the ballpark is accessible from 9th Street West. Drop-offs are permitted at the entrance to the lot prior to parking to shorten the walk to the box office for as many fans as possible.
A grass parking lot is located on 6th Street West and accessible from 17th Avenue West.
All parking lots have limited capacity. Spaces are available on a first-come-first-served basis. Spring Training season ticket members receive a $2 discount in all Official Pirates lots by displaying their season ticket member ID.
Golf carts will be available at each official Pirates parking lot to transport fans to and from the main entrance.
PIRATE CITY
Located five miles east of LECOM Park, Pirate City is the club's Spring Training workout and practice fields complex.
Address and Phone:
1701 27th Street East
Bradenton, FL 34208
(941) 747-3031
Directions:
From Interstate 75: Exit I-75 at S.R. 64 West (exit 220 if traveling south, exit 220B if traveling north). Proceed west towards Bradenton and make a left on 27th Street East. Pirate City is approx. a mile on the left.
From LECOM Park: Head west on 17th Ave. West and make a right onto U.S. 41. At first stoplight, make a left onto 26th Ave. East. Follow until 27th St. East, make left. Pass Mixon Fruit Farms -- Pirate City is on the right.
From South (Sarasota): Travel North on US 301. Cross S.R. 70 and make a right onto 38th Ave. East. Make first left onto 27th St. E. and Pirate City is a mile up the road.
From North (St. Petersburg): Travel south on I-275 over Skyway Bridge to Exit 5 (US19 South) and continue on US41. Cross Manatee River and follow signs for SR64 East. Take 64 East and make a right onto 27th St. East. Pirate City is a mile down on left.