Sox get 2 prospects for Moreland from SD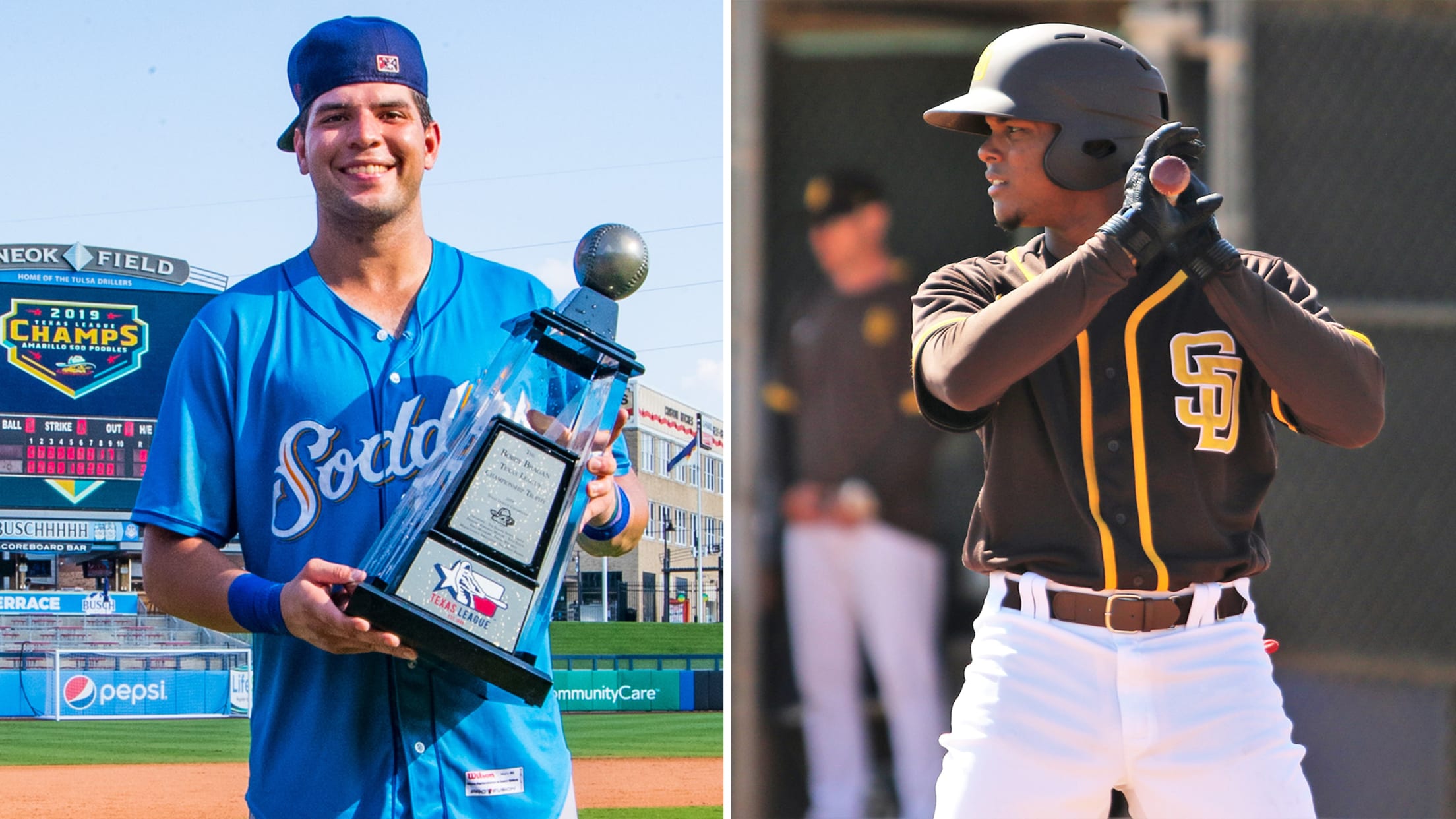 BOSTON -- The Red Sox on Sunday morning continued their quest to acquire talent for the future when they traded veteran leader and red-hot first baseman Mitch Moreland to the Padres for two prospects -- infielder Hudson Potts and outfielder Jeisson Rosario. At the time of the deal, the power-hitting
BOSTON -- The Red Sox on Sunday morning continued their quest to acquire talent for the future when they traded veteran leader and red-hot first baseman Mitch Moreland to the Padres for two prospects -- infielder Hudson Potts and outfielder Jeisson Rosario.
At the time of the deal, the power-hitting Potts was ranked No. 16 in San Diego's farm system by MLB Pipeline and the dynamic Rosario was No. 19.
"Both these guys have a chance to be really exciting players," said Red Sox chief baseball officer Chaim Bloom. "Very high upside, both of them. Pretty accomplished Minor League players at levels where they've been very young."
Another important spinoff of the move is that the Red Sox recalled slugging prospect Bobby Dalbec from the alternate training site to replace Moreland on the roster. Dalbec is ranked No. 3 among Red Sox prospects, and this is his first stint in the Major Leagues.
The Red Sox wasted no time getting Dalbec in the lineup, as he batted eighth and started at first base for Sunday's game against the Nationals.
Dalbec and Michael Chavis will share duties at first base the rest of the season. Dalbec will also get some time at third when Rafael Devers needs a day off.
The deal took place one day before Monday's 4 p.m. ET Trade Deadline, and the day after Moreland reached 10 years of service time in the Major Leagues, a moment the Red Sox celebrated as a team.
Moreland is off to a red-hot start, which undoubtedly helped boost his trade value. The left-handed hitter has a line of .328/.430/.746 with eight homers and 21 RBIs in 22 games this season.
With the 34-year-old Moreland, his value always went beyond the numbers.
"He's the ultimate professional," said Red Sox manager Ron Roenicke. "He plays hurt, which you don't always want guys playing hurt, but he's always willing to go out there and play. He produces when he's out there. He's a good defender. Obviously offensively he creates runs, whether he's driving them in, whether he's getting on base, he has a knack of helping your team to produce a lot of runs.
"I'll miss him for sure. The guys loved him. The coaching staff, myself, [we] loved him. Upstairs they loved him. He'll be missed."
Thank you, Mitch, for being a champion on the field and in the community. ❤️ pic.twitter.com/Uqs9CcznOA

— Red Sox (@RedSox) August 30, 2020
Moreland came to Boston as a free agent in 2017, then re-signed on a two-year deal prior to the '18 season and again re-upped with the Red Sox this past January.
"He comes up with big-moment hits. For me, when you get in the playoffs, that's what you need," Roenicke said. "You need guys that in the moment can put all the external pressures off and still produce. He's one of those guys."
His three-run pinch-hit homer in Game 4 of the 2018 World Series at Dodger Stadium sparked the Red Sox to a memorable comeback win. The Sox clinched that Fall Classic the next night.
"In particular, we'll never forget what happened coming off the bench in Game 4, we were down four runs at the time, in the 2018 World Series," said Red Sox general manager Brian O'Halloran. "Beyond just that particular moment which helped us win the World Series, this is a guy that just brings the effort every day, you know, a good player on both sides of the ball and a terrific leader in the clubhouse and active in the community as well. We're going to miss him. He's been a tremendous player and person for us for almost four years now."
With the Red Sox in last place in the American League East and decimated by injuries to the upper portion of their starting rotation, Bloom has clearly been in a selling mode for this trade season. On Aug. 21, the Sox dealt trusted relievers Brandon Workman and Heath Hembree to the Phillies for young pitchers Nick Pivetta and Connor Seabold.
It's possible Bloom will make other moves before Monday's Deadline.
"We certainly expect to be very active in conversations between now and tomorrow afternoon," said Bloom. "We'll see what comes out of those conversations, but at this point, we don't have another one of those Zooms teed up [with reporters] right after this one, but we'll see what develops over the course of the next day-plus."
Potts and Rosario are both expected to join the player pool and report to the alternate training site in Pawtucket, R.I., once they clear the COVID-19 testing process.
The 21-year-old Potts could one day wear out the Green Monster if he progresses as the Red Sox hope. He was a first-round pick in the 2016 MLB Draft. In 423 Minor League games, Potts has hit .256 (419-for-1,639) with 57 home runs. And he has versatility on defense, making 331 starts at third base, as well as 25 at second base, 25 at shortstop and five at first base.
"Hudson Potts is primarily a third baseman, but he did see some time at second base last summer as well," said Bloom. "A big physical kid with a lot of power and a good arm. Really good tools. There's a chance, as he continues to develop his approach, that he can be a real asset with the bat and be able to play multiple positions.
Rosario, aside from his freakish athleticism, is known for doing back flips when his teams win games.
"Jeisson Rosario is a top-flight athlete who profiles as a true center fielder and a true leadoff hitter," said Bloom. "Plus-plus runner, really good athlete, very good ability in the outfield, has a really advanced feel for the strike zone at a young age and we're excited to see how he develops as he grows and adds strength, but he's got the upside to play center every day and hit at the top of the lineup."