Explore Spokane's Avista Stadium
Welcome to Avista Stadium in Spokane, Washington. Built as an integral part of baseball's western migration in the middle of the 20th century, the venue has grown up alongside its city, hosting Spokane Indians baseball at three different levels and in three different leagues.
Spokane Indians (High-A affiliate of the Colorado Rockies since 2021)
Established: 1958 (in the Triple-A Pacific Coast League)
Ballpark: Avista Stadium (opened 1958)
League: Northwest League
Notable Alumni: Maury Wills, Duke Snider (as manager) Tommy Lasorda (as manager), Bill Buckner, Steve Garvey, Bobby Valentine, Sandy Alomar, Jr., Bruce Bochy (as manager), Carlos Beltran, Zack Greinke, Ian Kinsler, Chris Davis, Mitch Moreland, Joey Gallo
Championships: 1960, 1970, 1973, 1974 (Triple-A Pacific Coast League); 1987, 1988, 1989, 1990, 1999, 2003, 2005, 2008 (Class A Short Season Northwest League)
Few could have known that when the Spokane Bunchgrassers first took to the fields of the Pacific Northwest League in 1890, they'd be laying the foundation for one of the Minor Leagues' most stable cities for over a century to come.
In over 125 years since that first professional season, Spokane has been home to teams in a host of leagues and classifications including the Pacific Northwest League, Northwestern League, Pacific Coast International League and more. Forerunners to today's Spokane ballclubs were known as the Siwashes, Blue Stockings and Smoke Eaters.
Baseball changed forever in 1958, and Spokane felt its impact. With the movement of the Brooklyn Dodgers to Los Angeles and the New York Giants to San Francisco, Major League Baseball was a coast-to-coast enterprise for the first time. With the Dodgers' arrival in California, they needed affiliates out west. The Pacific Coast League's Los Angeles Angels moved to Spokane where they became the Indians and began a 14-year affiliation with the Dodgers.
Spokane has hosted professional baseball for all but about 25 years since that first Bunchgrassers season, and nearly all of them have been under the team name Indians. Spokane's modern relationship with that oft-controversial identity is far different from the norm. First known as the Indians in the Pacific National League -- a forerunner to the Pacific Coast League -- in 1903, Spokane's club has used the moniker in every season of pro ball since except when it was known as the Hawks from 1937-39.
In 2006, the team unveiled a first-of-its-kind partnership with the Spokane Tribe of Indians, collaborating on a redesigned logo including a version in Salish, the tribe's language. Eight years later, the Indians unveiled home jerseys with the Salish rendering of Spokane ("Sp'q'n'i?") across the front. Elements of the team's relationship with the tribe are present all over Avista Stadium including on signage throughout the park. The partnership was profiled by the New York Times during the discussion over Native-derivative team names in 2020.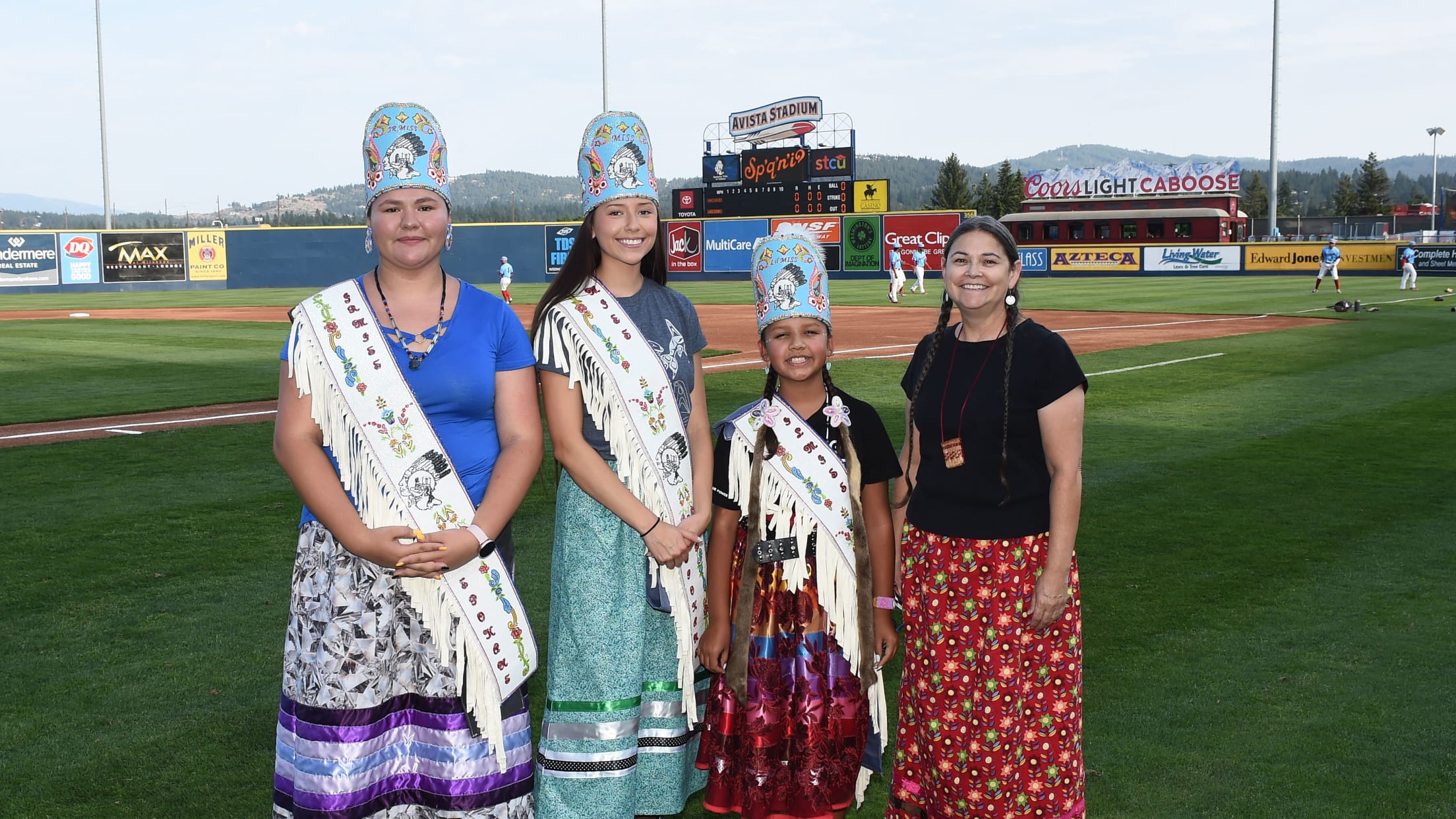 Google Maps
Indians Roster
Indians Schedule
602 N. Havana St.
Spokane Valley, WA 99212
(509)535-2922
Capacity: 6,803 seats
Dimensions: left field, 335 feet; center field, 398 feet; right field, 296 feet
Park factors (2021-22)
100 = league average
Runs: 131 | Homers: 176 | Hits: 115
Northwest League environment: 4.97 runs per team per game (sixth-highest among 11 full-season leagues)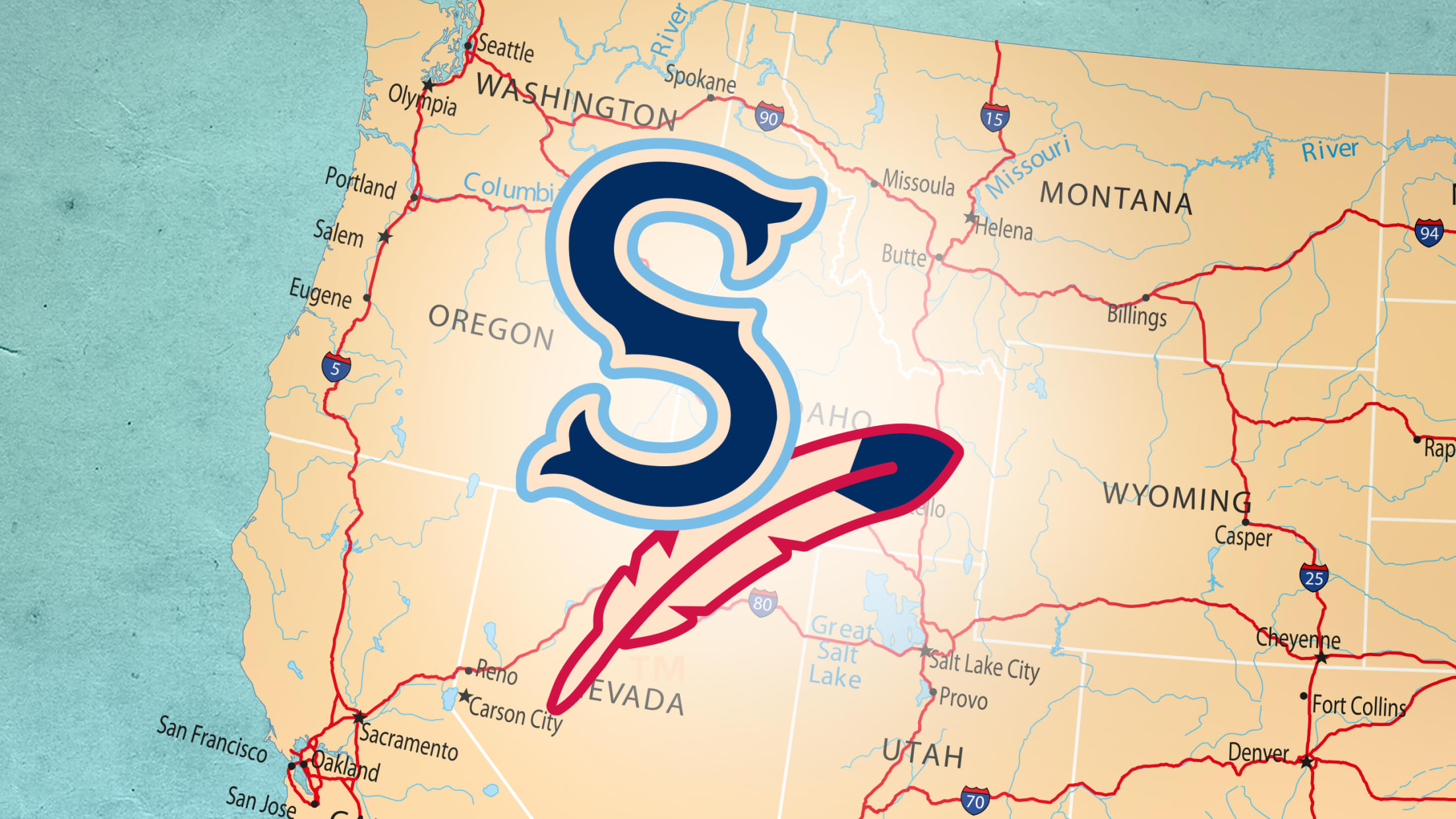 Avista Stadium
When the Dodgers decided to move their PCL affiliate to eastern Washington state for 1958, only one hurdle remained: a suitable ballpark for that team to call home. Spokane solved that problem at lightning speed. It took just three months to build what was then known as Fairgrounds Recreational Park. On April 29 of that year, the ballpark opened to a standing room-only crowd totaling 8,404 that witnessed a 6-5 Indians win over the visiting Seattle Rainiers. The light standards standing high above the field came from legendary Gilmore Field in Hollywood. The home team's batting cage came from Ebbets Field in Brooklyn and was in use until 2021 when the team donated it to the Spokane Tribe and its high school team in Wellpinit.
The Lilac City hosted Triple-A ball from 1958-82 with the exception of a one-year stint in in the Class A Short Season Northwest League in 1972. Beginning in 1983, the team took up residence in the Northwest League, where it remained through 2019. In 2021, as part of the restructuring of Minor League Baseball, the Northwest League was reclassified as a full-season High-A circuit.
Avista Stadium is larger than all and older than all but two parks in its league (Everett and Vancouver opened in 1947 and 1951, respectively). The ballpark knows its identity and plays to it exquisitely. Spokane's home park doesn't even have a videoboard for now, though technological upgrades are planned in coming years.
Instead, without the flashy amenities of modern ballparks, the baseball is still the centerpiece in Spokane. Avista Stadium exists on a large footprint on the grounds of the Spokane County Fair and Expo Center and utilizes its space well with large outer concourses, a Wiffle ball field, a speed pitch venue and an impressive team store. The park is full of wide-open sightlines from the seats that stretch between the foul poles to the outfield wall with its still hand-painted signage to mountains and train tracks beyond. The Indians take pride in fan participation with engaging customer service personnel, ushers and section leaders. An energetic public address presence, beloved on-field hosts and promotions and fan traditions like K-cards for strikeouts help build an active crowd atmosphere that makes Avista Stadium a unique setting in the Minors.
The Indians are a franchise that strives to operate with more depth than just providing a fun night at the park. From their partnership with the Spokane Tribe to their Redband Rally initiative, which seeks to protect one of the Spokane River's native trout species, to the Operation Fly Together campaign, born out of a partnership with Fairchild Air Force Base. Both of those initiatives feature their own logos and uniform sets the Indians sport on select home game nights.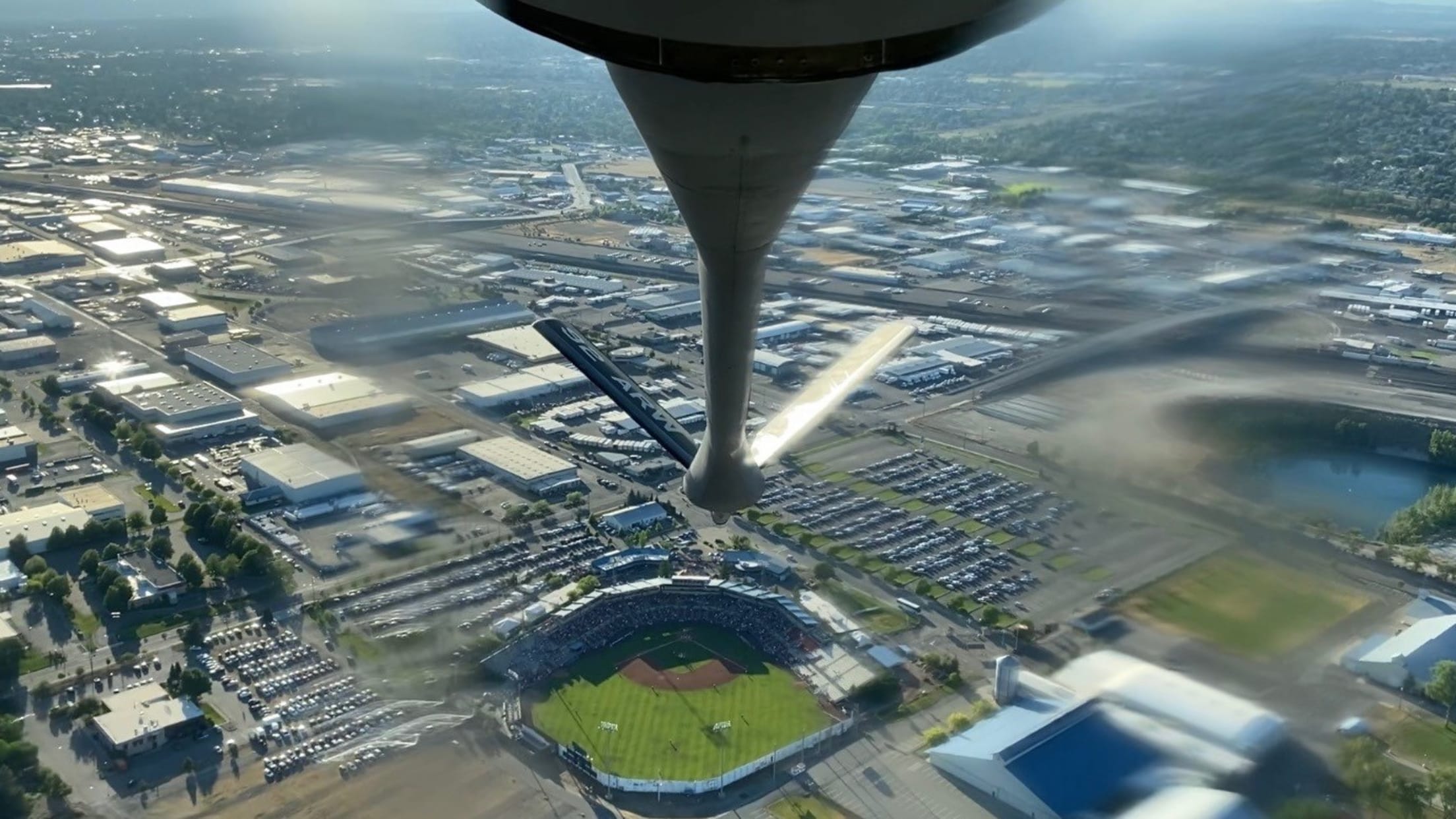 Concessions
The main concessions stand offers all standard ballpark fare like burgers, hot dogs and more, and culinary highlights exist at satellite stands throughout Avista Stadium. Longhorn Barbecue is a fan favorite, as is Hop Valley, a beer destination down the first-base line. The team also plans to expand into gourmet burgers and hot dogs to add to their traditional baseball food menu.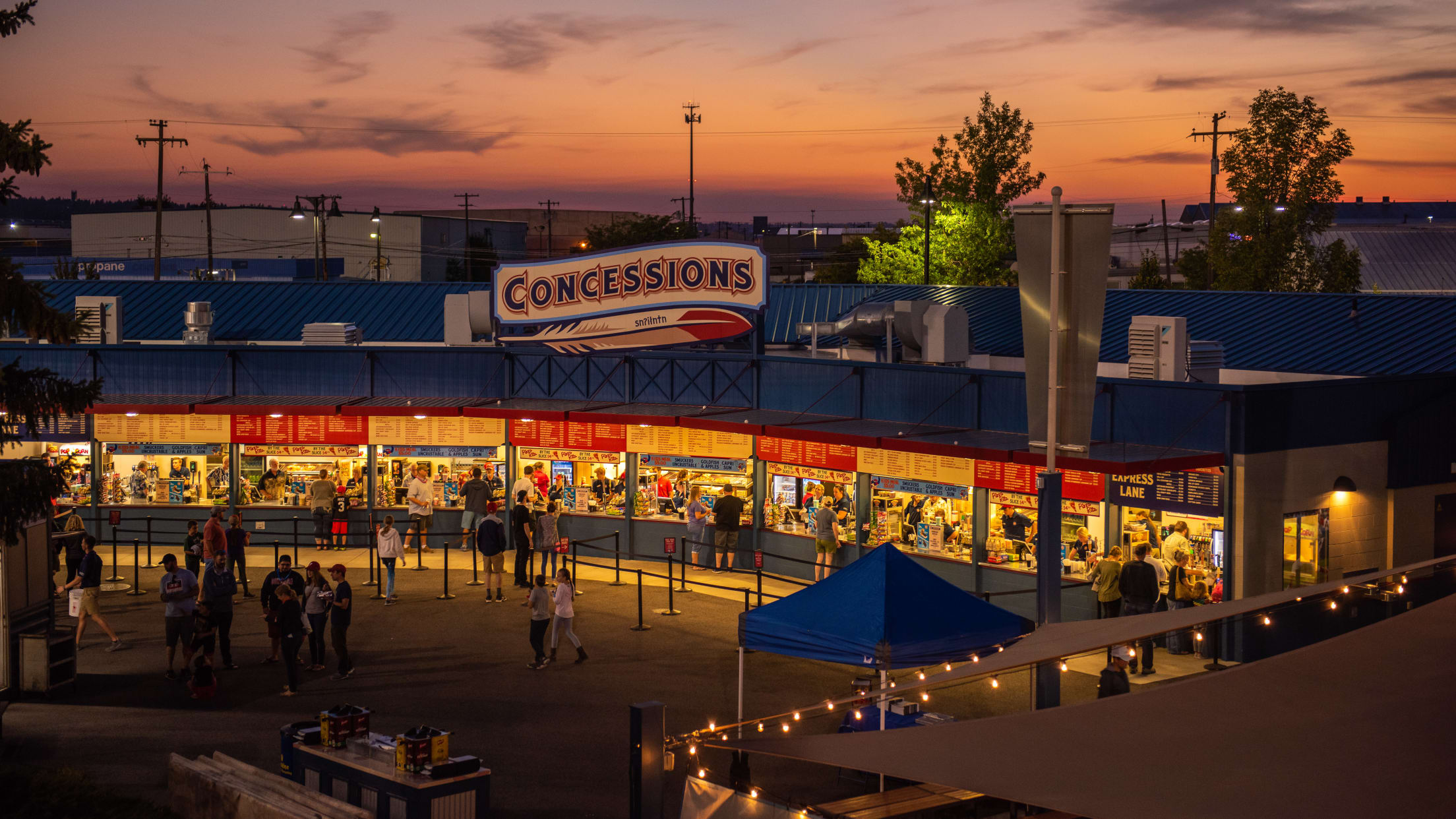 Mascots
On Opening Day of 1993, the Indians introduced their main man, Otto. "The world's first Spokanasaurus" has been synonymous with Spokane baseball ever since. A big blue dino with a wacky nose, dog ears, a red ridge down his back and an appetite for ballpark antics, Otto is the star of Spokane's show. Since his debut, he's been joined by three other larger-than-life friends. Recycle Man joined the ranks in 2009 to help promote sustainability at the ballpark, helping the Indians collect tens of thousands of pounds of paper, plastic and aluminum products at the stadium to be recycled every year, part of the team's goal to reach 90 recyclable and compostable products with under 10 percent waste. Doris is Otto's companion who joined the team in 2011, and the club's most recent addition is Ribby the Redband Trout. Part of the team's Redband Rally initiative, Ribby appears in the late innings of Indians games to rally the home team with his trademark Ribby Shake dance.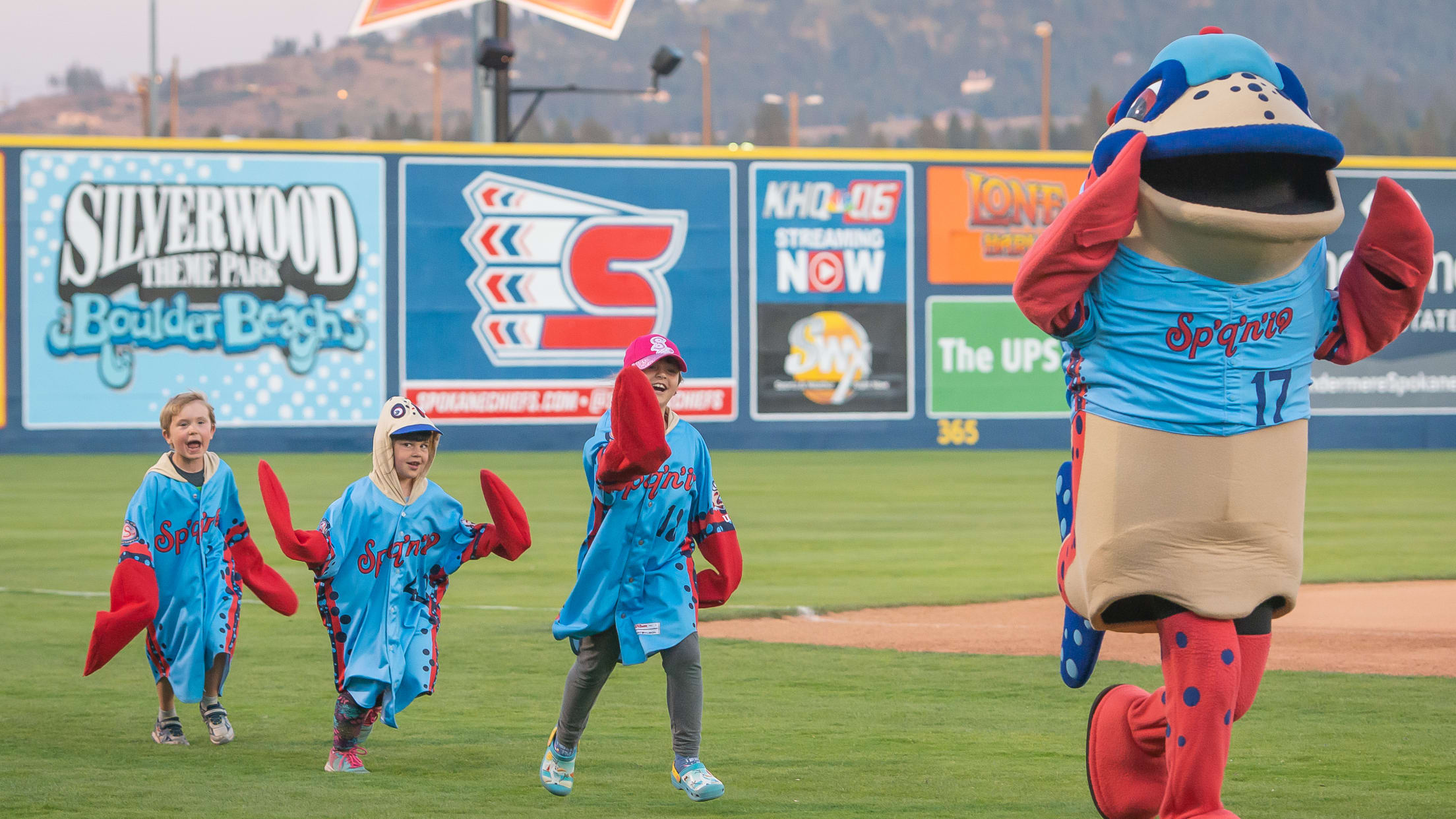 Where to Stay
Headed to the stadium and looking for a hotel nearby? Your Wyndham is waiting. As the Official Hotel of Minor League Baseball, Wyndham Hotels & Resorts welcomes baseball fans with a portfolio of 24 trusted brands. Find Hotels by Wyndham closest to the ballpark below and book now at wyndhamhotels.com.
• Super 8 by Wyndham Spokane Valley
• Days Inn & Suites by Wyndham Spokane
• Baymont by Wyndham Spokane
• Ramada by Wyndham Downtown Spokane
• La Quinta Inn & Suites by Wyndham Spokane Downtown
Local Attractions
Whether you're in search of urban options for entertainment or looking to find something amazing in the great outdoors, Spokane and its surrounding areas have you covered. The city's downtown has been revitalized in recent years, and at its center, Riverfront Park is the heart of the community with a pavilion for shows and events, a carousel and playgrounds for kids, a skate park, a SkyRide that travels over rand provides stunning views of Spokane Falls and much more. Riverfront Park was born out of Expo '74 where it served as the host grounds for that year's World's Fair (the smallest city to ever host one). Spokane is home to Gonzaga University and its national powerhouse basketball team, which plays at the McCarthey Athletic Center. The city also is perched mere miles from jaw-dropping Lake Coeur d'Alene in Idaho as well as the fertile Palouse region to the south, home of Washington State University in Pullman.
Food and Drink
With a gigantic milk bottle comprising the entrance, the aptly named Mary Lou's Milk Bottle is as classic an American restaurant as exists and serves some of the city's best milkshakes and ice cream along with burgers, sandwiches and more. If burgers are your thing, swing by legendary Washington chain Dick's Hamburgers just off Interstate 90 where you can also snag a shake or some fried chicken if that's more to your liking. The Flying Goat in the northwest part of the city dishes out renowned Neapolitan pizza while Cochinito Taqueria packs a lot of taco options into its space downtown. For drinks, check out rock dive bar Mootsy's or sports bars like The Swinging Doors and The Viking, the latter near Gonzaga's McCarthey Athletic Center.
Moving On
Spokane is on the other side of Washington from the state's highest level Minor League team, the Triple-A Tacoma Rainiers, and just a few hours from other stops in the Northwest League. The Tri-City Dust Devils are closest, near the Washington-Oregon border while the Everett AquaSox are just outside Seattle. A little farther south, the league rival Hillsboro Hops and Eugene Emeralds reside in Oregon while the Vancouver Canadians are just north of the border.
The Road to Denver
Spokane is the second stop climbing the ladder for Rockies prospects, who start with Single-A Fresno. After journeying through Washington, Colorado's Minor Leaguers head across the country to Double-A Hartford before returning to the West with Triple-A Albuquerque.
Single-A: Fresno Grizzlies
High-A: Spokane Indians
Double-A: Hartford Yard Goats
Triple-A: Albuquerque Isotopes