Rockies trio in mix to advance in AS balloting
Arenado continues to hold lead at third base in latest NL update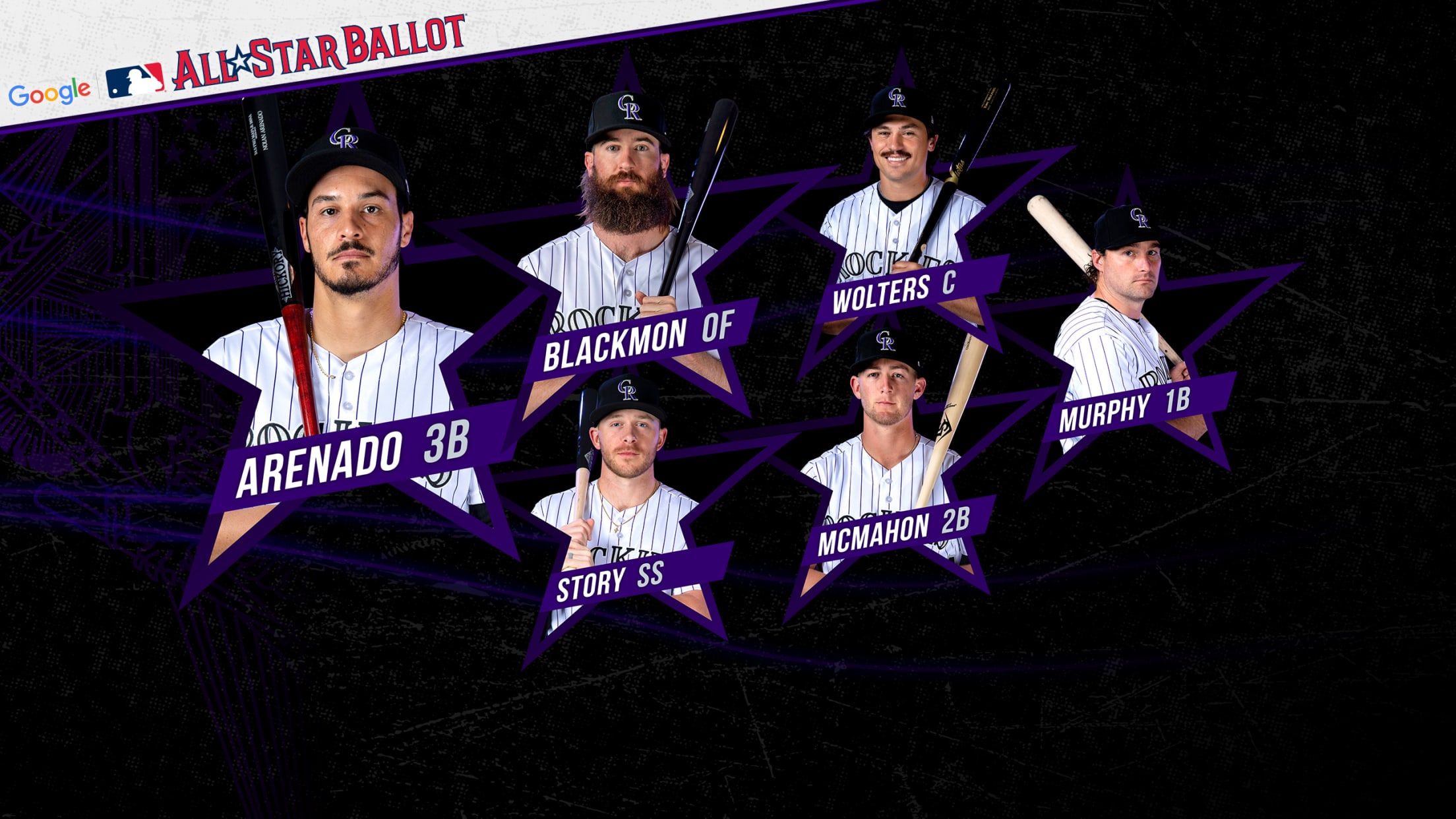 Read our FAQ on this year's revamped balloting format, which includes two phases of fan voting to determine the All-Star starters, and the ability to vote through Google Search. • VOTE NOW: Google MLB All-Star Ballot Nolan Arenado continues to lead National League third basemen in voting for the 2019
Read our FAQ on this year's revamped balloting format, which includes two phases of fan voting to determine the All-Star starters, and the ability to vote through Google Search.
• VOTE NOW: Google MLB All-Star Ballot
Nolan Arenado continues to lead National League third basemen in voting for the 2019 All-Star Game presented by Mastercard. He's one of two Rockies players currently in position to move on to the next round of voting as of Monday's second ballot update, along with Charlie Blackmon, who currently ranks ninth among outfielders.
Arenado has 1,475,825 votes, maintaining a more than 625,000-vote lead over Kris Bryant of the Cubs. Josh Donaldson of the Braves is behind Bryant in third place.
Blackmon is ninth among NL outfielders, with the top nine advancing to the next round since three outfielders start. Blackmon has 530,342 votes, with a lead of around 32,000 votes over Bryce Harper of the Phillies, who is in 10th. Blackmon is more than 55,000 votes behind Kyle Schwarber of the Cubs, who is in eighth.
Trevor Story is just over 37,000 votes behind Corey Seager for third among NL shortstops, which would allow him to advance to the next round. Tony Wolters is seventh among NL catchers, and Daniel Murphy and Ryan McMahon rank 10th at first base and second base, respectively.
If Arenado ultimately advances to and wins "The Starters Election," he would be the first National League player to start three straight All-Star Games at that position since Scott Rolen started did it from 2002-04.
Arenado is currently hitting a career-best .321 with a .956 OPS that is on pace to be just shy of the career-high .959 he hit in 2017. He leads the Senior Circuit with 89 hits and already has 2.9 WAR, which is more than halfway to his total of 5.6 from last year.
If Story advances to "The Starters Election" and were to win, he could be just the second shortstop in franchise history to start an All-Star Game, joining Troy Tulowitzki, who did so three times (2011, 2013-14).
Fans may vote in "The Primary" at MLB.com and all 30 club sites, the MLB At Bat and MLB Ballpark apps up to five times in any 24-hour period. Fans in the US and Canada can also vote on Google Search for every position, or up to 17 unique players per day, by searching "MLB Vote" or the names of their favorite players. Primary voting ends at 4 p.m. ET on Friday.
The top three vote-getters at each position (including nine outfielders) per league will move on to "The Starters Election," which begins at noon ET on Wednesday, June 26. The votes will reset for a 28-hour voting window that ends at 4 p.m. ET on Thursday, June 27. Starters for the 2019 Midsummer Classic will be unveiled on ESPN that night at 7 ET. The pitchers and reserves will be announced on Sunday, June 30, at 5:30 p.m. ET.
Then on Tuesday, July 9, during the 2019 All-Star Game presented by Mastercard, fans may visit MLB.com and the 30 club sites to submit their choices for the Ted Williams Most Valuable Player Award presented by Chevrolet.
The 90th Midsummer Classic, at Progressive Field in Cleveland, will be televised nationally by FOX Sports; in Canada by Rogers Sportsnet and RDS; and worldwide by partners in more than 180 countries. FOX Deportes will provide Spanish-language coverage in the United States, while ESPN Radio and ESPN Radio Deportes will provide exclusive national radio coverage. MLB Network, MLB.com and SiriusXM also will provide comprehensive All-Star Week coverage. For more information about MLB All-Star Week and to purchase tickets, please visit AllStarGame.com and follow @MLB and @AllStarGame on social media.