Royals show support for 'Vote Dozier' campaign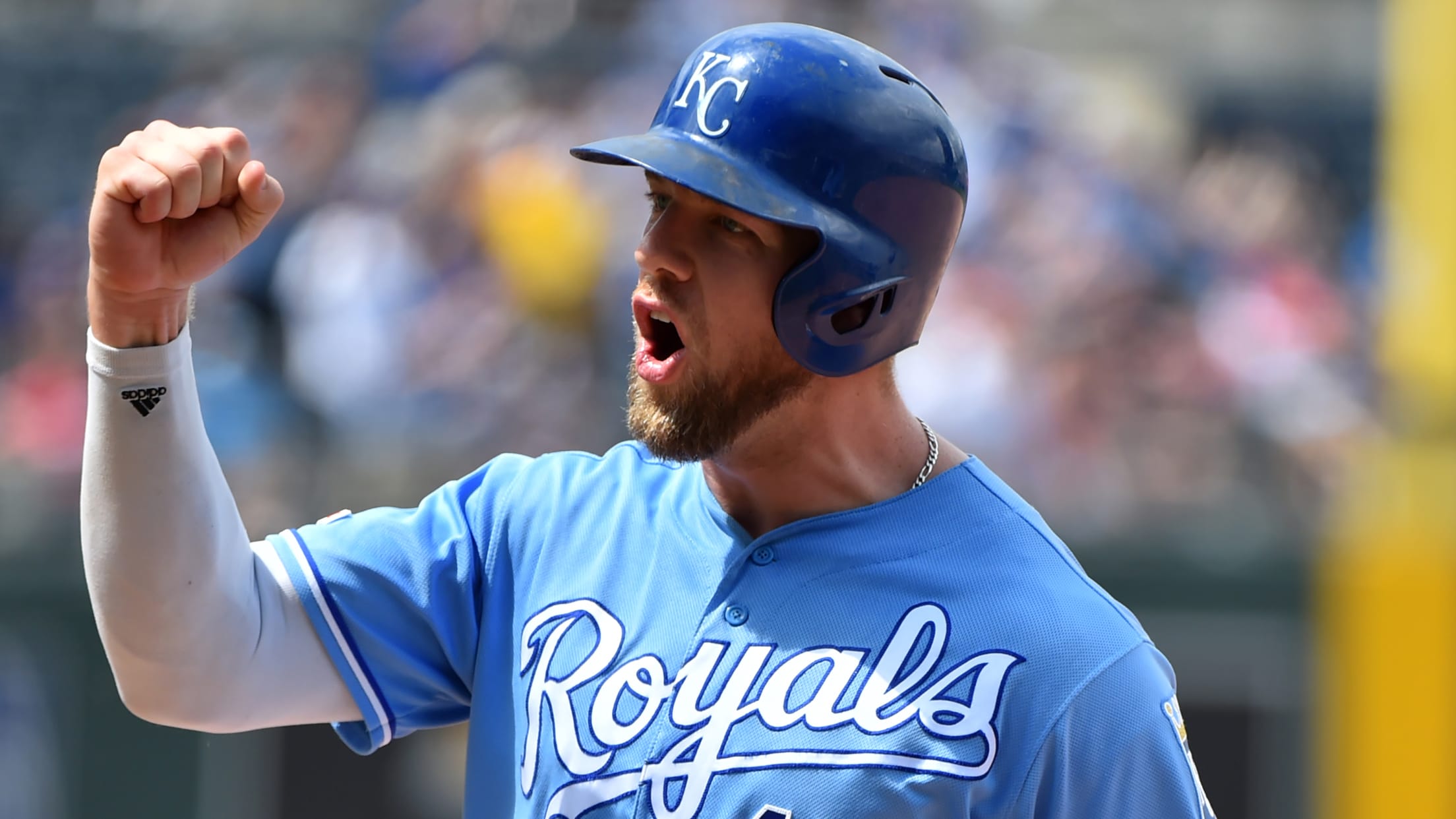 These are all of the finalists for the Starters Election, which begins Wednesday at 11 a.m. CT and runs through Thursday at 3 p.m. CT. The winners will be unveiled on ESPN that night starting at 6 CT. Players who do not get elected starters are not automatically added to
These are all of the finalists for the Starters Election, which begins Wednesday at 11 a.m. CT and runs through Thursday at 3 p.m. CT. The winners will be unveiled on ESPN that night starting at 6 CT. Players who do not get elected starters are not automatically added to the team as reserves -- they will be determined through a combination of "Player Ballot" choices and selections made by the Commissioner's Office. All-Star pitchers and reserves will be announced on Sunday, June 30, at 4:30 p.m. CT, also on ESPN.
KANSAS CITY -- Royals social media and fellow teammates are beginning to amp up their support for third baseman Hunter Dozier, a finalist to start the 2019 All-Star Game.
Players wore "Vote Dozier" T-shirts throughout the clubhouse on Saturday, as did manager Ned Yost, ahead of the Royals' 5-3 loss in 10 innings to the Twins. Dozier delivered the game-tying hit in the eighth to send it to extras.
"It would be really great if Hunter could get there," Yost said. "He is deserving. I think Whit Merrifield would be deserving, too, and [Adalberto Mondesi]."
Dozier, who just came off the injured list on Friday and has a team-high .968 OPS, missed over two weeks because of a thorax injury.
"It felt kind of weird getting votes when I was on the injured list," Dozier said. "But it's been fun being part of this process."
Merrifield was sporting a "Vote Dozier" T-shirt, and he said, "Hunter is not only having a great season for us, but he's had some big clutch hits, some big home runs. He's deserving. Get out and vote for him, Royals fans."
The campaign continues!

Congrats to @hdozier_17 on advancing to the @Google MLB All-Star Starters Election.#VoteDozier pic.twitter.com/kErDoaizEY

— Kansas City Royals (@Royals) June 21, 2019
Here are the other finalists at third base:
Alex Bregman (HOU): 1-time All-Star (no starts)
Across his first two seasons in the Majors, Bregman established himself as a consistent performer on a strong offensive team. His slugging percentage (.532) and on-base percentage (.391) are both very close to what they were in his All-Star season last year, when he finished fifth in American League Most Valuable Player Award voting. No Astros player has ever started an All-Star Game at third base.
Gio Urshela (NYY): never named to an All-Star team
Urshela has gotten the chance to play more frequently with the Yankees' early-season injury situation. He's embraced it, and he's having the best year of his career. Urshela is on pace for career highs in batting average, slugging percentage and on-base percentage. He's come up clutch for the Yanks on numerous occasions, and he has helped them remain among the top teams in the AL East.
The 2019 All-Star Game presented by Mastercard will be played on Tuesday, July 9, at Progressive Field in Cleveland. It will be televised nationally by FOX Sports; in Canada by Rogers Sportsnet and RDS; and worldwide by partners in more than 180 countries. FOX Deportes will provide Spanish-language coverage in the United States, while ESPN Radio and ESPN Radio Deportes will provide exclusive national radio coverage. MLB Network, MLB.com and SiriusXM also will provide comprehensive All-Star Week coverage. During the game, fans may visit MLB.com and the 30 club sites to submit their choices for the Ted Williams Most Valuable Player Award presented by Chevrolet. For more information about MLB All-Star Week and to purchase tickets, please visit AllStarGame.com and follow @MLB and @AllStarGame on social media.