Notes: Castro quietly tearing up Summer Camp
Tigers place 5 on injured list, sign 2 additional NDFAs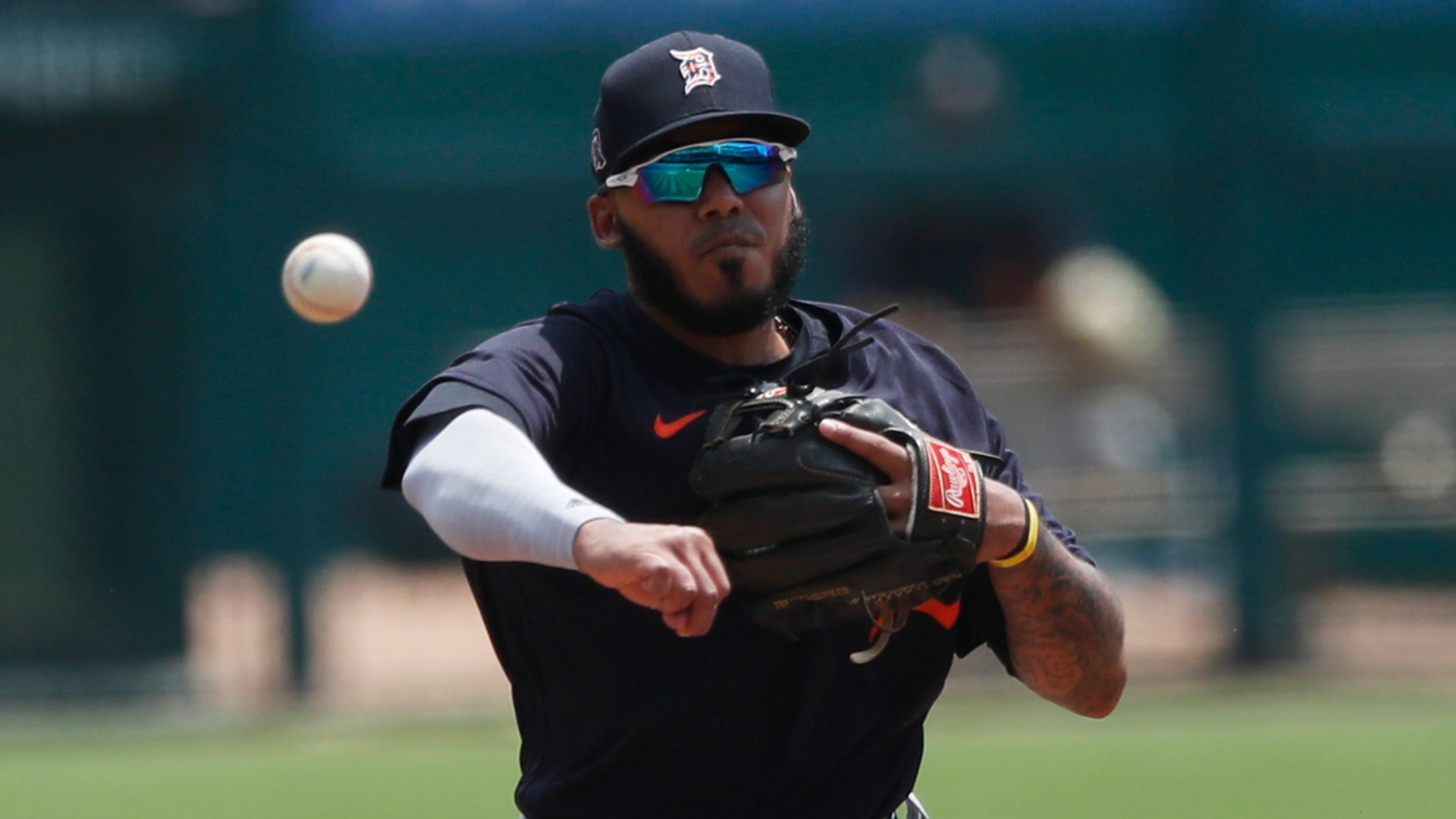 DETROIT -- While Miguel Cabrera, Spencer Torkelson, Jonathan Schoop and C.J. Cron are the stars at the plate in Tigers Summer Camp, Harold Castro stays in the background, usually while on base with a hit in an intrasquad game. That's just where manager Ron Gardenhire likes him at this point
DETROIT -- While Miguel Cabrera, Spencer Torkelson, Jonathan Schoop and C.J. Cron are the stars at the plate in Tigers Summer Camp, Harold Castro stays in the background, usually while on base with a hit in an intrasquad game.
That's just where manager Ron Gardenhire likes him at this point in camp.
"We like him an awful lot," Gardenhire said. "He can hit. He gets the barrel to the ball. We like the kid an awful lot, and I like the way he goes about his business."
Castro's business involves hitting up a storm. While Christin Stewart's four-hit performance was the headline on Thursday, Castro churned out three hits, including a double in a lefty-lefty matchup against Matthew Boyd. He had two more hits Friday and has six in three intrasquad games this week. Nearly all of the hits have been solid line drives sprayed all over the field.
This, understandably, is what Gardenhire loves to see. It likely won't earn Castro an everyday spot at a position, but it gives Gardenhire more reason to use him all over the field in the super-utility role Niko Goodrum filled the past couple of years.
Castro found a spot on Gardenhire's roster at the end of the 2018 season, when injuries led to his Major League debut in the final week after eight years in the Tigers' organization. After a brief stint in Detroit early last season, he was recalled from Triple-A Toledo in June and stayed for good, batting .291 with five home runs and 38 RBIs in 369 plate appearances while playing second base and center field.
Castro's low exit velocity, hard-hit rate and 86 to 9 strikeout-to-walk ratio did not back up the stats. But Gardenhire liked what he saw, metrics be damned.
"I guess he's screwing with your metrics. He's getting hits," Gardenhire said, "so I guess he reads you guys' stuff and wants to show that he can hit. I just think he's going out there and whacking the baseball. The guy's got a great set of hands."
Castro hit just 5-for-22 in Spring Training, but he stayed in Lakeland, Fla., after camps were suspended and continued to hit. Among those he faced was Daniel Norris, who gave him a chance to improve his approach against lefties.
"I'm just prepared to do whatever the manager wants me to do, play every position that I can," Castro said.
Tigers place five prospects on injured list
Tarik Skubal, who was the talk of Spring Training in March, will have to wait to build on that momentum this summer. He was one of five prospects the Tigers placed on the 10-day injured list Thursday.
Fellow starter Alex Faedo, infielder Isaac Paredes, outfielder Daz Cameron and shortstop Sergio Alcantara were also placed on the 10-day IL. No reason was announced.
Major League Baseball has instituted a COVID-19 list this season, although clubs will not announce which players are placed on it due to privacy laws regarding individuals' health. Players may address their status if they wish, though they are not required to do so. Merely being placed on an injured list without further explanation is not confirmation that a player has tested positive for COVID-19. For example, potential exposure to a person who has the virus can be sufficient cause.
On Tuesday, general manager Al Avila issued a statement confirming that team members have tested positive for the coronavirus.
"We've had individuals that tested positive for COVID-19, and who were isolated, retested, and passed the protocols to permit them to resume baseball activities," the statement read in part. "Those individuals that are currently positive are being closely monitored by our medical staff and we hope to have them back on the field soon. Pursuant to federal law and the MLB/PA Basic Agreement, our club will refrain from identifying players who are unable to participate in workouts due to non-work-related injuries."
The Tigers placed Norris on the 10-day IL on Wednesday without revealing an injury. Norris later disclosed that he was in COVID-19 protocol and is awaiting negative test results to be cleared to join camp.
None of the five placed on the IL on Thursday were expected to make the Opening Day roster. However, Skubal, Paredes, Cameron and Faedo are four of the Tigers' top nine prospects, according to MLB Pipeline. Skubal and Faedo made particularly strong impressions in Spring Training, and they were expected to compete for a potential midseason callup before the season was shortened.
All have been expected to join other prospects in the Tigers' player pool at the team's alternate training site at Triple-A Toledo. The moves raised some questions about potential depth the Tigers might need once the season begins in two weeks if they're not ready.
"I haven't talked to Al in a couple of days about any of this stuff," Gardenhire said. "All I do is take what we've got, me and the staff, and we just run a program out there. We'll go over some things and see where it stands."
Tigers sign Wilmer Flores ... no, not that one
The Tigers signed two more non-drafted free agents, including the younger brother of Giants infielder Wilmer Flores, who also is named Wilmer Flores.
The Wilmer Flores the Tigers signed is a right-handed pitcher out of Arizona Western College. The 19-year-old pitched in just six games in his lone season at the junior college, but he posted 16 strikeouts and 12 walks in 11 2/3 innings.
Flores' father is also named Wilmer, as is another of his brothers. Of the five men in the Flores family, four are named Wilmer.
Also signed was Texas Wesleyan right-hander Gabriel Sequeira, who was off to a dominant start when his junior season abruptly ended. His 82 strikeouts over 47 innings led the NAIA when the season ended, and his 6-0 record tied for the national lead. He pitched his previous two seasons at Sam Houston State, where he went 5-4 with a 4.01 ERA and 59 strikeouts over 69 2/3 innings.
The Tigers also announced the signings of Jacksonville University reliever Chris Mauloni and University of South Florida right-hander Nick Davila, as previously reported.