Jones shoulder sprain puts Tigers on CF hunt
Norris throws harder; Hicks chips a tooth; Wilson not gone long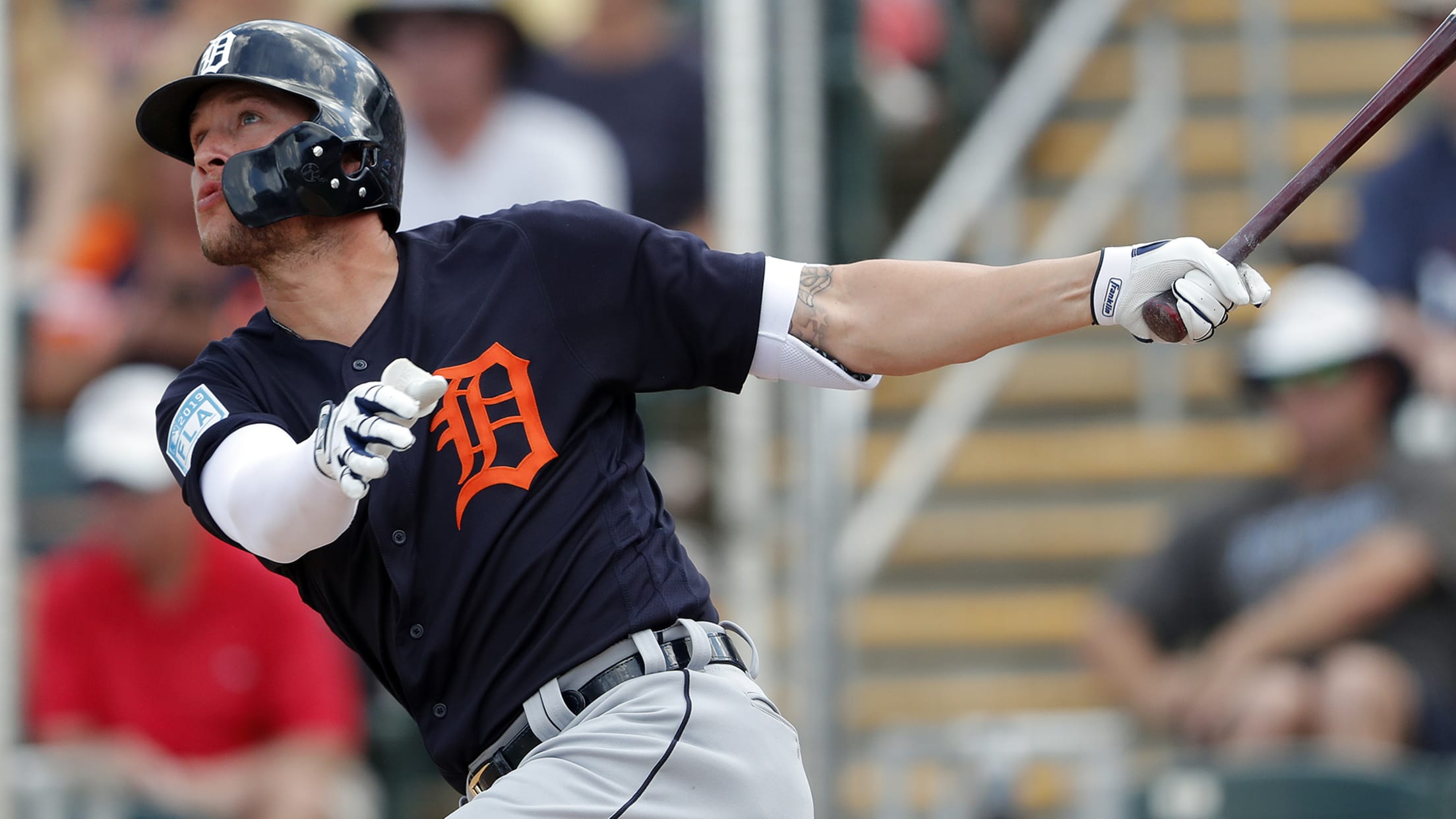 LAKELAND, Fla. -- The Tigers likely would've been able to leave Joker Marchant Stadium after Sunday's 18-6 win over the Blue Jays with their Opening Day roster set if not for JaCoby Jones' left shoulder sprain suffered Saturday. Instead, general manager Al Avila and his assistants spent Sunday checking the
LAKELAND, Fla. -- The Tigers likely would've been able to leave Joker Marchant Stadium after Sunday's 18-6 win over the Blue Jays with their Opening Day roster set if not for JaCoby Jones' left shoulder sprain suffered Saturday. Instead, general manager Al Avila and his assistants spent Sunday checking the waiver wire and trade market to see if there's a center fielder they could use for a little while.
"We're trying to figure out who in the heck we're going to fill the slot with," manager Ron Gardenhire said. "We still haven't done it yet."
One option emerged Sunday morning, when Dustin Peterson settled back into his locker in the Tigers clubhouse -- the same locker he emptied when the Tigers optioned him to Triple-A Toledo a week ago. Peterson started at first base on Sunday, and will start in center field for Monday's intrasquad game against Tigers prospects.
Though Peterson spent the first half of Spring Training in competition for a reserve outfield spot, he has played just four games in center field in his six-year pro career, all in 2016 at Double-A Mississippi in the Braves' system.
Detroit's top center-field prospect, Daz Cameron, made an appearance in Sunday's win as well, hitting a grand slam to stretch the Tigers' lead to double digits. But the Tigers have been insistent that Cameron, who was in Major League camp as a non-roster invite until March 14, begin the season in Toledo to continue his development after playing just 15 games there following his promotion from Double-A Erie last August.
Peterson appears to be the main internal option, though not the only one.
"There are people down the street [in Minor League camp] that they can bring over here, like you saw today," Gardenhire said. "And we are thinking about Peterson, how he fits, and a couple other guys that have been here. And outside the world of the Detroit Tigers, there are people out there. There really are.
"I'm going to wait. I'll get phone calls from them all night: 'What do you think of this guy?' We have time. That's the biggest thing."
That time is dwindling. Gardenhire said they want to set their Opening Day roster after Monday's game.
The Tigers can hope they won't need a replacement for an extended time. An MRI taken Saturday after Jones injured his shoulder on an attempt at a diving catch confirmed the initial diagnosis, Gardenhire said.
"He definitely has a little separation in the AC joint," Gardenhire said. "It just gets spread a little bit, and there you have it. He's sore, and he's going to be sore.
"The timetable, everybody's different. There's no set date. He's going to have some time here. Could be two weeks, could be three. Who knows? Luckily it's not his throwing shoulder. I'd say [he'd be out] a lot longer if it was his throwing shoulder."
If Peterson makes the team, Mikie Mahtook and Niko Goodrum would split center field duties, with Peterson as a backup outfielder, first baseman and possible designated hitter.
Norris picks up velo
The good news for Daniel Norris in his quest to get back to his younger form was that his fastball hit 94 mph on the Joker Marchant Stadium radar gun three times and 93 mph a few others near the end of a 25-pitch fourth inning. Less encouraging were the three runs scored that inning, and five runs that scored on six hits over Norris' four-inning performance.
Still, given how much Norris has been trying this spring to regain his mid-90s velocity, he'll take it. The bump in velocity was borne out of frustration.
"I think I just got ticked off ... sick of not throwing well," Norris said. "More than anything, it was just conviction. I think in the beginning, even the two scoreless innings, I was so bad. I was really bad and I was just nibbling too much, trying to make perfect pitches and then really those last three hitters I just said I'm going to go throw with conviction and [throw hard]. ...
"Those last 93s, 94s in a row, that hasn't been there in a long time. I think next time I throw, I've got to have that conviction from the get-go. Instead of trying to be too fine, I just have to attack."
If Norris opens the season in the bullpen, he'll have an easier time doing that without having to pace himself for a longer outing. With 13 healthy pitchers currently in camp, that relief role is a distinct possibility; Gardenhire has talked about carrying eight relievers on the Opening Day roster. Norris has been in competition with Spencer Turnbull to fill injured Michael Fulmer's spot in the rotation, but Turnbull has outpitched Norris this spring.
Quick hits
• Matthew Boyd gave up a run on three hits over four innings of a Minor League game, striking out five batters while throwing 51 pitches. If the Tigers keep their current rotation order, he would face the Blue Jays on Friday in the second game of the regular season, one reason the Tigers kept him in a Minor League game on Sunday.
• Catcher John Hicks chipped a tooth when he took a warmup pitch from Norris off his face between innings. He'll miss Monday's game while he has his tooth repaired.
• A day after the Tigers granted Bobby Wilson his release, they re-signed the veteran catcher to a Minor League contract. Wilson, who turns 36 next month, is expected to report to Triple-A Toledo.
Up next
The Tigers close up Spring Training at Joker Marchant Stadium with the intrasquad game against their Minor League players on Monday at 1:05 p.m. ET. Turnbull is scheduled to make his final spring start as he prepares for a potential start next weekend in Toronto. Mahtook, Goodrum, Christin Stewart and Gordon Beckham are scheduled to be in the lineup.