Tigers option struggling Candelario to Triple-A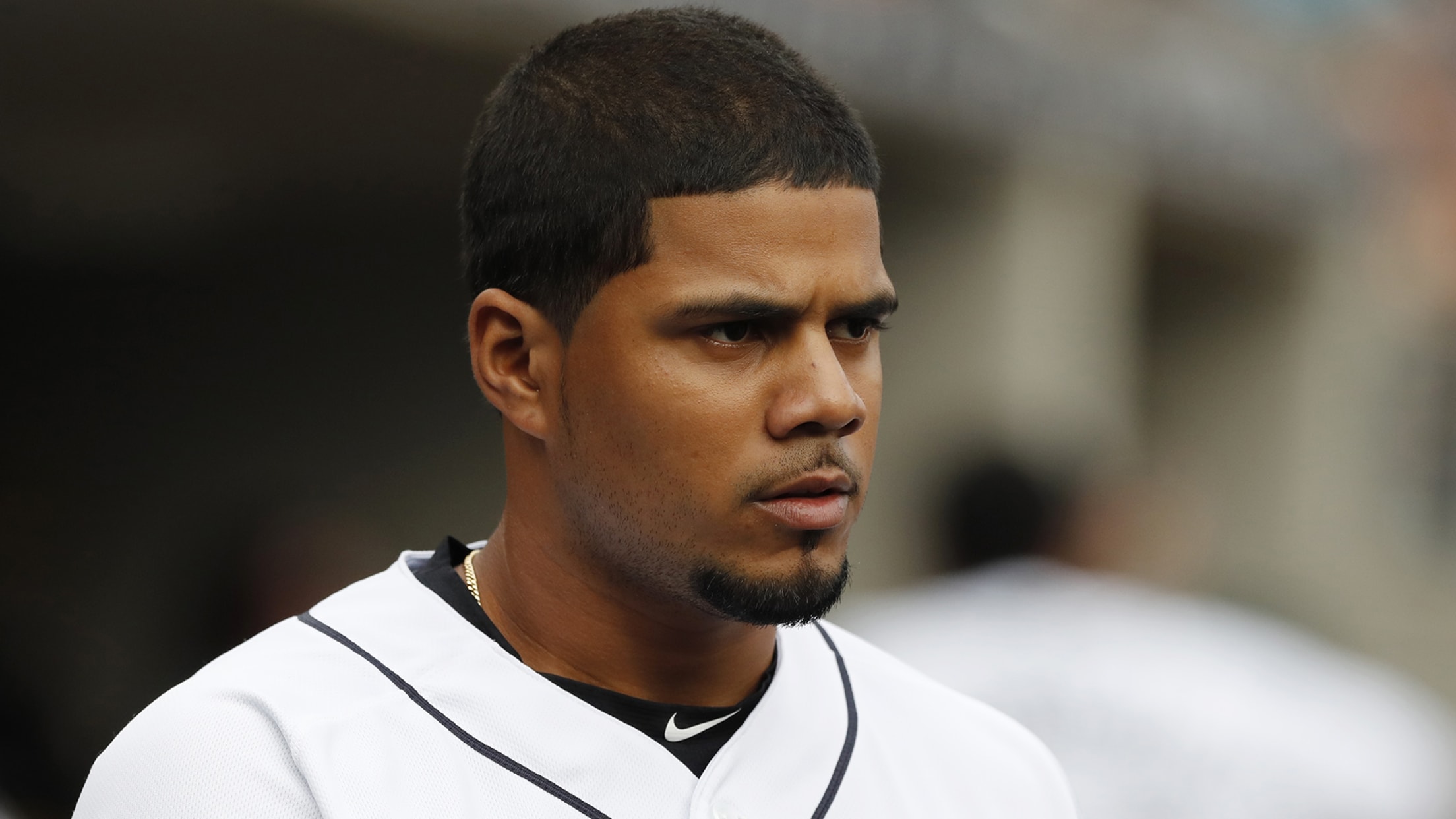 DETROIT -- Jeimer Candelario was one of the first cogs of the Tigers' future to make it to the big league club, called up shortly after his trade from the Cubs at the 2017 non-waiver Trade Deadline. On Wednesday, he became the biggest part of the Tigers' future core to
DETROIT -- Jeimer Candelario was one of the first cogs of the Tigers' future to make it to the big league club, called up shortly after his trade from the Cubs at the 2017 non-waiver Trade Deadline. On Wednesday, he became the biggest part of the Tigers' future core to be sent back to the Minors.
If Candelario's stint in Triple-A Toledo works as Tigers manager Ron Gardenhire hopes, it won't be for long.
"We're sending him back to Triple-A right now to go find his swing and find himself," Gardenhire announced after Wednesday's 5-1 loss to the Astros. "He's scuffling right now. We've been trying to hold off on this to see if he got going, but it's just not working out."
A corresponding move will be announced Thursday morning before the Tigers' series opener against the A's. A strong option could be Dawel Lugo, ranked by MLB Pipeline as the Tigers' No. 17 prospect and currently batting .341 as the primary third baseman in Toledo.
While the move was a stunner given Candelario's place on the team, having served as the Tigers' starting third baseman since September 2017, the depth of his struggles this season made it a consideration. The 25-year-old switch-hitter is batting .192 with a .573 OPS, including a 2-for-35 slump over his last nine games.
The hitting woes, however, go back to last summer. He's batting .196 (96-for-490) since June 8, 2018, with 153 strikeouts.
The Tigers have tried moving Candelario up and down the batting order, looking for a spark. He rose from the middle of the lineup to the leadoff spot in late April, replacing Josh Harrison, and produced more walks (11) than hits (10) in a 14-game stretch covering 67 plate appearances.
Gardenhire moved Candelario back down in the lineup last weekend, hoping to take some pressure off of him. Though he homered this past Saturday at Minnesota and singled Monday against the Astros, the move did not provide the impact Gardenhire hoped.
There's little in the metrics to suggest that a turnaround was coming. Candelario ranks in the bottom 10 percent of hitters this year in expected batting average and slugging percentage, according to Statcast, while his exit velocity and hard-hit rate were in the bottom 35 percent.
Those struggles have overshadowed a vast improvement in Candelario's defensive metrics, including a plus-4 in Defensive Runs Saved this year. But his recent play, including an error on a fielder's choice grounder Wednesday, left Tigers officials worried.
"You can see he's lost at the plate," Gardenhire said. "He kind of takes it into the field at times. He's actually done a lot better defensively this year, I think, but he's been a little sloppy lately and we're having a hard time getting his attention.
"I think the hitting is bothering him, and I think he understands that, so now go find yourself and find your swing. This guy's our future, one of our future guys, but he's got to go find himself."
Candelario said he hasn't been pressing, something he has been repeating throughout the season. But when asked if the decision caught him off-guard, he struggled for an answer.
"What do you want me to say? I can't say nothing," Candelario said. "They make the decisions. I'll be working hard to come back."
The work ethic has been consistent with Candelario, even when the production hasn't. His improvement in the field is a product of hours of work with infield coach Ramon Santiago since Spring Training. He has put the same effort into his swing and approach at the plate, to no avail.
"I'm going to be there for a short time to work hard and get my swing going and coming back to help the team win," Candelario said. "That's what it's all about."