Notes: Candelario key to defensive shift
Boyd starts slow; Jones finds niche in order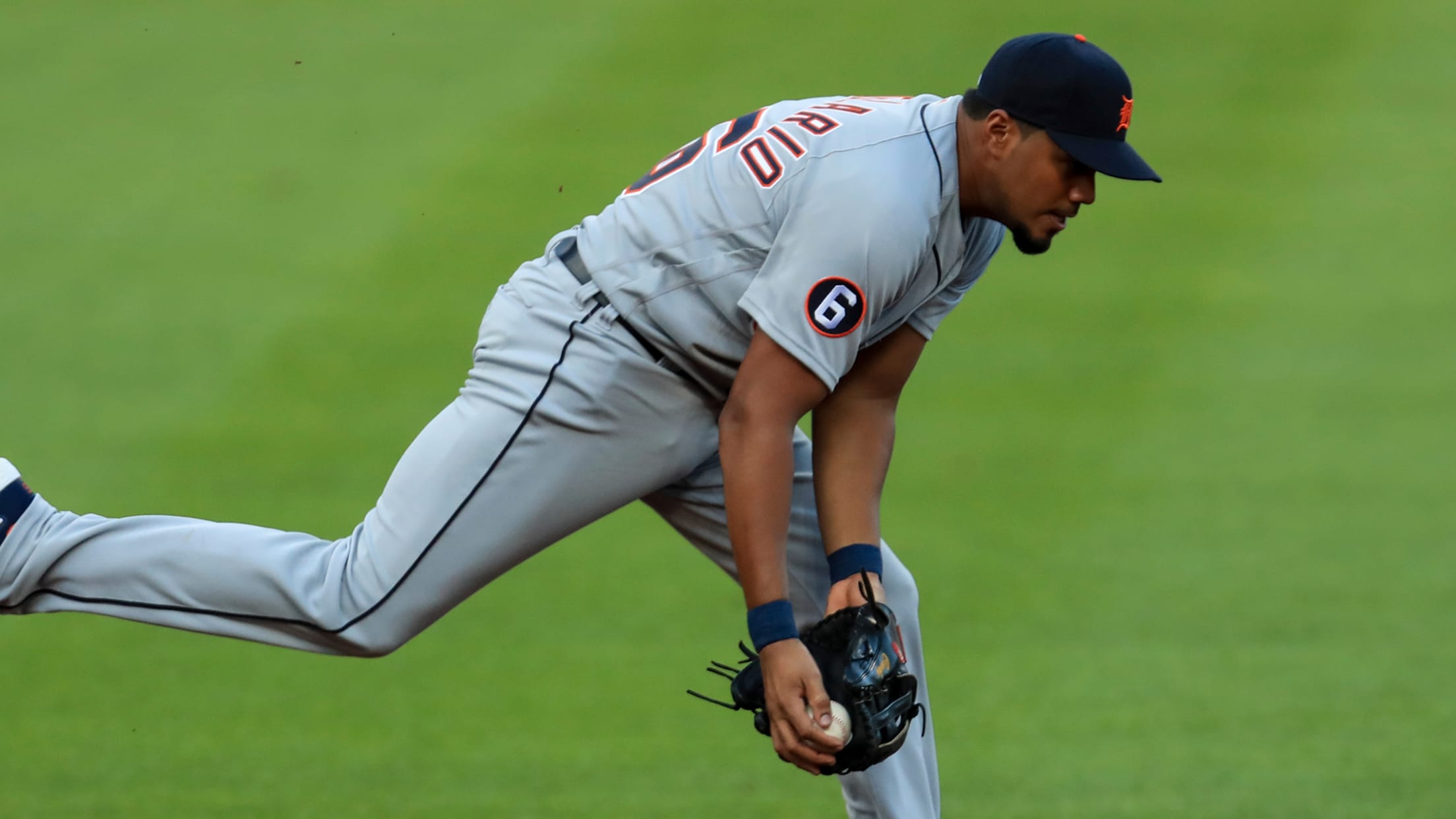 DETROIT -- The Tigers were one of the later teams to adopt the infield shift last decade. So far, they're the most aggressive team to use it this year. It's just 10 percent of the way through a 60-game season, but the Tigers lead the Majors in shifts used, and
DETROIT -- The Tigers were one of the later teams to adopt the infield shift last decade. So far, they're the most aggressive team to use it this year.
It's just 10 percent of the way through a 60-game season, but the Tigers lead the Majors in shifts used, and it's not particularly close. As MLB.com's Mike Petriello noted, Detroit has shifted its infield on 590 of 843 pitches thrown through Wednesday, or 70 percent, according to Statcast. The next-closest team is Pittsburgh at 54.1 percent.
By comparison, the Tigers shifted on 31.5 percent of their pitches last season, 11th most in the Majors. Statcast defines an infield shift as an alignment with three infielders on one side of second base.
Part of the difference could be the combination of small sample size with the opponents the Tigers have faced so far. The Reds and Royals have hitters who see a fair number of shifts, including Mike Moustakas and Alex Gordon.
With the Tigers, there's more to it than that. While they've become increasingly comfortable shifting against left-handed hitters, they've picked up their shift usage against right-handed hitters this season. In fact, 257 of their 590 shifts in 2020 have been against right-handed hitters. By contrast, the Tigers shifted nearly twice as often against left-handed hitters than right-handed batters last year.
"We've talked about how analytically we're growing as an organization, and that's probably it," manager Ron Gardenhire said. "We're getting better at the craft."
For the past couple of years, the Tigers have shifted not only batter to batter, but pitch to pitch, adjusting infielders in the middle of an at-bat. A shift that might make sense with one strike might be less so with two.
A factor Gardenhire cited was the ability of Tigers pitchers to take advantage of the shift, pitching into the percentages for which their infield is aligned.
"Up to this point, our pitchers for the most part are throwing the ball in the area they're supposed to be, to get the guys out. That's how the shift works. If the pitchers pitch away from the shift, then we have trouble. So we're pitching to the shift and what they expect to happen.
"And our players have taken to it now. We have some veteran guys out there. Niko Goodrum has been through this and can cover some ground. Jeimer Candelario is playing real well at third base, which makes everything look better. It's been a work in progress, but it looks good so far."
Candelario plays an important role in the Tigers' shifting. While he starts at third base, he often moves over to deep second base in alignments against left-handed hitters. When Goodrum shifts, Candelario ends up as the only infielder between second and third base, making him feel like a shortstop.
"We've been doing a really good job moving each other, communicating with each other," Candelario said. "We've been able to stay on the same page. [Infield coach] Ramon Santiago is doing a helluva job with us, putting us in a good position to make a play."
The shifts don't always work: The Royals had four ground-ball singles against shifts off of Detroit starter Iván Nova during the Tigers' 5-3 loss on Thursday.
"It just happens," Gardenhire said after the game. "Those are the things we talk about, but that's what we're doing. We go over these things. Santiago goes over them with the infielders and outfielders. This is where they want us to play them. This is what all the information says, the analytics, and that's where we put them. Every once in a while, it's going to get beat. You're going to have those balls roll through. That's the unfortunate part for the pitcher, but this is how we work."
Boyd off to slow start
Thursday's comeback overshadowed another slow start from Matthew Boyd, who allowed four runs over five innings for the second time in as many outings this season. Unlike Opening Day, he wasn't wild, neither walking nor hitting a batter, and he struck out six. But his nine hits allowed included three doubles and a triple, allowing the Royals' offense to get in motion.
Boyd allowed base hits to lead off each of his first four innings, putting him in the stretch for most of his outing. His pace slowed considerably, which pitching coach Rick Anderson believes was a reason behind his struggles.
"To me, I just think he's doing a little overthinking about what he's going to do instead of just getting the ball and go," Anderson said. "The more he stands around, the more of a chance that brain gets in the way and he starts thinking too much."
Boyd sat in the dugout after his final frame and talked for the next three innings, Anderson said.
Jones finds place at bottom of order
JaCoby Jones entered Thursday tied for the Major League lead in home runs while batting 8-for-19, providing a catalyst at the bottom of the order. For now, Gardenhire is resisting any temptation to move him up the order.
"He's comfortable there," Gardenhire said. "I've always liked the guy down there. Especially when he gets hot and he's swinging good, he rolls it over to the first part of the lineup. I've moved people before, but with JaCoby, we'll leave him right there."