Blackwood's sidearm 'funk' impresses Tigers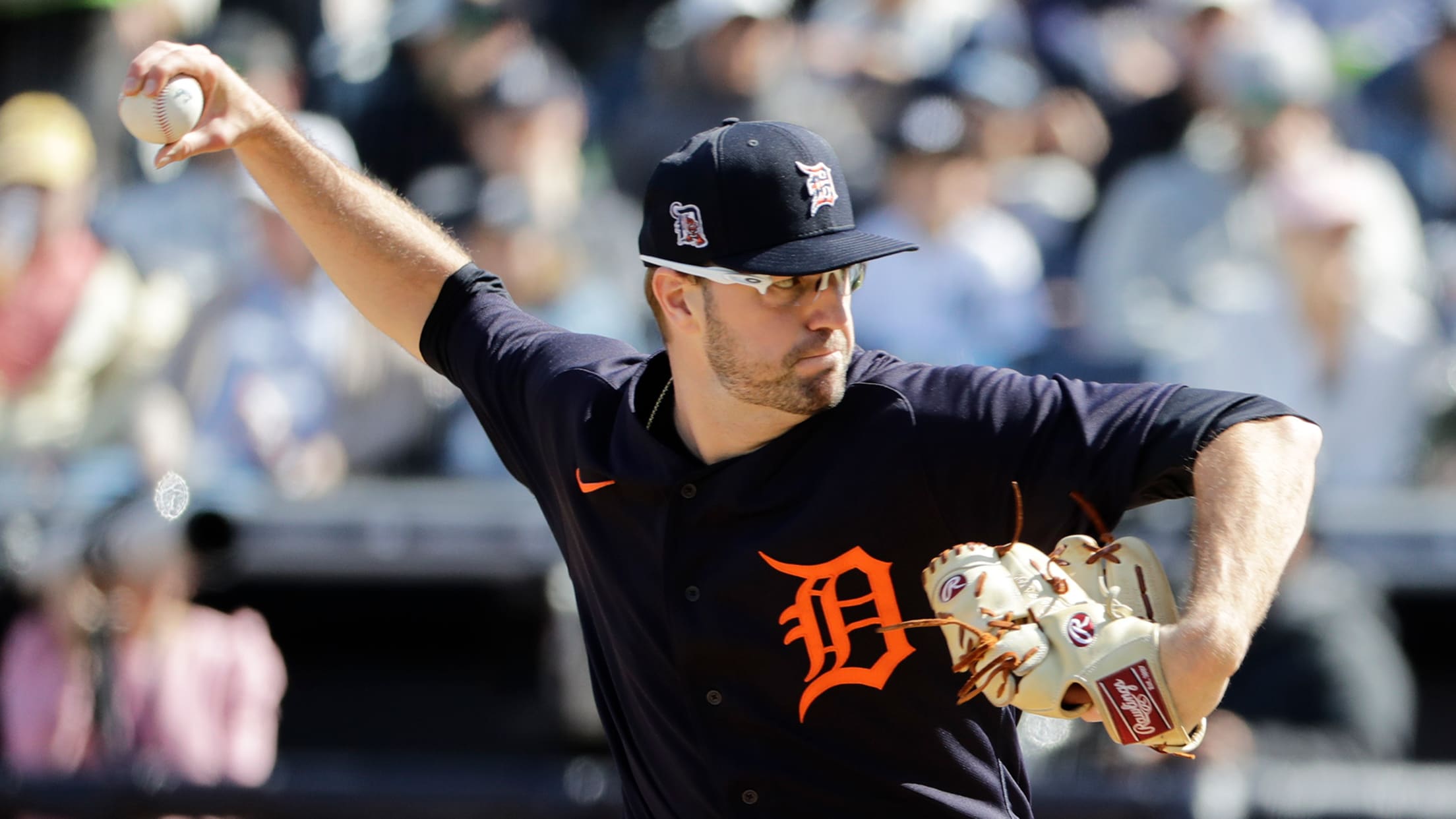 DETROIT -- The face Miguel Cabrera made Monday when he saw Nolan Blackwood's sidearm delivery in live batting practice spoke volumes.
DETROIT -- The face Miguel Cabrera made Monday when he saw Nolan Blackwood's sidearm delivery in live batting practice spoke volumes.
You'd make the same face too.#MiggyMondays pic.twitter.com/24rU5j1Bfs

— Detroit Tigers (@tigers) July 6, 2020
"But I had the same reaction as when he stepped in the box," Blackwood admitted Saturday. "So I'm warming up, and my last four pitches I kinda glanced over there just to see who I'm facing, and I see freaking Miguel Cabrera, the first person I'm facing in live BP, standing in the box. And I'm like, 'Oh, this is going to be fun.'
"I didn't see his reaction until afterward. I thought that was pretty funny, though."
He wasn't the only one.
"I know when I stood behind the batting cage and he dropped down on the side, I buckled a little bit," Tigers manager Ron Gardenhire said. "He's got some funk. The ball comes out of a funny place. He's got great movement. He's long and tall. He's got long arms, the whole package."
It was a similar reaction Eastern League hitters had when they would see Blackwood enter from the Double-A Erie bullpen last season after they endured three at-bats against Casey Mize, Tarik Skubal, Matt Manning or Alex Faedo. Blackwood's combination of arm angle and sinking fastball brings a different look, which he used to his advantage for a 1.76 ERA and 49 hits allowed over 66 1/3 innings with the SeaWolves.
That success earned Blackwood a non-roster invite to Major League camp this spring and attention from Gardenhire, who loves to mix relievers with different looks into his bullpen. Four months later, Blackwood is back for another shot.
Gardenhire used Pat Neshek out of his Twins bullpens with devastating effect for four seasons, tormenting the Tigers in particular. A decade later, Gardenhire got a decent 2018 season out of Louis Coleman in Detroit following a non-roster invite.
Blackwood could be next in line.
"I've always liked a little different look and a little funk," Gardenhire said. "Those guys are always kind of fun to take a peek at. And this guy has put himself in a good position here. He's in a battle for our bullpen. He's definitely in the mix. We like what we see."
Blackwood said he has had an unorthodox arm angle to some degree since high school. He had a three-quarters arm slot, but lowered it one day on a coach's recommendation.
"In high school one day, I was having arm issues," he said. "My elbow kept bothering me, and my high school coach said, 'Hey, drop it down and just see how it feels and see how you do.' My first bullpen [session] I threw like that, I think I threw like 90 percent strikes.
"At first, I was like a knuckle-scraper. I was a true submariner. That was my sophomore year in high school. And I slowly trickled up, and the arm slot I am now I've been since sophomore year in college. The velo ticked for me there. That's where it's been the highest. It's just more natural for my slider and my changeup as well, easier throwing from that arm slot."
After leading Southaven to a Mississippi high school championship, Blackwood took his delivery to the University of Memphis, where he set a school record for appearances out of the bullpen in his freshman season and set the single-season saves mark as a sophomore in 2015. The A's drafted him in the 14th round a year later, then sent him to Detroit in the Mike Fiers trade in '18.
By tightening his changeup and slider last year, Blackwood set himself up for success. By landing in Erie behind a prospect-loaded rotation, he had plenty of opportunity.
"It was nice, that whole pitching staff," Blackwood said. "You had the starters, but then you had some relievers that did really good as well. It was nice just knowing those guys would go out there and were more than likely to shove, and they're going to give you a good five or six [innings] and hand it off to me and Drew Carlton."
Right-handed hitters had nearly twice as many strikeouts (48) as hits (25) off Blackwood last year. By contrast, he had as many walks as strikeouts (16) against left-handed batters. With the three-batter rule in effect, he'll need outs from both sides. But with expanded rosters at season's start, he could be an option.
It would be fitting if Blackwood took a parallel path with the starting prospects to the big leagues. But he isn't picky.
"I like to think no matter who I pitch behind, I'm going to be different," he said.