Tigers confident starters can carry them
Top prospects wait in wings, but Gardy has faith in current staff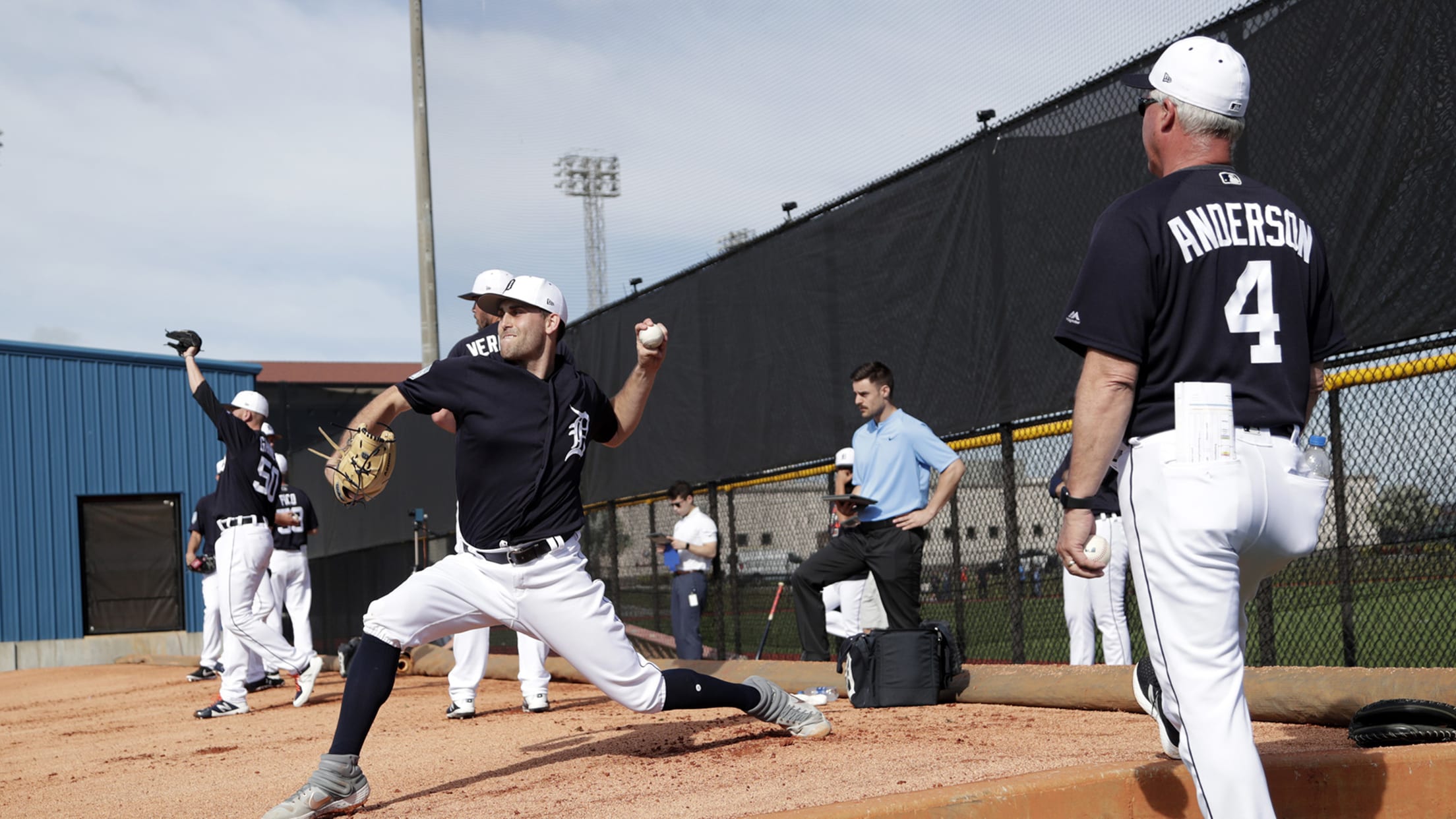 LAKELAND, Fla. -- Ron Gardenhire is not a fan of the opener system. But the way his rotation limped through 2018, even he had to consider the concept over the offseason. "If you have six dominant or five dominant starters, it probably makes a difference," Gardenhire said at the Winter
LAKELAND, Fla. -- Ron Gardenhire is not a fan of the opener system. But the way his rotation limped through 2018, even he had to consider the concept over the offseason.
"If you have six dominant or five dominant starters, it probably makes a difference," Gardenhire said at the Winter Meetings. "But if you don't feel you can do that and compete, then it makes sense to try something different."
If the Tigers' rebuilding project goes as hoped, Gardenhire could have a potentially dominant rotation to manage in a few years, fronted by MLB Pipeline Top 100 prospects Casey Mize, Matt Manning and Franklin Perez. Add in former first-round picks Beau Burrows and Alex Faedo, and starting pitching is the strength of Detroit's farm system. Even if not all of them make it, the Tigers hope to have enough effective starting pitching to overwhelm lesser teams in series the way they did with Justin Verlander, Max Scherzer, Anibal Sanchez, Rick Porcello and David Price during their four-year run of division titles.
That time isn't here yet, though the philosophy is. Gardenhire believes he has enough effective starters to feel good about his rotation going into the season. But he also knows how quickly that could change.
By the end of last season, the Tigers were struggling to put together five starters who could carry a game into the middle innings. Michael Fulmer underwent right knee surgery in September. Jordan Zimmermann labored through the second half before undergoing core muscle surgery at season's end. Matthew Boyd was healthy but not necessarily effective in September on his way to a career-high 170 1/3 innings. Daniel Norris returned from groin surgery but struggled to pitch past five innings as he rebuilt strength. Detroit's most effective starters for September were Francisco Liriano playing out the string on his one-year contract and mid-September callup Spencer Turnbull.
Thirteen pitchers started a game for the Tigers, including a one-time appearance from long-ago first-round pick Jacob Turner. Just seven Detroit pitchers recorded a quality start, and only Matthew Boyd (14) had more than 10. That can't happen this year if the Tigers have any hope of defying expectations, which makes Fulmer's loss to Tommy John surgery a worry. But the rest of the rotation is giving Gardenhire hope.
Boyd appears poised to take the next step in his career to become a front-line starter. Zimmermann looks not only healthy but reliable, having widened his arsenal to pitch with less velocity like he did in last season's first half. Matt Moore and Tyson Ross have overcome slow starts in spring to show hope of delivering competitive starts every five games. Turnbull has been a pleasant surprise in camp, becoming a real option to fill Fulmer's spot.
The more innings Detroit's starters deliver, the less Gardenhire has to lean on a bullpen that wore down last summer. All-Star setup man Joe Jimenez had his workload regulated by season's end. Closer Shane Greene struggled through September, largely due to giving up home runs, and he adjusted his routine as a result. Drew VerHagen should move into the setup role opened by Alex Wilson's non-tender, while lefty Daniel Stumpf coupled a strong finish last year with a solid spring.
Fellow lefty Blaine Hardy is the link in between, having started 13 games and finished five others, saving one. He was one of baseball's more versatile pitchers last year, and one of the best pitchers the Tigers had in any role. They might have needed Hardy too much, leading to left elbow tendinitis in August.
By season's end, the Tigers could see the first of their talented pitching prospects arrive. Burrows set a goal of reaching Detroit this year. Mize could force a fast track if the top overall pick dominates Minor League hitters like some believe he could. Even Manning could be on the cusp by the end of the season. Until then, the Tigers have to find a different path to 27 outs.