Tigers top prospects of the week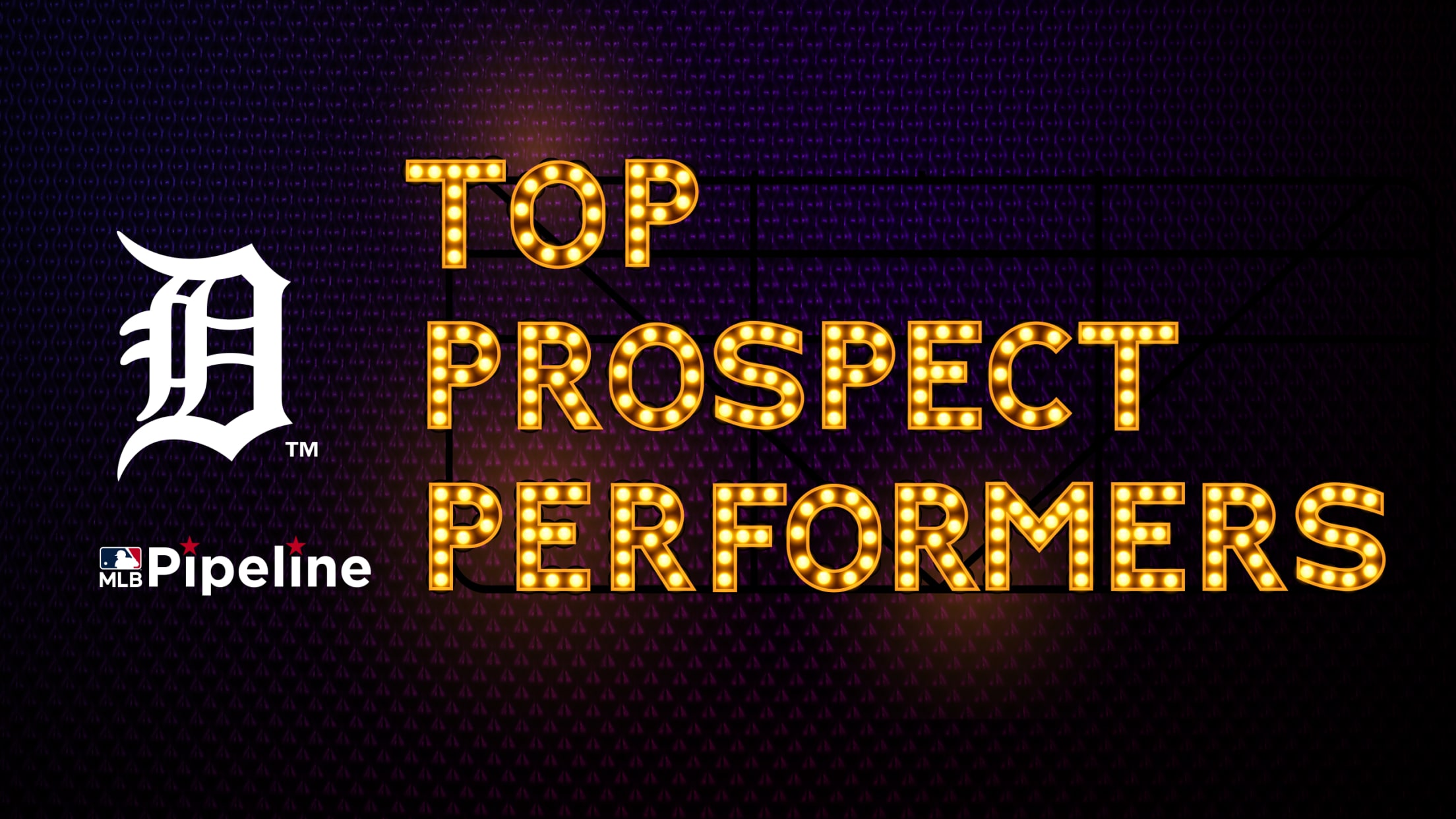 Here's a look at the top performances of the past week by Tigers prospects in the Minor Leagues:
Here's a look at the top performances of the past week by Tigers prospects in the Minor Leagues:
AL East
BAL, BOS, NYY, TB, TOR
AL Central
CLE, CWS, DET, KC, MIN
AL West
HOU, LAA, OAK, SEA, TEX
NL East
ATL, MIA, NYM, PHI, WSH
NL Central
CHC, CIN, MIL, PIT, STL
NL West
ARI, COL, LAD, SD, SF
Top prospect performers
Top 30 Prospects | Complete prospect stats | Draft stats
The regular season ended on Sept. 2 and no Tigers affiliates qualified for the playoffs.
Monday, Sept. 2: Lange throws three shutout innings
Alex Lange has been solid down the stretch for Double-A Erie after he was dealt from the Cubs to the Tigers in the Nicholas Castellanos deal. On Monday, Lange closed out Erie's regular season with three shutout innings and allowed just one walk while striking out one. Over his nine appearances since the trade, Lange posted a 3.45 ERA with 15 strikeouts over 15 2/3 innings. The Tigers' No. 29 prospect has been used strictly in a relief role since joining the organization, which allows him to lean more heavily on his fastball and above-average curveball. Sunday's prospect stats »
Sunday, Sept. 1: Greene goes yard
Tigers No. 3 prospect (No. 46 overall) Riley Greene knocked his fifth home run as a professional, employing his sweet left-handed swing for a pulled shot that tucked inside the right-field foul pole for Class A West Michigan. The 18-year-old first-round pick is sporting a .746 OPS across three levels this season, and Sunday's shot provided a glimpse into the pop that scouts feel will eventually start to emanate consistently from Greene's bat. Sunday's prospect stats »
Saturday, Aug. 31: Paredes and Wentz carry SeaWolves to win
Isaac Paredes drove in all four runs for Double-A Erie in the SeaWolves' 4-1 victory over Akron. Paredes, the Tigers' No. 5 prospect, hit an RBI single in the fifth inning to put Erie on the board and then connected on a three-run homer in his next trip to the plate to finish 2-for-4. The 20-year-old infielder has hit nine of his 13 homers in the second half of the season -- a stretch during which he's also batting .303/.385/.459 with 38 RBIs and nearly as many walks (28) as strikeouts (29).
Paredes' big night at the plate backed another strong effort on the mound from Joey Wentz. Making his fifth SeaWolves start since the Tigers acquired him from Atlanta in the Shane Greene trade, Wentz, Detroit's No. 10 prospect, gave up one run on four hits and matched his career high with 10 strikeouts 5 1/3 innings. The 21-year-old southpaw has completed at least five frames in each of his five turns for Erie while pitching a 2.10 ERA with 37 strikeouts and four walks over 25 2/3 innings in that span. Saturday's prospect stats »
Joey Wentz tied his career high tonight with 10 strikeouts for @erie_seawolves.

He pitched 5 1/3 innings, allowing only one run, lowering his ERA to 2.10 since joining the #Tigers organization at the Trade Deadline.@Tigers Top 30 prospects: https://t.co/OTuLL30cWo pic.twitter.com/eONtGrWHzP

— MLB Pipeline (@MLBPipeline) September 1, 2019
Friday, Aug. 30: Paredes breaks out of slump
No. 5 prospect Isaac Paredes snapped out of a 3-for-27 funk at the plate for Double-A Erie by going 2-for-4 in his first multihit performance since Aug. 21, when he recorded a season-high five hits. The 20-year-old infielder had a relatively nondescript first half in the Eastern League but has swung a hot back since the All-Star break, slashing .321/.403/.457 with six homers, seven doubles and more walks (23) than strikeouts (20) over his past 48 games. Friday's prospect stats »
Thursday, Aug. 29: Perez puts up three hits for Whitecaps
Lately, Wenceel Perez has been doing what any good leadoff hitter is expected to do: get on base -- a lot. After a three-hit performance for Class A West Michigan on Thursday, the Tigers' No. 13 prospect is up to eight hits in his past four games, a highlight of his strongest month of the year. Despite hitting just. 235 in 2019 so far, he's slashing .284/.325/.394 in 26 August contests. Thursday's prospect stats »
Wednesday, Aug. 28: Perez doubles in multihit effort
Wenceel Perez, the Tigers' No. 13 prospect, went 2-for-5 with a double for Class A West Michigan on Wednesday. The 19-year-old, whom the Tigers signed out of the Dominican Republic in 2016, is hitting .231 on the year, but has been heating up lately. Perez is hitting .267 in August and has hits in five of his past six games. Wednesday's prospect stats »
Tuesday, Aug. 27: Funkhouser fans seven in Triple-A
After failing to escape the first inning in his previous start for Triple-A Toledo, Kyle Funkhouser rebounded on Tuesday to yield just one hit over his first five innings. The Tigers' No. 18 prospect did struggle when he returned for the sixth, though, as he allowed three runs on three hits and a walk before departing with two outs in the frame. He issued four walks and threw 110 pitches (67 strikes) in the outing, recording seven strikeouts and seven groundouts. The former fourth-round pick (2016) from Louisville has scuffled this year in his first Triple-A campaign, pitching to an 8.20 ERA with 62 strikeouts and 49 walks in 60 1/3 innings (17 starts). Tuesday's prospect stats »