Notes: Hess joins camp; Norris still out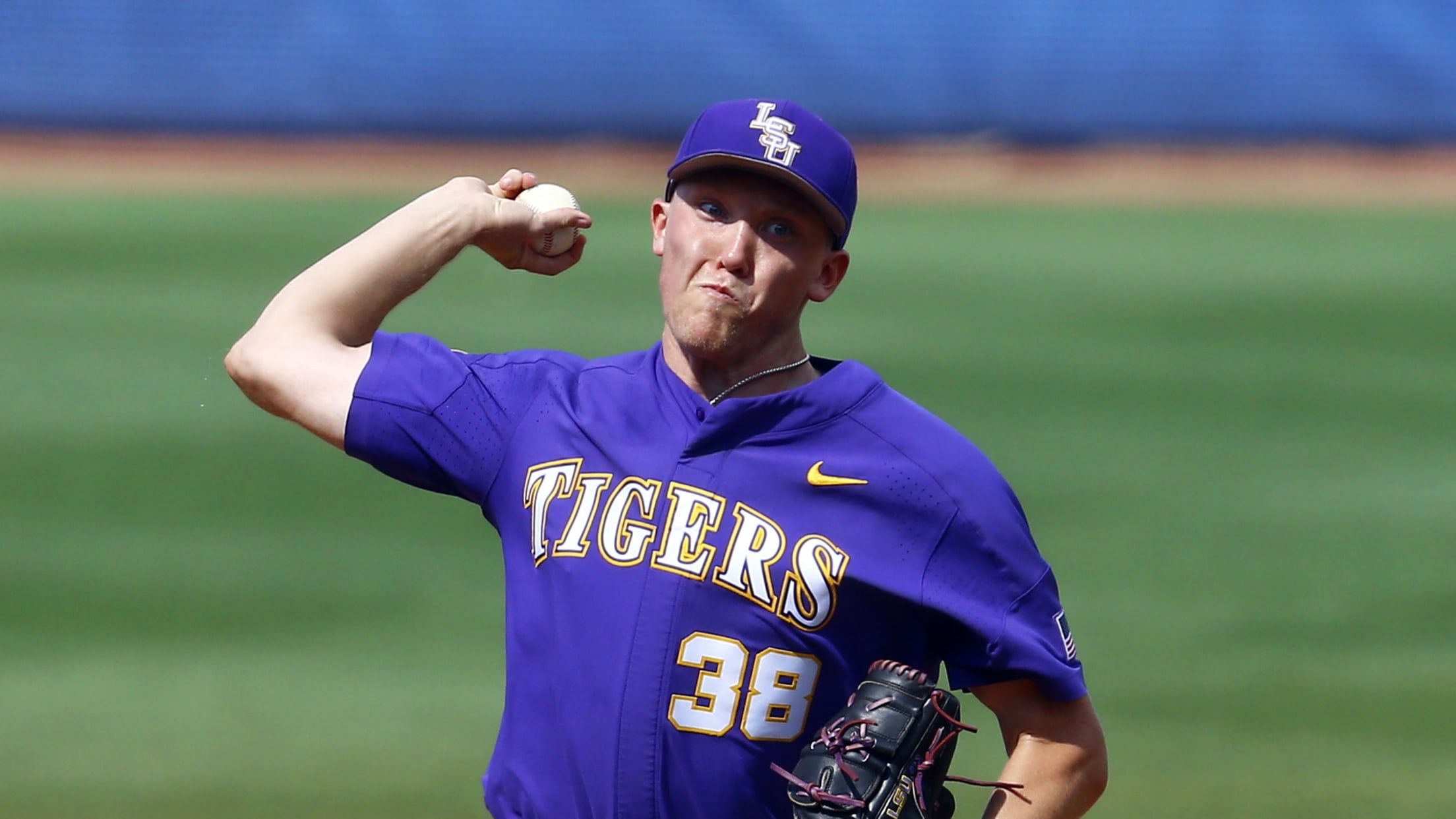 (Butch Dill)
DETROIT -- The Tigers drafted LSU reliever Zack Hess last year thinking he could make his way on a fast track to Comerica Park. They weren't thinking he'd be here this quickly. He spent the past 4 1/2 months in Virginia throwing to hitters twice a week under the watch
DETROIT -- The Tigers drafted LSU reliever Zack Hess last year thinking he could make his way on a fast track to Comerica Park. They weren't thinking he'd be here this quickly.
He spent the past 4 1/2 months in Virginia throwing to hitters twice a week under the watch of his old high school coach, former Pirates pitcher Randy Tomlin, trying to stay ready for any possibility. When the Minor League season was cancelled, Hess kept throwing, in hopes for an Arizona Fall League. Then came the call last weekend from Tigers vice president of player development Dave Littlefield.
• Tigers tab Boyd for Opening Day in Cincy
"He gave me the news that they wanted me up here in Detroit to join the 60-man squad," Hess said on a Sunday morning video conference. "Obviously that's a huge honor. I was really excited to get that news."
Hess and fellow former LSU pitcher Alex Lange were added to the Tigers' 60-man player pool. It might not result in any games for Hess, who ended last season at Class A West Michigan. Once the Tigers open the season later this week, he'll join the rest of the player pool working out at Triple-A Toledo. But it's a huge step forward for him.
"Honestly, I didn't really think I would [be] an option for this, just being drafted a year ago," Hess said. "But life's crazy sometimes, and I'm really happy to be here."
The Tigers had two spots open in their pool. One had been open from the start; another opened when Detroit released Zack Godley. With top prospects Tarik Skubal and Alex Faedo currently on the injured list along with Daniel Norris and Daz Cameron, the Tigers also had use for pitching depth in their camp.
Enter Hess, a hard-throwing 6-foot-6 right-hander who filled every role from closer to starter over his three years at LSU.
"It's good to be at the back end of games again," said Hess, who recorded seven saves at West Michigan down the stretch last year. "I think that's where I'm most comfortable, where I fit best. Obviously, the Detroit Tigers don't struggle for starting pitching depth in the organization. I want a shot to get up there any way I can."
Lange knows that depth extremely well. After the former Cubs first-round Draft pick joined the Tigers last summer as part of the Nicholas Castellanos trade, he joined the bullpen at Double-A Erie, supporting a rotation that included Skubal, Faedo, Casey Mize and Matt Manning. The move seemed to fit Lange well; he struck out 15 batters over 15 2/3 innings down the stretch for the SeaWolves and posted a 3.45 ERA.
"I'm very happy with it," Lange said of the transition. "I think it fits my style. It fits my personality. I've always been a competitor, and I like pitching late in the game. I'm really excited to transition to that. More mound time in the game, quicker turnaround between outings, just go out there and let it eat. It's a lot of fun."
Hess already has a connection with Tigers fans. Like some of them, he grew up idolizing Brandon Inge. Hess grew up in Inge's hometown of Lynchburg, Va., and Inge was an assistant coach at a rival high school for a year when Hess was a senior at Liberty Christian Academy.
"When I was a little kid, if you were a baseball player in Lynchburg, that's the guy that you idolized," Hess said. "Me growing up, eight, nine, 10 years old, that's when Brandon was in the prime of his career. We weren't even really Tigers fans, but anytime we'd be on vacation or my dad [longtime college basketball referee Karl Hess] would be on the TV and we'd be scrolling through and we'd see a Tigers game, we'd immediately stop and watch Brandon play."
Waiting on Norris
Norris has not yet been cleared to join camp as the Tigers try to sort out their rotation with Jordan Zimmermann now on the 45-day injured list. Norris has been in COVID-19 protocol since Summer Camp began, having tested positive.
"He's not here right now," manager Ron Gardenhire said, "and I'm not sure if he's going to show up within the next couple days. I'm not sure anybody is."
The Tigers have to set their Opening Day roster by Wednesday. Gardenhire hasn't ruled out Norris opening the season on the pitching staff, depending on what kind of shape he's in.
"We will definitely have our Opening Day roster pretty soon," Gardenhire said. "We actually pretty much know, barring injuries and all those things."
Quick hits
• Center fielder JaCoby Jones appears set to return to action after participating fully in Sunday's rain-shortened workout without pain. He missed the past four days with tightness in his left oblique.
• Outfielder Travis Demeritte (groin, quad soreness) ran at 80 percent Sunday and felt improvement, Gardenhire said.
• Outfield prospect Derek Hill remains out with inflammation under his left kneecap. "He's not ready to go out there and fly all over the place," Gardenhire said. "We have to let it calm down."