Anderson, wife reach out to Chicago youth
Couple speaks on teenage empowerment during Chicago Sports Summit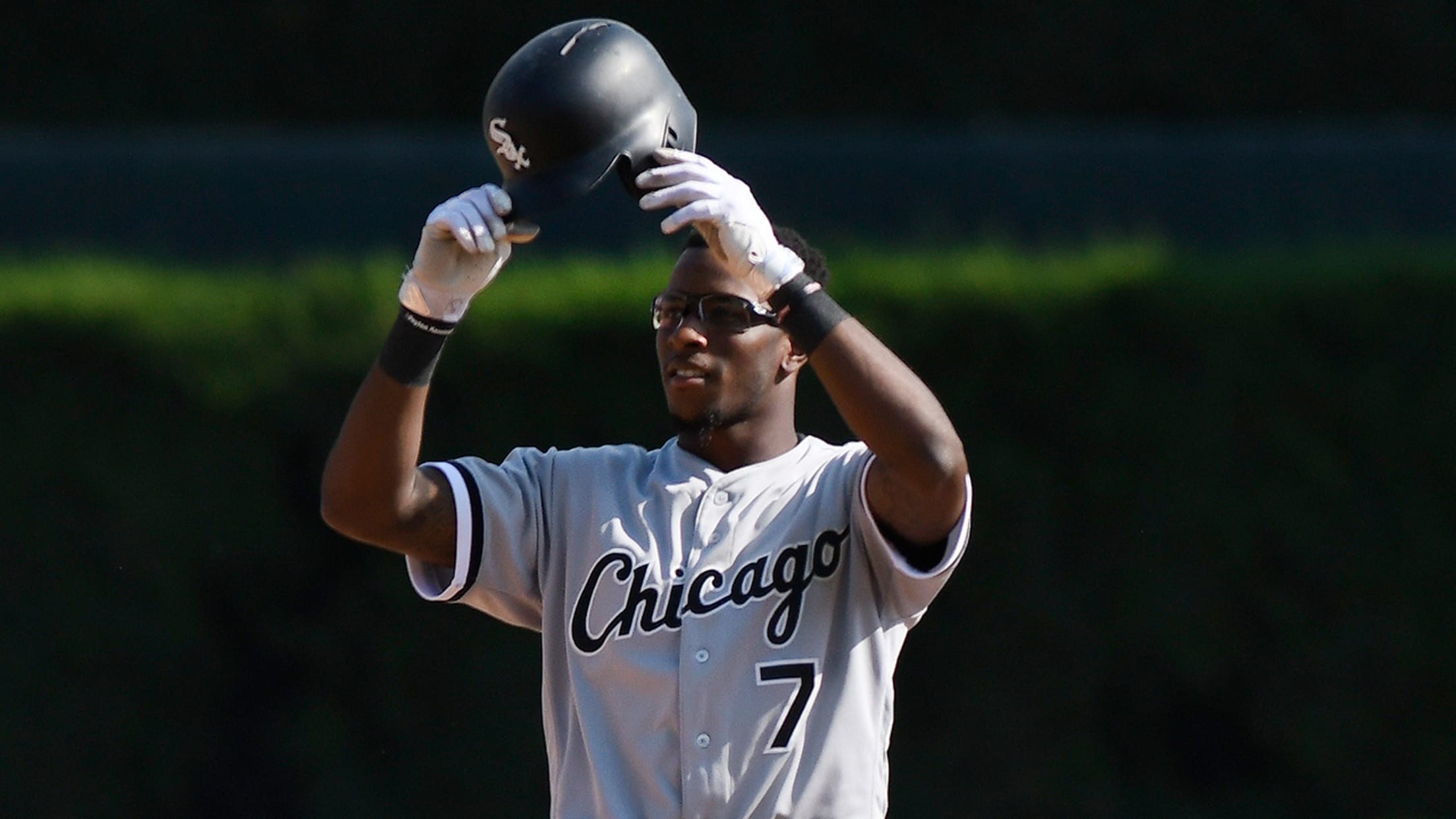 Tim Anderson and his wife, Bria, created "Anderson's League of Leaders," a community outreach they developed with the White Sox and Youth Guidance. (AP)
CHICAGO -- Tim Anderson and Bria Anderson are focused on giving back to the youth of Chicago.That point was one of many made clear by the White Sox shortstop and his wife as part of a Wednesday panel entitled "Empowering Teenagers," during the second annual Chicago Sports Summit at the
CHICAGO -- Tim Anderson and Bria Anderson are focused on giving back to the youth of Chicago.
That point was one of many made clear by the White Sox shortstop and his wife as part of a Wednesday panel entitled "Empowering Teenagers," during the second annual Chicago Sports Summit at the Hyatt Regency Chicago.
But in lending their valuable support through the first year of "Anderson's League of Leaders," a community outreach they developed with the White Sox and Youth Guidance, the Andersons also were helped through a very tough time of their own after losing [a] close friend, Branden Moss, to gun violence in Alabama in early May.
"Losing such a close friend and knowing the kind of person our friend Branden was, it was a scary, difficult place for us to see that can happen to anyone," said Bria, who joined her husband; Jarrett Payton (son of late Bears legend Walter Payton); former Blackhawks forward Jamal Mayers; one-time Bulls forward Horace Grant and Father Scott Donahue, the President and CEO of Mercy Home for Boys and Girls, on the Summit's first panel.
It was an honor to share the stage w/ @DavidHaugh @jamalmayers @TimAnderson7 @horacegrant54 for the @ChiSportsSummit. pic.twitter.com/u9q68ZWjr2

— Jarrett Payton (@paytonsun) October 4, 2017
"It's not just kids who don't have a role model, or don't have influence in their life," Bria added. "It was anyone. It was almost as if nobody is safe."
The first program for the Andersons' League of Leaders was held June 13 at Parker Community Academy when the couple sat in on a Becoming A Man (BAM) session with the students. Youth Guidance, their partner, specializes in school-based interventions dedicated to student engagement, personal achievement and violence prevention.
During that raw discussion, the Andersons said Wednesday, the room full of young men were not afraid to say they were afraid to walk home, or feel sad because they missed a family member.
"When that happened, we knew what we wanted our non-profit to be about," Bria said. "For Tim and our family, it has been rewarding. We are helping them, and they are helping us, too. We hear them say things and we can relate."
"Showing those kids love is something I want to do," Tim said. "Show them there's a better way of living and a bigger picture to life. I really am using my voice and things I've gone through to kind of leave an impact on the youth."
Partnering with a non-profit and doing some hands-on work made for a great first year with this program for the Andersons. But the parents of 19-month-old Peyton, who also was in attendance Wednesday, have only just begun.
They also want to dedicate a scholarship to their late friend, whose passing was tough on both during the past season.
"It was difficult for me, not only just being impacted from the loss, but seeing my husband go through really his first traumatic loss," Bria said. "But I knew I had to be there for him. I knew I had to be strong for him."
"This past year definitely made my life stronger and helped me in many different ways," Tim said. "It's going to help me in the future when somebody else is going through the same [thing] I went through."
White Sox make moves
The White Sox outrighted catcher Rob Brantly, right-handed pitchers Brad Goldberg and Chris Volstad, left-handed pitcher David Holmberg and outfielder Rymer Liriano to Triple-A Charlotte on Wednesday. Goldberg will remain in the organization as a non-roster player, while Brantly, Holmberg, Liriano and Volstad become Minor League free agents.
With the five moves, the White Sox 40-man roster decreases to 33.