Offseason checklist: White Sox needs & moves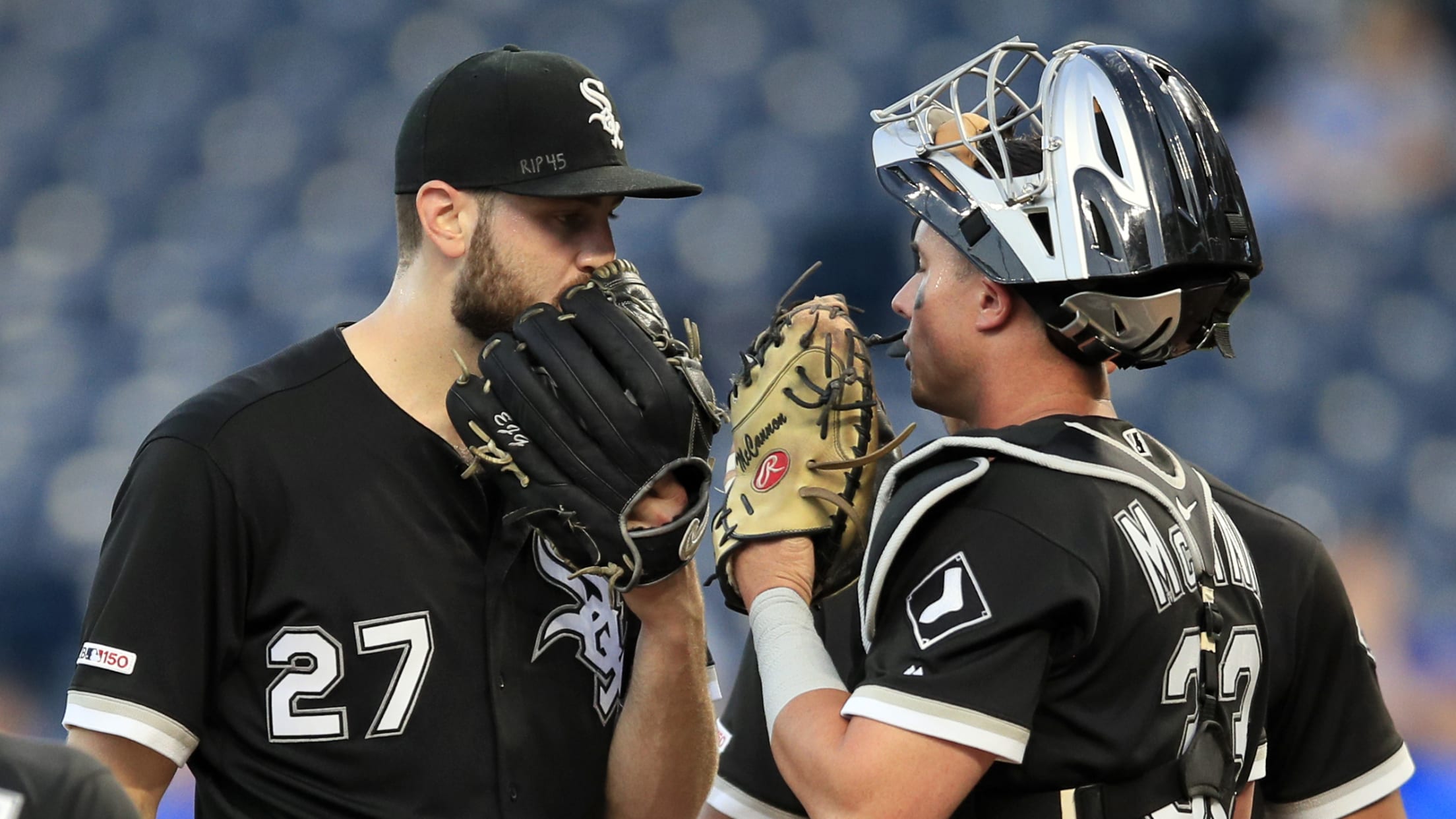 CHICAGO -- The White Sox have reached the end of their beginning phase as part of their ongoing rebuild. When the time is right, the money will be there for the White Sox to strongly supplement their developing young prospects. Both of these statements were expressed in the past year
CHICAGO -- The White Sox have reached the end of their beginning phase as part of their ongoing rebuild.
When the time is right, the money will be there for the White Sox to strongly supplement their developing young prospects.
Both of these statements were expressed in the past year by general manager Rick Hahn, leading the team into this current offseason following a 10-win improvement from 2018 to '19. They were seconded by manager Rick Renteria during a charity event at the Mercy Home for Boys & Girls in Chicago two days before Thanksgiving, after the organization had already backed up this sentiment.
"The organization has pivoted. We are at a turning point and a very important phase of who we are as an organization. It's time," Renteria said. "It's time to start being on the winning end more than the losing.
"We've talked a lot about that last year during the course of the season. It hasn't changed for me since the first time I took ownership of what I'm doing here as a manager to now. The difference is, now you're having some young men that have a lot of talent. Now, you're starting to go out and get some guys who have been around and have talent."
• ChiSox offseason FAQ: Abreu, FA plans, more
Yasmani Grandal joined the White Sox on a four-year, $73 million deal, marking the biggest deal in franchise history. And José Abreu returned to the team via a three-year, $50 million contract. Adding southpaw Gio Gonzalez and the three-year, $55.5 million deal agreed upon with Dallas Keuchel has greatly enhanced the pitching staff.
So what are the White Sox biggest needs entering 2020, and what moves have they made to address them? MLB.com is keeping track here. As the offseason continues, be sure to check back for updates.
BIGGEST NEEDS
Reliever
A good nucleus already is in place for the White Sox bullpen, with Steve Cishek joining Alex Colomé, Aaron Bummer, Kelvin Herrera, Jace Fry, Evan Marshall and possibly Jimmy Cordero. Others will be coming through the system, but a team can never have enough late-inning options when trying to move into a contending phase. So another reliever is possible.
Right fielder
The numbers in right field were even worse than DH for the White Sox in '19, with the collective .565 OPS, six home runs and 40 RBIs all ranking last in baseball by a good margin. Trading for the left-handed-hitting Nomar Mazara helped alleviate that issue to some extent, although Mazara has much stronger numbers against right-handed pitchers than left-handed pitchers. There are a number of talented outfielders developing within the White Sox system, but aside from Luis Robert in center field, they won't be ready by '20.
Utility infielder
Nick Madrigal will be the team's second baseman for the bulk of '20, but he probably won't break camp with the team. The White Sox have Leury García and Danny Mendick who could handle second on the roster, but they could look for a veteran addition who can move around the field once Madrigal arrives.
MOVES MADE
Jan. 14: Cishek joins the relief crew
The veteran right-hander appeared in 150 games over the last two years with the Cubs and now will be moving across town on a one-year, $6 million deal. He will receive $5.25 million in 2020, while the White Sox hold a $6.75 million option for '21 with a $750,000 buyout. Cishek gives opposing hitters a different look late in the game out of the White Sox bullpen with his delivery coming somewhat from the side.
Jan. 9: Encarnación, White Sox agree to deal
The powerful bat of Edwin Encarnación joined the White Sox on a one-year, $12 million deal, with Chicago holding a $12 million option for 2021, which does not include a buyout. Encarnación, who turned 37 on Jan. 7, has eight straight seasons with at least 30 home runs. He could see some time at first base but will serve primarily as the team's designated hitter.
Jan. 2: Robert, White Sox agree on multiyear contract
Luis Robert and the White Sox agreeing upon a six-year, $50 million deal all but guarantees the No. 3 prospect overall, per MLB Pipeline, begins the season as the team's center fielder. Robert had an amazing 2019 Minor League season with a slash line of .328/.376/.624 over stops at Class A Advanced Winston-Salem, Double-A Birmingham and Triple-A Charlotte, including 32 homers, 31 doubles, 11 triples, 36 stolen bases, 108 runs scored and 92 RBIs. Under terms of the contract, Robert, 22, will receive $1.5 million in 2020, $3.5 million in '21, $6 million in '22, $9.5 million in '23, $12.5 million in '24 and $15 million in '25. The White Sox hold $20 million options for both '26 and '27, with $2 million buyouts for either season.
Dec. 30: Keuchel becomes official
The left-handed starter gives the White Sox a competitor who was the 2015 AL Cy Young Award winner, a strong contributor to the 2017 Astros World Series run and a rotation member with three seasons featuring at least 200 innings pitched. He had a 60.1 percent ground-ball rate in 2019, marking the highest of 152 pitches with at least 250 batted balls induced, featuring a sinker that should play well at Guaranteed Rate Field, and will be a mentor for the young hurlers throughout the White Sox staff. Keuchel will earn $18 million from 2020-22, and the White Sox hold a $20 million option for 2023 with a $1.5 million buyout.
Dec. 20: Gonzalez returns to where it began
Gonzalez was selected by the White Sox with the 38th pick overall in the 2004 Draft but never pitched a Major League inning for them. After being part of three trades involving the White Sox, the 34-year-old veteran returns on a one-year, $5 million deal that includes a club option for 2021. The contract guarantees $4.5 million for '20, and the option is worth $7 million with a $500,000 buyout.
Dec. 10: Mazara acquired in trade with Rangers
The White Sox gave up Steele Walker, a talented Minor League outfielder who was the team's second-round pick in 2018, for an outfielder in Mazara who has been steady if not spectacular over four Major League seasons. Mazara will be 25 in April and the White Sox hope to get a similar return as the Carlos Quentin trade, when a change of scenery and just being part of the lineup instead of one of the featured parts will help him fulfill his potential. More >
Dec. 2: McCann, White Sox agree to one-year deal
McCann was an All-Star during his first season with the White Sox and earned rave reviews for his work with Giolito, who finished tied for sixth in the AL Cy Young voting. But his one-year, $5.4 million deal bring him back as the primary backup for Grandal in 2020.
Nov. 22: Abreu signs with White Sox
The leader and mentor to many of the young players had already accepted the team's qualifying offer to come back for one year at $17.8 million. But the extension should keep Abreu in Chicago for three more years, bringing his career total to nine, with Abreu receiving a $5 million signing bonus, $11 million in 2020, $16 million in '21 and $18 million in '22 with $4 million deferred.
Nov. 21: Grandal signs with White Sox
With McCann coming off an All-Star season, catching didn't seem to be the top need. But the White Sox made a No. 1 priority of Grandal, who is a switch-hitting power hitter with great on-base and pitch-framing ability. He will make $18.25 million annually in the new four-year deal.
Nov. 20: White Sox add seven to 40-man roster
Right-handed pitchers Zack Burdi, Dane Dunning, Matt Foster and Jimmy Lambert, left-handed pitcher Bernardo Flores Jr., catcher Yermín Mercedes and outfielder Blake Rutherford had their contracts purchased by the White Sox. The moves brought the 40-man roster to 40 at the time and protected these players from exposure to the Rule 5 Draft.
Oct. 31: Castillo traded to Texas
The White Sox held an $8 million club option on catcher Welington Castillo for 2020 they did not plan to use. By sending along $250,000 in international bonus money to the Rangers, the $500,000 buyout became the responsibility of his new team. Castillo's departure leaves McCann and Collins as the team's main catching options presently.