Trout, La Stella leaders in first All-Star update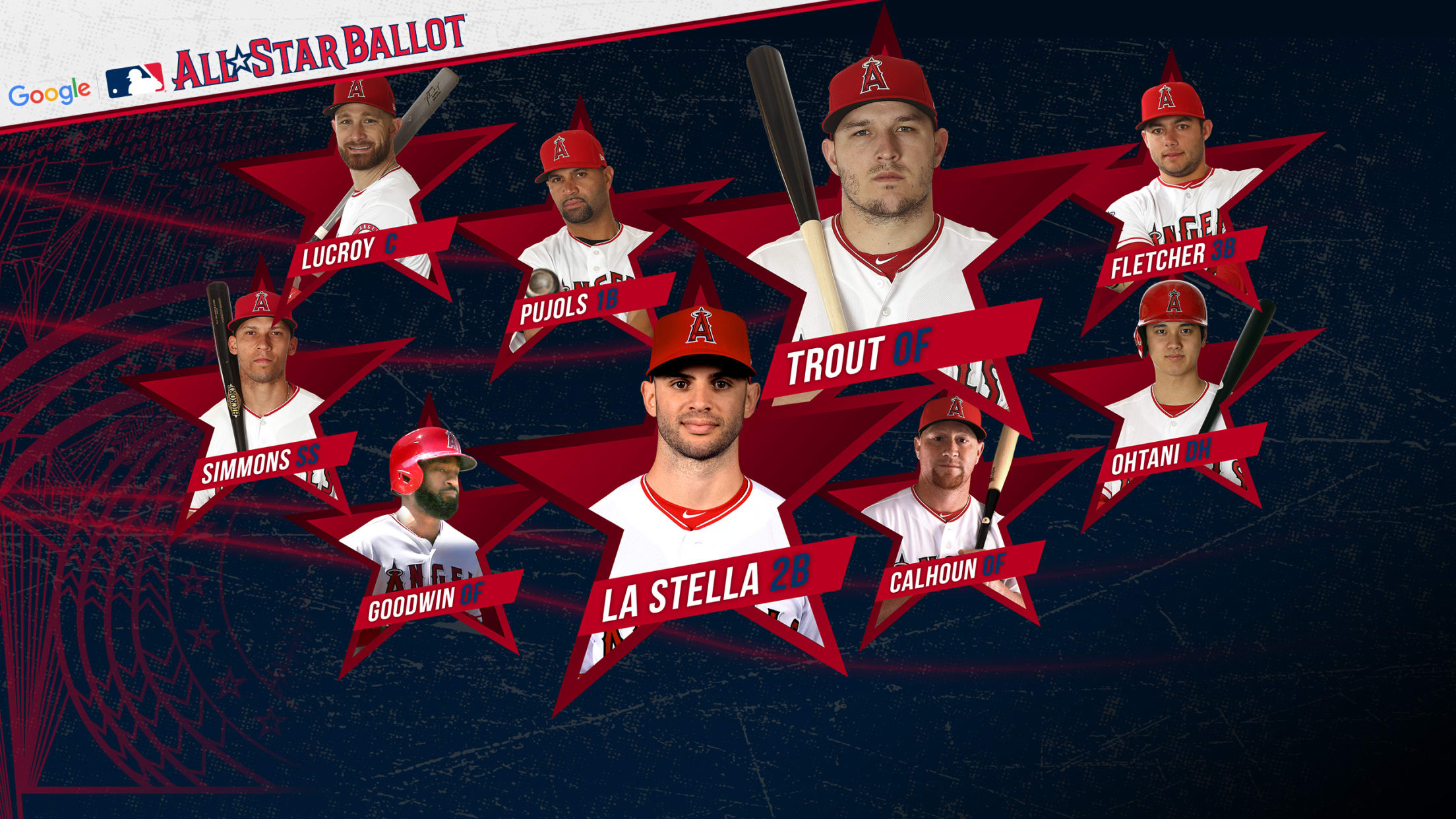 Read our FAQ on this year's revamped balloting format, which includes two phases of fan voting to determine the All-Star starters, and the ability to vote through Google Search.
Read our FAQ on this year's revamped balloting format, which includes two phases of fan voting to determine the All-Star starters, and the ability to vote through Google Search.
ANAHEIM -- Angels superstar Mike Trout leads all American League players in the balloting for the 2019 MLB All-Star Game, while Tommy La Stella surprisingly leads the balloting among AL second basemen, according to the first ballot update released Monday.
• VOTE NOW: Google MLB All-Star Ballot
Trout, a two-time AL MVP and seven-time All-Star, has received 951,002 votes, which is nearly 200,000 votes more than the second-highest vote-getter in the Astros' George Springer (776,352). Trout is aiming to become the first Angels player to be elected as a starter seven straight times by the fans.
La Stella was rewarded for a breakout year so far, as he entered Monday batting .315/.371/.549 with 15 homers and 39 RBIs in 61 games. The 30-year-old entered the year with 10 career homers in 396 games with the Braves and Cubs. He's received 487,598 votes to rank just ahead of Houston's José Altuve (448,131).
"It's pretty cool," La Stella said. "Obviously, unexpected. I wasn't really paying much attention to it. It's still a long way to go."
La Stella admitted he didn't even know he was the leader among AL second basemen until he was alerted by Angels PR roughly four hours before first pitch on Monday. But he said it's exciting to be considered an All-Star for the first time in his career.
"It would be pretty special," La Stella said. "It's been awhile since I probably would've been thinking along those lines. To be in that position now where it's a possibility, it's pretty special."
Angels manager Brad Ausmus said he believes Trout, La Stella and third baseman David Fletcher all deserve to be All-Stars. Fletcher, though, has tough competition at third base and ranked ninth among the vote-getters at his position.
"Outside of Trout, I think Tommy and Fletch both deserve consideration," Ausmus said. "Tommy, the numbers he's put up kind of came out of nowhere. Fletch was a little bit more of an unknown because he only spent part of the year in the big leagues last year. They both deserve to be considered."
Fans may vote in "The Primary" at MLB.com and all 30 club sites, the MLB At Bat and MLB Ballpark apps up to five times in any 24-hour period. Fans in the U.S. and Canada can also vote on Google Search for every position, or up to 17 unique players per day, by searching "MLB Vote" or the names of their favorite players. Primary voting ends at 1 p.m. PT on Friday, June 21.
The top three vote-getters at each position (including nine outfielders) per league will move on to "The Starters Election," which begins at 9 a.m. PT on Wednesday, June 26. The votes will reset for a 28-hour voting window that ends at 1 p.m. PT on Thursday, June 27. Starters for the 2019 Midsummer Classic will be unveiled on ESPN that night at 4 PT. The pitchers and reserves will be announced on Sunday, June 30, at 2:30 p.m. PT.
Then on Tuesday, July 9, during the 2019 All-Star Game presented by Mastercard, fans may visit MLB.com and the 30 club sites to submit their choices for the Ted Williams Most Valuable Player Award presented by Chevrolet.
The 90th Midsummer Classic, at Progressive Field in Cleveland, will be televised nationally by FOX Sports; in Canada by Rogers Sportsnet and RDS; and worldwide by partners in more than 180 countries. FOX Deportes will provide Spanish-language coverage in the United States, while ESPN Radio and ESPN Radio Deportes will provide exclusive national radio coverage. MLB Network, MLB.com and SiriusXM also will provide comprehensive All-Star Week coverage. For more information about MLB All-Star Week and to purchase tickets, please visit AllStarGame.com and follow @MLB and @AllStarGame on social media.
Other Angels among the leading vote-getters at their position include designated hitter Shohei Ohtani (fourth), first baseman Albert Pujols (fifth), catcher Jonathan Lucroy (sixth), shortstop Andrelton Simmons (seventh) and outfielder Kole Calhoun (20th).