Predicting Astros' 2021 Opening Day roster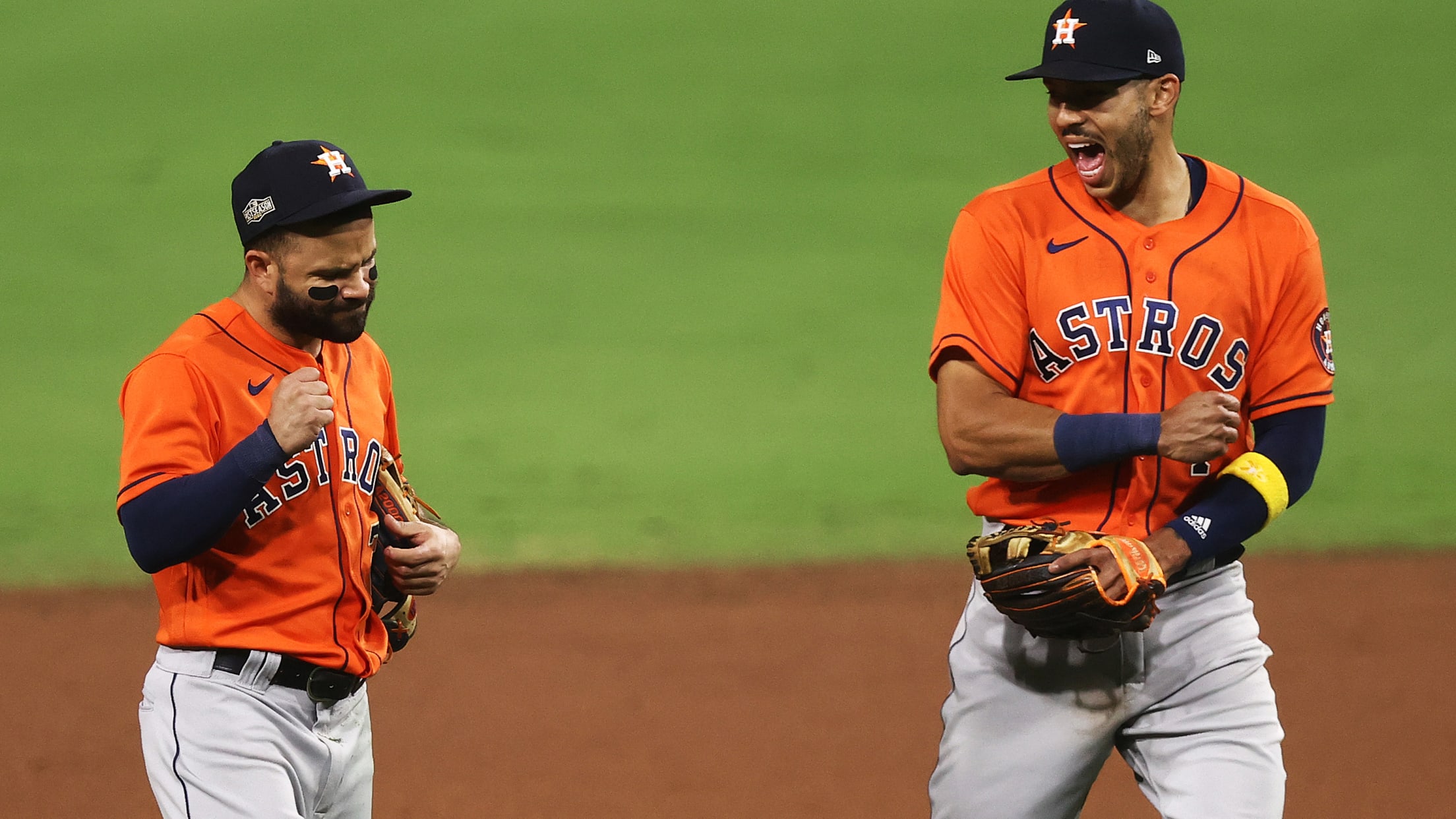 HOUSTON -- For all the speculation about whether the Astros will re-sign free-agent outfielders George Springer or Michael Brantley -- or both -- this winter, the rest of the club's roster is pretty much set heading into 2021. Astros general manager James Click, in his first full offseason with the
HOUSTON -- For all the speculation about whether the Astros will re-sign free-agent outfielders George Springer or Michael Brantley -- or both -- this winter, the rest of the club's roster is pretty much set heading into 2021.
Astros general manager James Click, in his first full offseason with the club, will have to find a veteran reliever or two for his bullpen, but Houston will return starting catcher Martín Maldonado, its entire starting infield, outfielder Kyle Tucker and designated hitter Yordan Alvarez, who had knee surgery that limited him to two games in 2020.
• Houston's offseason needs and moves
On the pitching side, Justin Verlander will be out for the season after undergoing Tommy John surgery on his right elbow, but the rotation is solid and the club was pleased with the development of several young bullpen arms that emerged amid the rash of injuries the Astros had in 2020.
Here's an early look at how the roster could shake out.
Catcher (2): Martín Maldonado, Garrett Stubbs
Maldonado did a solid job behind the plate for the Astros in the 2020 season, starting 46 of the team's 60 games while handling a young pitching staff through an uncertain season. His leadership skills can't be measured. He'll be back as the starter in '21, with Stubbs as the only other catcher currently on the 40-man roster. The Astros might try to find a veteran backup like they had last year in Dustin Garneau, but Stubbs could get a shot at more playing time.
First base (1): Yuli Gurriel
Gurriel was headed toward free agency before the Astros signed him to a one-year contract extension for 2021 in September. The deal is worth $6.5 million (plus bonuses) with an $8 million option. A Gold Glove finalist, Gurriel, 36, had the best offensive season of his career in '19 and had a solid first month this season before falling off dramatically. He went .137/.156/.178 in the final 21 games of the regular season, then hit 5-for-44 in the playoffs with five singles and one RBI.
Second base (1): Jose Altuve
Altuve, 30, will be in the second year his five-year, $151-million contract extension coming off a head-scratching season. A career .315 hitter with a .827 OPS heading into 2020, Altuve batted .219/.286/.344 (.629 OPS) in the regular season, though he came alive in the postseason and hit .375/.500/.729 with five homers. He appeared to get the yips throwing the ball in the club's ALCS loss to the Rays, and you can't help but wonder how much the fallout from the sign-stealing scandal was weighing on him.
Third base (1): Alex Bregman
Bregman finished a close second to Mike Trout in the AL Most Valuable Player voting in 2019, but he had a disappointing '20 season at the plate. Bregman hit .242/.350/.451 with six homers and 22 RBIs in his age-26 season and had a .616 OPS in the playoffs with 11 hits (nine singles). Still, he's one of the premier third basemen in the league when he's going well and figures to be poised for a major bounceback.
Shortstop (1): Carlos Correa
Correa, who enters 2021 in his final year before free agency, emerged as the Astros' leader on the field in '20. That was especially true in the playoffs, during which he shook off a poor regular season at the plate (.709 OPS) and had an unforgettable performance by hitting .362/.455/.766 with six homers and 17 RBIs in 13 games. He led the AL in defensive runs saved last season and made one error in 212 chances, leading to his selection as a finalist for the AL Gold Glove Award at shortstop. He's one of the best shortstops in the game.
Outfield (4): Free-agent signing, Kyle Tucker, Michael Brantley, Myles Straw
No one knows if Springer or Brantley will return, and it's obvious that sets the tone for the entire winter. Springer is one of the biggest names on the market and will be looking to cash in as a first-time free agent at 31 years old, which could price Houston out. Brantley could likely be had on a two-year deal with the Astros having comfort that he'll continue to remain an elite hitter. With Tucker and Brantley back, the Astros will have to sign an outfielder to replace Springer.
Utility (2): Aledmys Díaz, Abraham Toro
Díaz has struggled to stay healthy in two years in Houston and hasn't exactly lived up to the Marwin Gonzalez role he was brought in to fill. When healthy, he puts up good at-bats and provides some pop while being able to play first base, second base, third base and left field. Toro had a disappointing 2020 after being on the roster the entire season, but he could get another shot next year. A switch-hitter, Toro made 10 starts at third, six at DH, two at first and one at second.
Designated hitter (1): Yordan Alvarez
The 2019 AL Rookie of the Year Award winner was held to two games in 2020 due to knee issues. He underwent arthroscopic surgery on both knees in August and is expected to make a complete recovery by the spring. Alvarez had a slight tear of the patellar tendon in his right knee, which was repaired, and a routine cleanup was performed on his left knee. Alvarez, who started to experience knee problems last year that lingered into the spring, missed Summer Camp and the first three weeks of the season while he was recovering from coronavirus.
Starting pitchers (5): Zack Greinke, Lance McCullers Jr., Framber Valdez, Jose Urquidy, Cristian Javier
With Verlander out for 2021, likely ending his time in Houston, the Astros' rotation will be anchored by Greinke, who is in the last year of his contract. McCullers, coming off Tommy John surgery that sidelined him in '19, had a solid first full season back, and Valdez emerged as one of the top lefties in the AL in '20. Youngsters Urquidy and Javier -- a finalist for the AL Rookie of the Year Award -- pitched well throughout last season and round out a solid rotation.
Relievers (8): Free-agent signing, Ryan Pressly, Joe Smith, Enoli Paredes, Brooks Raley, Blake Taylor, Andre Scrubb, Austin Pruitt
The club will bid adieu to free agents Roberto Osuna, Brad Peacock and Chris Devenski -- three veterans who got some big outs over the past few seasons. They all missed most of the 2020 season with injuries, which allowed youngsters like Paredes, Taylor and Scrubb to emerge. The Astros also got Raley, a reliable lefty, in a trade and picked up his $2 million option. Pressly had a healthy and effective season but hasn't recaptured his All-Star form from the first half of '19. The veteran Smith is expected to return after opting out in '20. Pruitt (hairline fracture in elbow) and Josh James (labral tear in his left hip) are both coming off surgery. Another veteran arm is needed.