Altuve kicks offseason into gear with soccer
MLB's batting leader uses sport to get into shape for baseball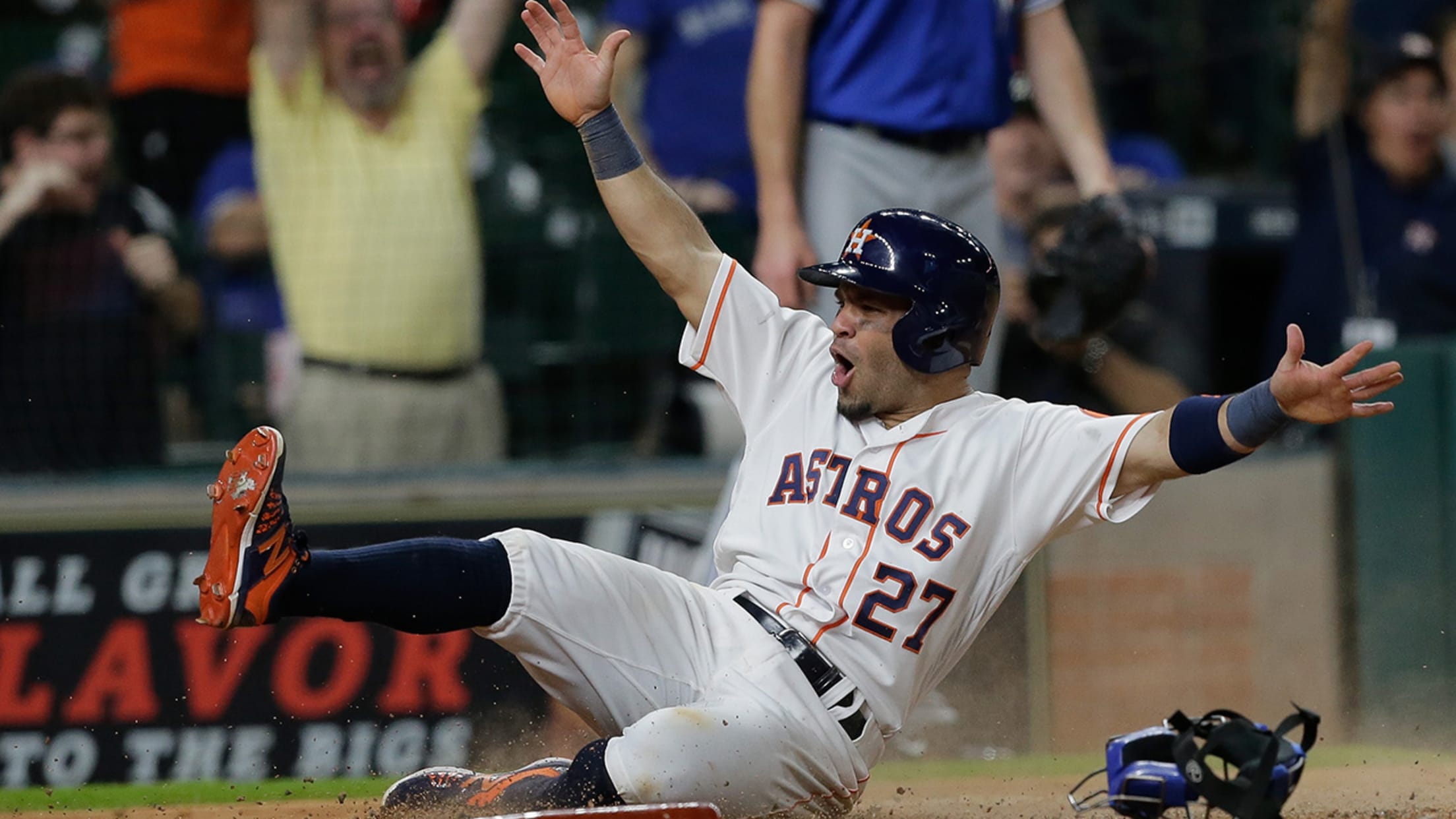 "I played baseball all my life, but actually played soccer for a while," said Jose Altuve. (Getty) (Bob Levey/Getty Images)
HOUSTON -- We all know José Altuve knows baseball. But he knows soccer, too? Growing up in Venezuela, Altuve had no choice but to try his hand at soccer as well as baseball, though he certainly appears to have picked the right sport.Altuve, who entered Wednesday leading the American League
HOUSTON -- We all know José Altuve knows baseball. But he knows soccer, too? Growing up in Venezuela, Altuve had no choice but to try his hand at soccer as well as baseball, though he certainly appears to have picked the right sport.
Altuve, who entered Wednesday leading the American League in batting average by 50 points, probably could have been a decent soccer player considering his speed and coordination. In fact, he likes to still dabble in the occasional soccer game in the offseason to keep in shape. But don't worry, Astros fans -- it's more about running wind sprints down the field than tackling, so Altuve's friends know to take it easy on him.
"I actually still [play soccer] in the offseason," Altuve said. "When I don't feel like doing cardio or something, I'm going to go out there and play soccer with my friends. They know they have to be careful with me, but we have a lot of fun playing soccer."
Altuve keeps himself in incredible shape. He made a commitment prior to the 2014 season to shed some weight in an effort to add more speed and possibly beat out some infield hits. It paid off. Altuve set a franchise record with 225 hits and hit .341, winning the AL batting title.
The Astros' second baseman has been "speedy" in other ways, too. On Tuesday, Altuve notched career hit No. 1,000 in just his 786th game, reaching the milestone faster than anyone in team history. Among active Major Leaguers, only Ichiro Suzuki achieved the feat in fewer games (696).
Altuve said he plays soccer for an hour once or twice a week in the offseason, which is enough cardio for him when added to his running and other activities. That being said, the All-Star couldn't imagine trading in his baseball career for a soccer career.
"I don't know," he said. "I'm happy to play baseball."
Altuve, who often challenges his teammates to games of soccer video games in the clubhouse, is a huge spectator fan for the sport and cheers for Spanish power Real Madrid.
"The two biggest sports in my country are baseball and soccer," he said. "I played baseball all my life, but actually played soccer for a while."
While Altuve has the speed to play soccer, he says he doesn't necessarily have the skills. He can put the bat on the ball as well as anyone and he hits the ball hard, but he's not sure he could make that same kind of contact in soccer.
"You have to be fast with strong legs," Altuve said. "I don't think I can kick a ball that hard like they do."