Springer, FAs will headline Astros' offseason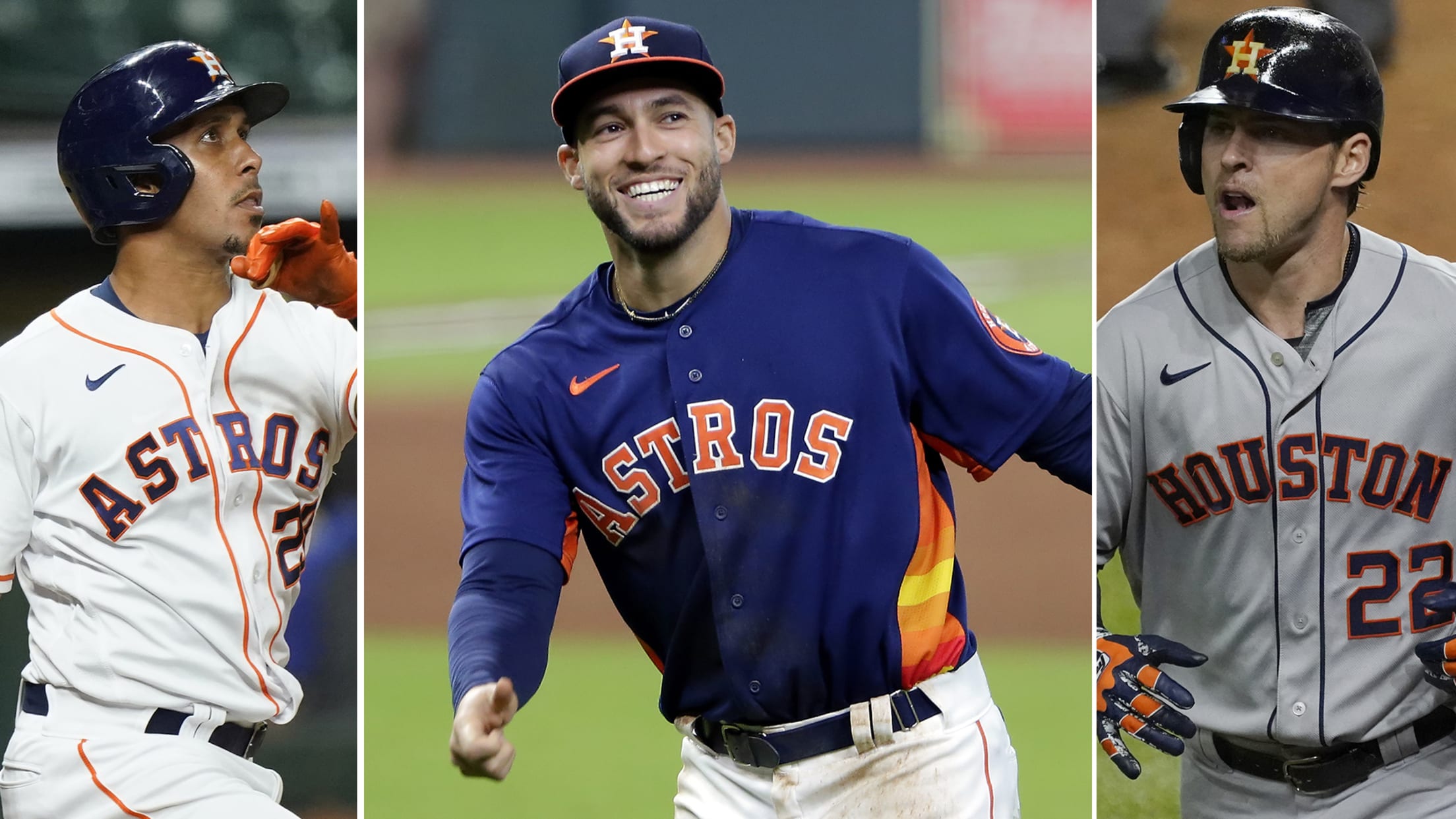 HOUSTON -- The name that will dominate the Astros' offseason talks is George Springer, the star outfielder who's hitting free agency for the first time. Springer is one of the core players on the Astros' run to four consecutive American League Championship Series, including a championship in 2017 in which
HOUSTON -- The name that will dominate the Astros' offseason talks is George Springer, the star outfielder who's hitting free agency for the first time. Springer is one of the core players on the Astros' run to four consecutive American League Championship Series, including a championship in 2017 in which he was named World Series MVP. Whether Springer returns to Houston will be the Astros' major offseason storyline.
The decision or not whether to re-sign Springer will have long-term affects for the Astros on the field and on their payroll, which was about $215 million entering 2020 prior to the coronavirus shutdown. Springer will be one of the biggest names on the market, and he figures to have quite a few suitors. The Astros will certainly extend him a qualifying offer (valued this year at $18.9 million) and will likely make him another offer beyond that. Outfielders Michael Brantley and Josh Reddick are also free agents.
• Springer among top free agents for 2021
Astros general manager James Click, speaking with reporters Monday during an end-of-season Zoom call, gushed about what Springer brings to the table on and off the field. He said the club will, of course, pursue him, but Click cautioned about the effects the coronavirus shutdown and truncated 60-game schedule have meant for the economics of the game. There's some unpredictability about whether teams, including the Astros, will be willing to take on a mega contract this winter.
"There's just tremendous uncertainty in our in our industry right now," Click said. "It may take us years to try to recover from this. So our spending is going to be dependent on what we think 2021 is going to look like operationally and what the market bears out as a result of that.
"But George Springer, Michael Brantley, it's obvious to everybody how good they are at the game of baseball right now and how much they bring to this team on and off the field. The question is always, we balance everything and make sure that we put this team in a position to succeed, not only in the short term and long term."
Springer is one of the top five or six offensive players in Astros history and certainly one of the most popular, too. He posted a career .852 OPS with 174 homers and 458 RBIs in seven years with the club and made the All-Star team from 2017-19. His 19 postseason homers are a club record and tie him with Albert Pujols for fourth on the all-time postseason home runs list, one behind Derek Jeter. Springer's production at the top of the lineup would be hard to replace, but the Astros could be compelled to perhaps re-sign Brantley and find a replacement for Springer elsewhere, saving money in the process.
"First of all, let me just say that we cannot say enough good things about George Springer," Click said. "He's one of the best players ever to wear an Astros uniform. He's a tremendous human being, a tremendous leader in the clubhouse. We wouldn't be doing our jobs if we didn't pursue players like that, whether they were from another organization or from here."
In addition to sorting out their outfield situation, the Astros are likely to explore options on the relief pitcher market. They'll have veterans Ryan Pressly and Joe Smith back next year, along with rookies Enoli Paredes, Brooks Raley, Blake Taylor and Andre Scrubb. The Astros may also want to add a veteran starter, though their 2021 rotation is shaping up to be solid, with Zack Greinke, Lance McCullers Jr., Framber Valdez, Cristian Javier and Jose Urquidy.
With their entire starting infield -- Yuli Gurriel, Jose Altuve, Carlos Correa and Alex Bregman -- back along with outfielder Kyle Tucker, 2019 AL Rookie of the Year Award winner Yordan Alvarez and catcher Martín Maldonado, the Astros' window of contention remains wide open in '21. The balance for Click will be to keep the club competitive without making any moves that will hinder their financial flexibility in the long term, which may make signing Springer tricky.
"It's not lost on me or any of us how talented this group is," Click said. "You don't get to the ALCS four years in a row, you don't get to Game 7 of the ALCS unless you have a very talented core. And obviously, we want to try to keep this window open as long as we possibly can. But the last thing that we can do is make a series of shortsighted moves that are going to put us in a bad position long term. So that's the that's the balance of the present and the future."