This is how each club's highest Draft pick fared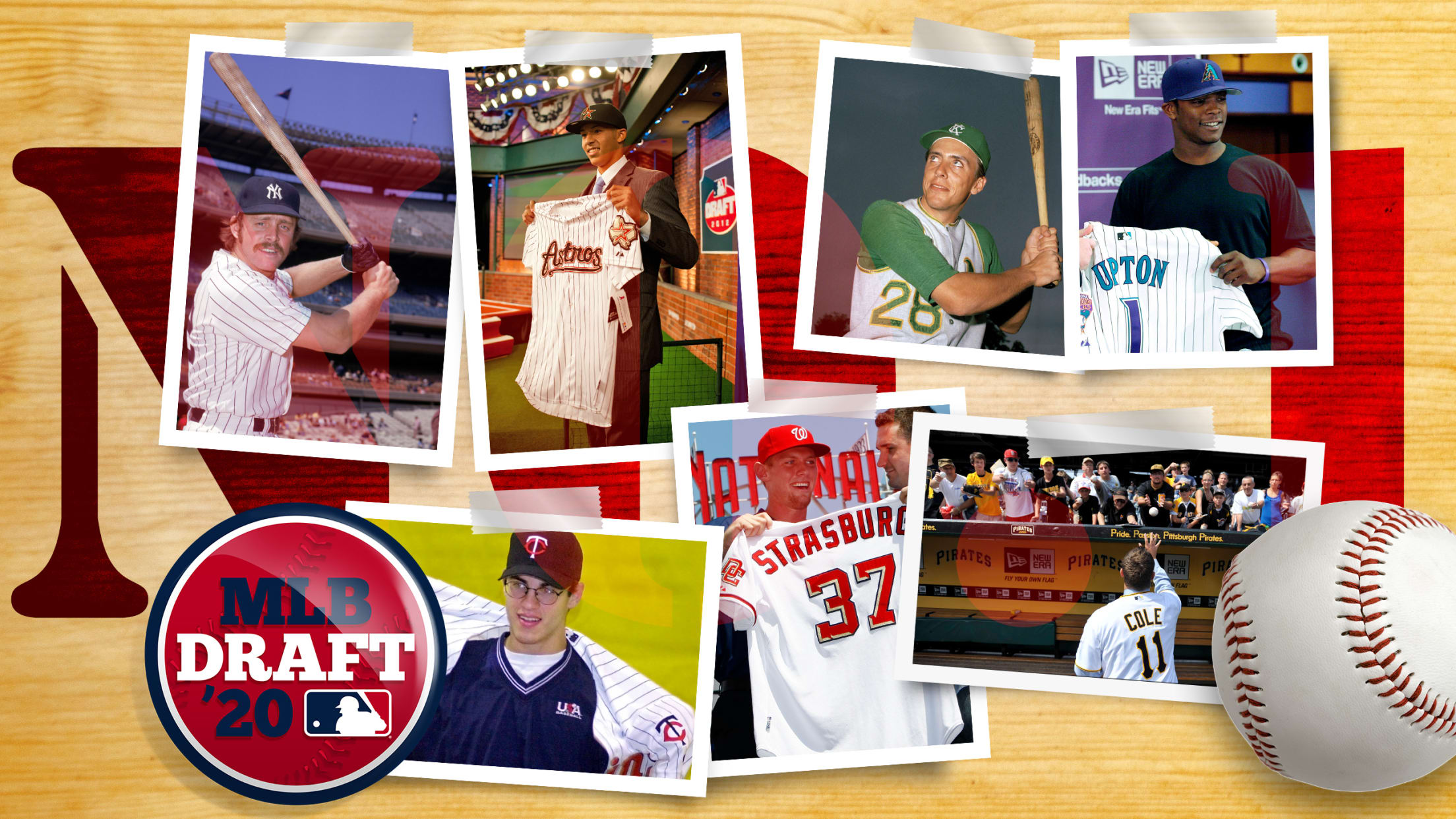 We are just about a week and a half away from the 2020 MLB Draft, one that will be done virtually and will be unlike any other Draft before it. But it's still the Draft. There's still a first round, still excited youngsters ready to make their way to the
We are just about a week and a half away from the 2020 MLB Draft, one that will be done virtually and will be unlike any other Draft before it. But it's still the Draft. There's still a first round, still excited youngsters ready to make their way to the show, still teams building their foundation for future success. In this way, it is just like all the others.
With that in mind, we take a look at every team's highest Draft pick ever and how it turned out. The first pick is the one we always pay the closest attention to, and when it works out, it's incredible. But when it doesn't …
AMERICAN LEAGUE EAST
Blue Jays: Augie Schmidt, 1982 (No. 2 overall)
Chosen one spot behind Shawon Dunston and three spots ahead of Dwight Gooden, Schmidt had an all-time baseball name, but not much else. He never made it to the big leagues and retired by 1986. The next year, he signed on as an assistant coach at Carthage College in his hometown in Wisconsin. He has been the head coach there since 1988, just like his dad was. His nephew is Gavin Lux, by the way.
Orioles: Ben McDonald, 1989; Adley Rutschman, 2019 (No. 1)
The first great Orioles hope, McDonald threw a shutout in his MLB debut, but struggled with injuries the rest of his career. The next great Orioles hope played 30 games in the Minors last year and hit .254 with four homers. None of that stopped him from rising to No. 4 on MLB Pipeline's Top 100 prospect list.
Rays: Josh Hamilton, 1999; Delmon Young, 2003; David Price, 2007; Tim Beckham, 2008 (No. 1)
Hamilton's personal life derailed him until he was long gone from the Rays, and Young also struggled with off-the-field issues. Price was the crown jewel, pitching in a World Series during his rookie year. As for Beckham, who was drafted the year the Rays made the World Series, it looked like the five-tool prospect and seemingly obvious future star would be a linchpin of the Rays for years to come. But injuries, suspensions and long stretches of ineffectiveness kept him from ever reaching his potential. His best stretch came in 2017 with Baltimore, but he was in Seattle two years later and then suspended again last year for PEDs.
Red Sox: Mike Garman, 1967 (No. 3)
The Red Sox are one of two teams on this list to have never chosen higher than third in the Draft. (They drafted well from the middle, though: Jim Rice was the 15th pick in 1971, Roger Clemens was the 19th pick in 1983 and Nomar Garciaparra was the 12th pick in 1994.) Garman rattled around the Majors -- he was once traded with Rick Monday for Bill Buckner -- but never outshined his MLB debut, when he beat the Yankees at Fenway Park about a week after he turned 20 years old.
Yankees: Ron Blomberg, 1967; Brien Taylor, 1991 (No. 1)
It would have been difficult for any No. 1 overall pick of the New York Yankees to live up to expectations, but Taylor -- whom one scout with 53 years of experience called "the best pitcher I ever scouted" -- is one of three No. 1 Draft picks to never reach the Major Leagues. So it didn't go well. Blomberg is mostly known for being the first DH.
AMERICAN LEAGUE CENTRAL
Indians: Paul Shuey, 1992 (No. 2)
The No. 2 overall pick in 1992, chosen four spots ahead of, uh, Derek Jeter, Shuey never became the stopper of a closer they imagined he would be. But he was a fine setup man when he wasn't injured. He's now a competitive bass fisherman.
Royals: Luke Hochevar, 2006 (No. 1)
Royals fans will always rue drafting Hochevar over fellow first-rounders Evan Longoria, Tim Lincecum and Clayton Kershaw. But they did get nine years out of Hochevar, and even if none of them were all that particularly great, No. 1 Draft picks have done a lot worse than 929 1/3 lifetime big league innings. And when it truly mattered, he was fantastic: In nine bullpen appearances in the 2015 postseason, he threw 10 2/3 scoreless innings … and got a World Series ring for his troubles.
Tigers: Matt Anderson , 1997; Casey Mize, 2018 (No. 1)
If the season would have started on time, would Mize already be in the Tigers' rotation? It's certainly possible. He's the best hope this franchise has going right now. The hope is definitely that he turns out better than Anderson, whose career was reportedly sidelined by an injury he suffered during an octopus-throwing competition with Jeff Weaver. And no, I didn't make that up.
Twins: Tim Belcher, 1983; Joe Mauer, 2001; Royce Lewis, 2017 (No. 1)
Lewis didn't have a particularly terrific 2019 … except for his fantastic run in the Arizona Fall League, where he won the MVP. When the Twins figure out his position, he'll be a fixture of their lineup for years to come. But asking him to be another Mauer may be asking a bit too much. Despite being drafted first overall, Belcher didn't sign with the Twins. The next year, he was taken first overall in the January Draft's secondary phase by the Yankees.
White Sox: Danny Goodwin, 1971; Harold Baines, 1977 (No. 1)
Baines debuted just a few days after his 21st birthday, in 1980, and became a White Sox legend and a Hall of Famer. (Paul Molitor was chosen two spots behind him, by the way.) Goodwin holds the distinction of the only player to be taken with the No. 1 overall pick in the June Draft on two separate occasions. He didn't sign with the White Sox out of high school, but signed with the Angels when they drafted him with the first overall pick out of Southern University in '75.
AMERICAN LEAGUE WEST
Angels: Danny Goodwin, 1975; Darin Erstad, 1995 (No. 1)
Erstad had won a national championship with the Nebraska football team (he was a punter) just a few months before the Angels took him No. 1 overall. Eight years later, he'd lead them to a World Series title.
Astros: Floyd Bannister, 1976; Phil Nevin, 1992; Carlos Correa, 2012; Mark Appel, 2013; Brady Aiken, 2014 (No. 1)
We'll always wonder what the Astros would have looked like had they taken, say, Matt Chapman, Aaron Nola or Michael Conforto, rather than a high school pitcher (Aiken) who never signed with them. On the other hand, maybe not signing him turned out for the best: He has pitched in two games in Class A since 2017, walking six hitters in two-thirds of an inning, and the Astros got a compensation pick the next year, which they used to take Alex Bregman at No. 2 overall. The Astros are the only team to pick first in the Draft for three straight years, but of those three, only Correa panned out.
Athletics: Rick Monday, 1965 (No. 1)
The first No. 1 pick in baseball history, Monday, drafted by the Kansas City A's, had a 19-year career. He's much better known for being the guy who stopped protesters from burning an American flag in 1976, and he's still a broadcaster for the Dodgers today.
Mariners: Al Chambers, 1979; Mike Moore, 1981; Ken Griffey Jr., 1987; Alex Rodriguez, 1993 (No. 1)
Over the span of six years from 1987-93, the Mariners had the No. 1 pick twice. They chose Griffey and Alex Rodriguez. That will work.
Rangers: David Clyde, 1973 (No. 1)
Widely considered a test case for what not to do with phenoms, Clyde was rushed to the big leagues shortly after his 18th birthday. His then-manager, Whitey Herzog, said management made him keep Clyde in games because his hype sold tickets. He would pitch his last game at age 24 with the Indians.
NATIONAL LEAGUE EAST
Braves: Bob Horner, 1978; Chipper Jones, 1990 (No. 1)
In 1990, the Braves finished last in the NL West and drafted Chipper Jones. The next year, they went to the World Series and started a streak of 14 consecutive division titles.
Marlins: Adrian Gonzalez, 2000 (No. 1)
The Marlins traded Gonzalez to the Rangers before he played a game with them -- for bullpen assistance that would ultimately help them win the World Series -- and then the Rangers traded him to the Padres. They watched him become a five-time All-Star.
Mets: Steve Chilcott, 1966; Tim Foli, 1968; Darryl Strawberry, 1980; Shawn Abern, 1984; Paul Wilson, 1994 (No. 1)
The leader of "Generation K" for the Mets, along with Jason Isringhausen and Bill Pulsipher, Wilson was rushed to the Majors in 1996, with disastrous results: A 5-12 record, a 5.38 ERA and an injury that required surgery. That was it for him with the Mets, though he did end up hanging around the big leagues until 2005.
Nationals: Stephen Strasburg, 2009; Bryce Harper, 2010 (No. 1)
Harper won an NL Rookie of the Year Award and an NL MVP Award with the Nationals, and Strasburg just helped D.C. win a World Series ring.
Phillies: Pat Burrell, 1998; Mickey Moniak, 2016 (No. 1)
The Phillies are still holding out hope Moniak can be a big league center fielder, but scouts and analysts are far from convinced; he's not even one of the the club's Top 10 Prospects on MLB Pipeline anymore. Burrell was "Pat the Bat."
NATIONAL LEAGUE CENTRAL
Brewers: B.J. Surhoff, 1985 (No. 1)
Surhoff played in the Olympics the year before the Brewers took him over Will Clark, Barry Larkin, Rafael Palmeiro and, uh, Barry Bonds. He had a perfectly respectable career, and he ended up spending a full 19 years in the majors -- which is four more than Clark, the guy drafted after him, hung around.
Cardinals: Braden Looper, 1996 (No. 3)
Looper made his debut with the Cardinals in 1998, but they traded him at the end of that season for Edgar Renteria. He'd rattle around as a reliever and return to St. Louis in 2006, where he'd win a World Series. Then, he transitioned into a starter, somehow throwing 175 innings in '07 after being a reliever his whole career.
Cubs: Shawon Dunston, 1982 (No. 1)
Dunston never quite became the superstar many wanted him to be, but he was an excellent player with a cannon of an arm who made two All-Star teams and played in the postseason for four different teams. He had the misfortune of playing at the same time, in the same division, as Ozzie Smith for a decade.
Pirates: Jeff King, 1986; Kris Benson, 1996; Bryan Bullington, 2002; Gerrit Cole, 2011 (No. 1)
The Pirates may have given up on Cole a little bit too early, and he thrived after he left the organization. He's certainly the best player of these four.
Reds: Hunter Greene, 2017 (No. 2)
Greene's fastball reached 102 mph in high school, but as tends to happen with people who hit triple digits in high school, he's had to have Tommy John surgery. He still has tons of potential: He's only 20 years old, and he's ranked No. 53 overall by MLB Pipeline.
NATIONAL LEAGUE WEST
D-backs: Justin Upton, 2005; Dansby Swanson, 2015. (No. 1)
The good news: Swanson made considerable offensive gains last year and appears to have established himself as a regular starting shortstop for years to come. The bad news is that he did it in Atlanta, and that Shelby Miller -- the star of the package deal to which the D-backs agreed -- is trying to catch on with the Brewers as a non-roster invitee. His ERA in Arizona over 28 starts? 6.35.
Dodgers: Darren Dreifort, 1993. (No. 2)
His contract after the 2000 season is considered one of baseball's biggest busts, but the Dodgers' thinking made some sense. After all, he was just starting to blossom six years after they drafted him No. 2 overall (after Alex Rodriguez). It just didn't turn out well, as he posted a 4.64 ERA in 205 2/3 innings over the following four years, and his career was over before the end of the project.
Giants: Joey Bart, 2018. (No. 2)
He's clearly primed to take over for Buster Posey, perhaps as early as this year. That is a tall hill to climb.
Padres: Mike Ivie, 1970; Dave Roberts, 1972; Bill Almon, 1974; Andy Benes, 1988; Matt Bush, 2004 (No. 1)
One of the most remarkable baseball stories, Bush not only flamed out of baseball five years after being drafted, but spent nearly a year in prison. When he was released, the Rangers, a team with a history of working with players with substance-abuse issues, signed him and helped him return to the Majors, now as a pitcher, as opposed to the shortstop he was once drafted as. He was terrific in 2016 but has struggled with injuries since; he signed a two-year Minor League deal with Texas in December to get him through recovering from Tommy John surgery.
Rockies: Greg Reynolds, 2006 (No. 2)
Any pitcher drafted by the Rockies knows he's going to have a tough time, and Reynolds never got it together. In 33 appearances with the Rockies -- spread over three years (2008, '11 and '13) -- he had a 7.01 ERA.