Notes: Smith, James yet to report to camp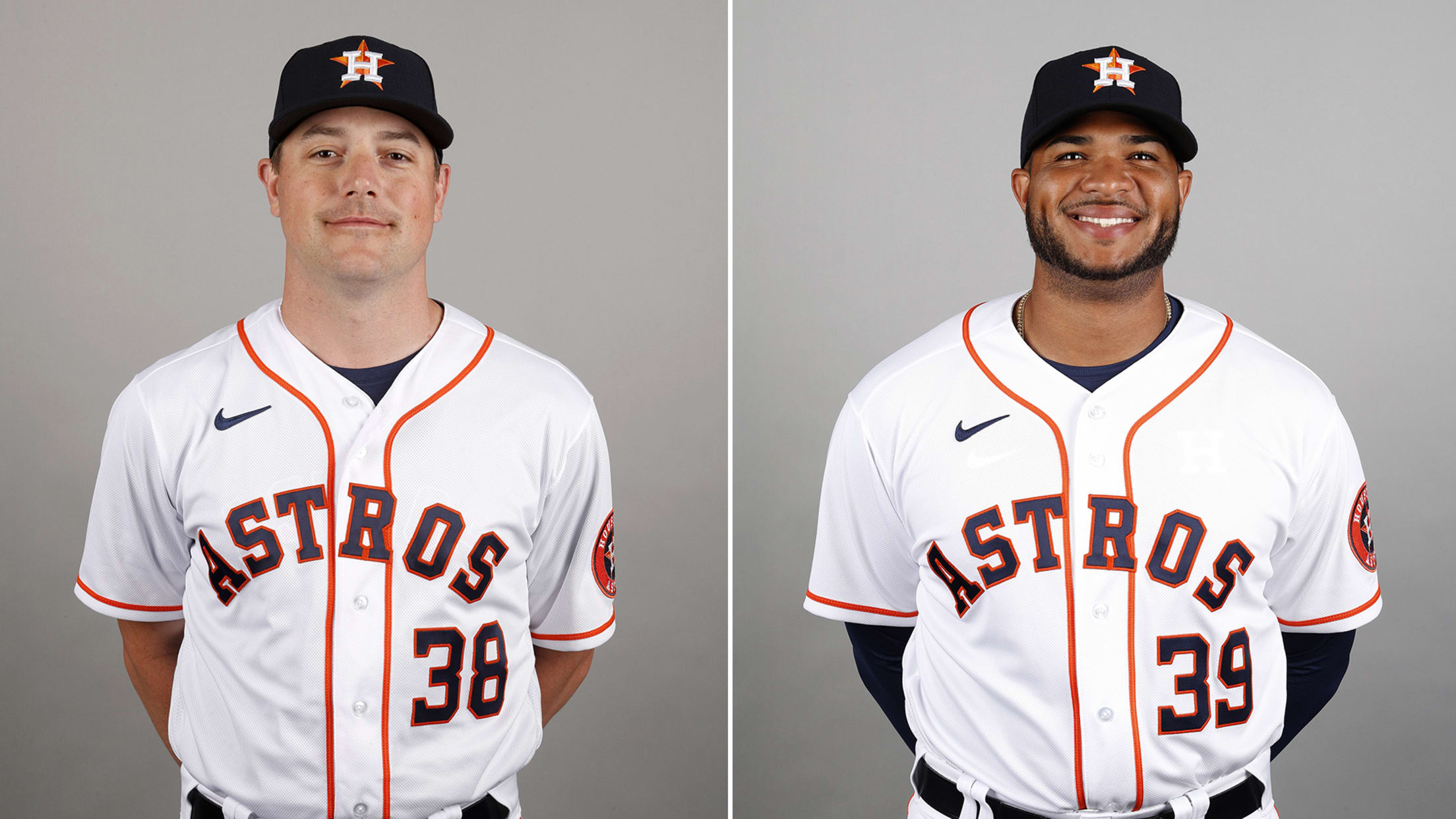 HOUSTON -- The Astros completed their third day of Summer Camp on Sunday at Minute Maid Park and were still without several key players. That includes designated hitter Yordan Alvarez, the 2019 American League Rookie of the Year Award winner, and pitcher Jose Urquidy. The team said that it's not
HOUSTON -- The Astros completed their third day of Summer Camp on Sunday at Minute Maid Park and were still without several key players. That includes designated hitter Yordan Alvarez, the 2019 American League Rookie of the Year Award winner, and pitcher Jose Urquidy. The team said that it's not permitted to say why they're not in camp.
Meanwhile, Astros manager Dusty Baker said Sunday that hard-throwing right-hander Josh James could join the team soon after being away because he was dealing with a "family matter." Baker also revealed Sunday that veteran right-hander Joe Smith has yet to report to camp because he "has concerns about the health and safety of his family." Baker wasn't sure if Smith would elect not to play this season.
Baker didn't provide specifics, but Smith has been public about his mother's battle with Huntington's Disease, a fatal neurological disorder with no cure. She is living a facility in the Cincinnati area. Smith and his wife, TV sideline reporter Allie LaForce, started HelpCureHD.org, which aims to help improve the quality of life for those affected by the disease by contributing financial, emotional and mental support while trying to find a cure.
Baker also said Sunday that he has yet to put his eyes on pitcher Zack Greinke, but he added that the veteran right-hander has been working out early, presumably at Minute Maid Park. Pitchers have been working out in the morning and position players in the afternoon.
Greinke, who joined the Astros last year in a Trade Deadline blockbuster with the D-backs, reported to Spring Training in Florida on Feb. 21, which was eight days after other pitchers reported.
"He comes in real early and does his work and we're trying to have a meeting with Greinke," Baker said. "We all know Greinke is Greinke. With that being said, you know Greinke is a worker. He works at his own schedule and his own pace."
Baker checks out alternate workout
Baker spent part of Sunday morning taking in the workouts at the University of Houston, which is a short drive from Minute Maid Park. About two dozen players in the Astros' 56-man player pool are working out at UH, with the rest at Minute Maid Park.
"I watched bullpens and watched the guys throw live," Baker said. "They're looking pretty good. I'm surprised. Their control is pretty good. You can tell the guys who have been working out, but you can tell endurance is pretty good. I was pleasantly surprised how they looked."
Among the players working out at UH are several players on the Astros' Top 30 prospects by MLB Pipeline. That includes pitchers Forrest Whitley (No. 1), Brandon Bielak (12), Enoli Paredes (13), Luis Garcia (17), Jojanse Torres (19), Shawn Dubin (20), Brett Conine (26) and Nivaldo Rodriguez (29), infielder Taylor Jones (24) and outfielder Chas McCormick (25).
Those players will work out at UH through July 24 before heading to Whataburger Field in Corpus Christi, Texas, when the regular season starts. That's if they don't make the team's 30-man Opening Day roster and three-man taxi squad to start the regular season.
"I went to see some of the ones I haven't seen, some of the young players that were on the list that I didn't see in Spring Training because they weren't in big league camp," Baker said. "I wanted to put a face with the name, and also give a brief synopsis to myself on what I saw, to see how much the guys work so I could have some kind of input if players get hurt or whatever. I could have some genuine input on what I had seen during that brief time."
Baker, who is a huge basketball fan, limited his stay on campus baseball, though.
"I was trying to get to the gym to see [Hakeem] Olajuwon and Clyde the Glide [Drexler] -- all those guys," Baker said of UH basketball legends and Hall of Famers. "I'm a basketball man. That's my first time on that campus. It's a larger school than I had imagined."
No more 'Woos!' for Reddick?
Considering that he will be a free agent at the end of the season, unlikely to re-sign with the Astros and that the coronavirus pandemic could keep fans out of ballparks all season, veteran outfielder Josh Reddick said Sunday it's crossed his mind that he might never play before a home crowd at Minute Maid Park again.
That means the possibility of no more "Woo!" chants for Reddick, who's a huge fan of pro wrestling legend Ric Flair and hears Flair's signature call from the crowd each time he comes to the plate or makes a play in the outfield. Reddick's four-year deal prior to the 2017 season was one of the final moves that precluded the Astros winning the World Series that year.
"My wife and I have talked about it a lot, talked about not being able to hear the 'Woo' again for a whole year and never again as a home player," he said. "Definitely a little saddening, a little heartbreaking because of how fast they really welcomed me in here. Such a great place to play.
"The fanbase has been top notch since I got here, not only for me but this whole team. It's definitely going to stink. Hopefully we can get past this and beat this thing and if anything, get some fans in here for the playoffs. That would be a nice, so to speak, farewell for me personally to get back in front of those people and obviously win it all and get them that little treat on my way out the door."
Health key for Correa
After playing in a career-low 75 games last year because of two stints on the injured list and appearing in only 110 games in 2018 because of lower back soreness, shortstop Carlos Correa says that health will be a huge key during this year's 60-game season.
Correa, who was on the injured list from May 29 to July 26 of last year with a fractured rib and from Aug. 21 to Sept. 17 with back discomfort, would miss a majority of the season in 2020 if he has any similar ailments this year. Correa said Sunday that he's feeling great physically.
"That's the plan," Correa said when asked if he can play the entire season. "I've been working out throughout this whole quarantine and staying in shape and my body has felt great. The three days working out with the team have been awesome. I expected that to go on for the rest of the season. It's only 60 games. I'm looking forward to playing the whole season and putting up big numbers."
That means not taking chances with the coronavirus, as well. Correa said any trips to restaurants or anywhere else that didn't involve his home or trips to play for the Astros would have to wait until the season is over.
"We're going to be home. We're going to say here and focus on the baseball season," Correa said.