8 pitches that could dominate Division Series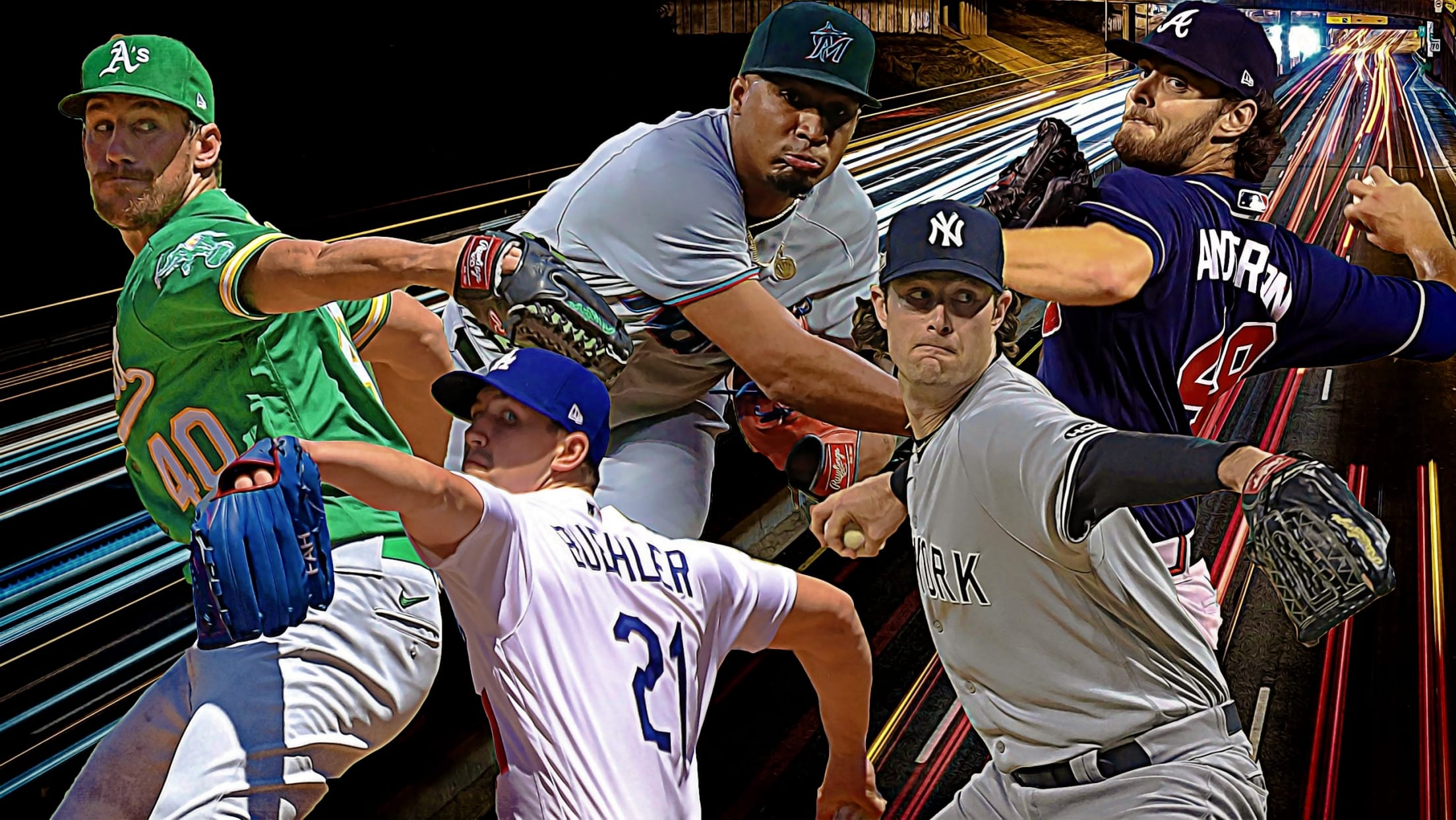 A crazy Wild Card Series week is in the books, and amid all the nail biting, channel flipping and dinger celebrations, pitchers made their presence felt. Hitters combined to bat just .221, and with the scarcity of hits going around, they had to swing for the fences to score. Teams
A crazy Wild Card Series week is in the books, and amid all the nail biting, channel flipping and dinger celebrations, pitchers made their presence felt. Hitters combined to bat just .221, and with the scarcity of hits going around, they had to swing for the fences to score. Teams that outhomered their opponents went an incredible 12-0 in the opening round.
The pitching only gets more elite from here as the cream rises to the top, and certain pitches that dominated quietly in the regular season can elevate to another level under the bright lights of October. Here are eight pitches (one for each Division Series team) that stifled hitters in the regular season and Wild Card Series, and are worth keeping an eye on this week.
Yankees (5) at Rays (1)
Yankees: Gerrit Cole's four-seam fastball
Why it matters: It's been feast or famine -- and the Yanks need it to feast
"OK, duh," you're probably thinking. Cole's high-octane, high-spin fastball isn't a secret to anyone, and it's one of the biggest reasons he's now known as a $324 million pitcher. But here's the thing: While that fastball still struck out plenty this year, it also got crushed when Cole put it in the wrong spot. Hitters slugged .496 against Cole's heater, and the pitch's strikeout rate fell by nearly half compared to last year. Cole's fastball velocity, spin and "ride" aren't much different from 2019, but hitters are more aware of it than ever -- and they pounded Cole when he didn't locate in his sweet spot atop the strike zone.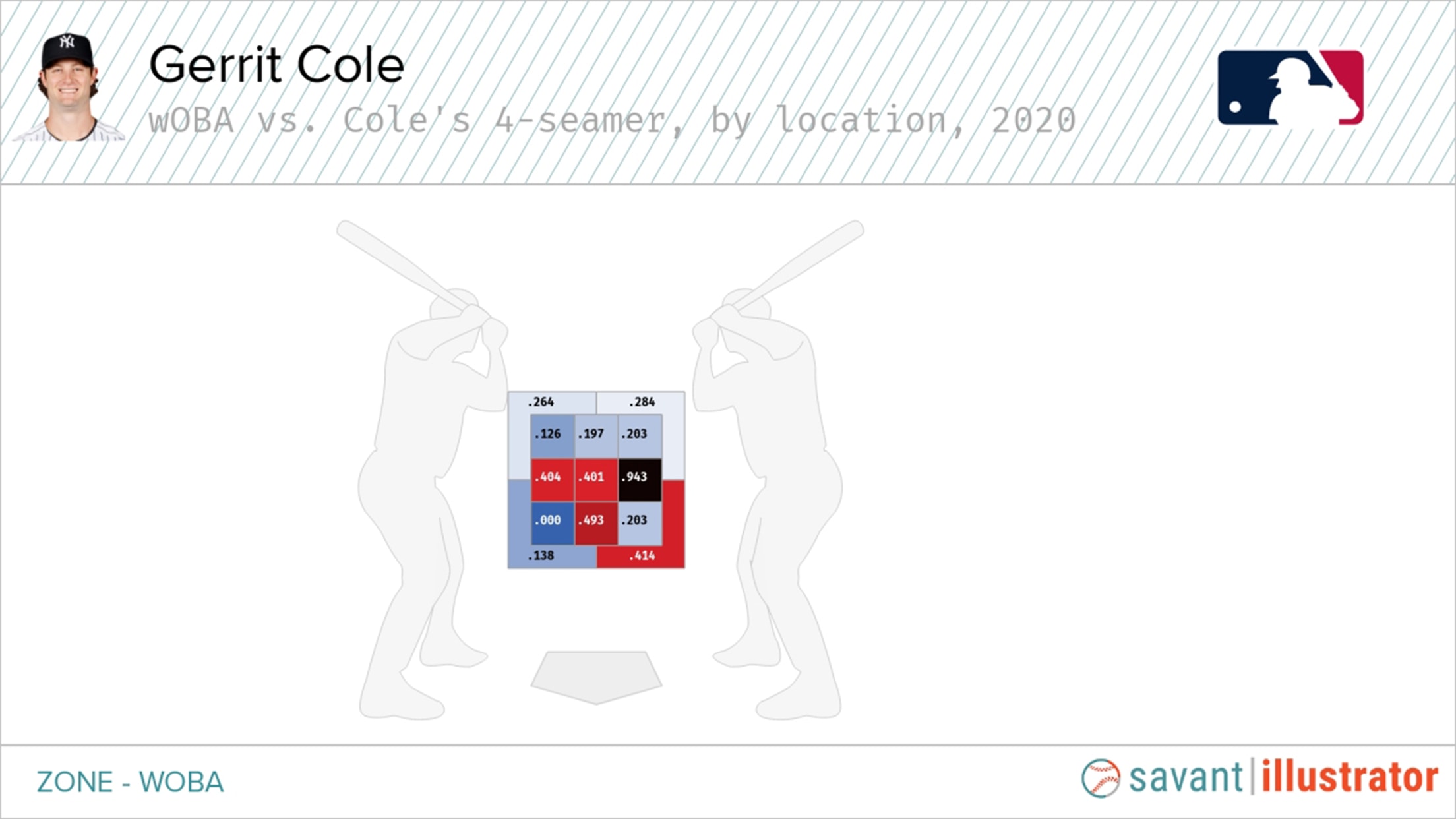 If Cole spots his gas between a hitter's belt and shoulders, with all that "rising" action, the hitter typically can't muster more than a bloop single. But when he throws it lower, it meets his swing path. Cole got whiffs both on fastballs atop the zone and through the middle of the zone in his brilliant Wild Card Series start against Cleveland, but he might not be so lucky against better lineups.
Rays: Tyler Glasnow's curveball
Why it matters: When it's right, not even the Yanks can touch it
Twenty-four pitches, nine whiffs, seven strikeouts, two fouls, two called strikes and a groundout. That's how the Yankees fared against Glasnow's hook when he dominated them with six shutout innings of two-hit ball back on Aug. 31.
New York was far from the only squad that struggled against the Glasnow curve that held opponents to 10 hits in 83 at-bats (.120) with 58 strikeouts. When Glasnow gets his limbsy 6-foot-8 frame aligned and locates his high-90s, uber-extended fastball upstairs, his curveball can be impossible to square up (unless you're guessing) because of how well it tunnels off the heat. If any pitch can stand up to the big, bad Yankees lineup, it's this one.
Astros (6) at Athletics (2)
Astros: Framber Valdez's curveball
Why it matters: It could really frustrate the A's
Valdez isn't a prototypical ace like some of the other names here, but his five scoreless innings of relief in Houston's Game 1 victory against the Twins showed the impact he can make. Astros manager Dusty Baker is planning to have Valdez start Game 2 in the ALDS, but it will likely be a max-effort, four- to five-inning scenario where Valdez can grip-and-rip his trademark curveball as much as he likes. In that Game 1 relief appearance, Valdez threw his elite-spin curve on a season-high 46% of his pitches and the Twins were hitless in eight at-bats against it, striking out four times.
Hitters haven't touched Valdez's curveball, going just 28-for-239 (.117) with three home runs since he entered the big leagues in 2018. One of those homers was a hanger to A's shortstop Marcus Semien back on Aug. 8, but that was one of Valdez's only blemishes on a day he threw seven innings of two-run ball against Oakland -- and struck out Semien (twice), Matt Olson, Sean Murphy and Ramón Laureano with the hook.
Athletics: Chris Bassitt's fastball "mix"
Why it matters: Variety is the spice of Bassitt's surge
Maybe we're cheating with that "mix" label, but by blending more cutters and four-seamers into his sinker-heavy platter, Bassitt is giving hitters fits -- the same way Rangers ace Lance Lynn was frustrating Bassitt's teammates back on Aug. 4.
"He doesn't ever throw the same pitch," Bassitt told The Athletic's Alex Coffey of watching Lynn that night. "He'll throw a four-seamer and then he'll throw a two-seamer; it might look like he's throwing a ton of fastballs, but he's throwing a ton of fastballs that are all doing something different. So I just kept saying, 'I need to start doing that more.'"
Lynn is one of the only starters who threw more fastball varieties at hitters than Bassitt this year, and the mimicry is working. Bassitt was the AL's Pitcher of the Month for September (3-0, 0.34 ERA), and that month started with seven shutout innings against the Astros -- who went 3-for-20 against his fastball array -- on Sept. 7. The White Sox top-of-the-line offense struggled to just four hits in 20 at-bats against Bassitt's heaters in Game 2 of the Wild Card Series. Jesús Luzardo and Mike Fiers did not pitch their best against Chicago, but Bassitt is looking like the No. 1 starter Oakland needs to advance.
Padres (4) at Dodgers (1)
Padres: Adrian Morejon's knuckle changeup
Why it matters: Against the Dodgers, you need to pull out all the stops
Dinelson Lamet and Mike Clevinger's statuses are still up in the air, and it's hard to envision starters Zach Davies and Chris Paddack putting up six or seven breezy innings against the mighty Dodgers lineup. That means San Diego's bullpen is going to have to fill in a ton of gaps once again.
The Padres had a ton of relief heroes against St. Louis, but the 21-year-old Morejon was one of their strongest, serving as the club's bridge across the fourth and fifth innings in Games 2 and 3 without allowing a run. Morejon retired nine of the 12 Cardinals batters he faced (two of those other three reached via error), and the pitch that got the most outs was Morejon's splitter -- or, more accurately, his knuckle changeup -- that didn't allow a hit in six at-bats. When we say knuckle change, we mean it: Morejon grips it out on his knuckles, and this tumbler features one of the lowest spin rates of any pitch in baseball.
Adrián Morejón, Filthy Knuckle Changes. pic.twitter.com/atwGqvPVZC

— Rob Friedman (@PitchingNinja) October 3, 2020
The Padres have an army of relievers who pummel the top of the zone with heat and wipe hitters out with breaking balls. But against a lineup as deep and as good as the Dodgers', throwing something completely different at them -- a la Tim Hill's sidearm delivery or Morejon's knuckle change -- could steal some crucial outs, too. Morejon threw only six of his unicorn pitches to the Dodgers in the regular season, so the novelty factor is still there.
Dodgers: Walker Buehler's four-seam fastball
Why it matters: It's proven in October
Buehler is 24-9 with a 3.15 ERA during the regular season in his career, and yet it still feels like there's another level to which he could ascend. But he's pitched like a true ace in October -- particularly in his last four postseason starts (1.27 ERA) -- thanks to a high-90s fastball that's held opponents to a .162 average (11-for-68) across his postseason career. Hitters have slugged only .176 against Buehler's heater in 2020, even after Milwaukee's Orlando Arcia took a center-cut fastball deep in Game 1 of the Wild Card Series.
Lowest SLG allowed on four-seamers, 2020 reg. season
Min. 50 PA ending on four-seamers (164 pitchers)
1) Michael Lorenzen (CIN): .075
2) Walker Buehler (LAD): .119
3) Blake Taylor (HOU): .140
4) Steven Brault (PIT): .149
5) Austin Gomber (STL): .161
That pitch's ability to blow hitters away is probably one reason why manager Dave Roberts chose Buehler over Clayton Kershaw to open the Wild Card Series, setting up Buehler to potentially start twice in the NLDS.
Marlins (6) at Braves (2)
Marlins: Sixto Sánchez's four-seam fastball
Why it matters: If any fastball can beat the Braves, it's this one
The Braves were MLB's best-hitting team against fastballs (.309 average) in the regular season, and they were also the NL's second-best-slugging offense against pitches that were 95 mph or faster. That would seem like a bad matchup for Sánchez, who smothered the Cubs in the Wild Card Series with a four-seamer that averaged 98.3 mph -- one of the most high-octane starts in recent postseason history. But here's the thing: While the Braves fared way better in their second matchup against Sánchez on Sept. 23 (4 ER in 3 IP) than they did in their first (six scoreless innings), they really struggled against Sanchez's blistering four-seamer/sinker combo on the whole, going just 3-for-19.
Fastball feasters Ronald Acuña Jr., Freddie Freeman, Marcell Ozuna and company were overwhelmed in their first look at Sánchez, striking out four times on heaters that clocked 98.8 mph or faster. Sánchez let that heat eat against the fastball-averse Cubs, throwing country hardballs on a season-high 80% of his deliveries. He might switch that up against the fastball-loving Braves, but Sánchez and his pure gas would figure to be key in another Marlins surprise.
Braves: Ian Anderson's changeup
Why it matters: Max Fried needs help
Atlanta's rotation depth behind ace Max Fried ranked among the biggest questions for any postseason team, and the club's rotation will be tested more now as the rounds get longer. Anderson proved he could be the No. 2 option, putting up six scoreless innings in Game 2 of the Braves' sweep of the Reds in the National League Wild Card Series.
Anderson impressed in his first weeks in the big leagues, with his go-to out pitch, the changeup, racking up both whiffs and grounders (5-for-48, .104 BA, .146 SLG). That nosediving change helped Anderson allow just one barrel (the most dangerous batted-ball type) all season, tying him for the lowest rate allowed out of 200 pitchers who yielded at least 75 batted balls. Cincinnati didn't have answers for that changeup in Round 1, either, going 0-for-5 with three strikeouts against it.