Inbox: Will Astros get to full strength?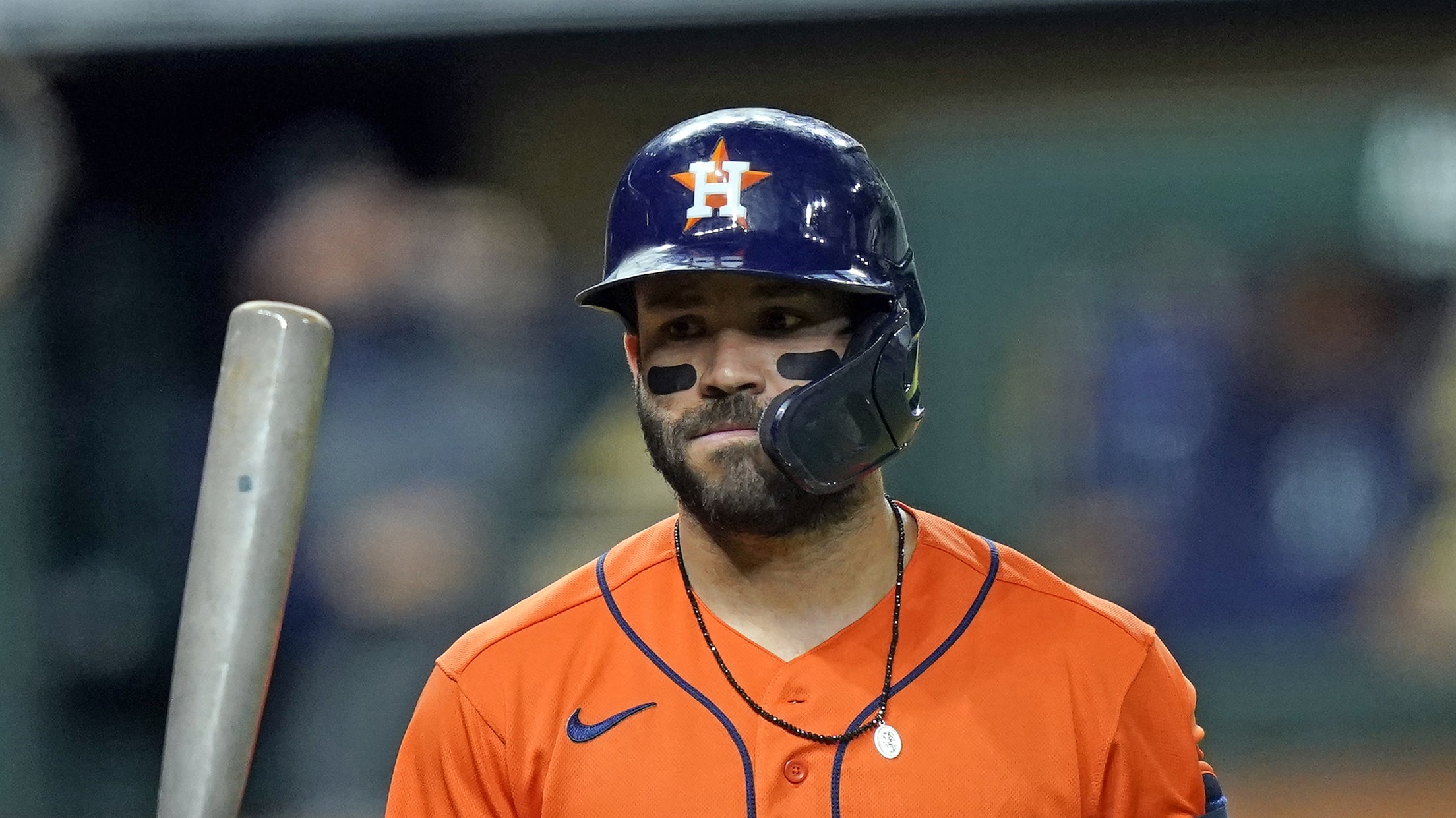 HOUSTON -- The Astros' run of three consecutive American League West titles has all but ended after the A's won four of five games in Oakland this week to open a 6 1/2-game lead in the division with 15 games left to play. Thanks to the expanded postseason, the Astros
HOUSTON -- The Astros' run of three consecutive American League West titles has all but ended after the A's won four of five games in Oakland this week to open a 6 1/2-game lead in the division with 15 games left to play. Thanks to the expanded postseason, the Astros are still in good position to grab a spot despite entering Saturday's game at Dodger Stadium under .500 (22-23). In fact, FanGraphs says their playoff odds are 93.8 percent.
That's because the schedule eases up dramatically in the final two weeks, including seven games against the Rangers, three against the D-backs and three against the Mariners, who are lurking two games behind the Astros for a playoff spot. Still on Seattle's schedule are six games against Oakland, three against San Diego and two against San Francisco. Huge advantage, Astros.
Thus, it would take a monumental collapse by the Astros to miss the playoffs for the first time since 2016, but losing eight of their last nine games has brought on many questions. So let's open the Inbox and answer some of yours:
Barring no more injury chaos, *should we* be at full strength by the end of the season (Altuve, LMJ, JV, Devo, Peacock)?

— Chip Rives (@chiprives) September 11, 2020
It appears Jose Altuve (right knee sprain) should return, and perhaps as early as Sunday. Right-hander Lance McCullers Jr. appears likely to return soon, too, when his injury list stint is up in a few days after he responded positively following an anti-inflammatory injection for his neck nerve irritation. The immediate futures of Justin Verlander, Chris Devenski and Brad Peacock isn't as certain.
Verlander threw 50-55 pitches off the mound earlier this week, and manager Dusty Baker said there's a plan in place in which he would return at the end of the season and be ready for the playoffs. That's huge. Adding Verlander to the rotation or even putting him in the bullpen would be a big addition for the Astros. Peacock has returned from his injury, but his velocity is down and you have to wonder what kind of role he'll be able to play. Devenski came off the IL for two games and went right back on with more elbow soreness, which tells me he's likely not going to be available going forward.
If we assume Springer chooses not to re-sign withthe team, and if Correa is unwilling to sign a new deal in the off season, should the team trade Correa before or during the 2021 season to help restock the farm system. And can Bregman defensively play SS full time if Correa gone

— gnordt1 (@gnordt1) September 11, 2020
I certainly wouldn't rule out the Astros trading Carlos Correa before he becomes a free agent. Correa is having a solid season at the plate and is playing at a Gold Glove-caliber level on defense and -- more importantly -- has remained healthy follow two injury-plagued years. If the Astros feel their window of contention closes after 2021 -- the final year on the contracts of Verlander and Zack Greinke -- they could be in a bit of a sell mode to scoop up some prospects and try to adjust on the fly. Not rebuild, but adjust. They have Altuve and Alex Bregman tied up to long-term deals and owner Jim Crane will spend money, so they're going to have to balance winning while trying to restock a farm system that's thin. Trading Correa might be one way to help do that.
12 of the Astros' 23 losses came in the opponent's final AB. Goes without saying that the BP has been… rough.

What can the team possibly do to get something functional in late innings? Any injured players returning soon? Strom have more magic to work?

— Ghost of Tal's Hill (@TalsHillMMP) September 11, 2020
Well, the Trade Deadline has come and gone, so they're going to have to proceed with what they've got. The Astros' best bet would be Verlander and McCullers returning off the IL. That would give them five healthy starting pitchers -- Verlander, Greinke, Framber Valdez, McCullers and Cristian Javier -- and you could move a couple of them to the bullpen for the playoffs. The Astros will need only three starting pitchers in the Wild Card Series. Luis Garcia, who threw five scoreless innings in his first Major League start Wednesday, could also emerge as a bullpen weapon. Ultimately, closer Ryan Pressly will have to straighten things out and get some key outs, and youngsters like Enoli Paredes and lefty Blake Taylor (who's on the IL) will still have to contribute positively.
With 125MM committed to 7 players under contract (plus money due to McCullers and Correa), how will the Astros approach the offseason? It seems DFAs are likely for Osuna (pending TJ decision), Devenski, & Biagini. Will there be enough money to fill out the OF, pen & rotation?

— The Astros Locker (@AstrosGameUsed) September 11, 2020
I think Devenski and Joe Biagini are definitely candidates to be designated for assignment, and in fact, I'd be surprised if they weren't. Closer Roberto Osuna, especially if he has Tommy John surgery and misses all of 2021, is a DFA candidate as well. That frees up some money. But the 2021 budget will depend mostly on whether they re-sign Springer or Michael Brantley, or both. Springer, who turns 31 in eight days, might not have a big market coming off a down regular season in which he was injured again. He may want to take one-year deal and try out free agency after the '21 season. Yuli Gurriel is also a free agent, as is Josh Reddick, who is a sure bet not to return. No matter what, the Astros will have to address their bullpen shortcomings in the offseason through either free agency or trade.
Ok I'll do two, based on my latest consipracy theory: if Verlander comes back and is on a very low pitch count, would he close in the postseason instead of start?

— RickRuss (@russ99a) September 11, 2020
Hey, I'm only giving you one question (and I sort of answered your Osuna question above). I think Verlander pitching in the bullpen in the postseason is a viable option and something the Astros are considering. First, they have to be certain Verlander is going to healthy and effective. They lost him after one start in late July, so he's had a long time off. Because he was getting stretched out to 50-plus pitches off the mound this week, that leads me to believe he'll be built up to start. But how effective will be? Either way, having Verlander in the bullpen or reinserting him back in the rotation and moving one of the other starters to the bullpen will strengthen the relief corps.
Forest Whitley Status?

— JJJ (@HouFan28) September 11, 2020
What would an Inbox be without a Forrest Whitley question? Whitley, the Astros' top prospect per MLB Pipeline, has been at the alternate training site all summer but has been shut down from throwing. Baker told reporters last week Whitley still wasn't throwing, so he's not going to pitch in the big leagues this year. His future is murky at this point with basically three lost seasons under his belt, some of which was caused by injury and his suspension in 2018. The Astros have to add him to the 40-man roster this offseason or risk losing him in the Rule 5 Draft. They will definitely protect him, but 2021 will be a huge year for his future with Houston. Check back next spring.