Late outburst not enough to pick up Sanchez
Gurriel's big blast, Galvis' grand slam fuel Blue Jays' 5-run 8th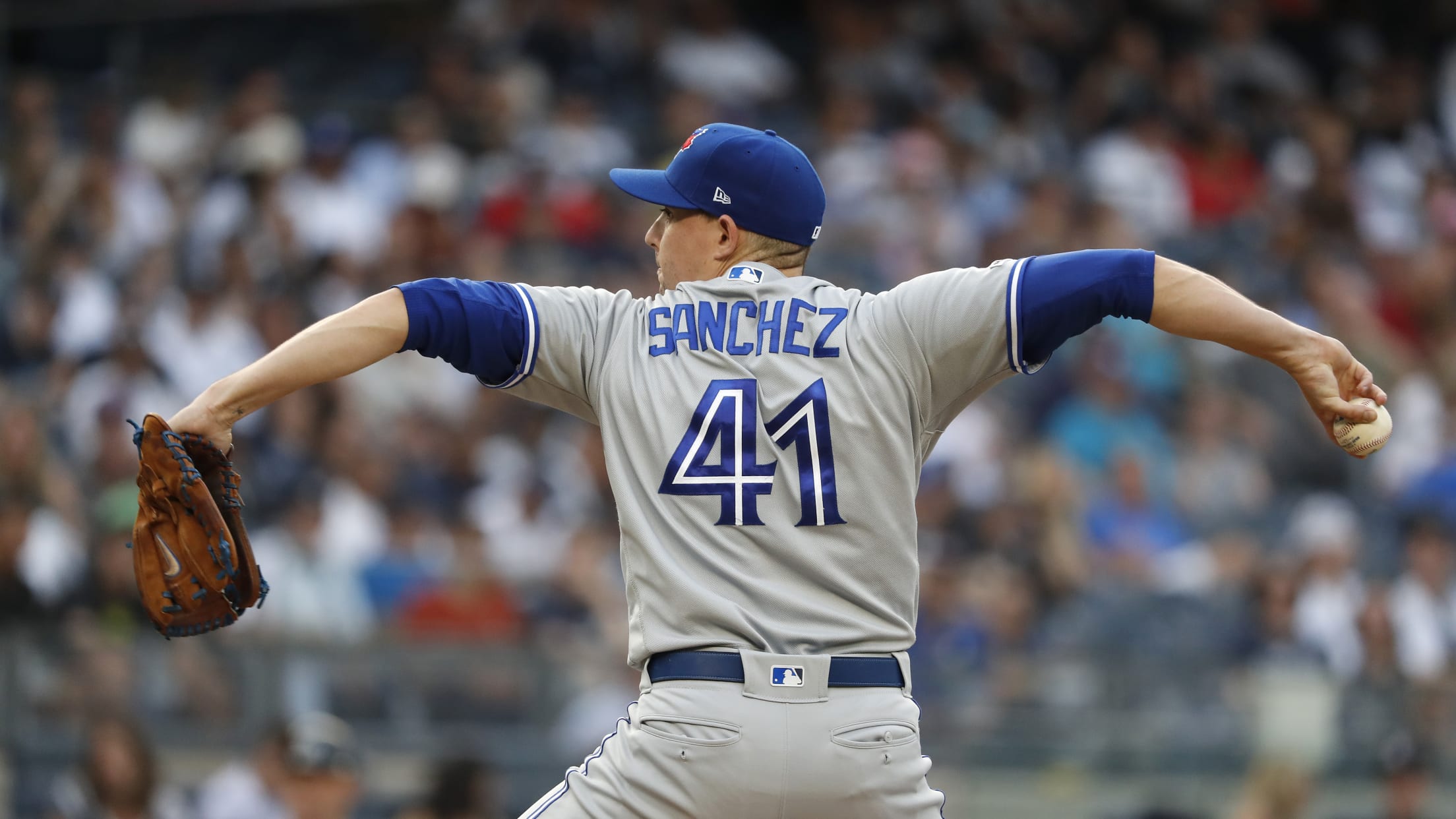 NEW YORK -- It looked like Aaron Sanchez might be on his way to his first victory since April 27, but his winless drought was extended to 11 starts as the Yankees pounded the Blue Jays, 10-8, at Yankee Stadium. Sanchez joined Ricky Romero (0-13 in 2012), Joe Biagini (0-10
NEW YORK -- It looked like Aaron Sanchez might be on his way to his first victory since April 27, but his winless drought was extended to 11 starts as the Yankees pounded the Blue Jays, 10-8, at Yankee Stadium.
Sanchez joined Ricky Romero (0-13 in 2012), Joe Biagini (0-10 in 2017-18) and Juan Guzman (0-9 in 1995) as the only Blue Jays starters to lose nine straight decisions in the past 38 seasons.
Early in the game, Sanchez was dealing. He was staked to a 2-0 lead before taking the mound, but things started to unravel for the right-hander in the fifth inning, when he allowed a three-run homer to Aaron Hicks.
"It is what it is," Sanchez said. "I didn't think it was a bad pitch. It flatten out a little bit. He put a good swing on it and they went ahead."
The following inning, Sanchez recorded one out and allowed four hits before leaving the game. Derek Law fared no better, allowing a two-run double by Luke Voit and a monster three-run homer to Giancarlo Stanton to make it a 10-2 lead for the Yankees. Sanchez was charged with seven runs allowed in 5 1/3 innings.
"[Sanchez] pitched better than the numbers showed," Blue Jays manager Charlie Montoyo said. "He had his good stuff. He was throwing his breaking pitches for strikes. ... He had tough luck with the infield hit there, but that was his best outing in a while. He was really good today."
Sanchez believed he made progress in the outing.
"I was keeping the ball down in the zone, keeping the ball on the ground [for the most part]. It was a positive," Sanchez said. "I really didn't get hit hard until later in the game. I'm making progress. I'm staying with the process. I understand what I'm getting out of it and moving on."
But the Blue Jays made it a close game against right-hander Jonathan Holder in the eighth inning. Lourdes Gurriel Jr. led the inning off by hitting a home run. Cavan Biggio, Randal Grichuck and Rowdy Tellez singled to load the bases for Freddy Galvis, who hit a grand slam to make it a three-run game.
Two outs later, the Blue Jays had the potential tying run at the plate, but Adam Ottavino struck out Gurriel to end the threat. Order was restored for New York -- for now.
But the Blue Jays didn't make it easy for the Yankees in the ninth. Toronto added an unearned run off closer Aroldis Chapman. With the Blue Jays down to their final out, Galvis didn't go quietly. It took Chapman nine pitches and a slick play by third baseman Gio Urshela to finally get Galvis out and end the game.
"We [didn't] quit," Montoyo said. "We made them lose their setup man, their closer. Outstanding. I love this team. We don't quit."
Bill Ladson has been a reporter for MLB.com since 2002. He covered the Nationals/Expos from 2002-2016. Follow him on Twitter and Facebook.