Blue Jays throw caution to the wind
With prospects in the wings, Toronto to fly in face of tradition now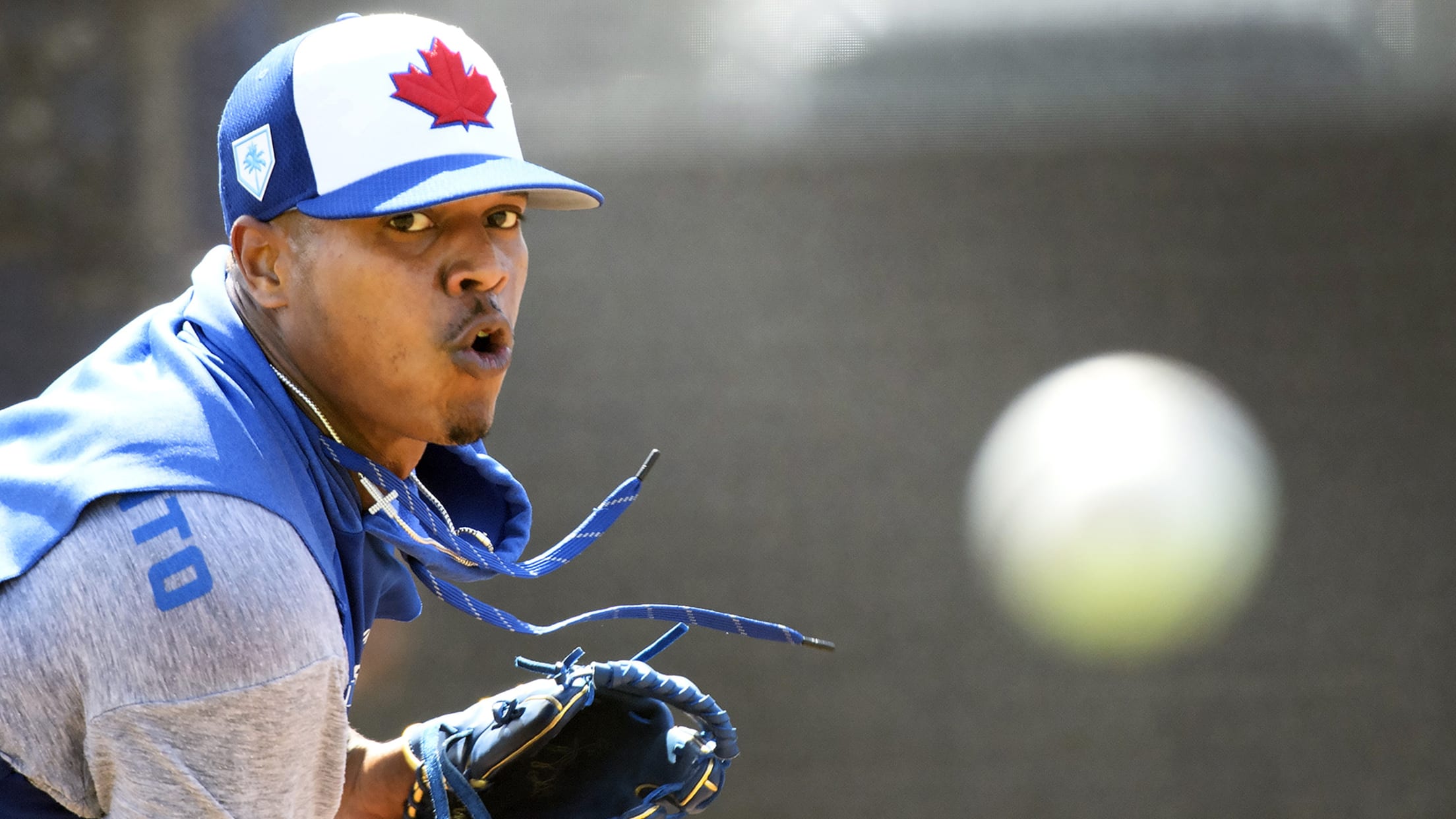 CLEARWATER -- There is a phrase that Charlie Montoyo has been saying over and over this spring that speaks volumes about how the Blue Jays intend to approach the 2019 season: "We're not afraid to be different." Toronto finds itself in an interesting position this season. External expectations haven't been
CLEARWATER -- There is a phrase that Charlie Montoyo has been saying over and over this spring that speaks volumes about how the Blue Jays intend to approach the 2019 season: "We're not afraid to be different."
Toronto finds itself in an interesting position this season. External expectations haven't been this low in years. The Red Sox and Yankees are the clear favorites atop the AL East, the Blue Jays are still in the process of rebuilding and yet at the same time there is a sense of optimism around camp.
The Blue Jays are starting this season with a fresh slate. The remnants from the teams that went to the American League Championship Series in 2015 and '16 have all but completely disappeared. In their place is a wave of new young players. Vladimir Guerrero Jr. and Bo Bichette are almost ready for the Major Leagues. Lourdes Gurriel Jr., Danny Jansen and Ryan Borucki are already there. This is all about the future.
With that infusion of young talent comes a nothing-to-lose approach. This team has the luxury of playing fearlessly, and with Montoyo coming over from the experimental Tampa Bay Rays, it's safe to say this team is going to approach the 162-game season in rather unorthodox fashion.
A lack of quality pitching ultimately let the Blue Jays down last season, and pitching will once again determine how this team does in 2019. So how will the Blue Jays go about getting 27 outs? Let's take a closer look:
The old-fashioned way: The Blue Jays will be creative, but first and foremost they will need to win some games the traditional way. Marcus Stroman and Aaron Sanchez have to stay healthy and live up to the front-line starter potential they flashed earlier in their careers. Matt Shoemaker has to turn into a bargain and the Blue Jays need innings from Borucki and Clay Buchholz. Montoyo would love to get six or seven innings from his starters every time out before turning things over to his bullpen but it's not going to be that easy, which brings us to the second point...
The Opener: Toronto will not be starting the year with an opener. There is no immediate plan to send a reliever out to begin games but the Blue Jays also intend to remain flexible and it seems like only a matter of time before this strategy is used. Stroman, Sanchez, Borucki and probably even Shoemaker are not going to start games out of the bullpen, but Clayton Richard and potential starters in the Minor Leagues might. If this team runs into questionable health from its rotation, look for the opener to become a thing. John Axford was the primary option before, but now that he's out with an injury to his right elbow the role eventually could fall to Bud Norris or David Phelps.
The four-man outfield: Montoyo seems intent on deploying a four-man outfield whenever there is an elite slugger who hits more balls in the air than he does on the ground. So far this spring, Montoyo has used four outfielders against Philadelphia's Bryce Harper and Rhys Hoskins along with the Yankees' Giancarlo Stanton and Aaron Judge. Gurriel Jr. or Brandon Drury will take turns going into the outfield, likely only when nobody is on base. Last year, Toronto's pitching staff tied for a Major League high 325 doubles allowed and the goal is to limit that number in 2019.
Next guy up: The Blue Jays know Ken Giles is going to own the ninth inning but how Toronto bridges the gap from starter to closer is anyone's guess. Phelps eventually will become a primary set-up man once he returns from Tommy John surgery in late April or early May. But before the spring was over, the Blue Jays lost two other set-up men in Ryan Tepera and Axford. That means there will be a slew of candidates for the middle innings and Montoyo will be expected to ride the hot hand. David Paulino, Joe Biagini, Tim Mayza, Norris and possibly Trent Thornton will all get their chance to shine.