Biggio, Jansen urged to be team leaders
Pitch Hit and Run winners from Ontario are named at Rogers Centre
TORONTO -- In a season providing a glimpse into what the Blue Jays hope will be a bright future, the team is looking to a couple of its rookies to step up and take leadership roles. Ahead of Saturday's 6-0 loss to Arizona, Blue Jays manager Charlie Montoyo took 24-year-old
TORONTO -- In a season providing a glimpse into what the Blue Jays hope will be a bright future, the team is looking to a couple of its rookies to step up and take leadership roles.
Ahead of Saturday's 6-0 loss to Arizona, Blue Jays manager Charlie Montoyo took 24-year-old infielder Cavan Biggio, and catcher Danny Jansen, also 24, aside to tell them that he hopes they can begin to step into leadership roles at the big league level.
Though both players are experiencing tough stretches -- Biggio is hitting .194 in his 11 games in the Majors and Jansen is batting .164 over 46 contests -- Montoyo is hoping they can look beyond the numbers and get back to having the same clubhouse presence they brought to their teams in the Minors.
"I had a good talk with Biggio and Jansen," Montoyo said. "I said, 'I heard you guys were leaders in the Minor Leagues. Just do it. Don't worry about your averages, you're actually having good at-bats, to tell you the truth.
"It doesn't show, but just be yourself. Be a leader. Be who you are. … Because you were a leader in the Minor Leagues, you can be a leader here. You guys are going to be here for a long time; start now. Go ahead.'"
The information Montoyo gleaned about what the two young players were like as they climbed through Toronto's farm system came from Major League coach John Schneider, who managed both Biggio and Jansen at multiple levels along the way.
"A lot of it is leading by example, and a lot of it is players respecting them and the way they go about their business," Schneider said of what he saw. "We took a lot of time last year with those guys in the Minor Leagues, really trying to let them have their own day, their own routine, and once that is taken care of, being able to affect others, by not only their preparation but their play and their attitude, their personalities.
"It's tough for young players when they come up, because they're in the big leagues with a lot of older guys, so the overarching message is just to continue to be yourself, continue to do what got you here. … We're lucky because they have the makeup that they do, and the personalities that they do. It's great that hopefully they can continue to show that at the highest level."
Schneider noticed a personality shift from the players, and when he mentioned to Montoyo that they were quieter around the clubhouse than they ever had been while he was their skipper, Toronto's manager wanted to encourage them to get back to the way they were.
"Don't be afraid to be yourself," Biggio said of the message received. "Danny being here a little bit longer than me, I can't really speak for him, but for me it was about getting here and feeling yourself out. He basically said, 'You should be yourself and there's no need to be in the background. Just be that teammate, that player that you are.'"
Though it's tough for players to truly be themselves and to try to lead by example when they aren't seeing results on the field, Toronto's staff believes Biggio and Jansen have exactly what is needed to be able to do that.
"It's always easier when you're doing well," Schneider said. "But what makes them who they are and what makes a lot of young guys that we have in the system who they are, is their personalities, the way they support their teammates, the way they prepare, the way they play. So it's tough, but if you're the same dude, every day, good or bad, that's really the true sign of a leader."
Added Biggio: "You always want to get here and do well immediately. Danny and I, in the past couple games, have put together some good at-bats, but we haven't really seen many results, so he was saying, 'The results aren't showing, but try not to worry about it too much and just go out there and have fun and be yourself.'"
Toronto's Pitch Hit and Run winners
Major League Baseball and the Blue Jays hosted the annual MLB Pitch Hit and Run competition at Rogers Centre on Saturday, and honored several young players who won their respective divisions.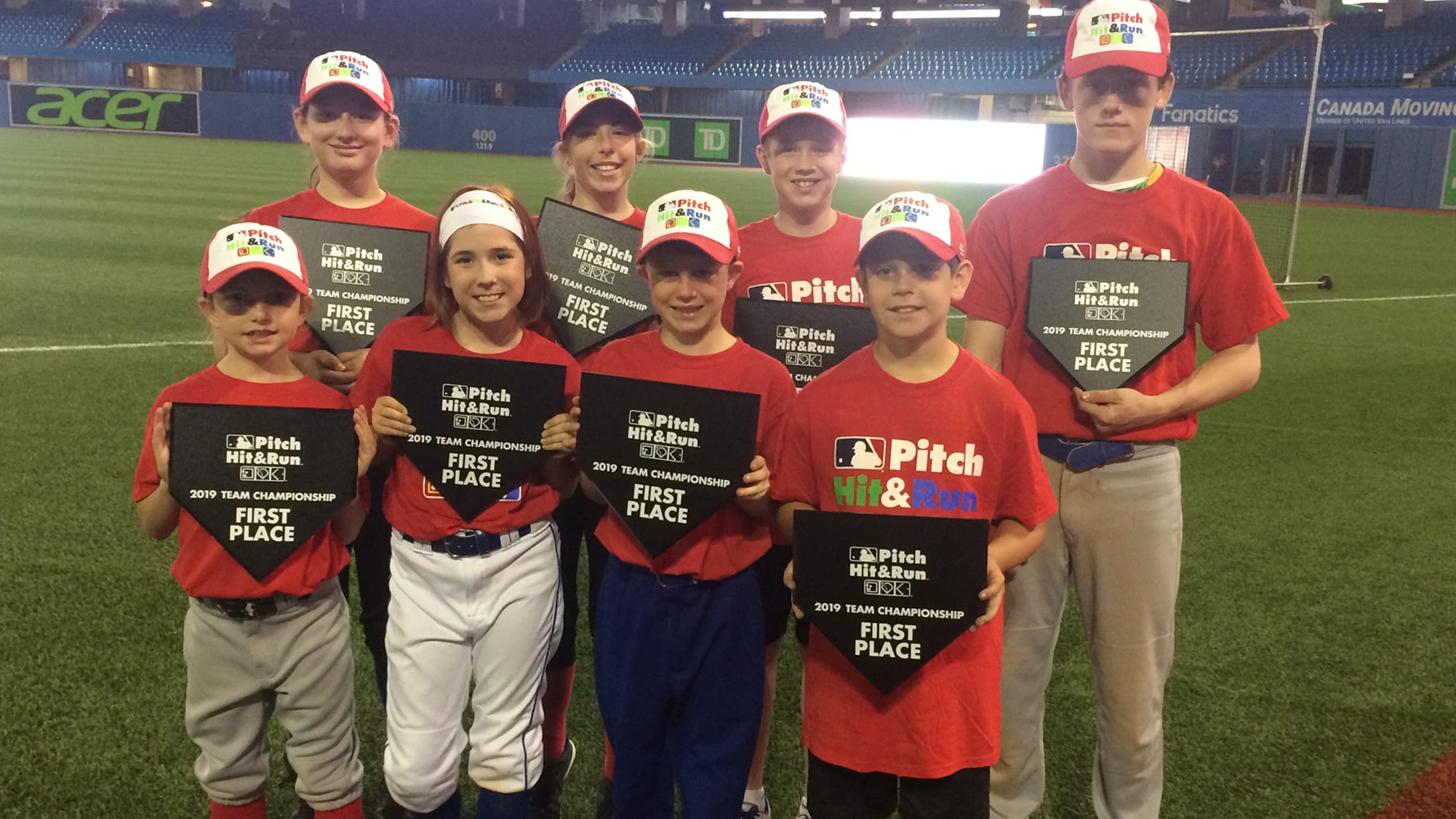 Pitch Hit and Run is MLB's Official Youth Skills Competition. Prior to today's game, the top 12 baseball and top 12 softball qualifiers from Ontario competed at Rogers Centre in hopes of advancing to the National Finals during 2019 MLB All-Star Week in Cleveland.
The winners are:
The 7- and 8-year-old Softball Division: Maddy Fitzpatrick from Belle River
The 7- and 8-year-old Baseball Division: Kayden Alguire from Thorold
The 9- and 10-year-old Softball Division: Zoe McGregor from Oshawa
The 9- and 10-year-old Baseball Division: Colin Walker from Brantford
The 11- and 12-year-old Softball Division: Meghan Paquette from Hanmer
The 11- and 12-year-old Baseball Division: Jack Hansen from London
The 13- and 14-year-old Softball Division: Ashley Ruddick from Capreol
The 13- and 14-year-old Baseball Division: Devon MacDonald-Keeling from London