Visit Quad Cities' Modern Woodmen Park
Welcome to Modern Woodmen Park in Davenport, Iowa. Home to the Quad Cities River Bandits, a franchise founded in 1960, the stadium has been around even longer and is now the fourth-oldest ballpark in the Minor Leagues.
Quad Cities River Bandits (High-A affiliate of the Kansas City Royals since 2021)
Established: 1960
Ballpark: Modern Woodmen Park (opened 1931)
League: Midwest League
Notable Alumni: Alex Bregman, Matt Carpenter, Carlos Correa, Josh Hader, Joe Mauer, Justin Morneau, Brett Phillips, Johan Santana, George Springer, Billy Wagner
Championships: 1968, 1971, 1979, 1990, 2011, 2013, 2017, 2021
The Quad Cities region on the border of Iowa and Illinois has hosted professional baseball since 1879, beginning with the Davenport Brown Stockings of the Northwestern League. Just over 50 years later, the facility now known as Modern Woodmen Park opened its gates. In the interim, Davenport, Iowa played host to teams known as the Onion Weeders, Pilgrims, River Rats, Knickerbockers, Prodigals, Blue Sox and more. Just across the Mississippi River, Rock Island and Moline, Illinois built impressive baseball histories of their own with clubs known as the Twins, Plowboys, Islanders, Rocks and more. Those cities, along with Bettendorf, Iowa, form the quartet of municipalities that give the region its name.
In Davenport, the Blue Sox inaugurated their city's new baseball home in 1931 as part of the Mississippi Valley League. Built on the banks of the Mississippi, the park then known as Municipal Stadium became the centralized home of pro ball in the area, especially due to its ability to host night games. Just two years after it opened, Municipal Stadium hosted a championship team when the Blue Sox beat Rock Island to win the Mississippi Valley League crown. Though pro ball was absent in Davenport from 1938-45 and again from 1953-56, the arrival of the Midwest League in 1960 put Minor League Baseball in the Quad Cities to stay.
The Quad Cities' franchise (which has used the geographic moniker "Quad City" at various times) has been known by many different nicknames but most notably as the River Bandits for all but four seasons since 1992. Over the last three decades, the club has helped produce some of the biggest stars in baseball while capturing four championships from 2011-21.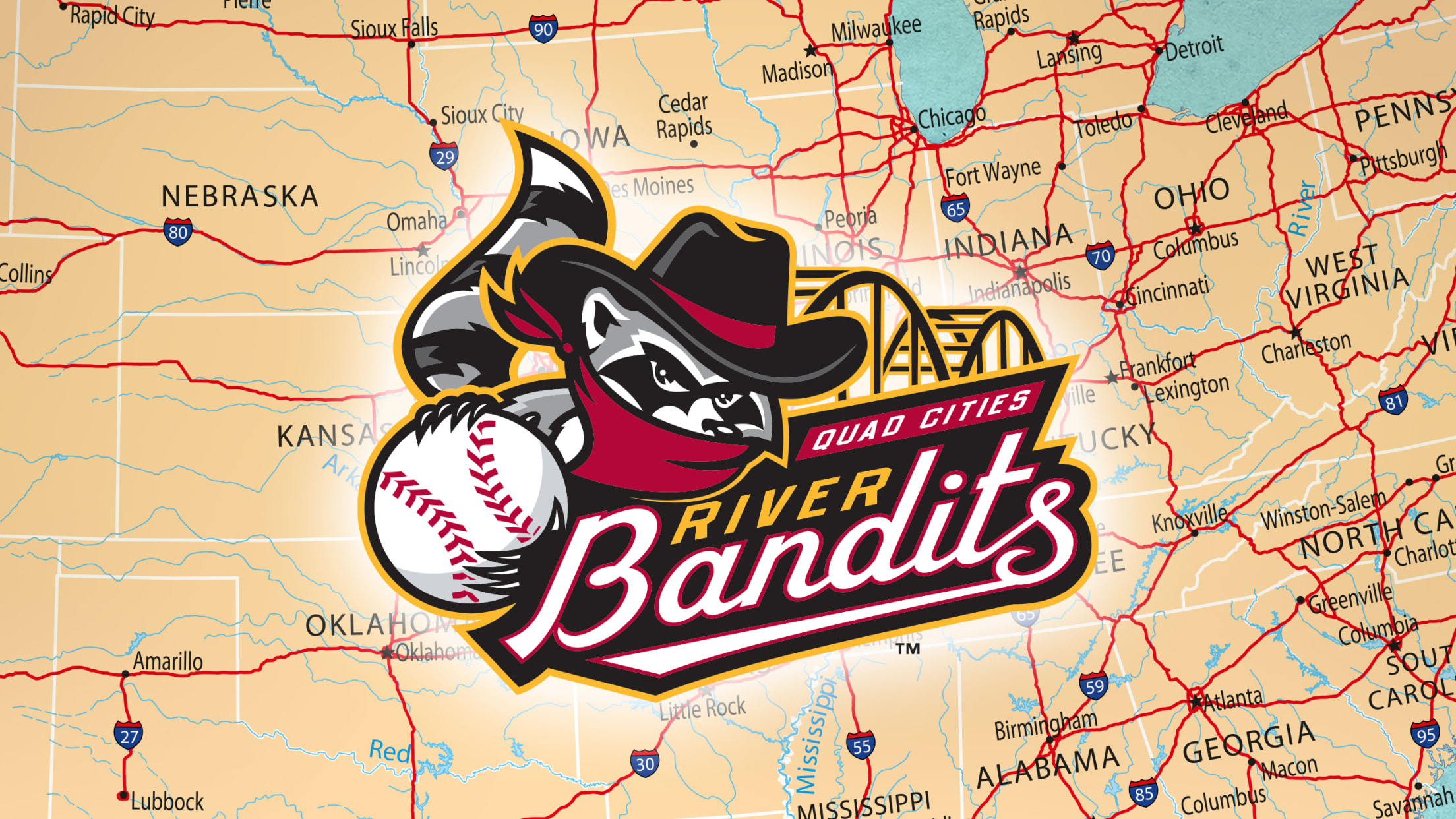 Modern Woodmen Park
Google Maps
River Bandits Roster
River Bandits Schedule
209 Gaines St.
Davenport, IA 52802
(563) 324-3000
Capacity: 4,024 seats
Dimensions: left field, 343 feet; center field, 400 feet; right field, 318 feet
Park Factors (2021-22)
100 = league average
Runs: 103 | Homers: 99 | Hits: 106
Midwest League environment: 4.78 runs per team per game (eighth-highest among 11 full-season leagues)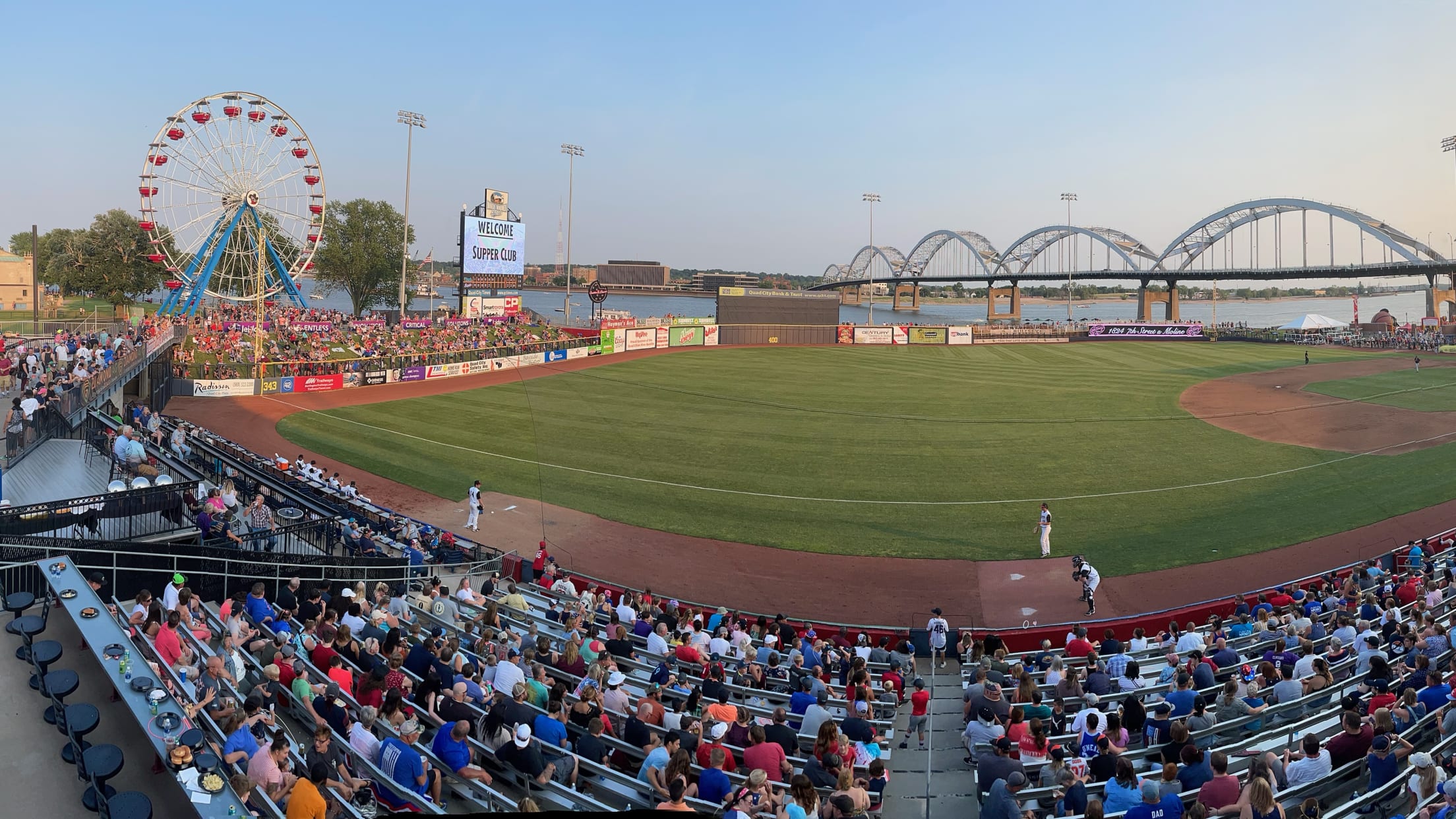 Known as Municipal Stadium upon its opening, Davenport's ballpark was rechristened John O'Donnell Stadium in 1971 in honor of a longtime local newspaper sports editor. Ahead of the 2008 season, it took its current name, but O'Donnell's name still adorns the stadium's press box. Modern Woodmen Park has hosted a wealth of different sports and events in its nine decades of existence, including high school and college football, concerts and even boxing (Davenport native Michael Nunn lost an IBF middleweight title bout there on May 10, 1991).
Baseball, though, has been its main draw since the facility opened, and renovations in recent decades have married the park's history with modern amenities while providing some of the most recognizable backdrop elements in the Minors.
At first glance upon walking into Modern Woodmen Park, two key features stand out. Looming beyond the right-field wall and stretching across the Mississippi to Illinois is the Centennial Bridge (which is nine years younger than the ballpark itself). In left field is what has become one of the iconic ballpark features in the Minors. Prior to the 2014 season, the River Bandits added a Ferris Wheel to their collection of amusement rides inside the park. The 110-foot-tall structure runs during games, as do other attractions like an old-time carousel, the Kidz Koaster and more.
Perhaps the most iconic association with Modern Woodmen Park is the mighty Mississippi beyond its outfield wall. Though at times a cranky neighbor when the river overflows its banks, the Mississippi has the effect of heightening the focus on the field before the thousands of fans who fill Modern Woodmen Park on summer nights with little in sight past the ballpark's boundaries aside from the bridge.
Seats stretch from first base around home plate and down the left field line in the ballpark's single-level seating bowl with suites one level higher ringing the infield, as well. Amusement rides abound in the left-field corner near the Ferris Wheel while a sizeable berm lies in front of it, just past the left-field wall. In addition to group and events space on the second level, more exists down the right-field line and beyond the outfield wall, sandwiched between the field and the river behind.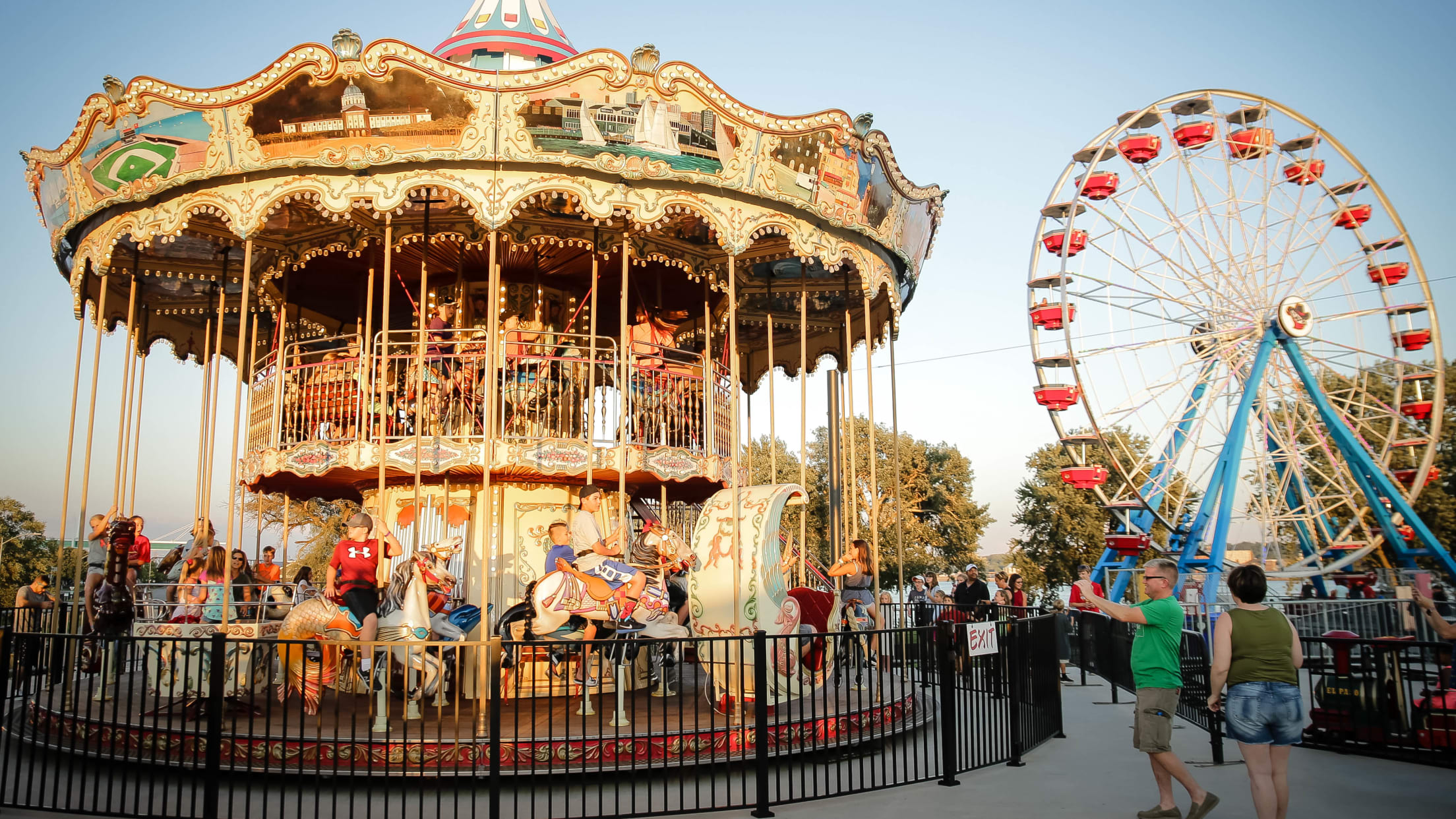 Concessions
In addition to standard ballpark fare like burgers, nachos, Philly cheesesteaks and more, the Bandits feature a Bandit Dog, a footlong hot dog wrapped in bacon, rolled in cheese and doused in chili. The team also features its own beer in tandem with Granite City Food & Brewery, and the River Bandits don't shy away from satisfying sweet tooth cravings with concessions stands dedicated to licorice and another to candied apples.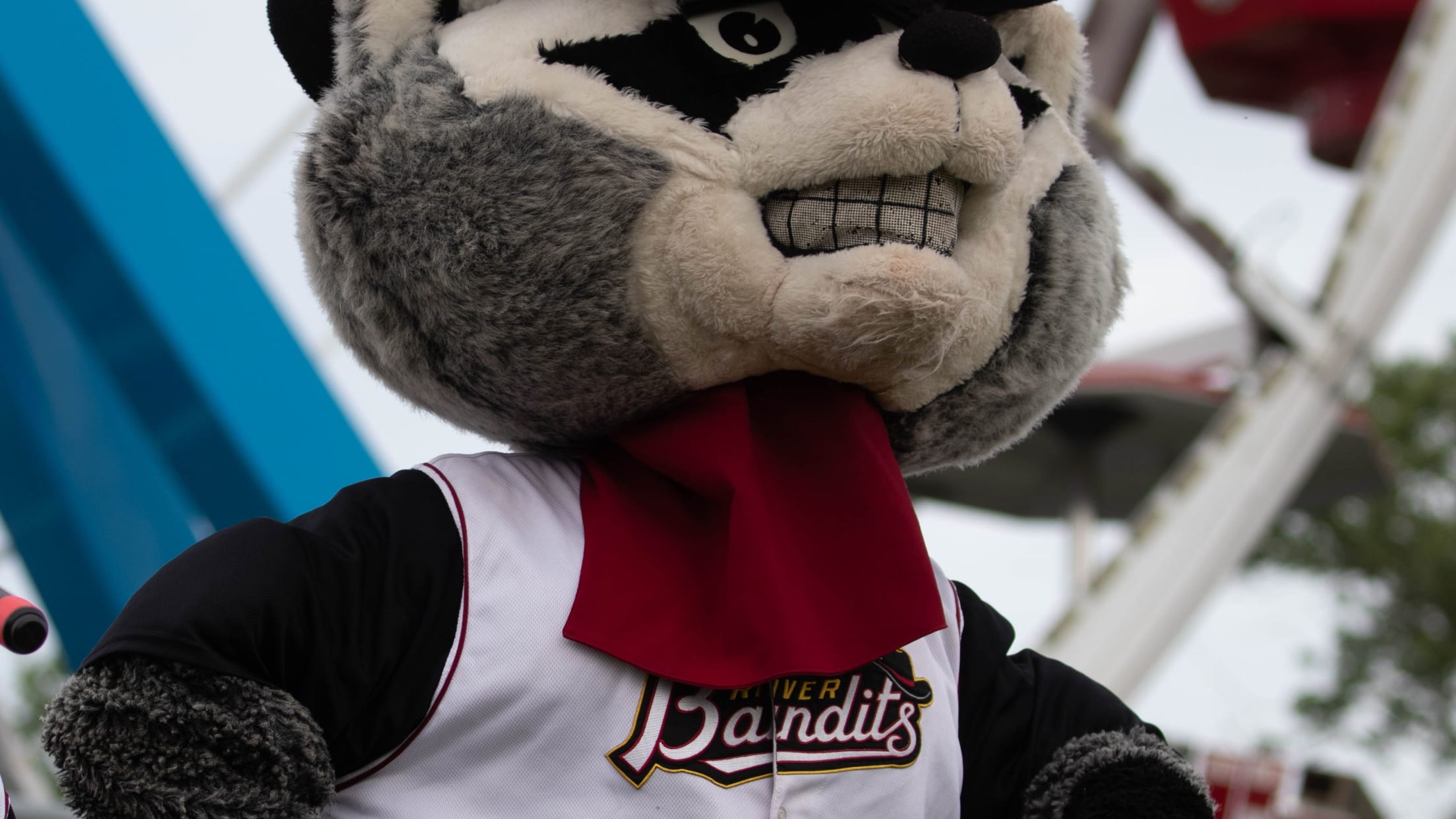 Mascots
The River Bandits have long sported nature's most recognizable masked mammal as the centerpiece of their logo. Their mascot is the same come to life. Rascal the Raccoon debuted with his team in 2008 after they changed their name back from being called the Swing of the Quad Cities for four years. These days, the big raccoon welcomes fans to Modern Woodmen Park while rocking the same hat and bandana he does in the River Bandits' logo.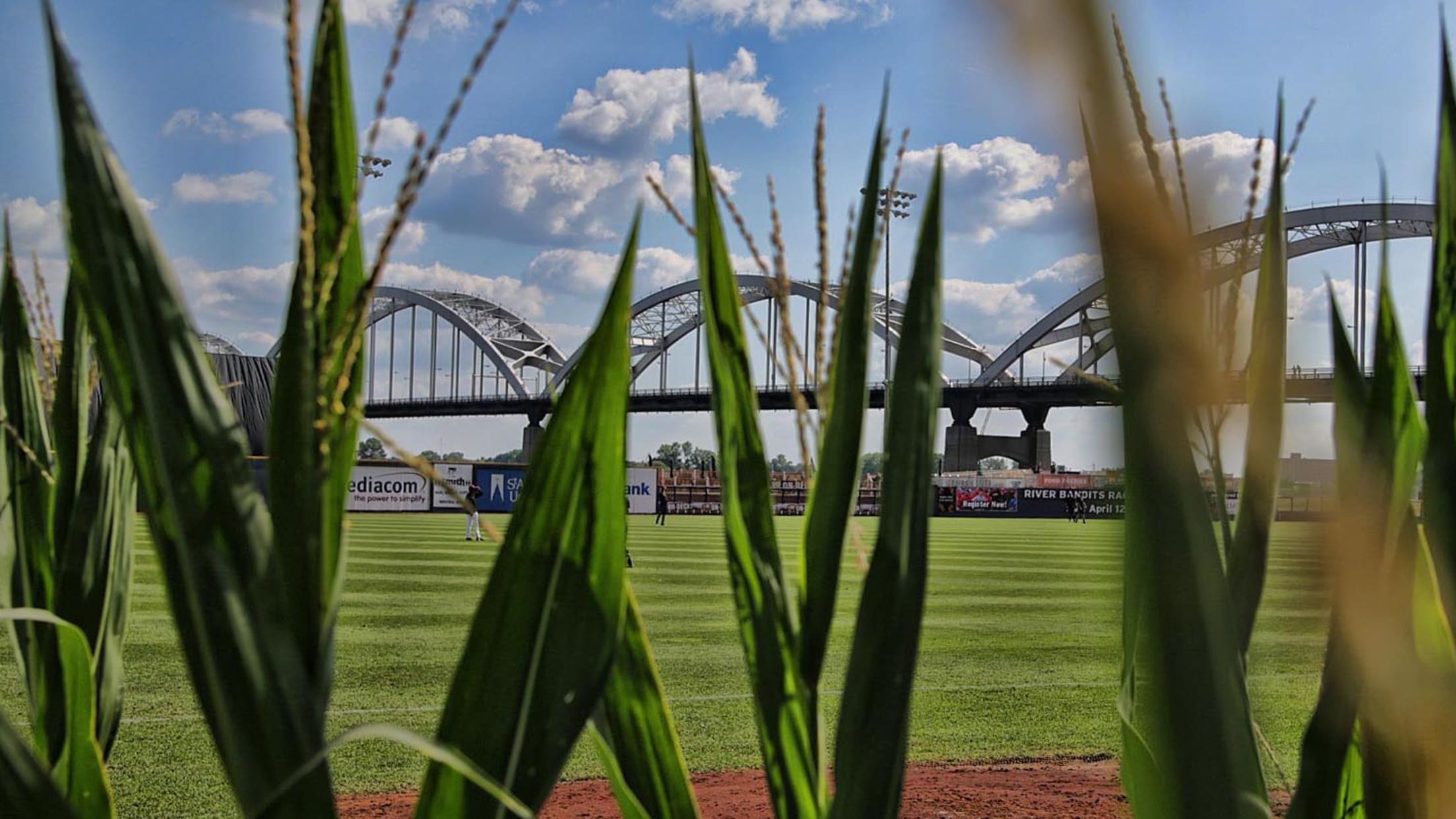 Where to Stay
Headed to the stadium and looking for a hotel nearby? Your Wyndham is waiting. As the Official Hotel of Minor League Baseball, Wyndham Hotels & Resorts welcomes baseball fans with a portfolio of 24 trusted brands. Find Hotels by Wyndham closest to the ballpark below and book now at wyndhamhotels.com.
• Days Inn & Suites by Wyndham Davenport East
• Ramada by Wyndham Bettendorf
• La Quinta Inn by Wyndham Davenport & Conference Center
• Isle Casino Hotel Bettendorf Trademark Collection by Wyndham
• Wyndham Moline on John Deere Commons
Local Attractions
The Figge Art Museum bills itself as "the premier art exhibition between Chicago and Des Moines" and includes collections of American, Haitian, Mexican Colonial art and more. Across the river in Moline is the John Deere World Headquarters, which offers factory tours. Less than an hour north of Davenport is Maquoketa Caves State Park, home to massive bluffs and a six-mile trail system that, as the name suggests, meanders through jaw-dropping natural caves and scenic overlooks. Roughly 50 minutes northwest of there is the Field of Dreams outside Dyersville, and an hour east of Dyersville (about 90 minutes north of Davenport) sits Galena, Illinois, once home to Union Civil War hero and 18th president of the United States, Ulysses S. Grant. Galena's picturesque and amazingly preserved historic downtown area stood in as Chisholm, Minnesota in Field of Dreams. A bit closer to Davenport, quaint LeClaire, Iowa is home to riverfront dining and drinking, a Buffalo Bill museum, boutique shops and more.
Food and Drink
To kick off a day in the Quad Cities, QC Coffee and Pancake House may come with a waiting list but also comes with legendary cinnamon rolls among its scrumptious breakfast options. Me & Billy slings cocktails, craft beers and "elevated bar fare" a short walk from Modern Woodmen Park. On the way there, stop at Front Street Brewery, Iowa's oldest brewpub, for a selection of craft brews or Barrel House for burgers and pub food. After a Bandits game, swing by legendary ice cream spot Whitey's (with locations all over the Quad Cities) or hit up Analog, a retro game-themed bar in a converted bank building. A little over an hour away, Timmerman's Supper Club in East Dubuque, Illinois has served some of the area's best meals since the 1960s.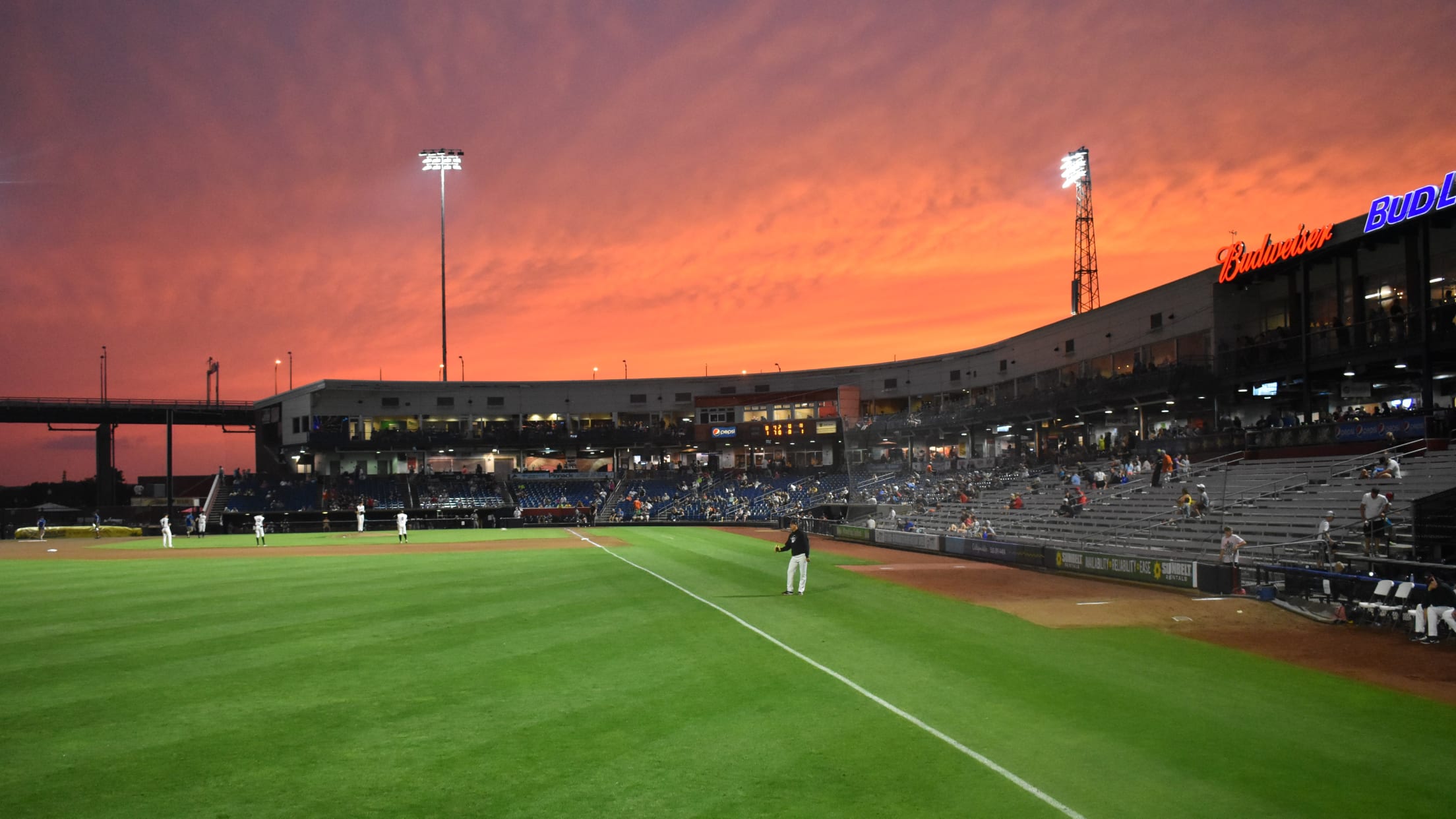 Moving On
The River Bandits' Midwest League mates aren't far away, beginning with a fellow Iowan franchise in the Cedar Rapids Kernels. The Peoria Chiefs are a short drive away in central Illinois with the Beloit Sky Carp and Wisconsin Timber Rattlers only a few hours northeast. Catching a Triple-A game isn't too much of a challenge, either, with the Iowa Cubs only two and a half hours west in the state capital of Des Moines.
The Road to Kansas City
Royals prospects arrive in Quad Cities from Single-A Columbia before heading back south for a tour through Double-A with Northwest Arkansas. Their final stop on the Minor League ladder is the closest to Kansas City, back in the Midwest at Triple-A Omaha.