5 reasons Red Sox prevailed over Rays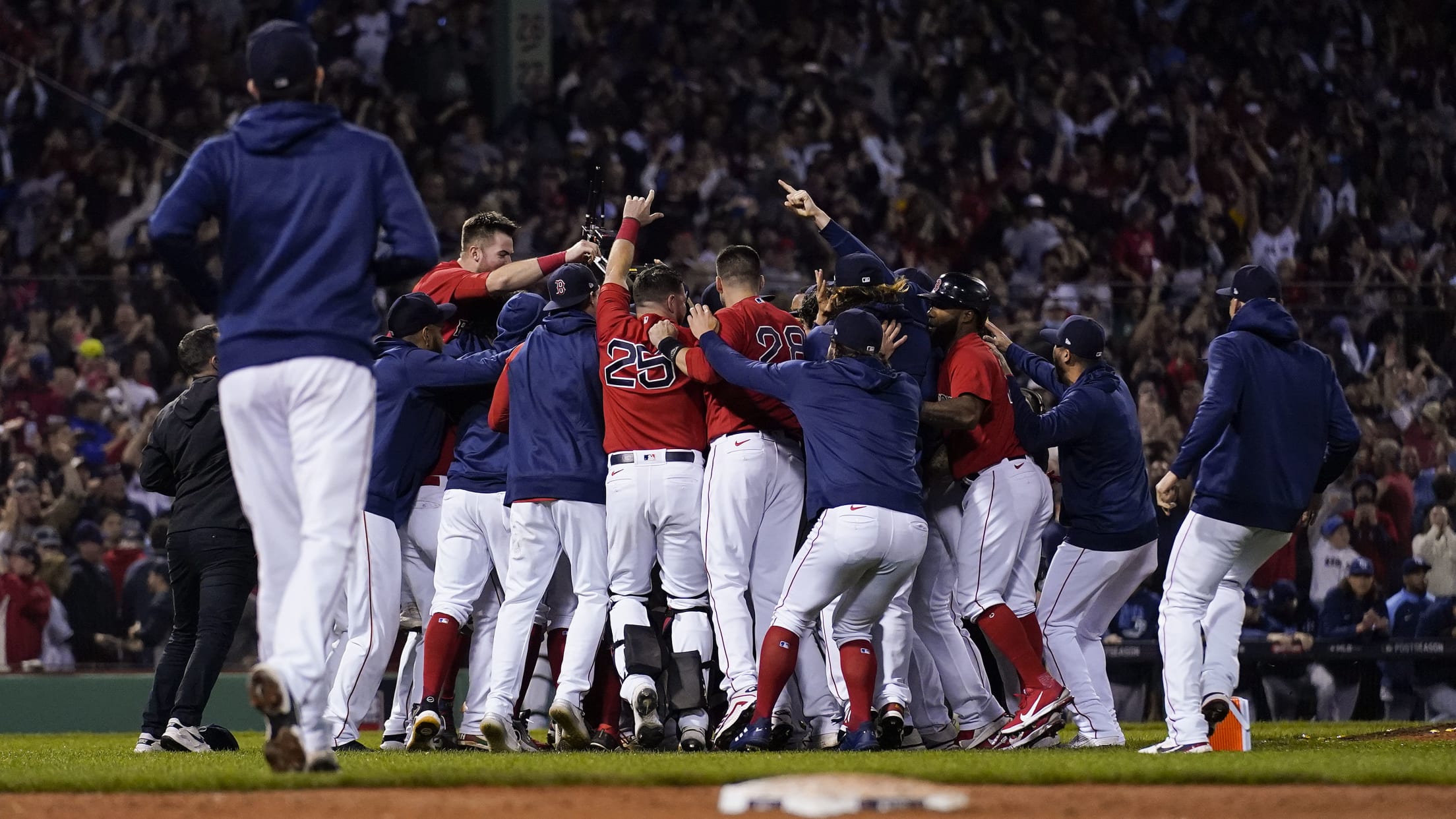 BOSTON -- Television cameras panned across the home dugout at Tropicana Field during the late innings of Game 1 of the American League Division Series on Thursday, capturing a glimpse of Randy Arozarena. The Rays wunderkind chomped gleefully on popcorn kernels, resting on the dugout steps to enjoy the show
Hernández walks off underdog Sox to ALCS
Cora: 'Not too many people gave us a chance from the get-go'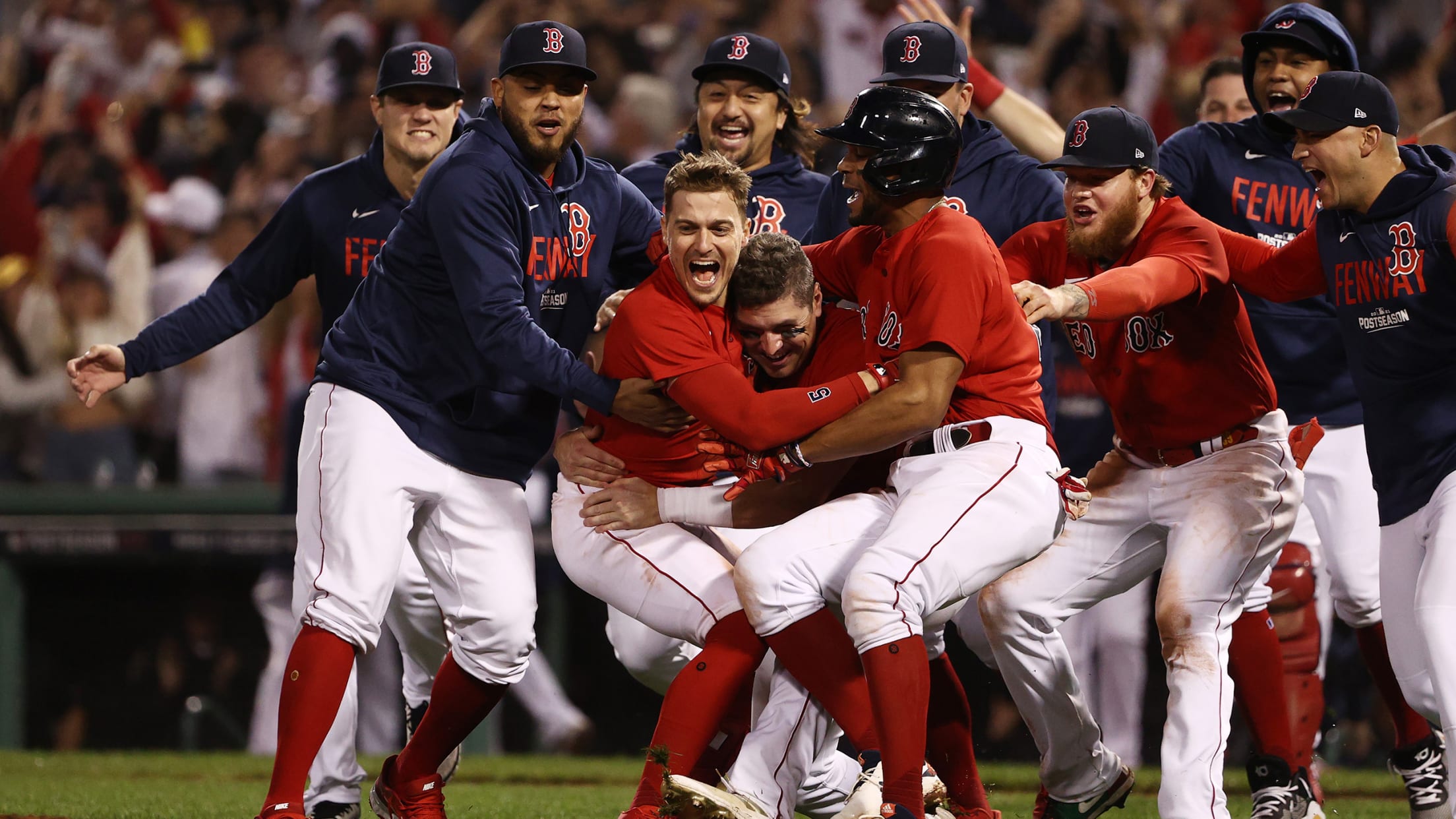 BOSTON -- Kiké Hernández had spent the better part of this American League Division Series tormenting the Tampa Bay Rays with one huge hit after another. But when it came time to put the finishing touches on his masterpiece and vault the Red Sox into the AL Championship Series while
How Boston fared vs. ALCS foes Astros in '21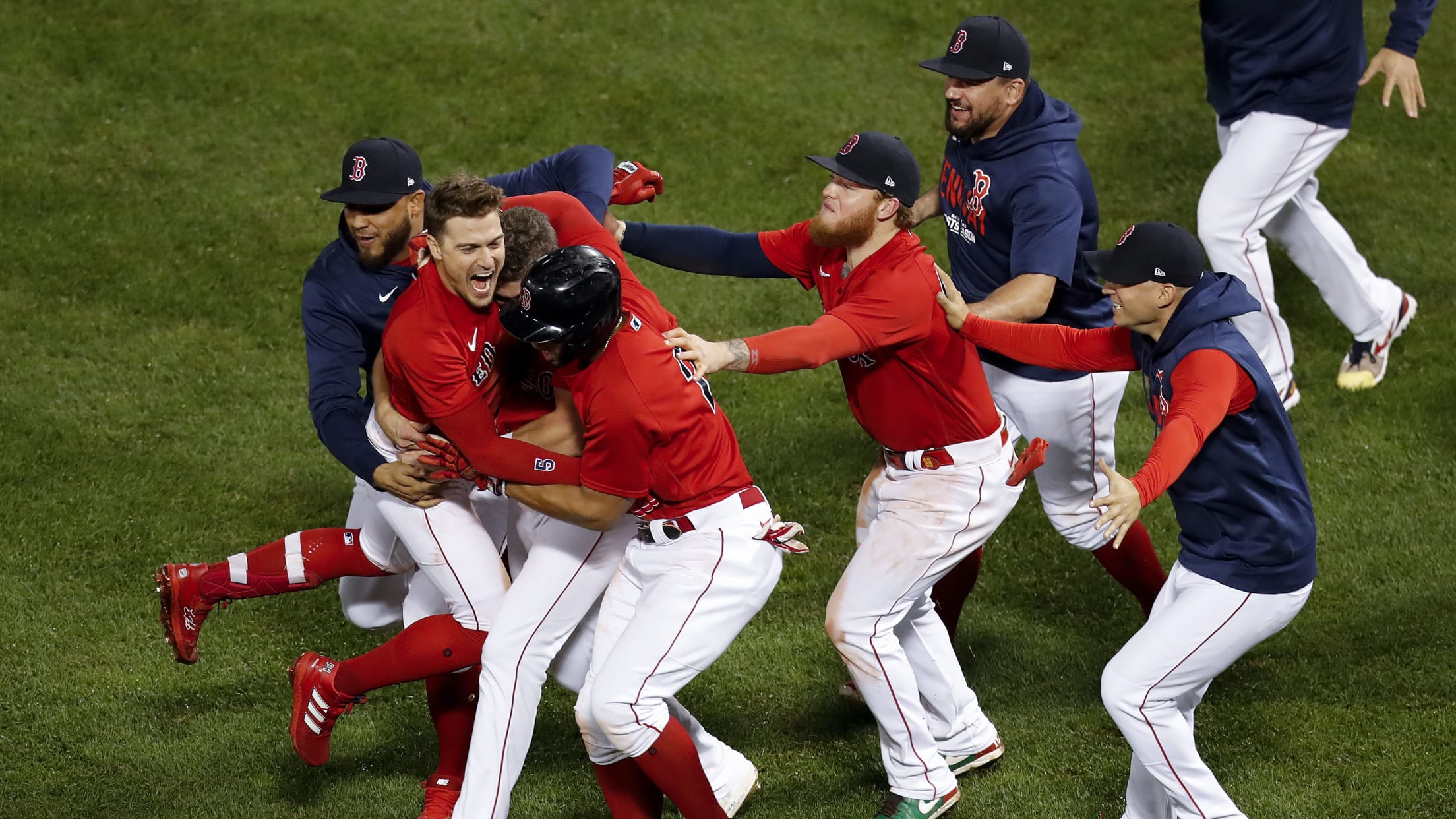 BOSTON -- As the Rays and Red Sox battled for a chance to play in the American League Championship Series, Houston and Chicago faced off halfway across the country looking for the same opportunity.
This Red Sox run looks a lot like '13 champs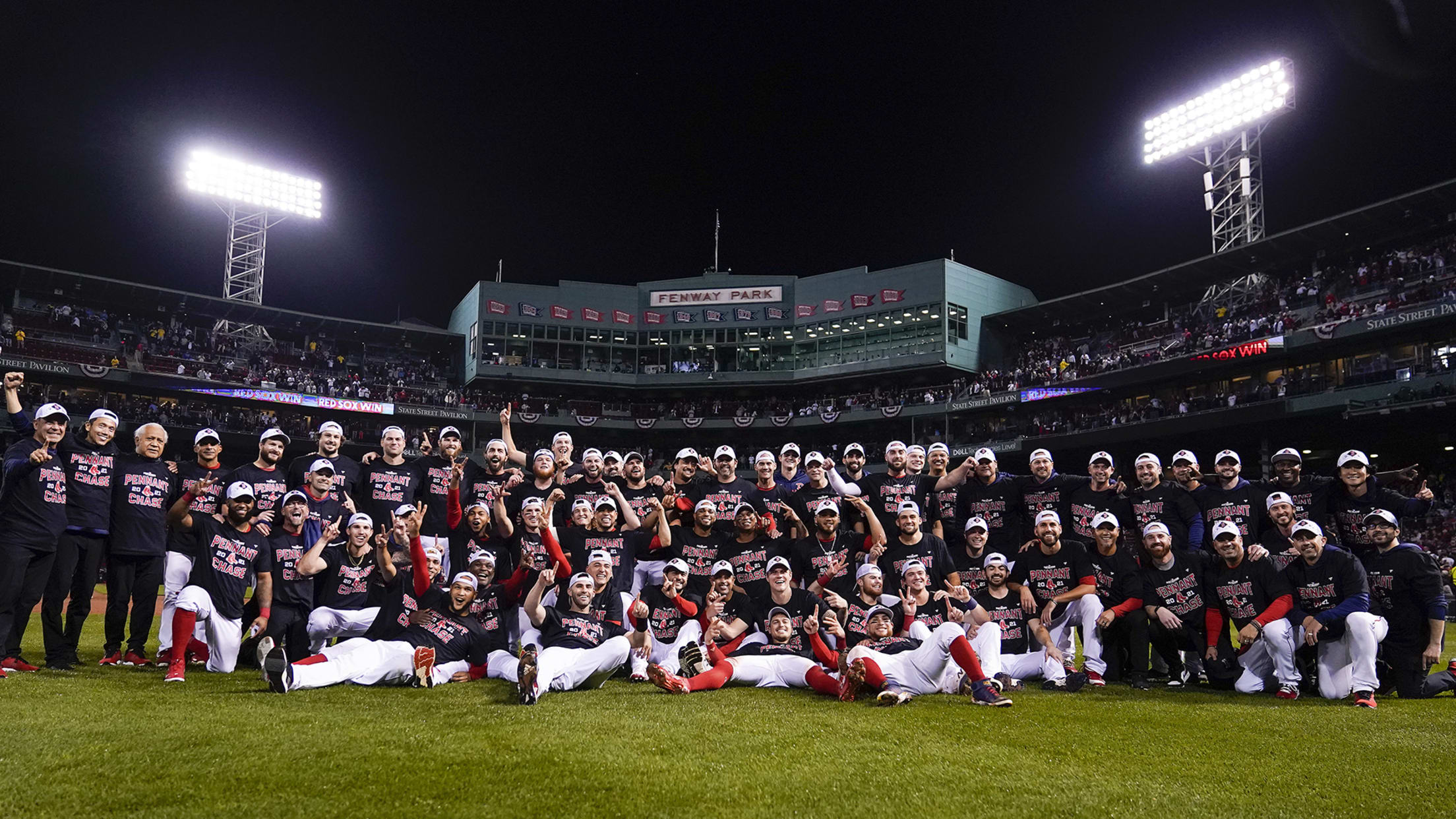 The last time the Red Sox made an improbable run from having finished last the season before to the top of the world, they also had to go through the Rays in a division series. They won that one in four games, the same as they did Monday night. The
'He's a special kid': Devers ignites offense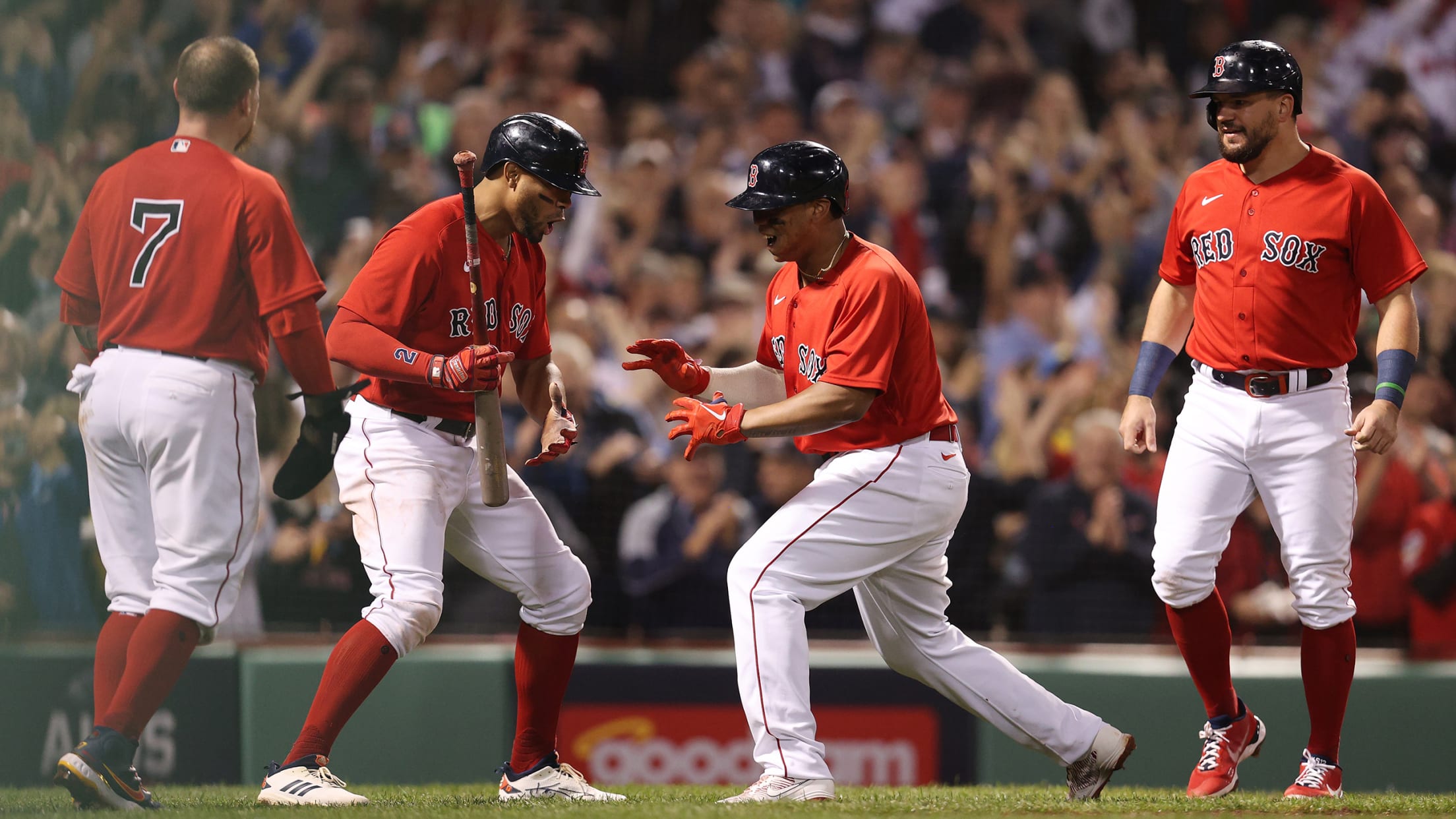 BOSTON -- Three innings into the decisive Game 4 of the American League Division Series at Fenway Park on Monday night, the Rays and Red Sox were knotted at zero. When Rafael Devers stepped to the plate, there were a combined two hits between both teams. With two men on
Cash on McClanahan: 'Just didn't go our way'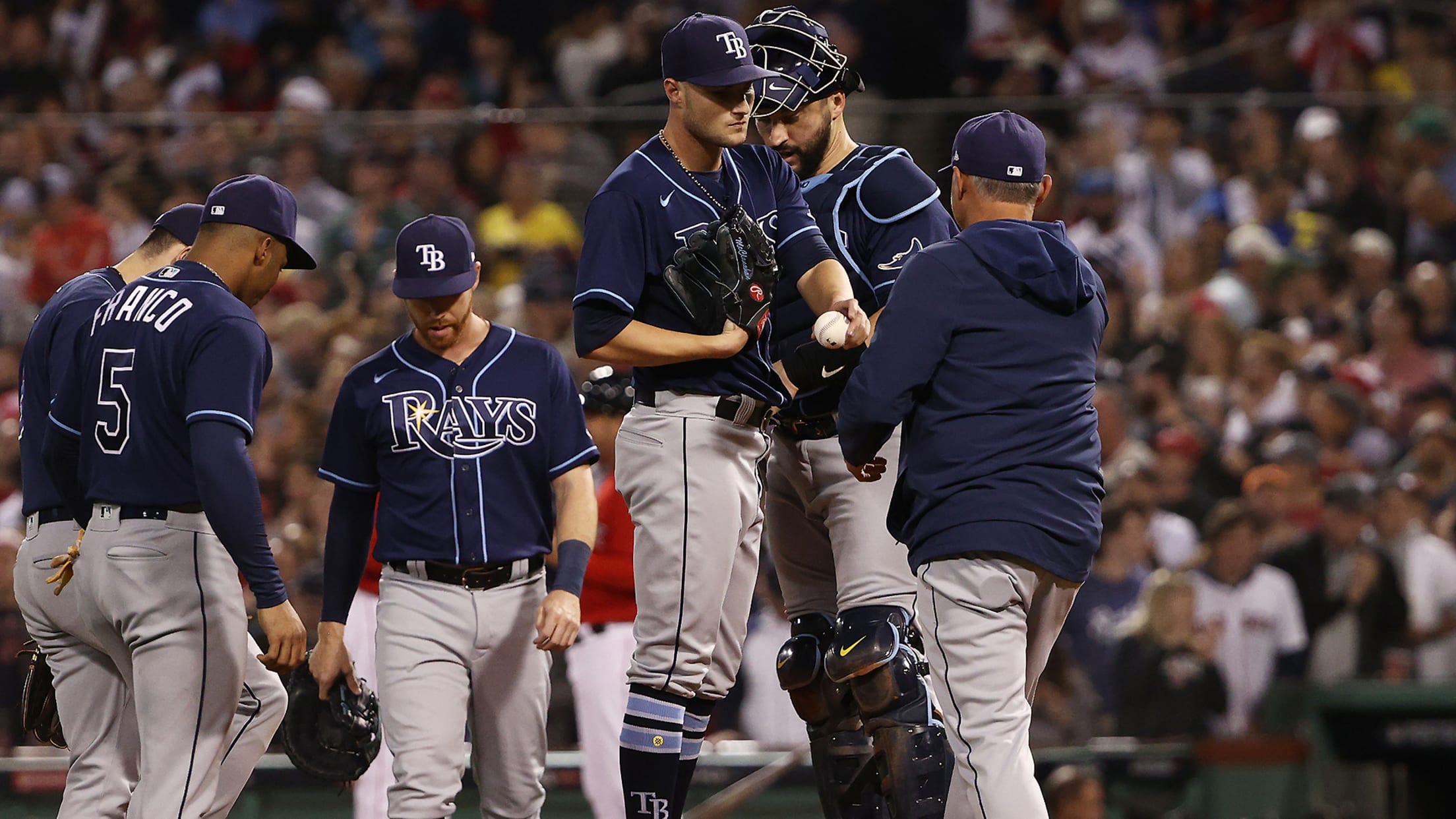 BOSTON -- A few hours before Game 4 of the American League Division Series on Monday, manager Kevin Cash said the elimination game would truly be an "all-hands-on-deck" situation for the Rays' pitching staff. He proved it in the third inning, summoning Game 1 starter Shane McClanahan as Tampa Bay's
Kiermaier nails Verdugo late in Game 4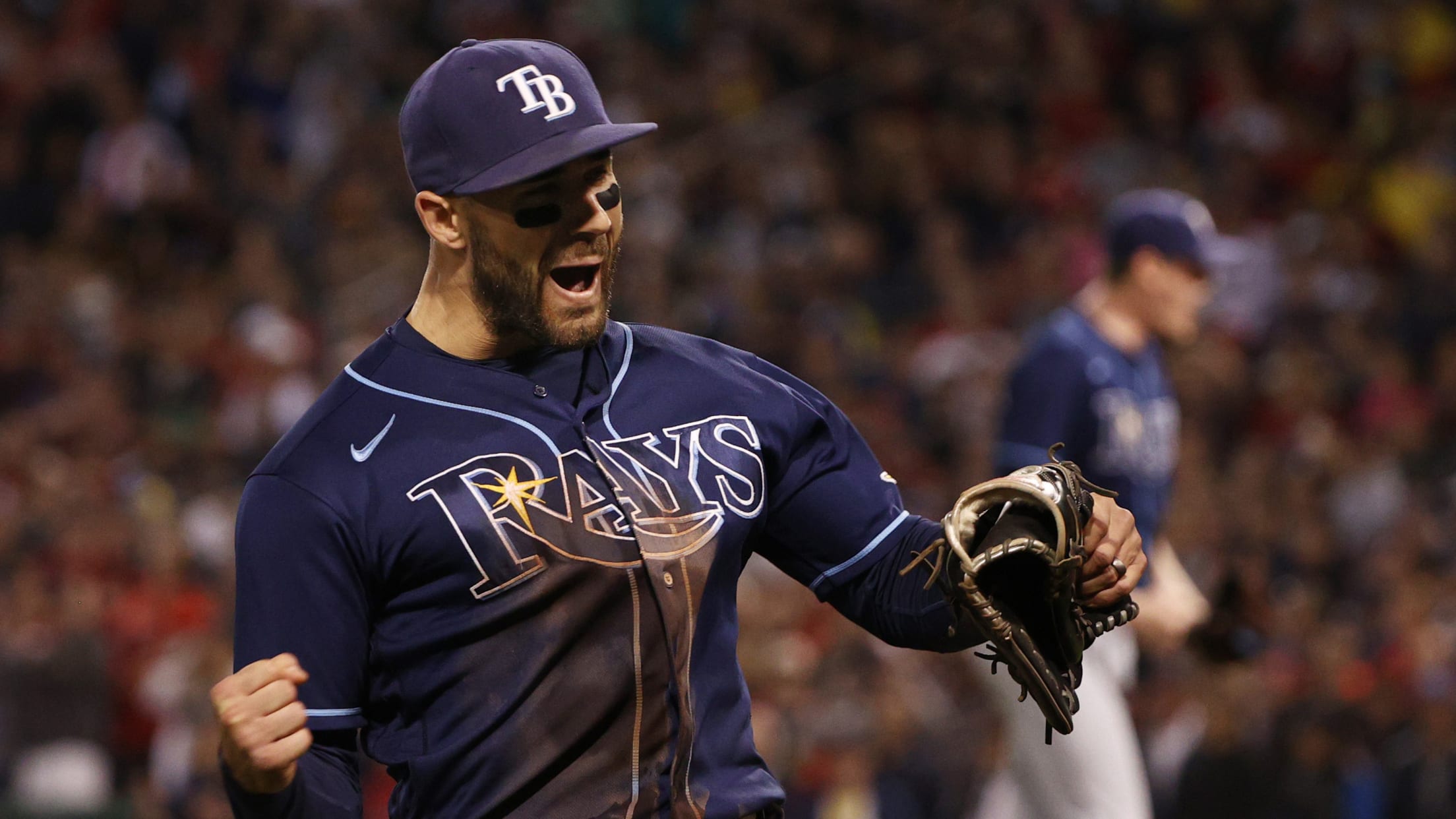 BOSTON -- For a brief moment, the Rays were positive they were going to force the Red Sox to pack up and head back to Tropicana Field to play Game 5 of the American League Division Series. Just moments before Boston broke out the champagne after a 6-5 walk-off victory
Rays' season ends in heartbreak at Fenway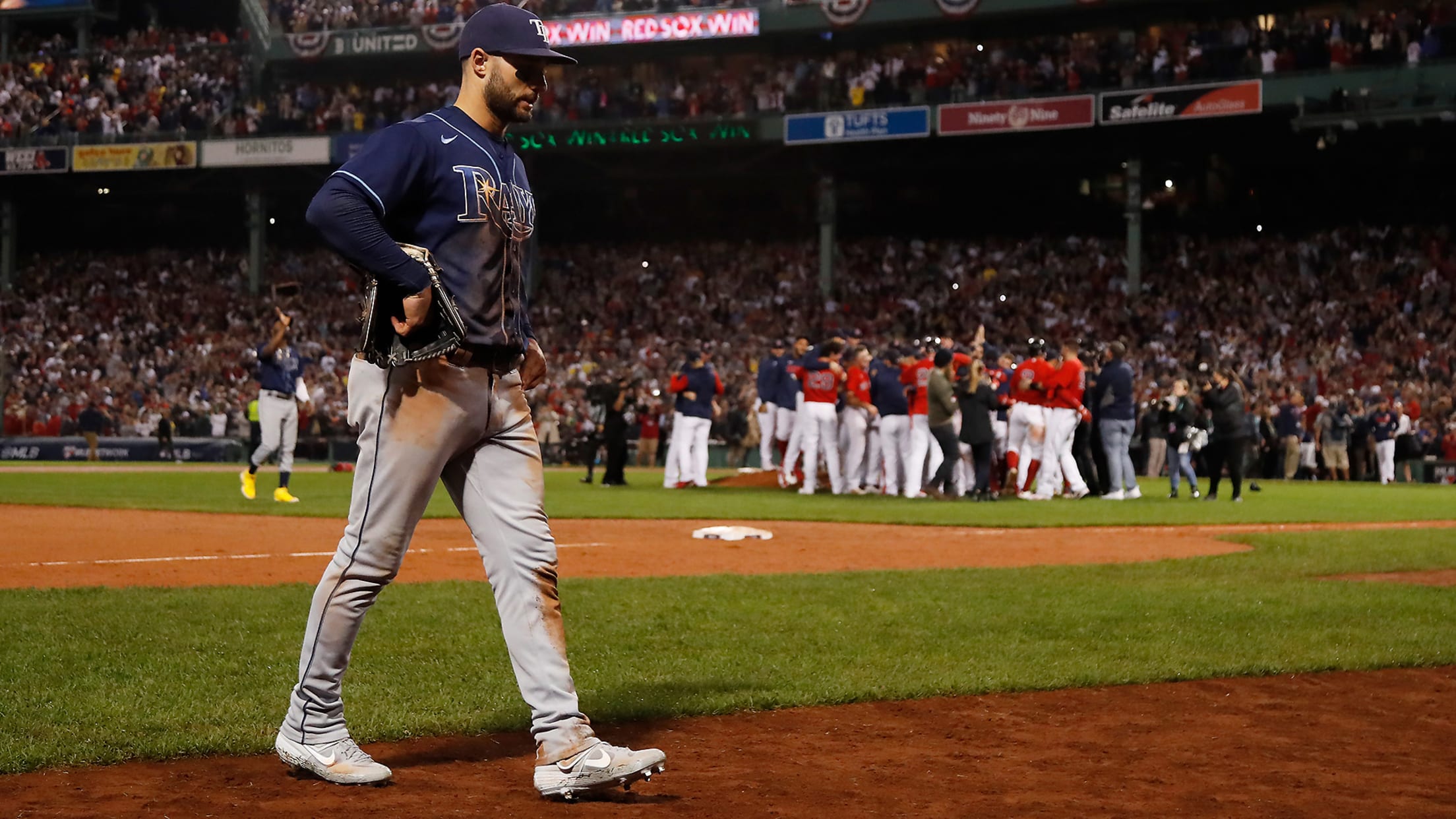 BOSTON -- The moment last season ended, with the Dodgers celebrating their six-game World Series victory at Globe Life Field as the Rays watched from the dugout, Tampa Bay set its sights on nothing short of a championship this year. The six months of the regular season -- all the
Rays know they've 'got a great thing going'
Disappointing finish to '21 won't be end of story for deep, youthful club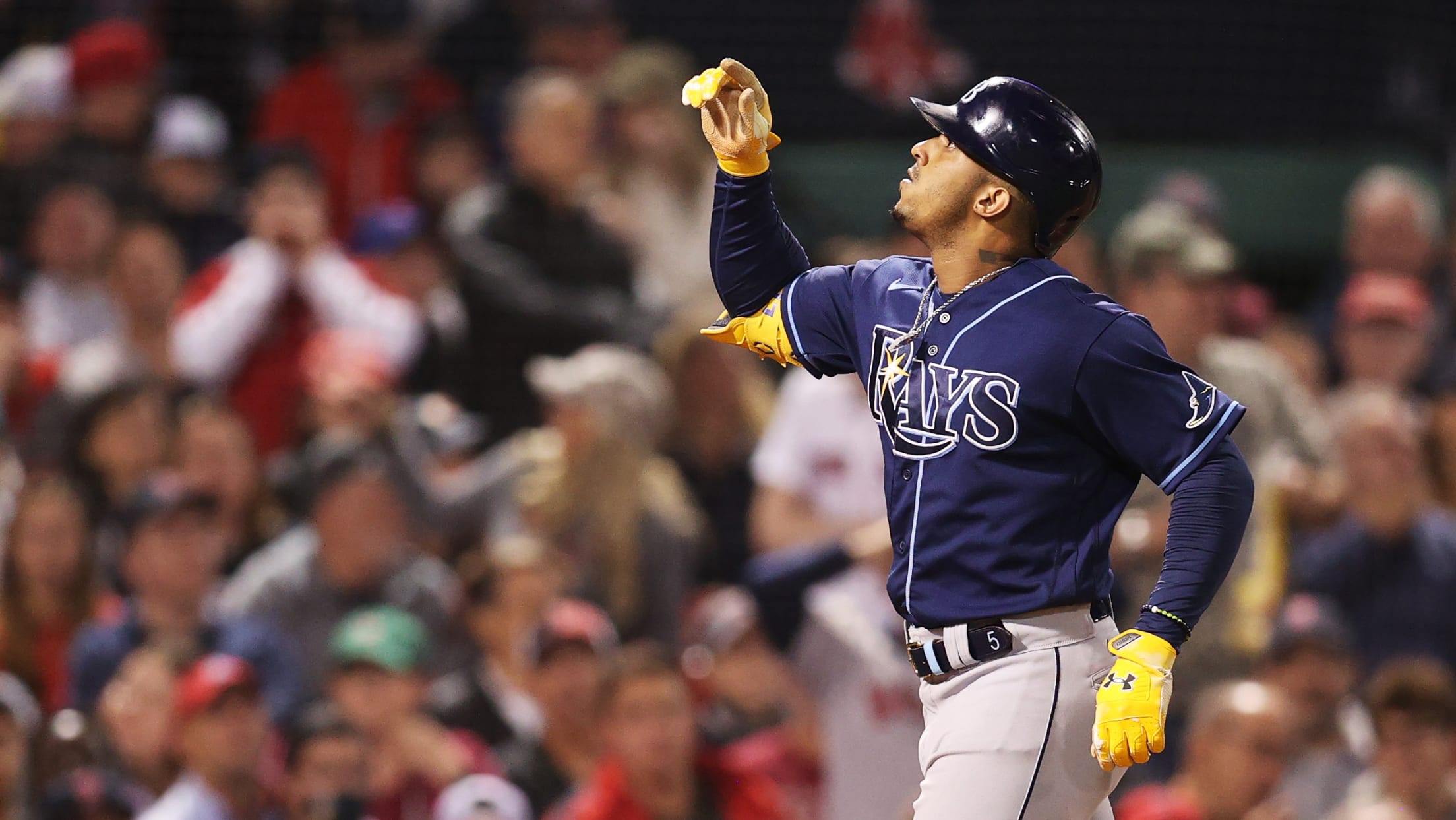 BOSTON -- A first-round elimination wasn't how the Rays imagined their 2021 postseason experience going. But despite the outcome, center fielder Kevin Kiermaier couldn't focus on anything but the bright future. "It just wasn't our time, but the winning way, it's going to continue here," Kiermaier said. "There's just too
E-Rod's 17-pitch K of Meadows sets record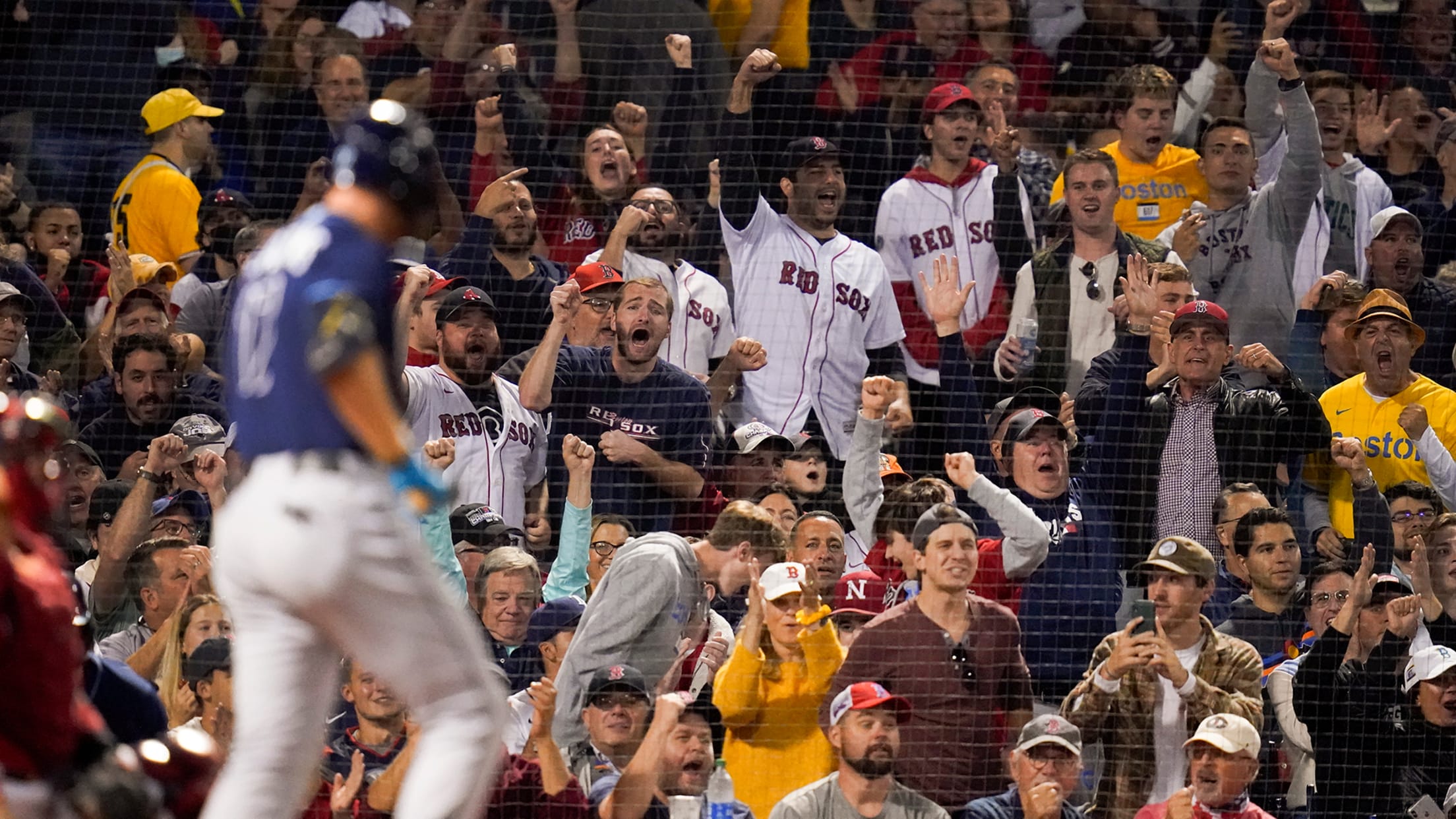 Eduardo Rodriguez entered the fourth inning of the Red Sox's 6-5 victory over the Rays in Game 4 of the American League Division Series without having allowed a baserunner, but it wasn't as easy for him as you might think. The Sox left-hander won an unprecedented 17-pitch battle with Austin
Red Sox erupt with 5-run third inning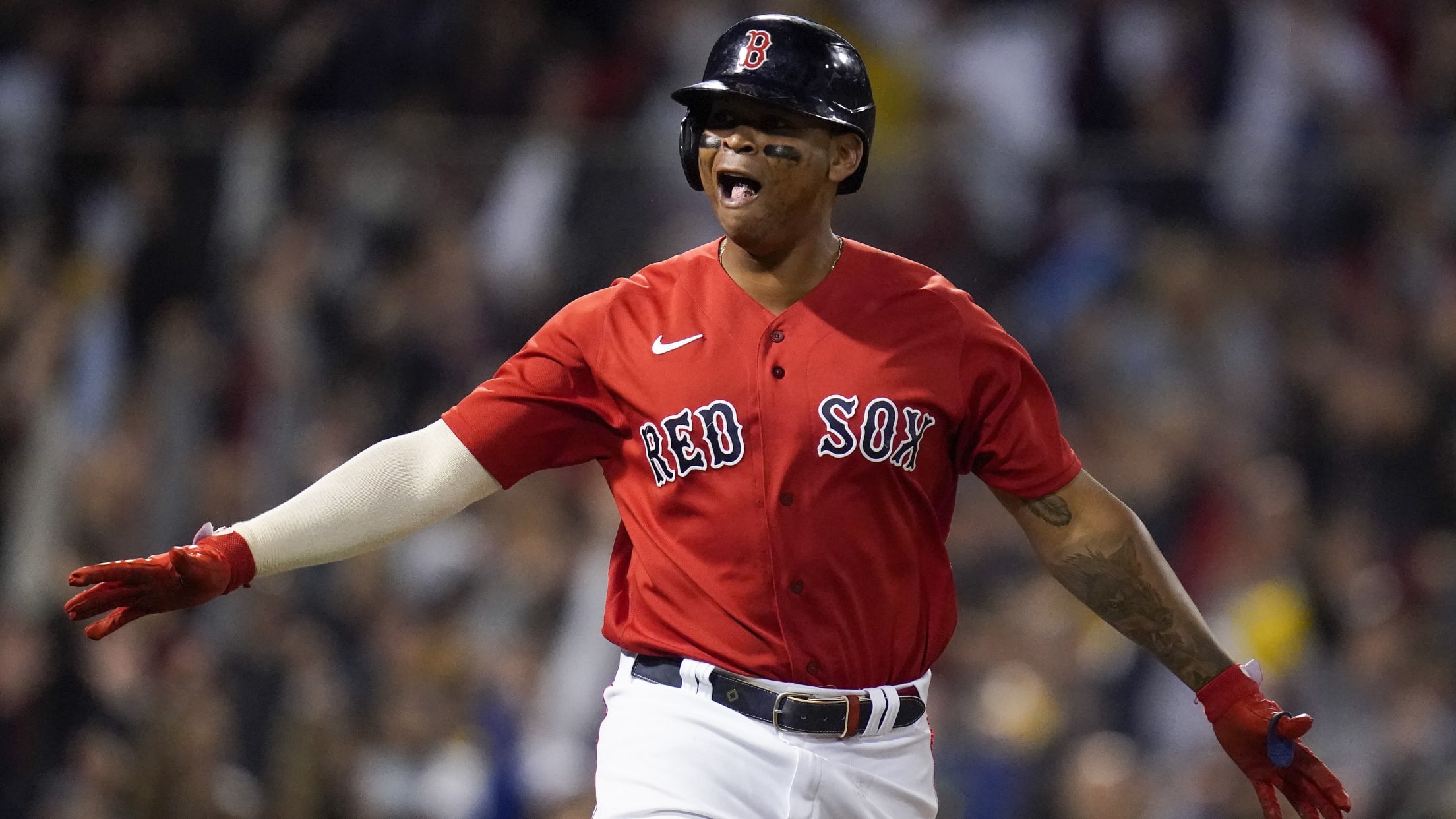 BOSTON -- Rays manager Kevin Cash brought in lefty Shane McClanahan, his expected starter for Game 5 of the American League Division Series, to start the third inning of Game 4 on Monday, and the Red Sox immediately made sure Cash's plans backfired, scoring five two-out runs -- sparked by
Rays empty 'pen: Who's left for Game 4?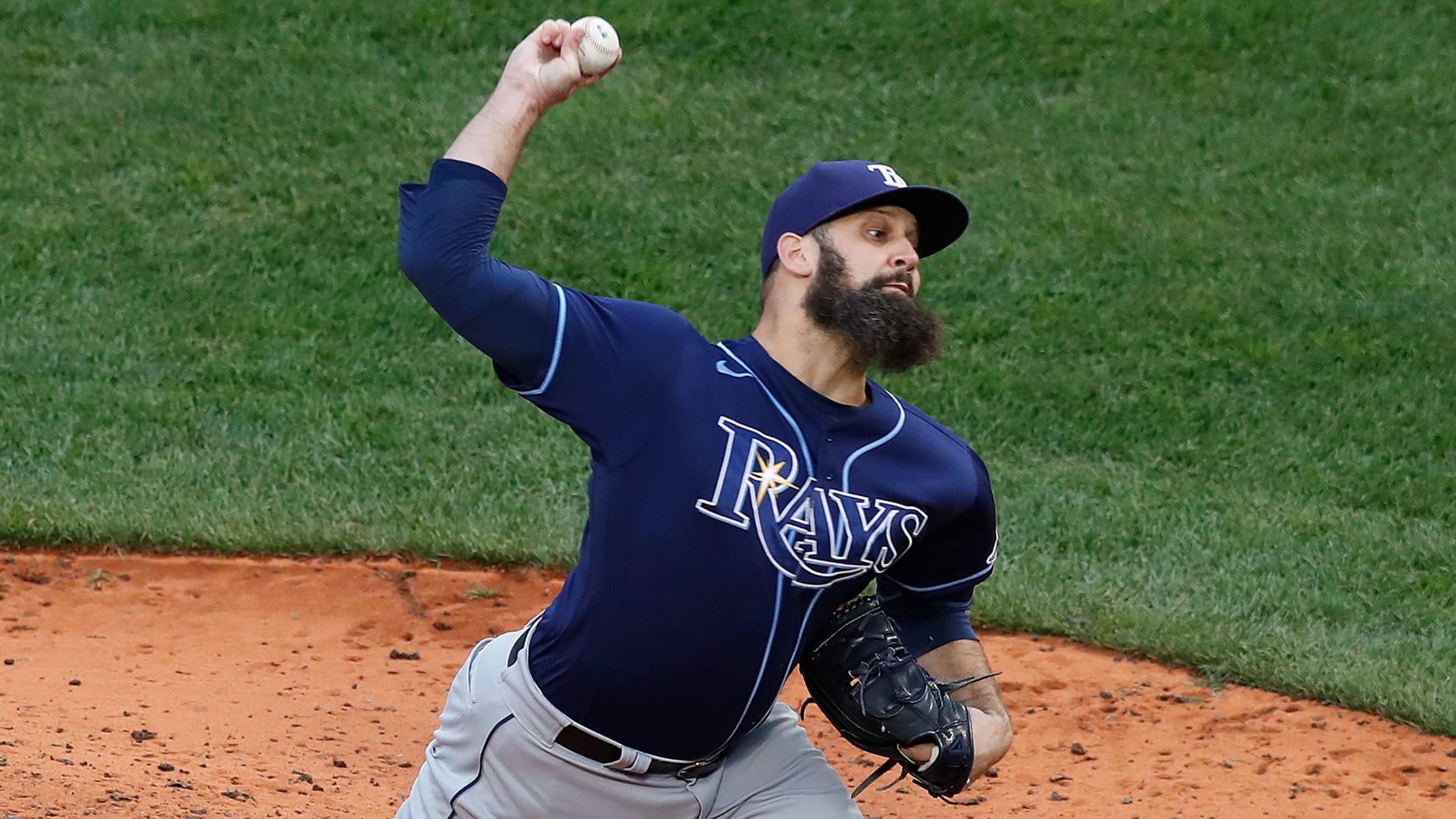 BOSTON -- The Rays were going to have to make some decisions about who was going to work their bullpen game on Monday regardless of the outcome of Sunday evening's game. But now, making those plans is going to be a lot more difficult. Tampa Bay used nine pitchers in
Rays-Red Sox G4 lineups, FAQ (7 ET, FS1)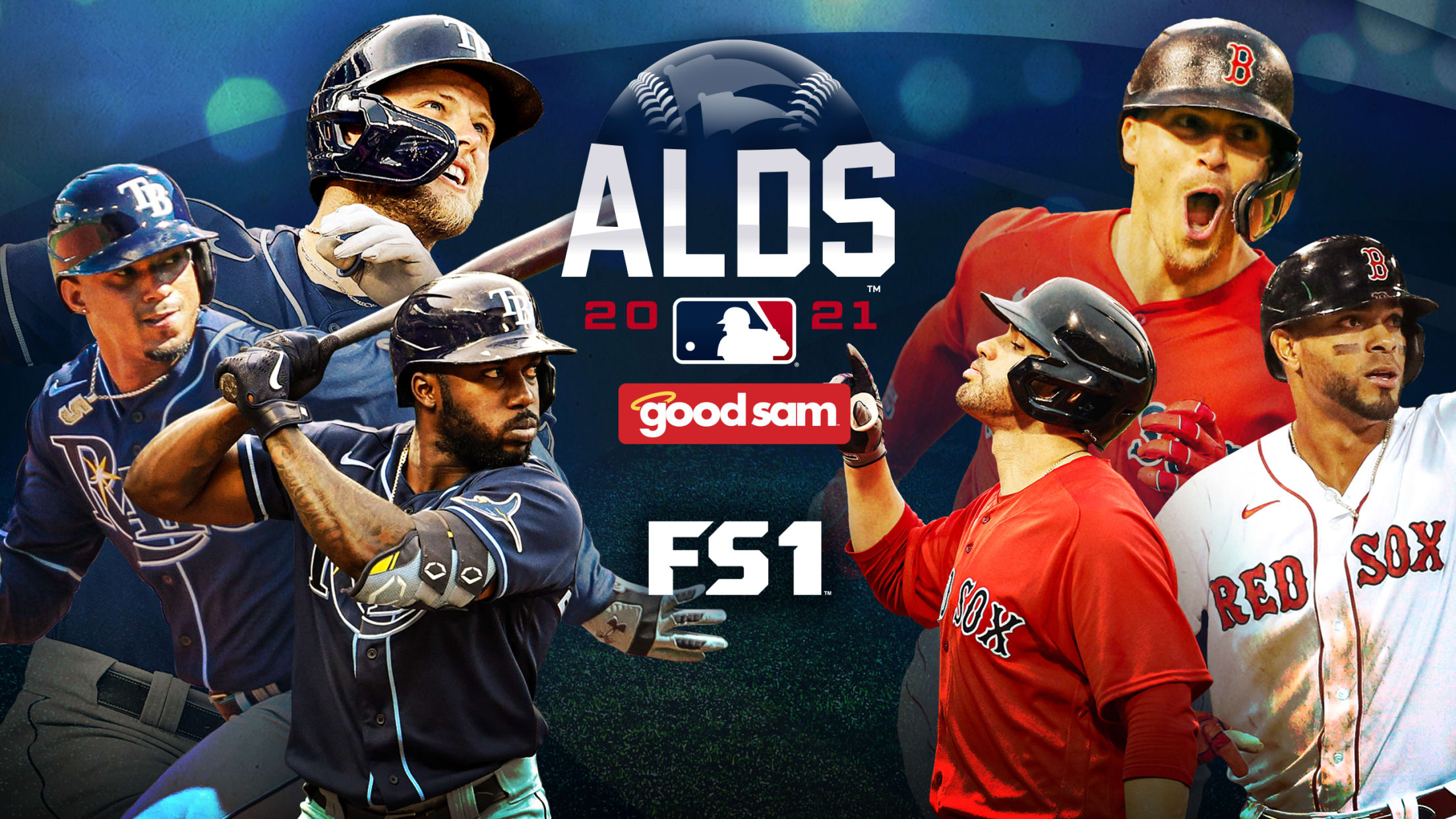 BOSTON -- The ingredients are there for another zany Fenway Park endeavor in Monday's Game 4 of the American League Division Series. On a day for celebration in the greater Boston area, the Rays and Red Sox will return to the scene of Sunday's 13-inning epic, each with designs upon
Umpires explain quirky ground-rule double
BOSTON -- Kevin Kiermaier rounded third base, learned what had happened out near the right-field bullpens, then threw his hands into the air. So had the umpires, signaling a ground-rule double -- one of the strangest seen yet at Fenway Park, a century-old venue of nooks and crannies where odd
Rays face elimination, drop Game 3 in 13th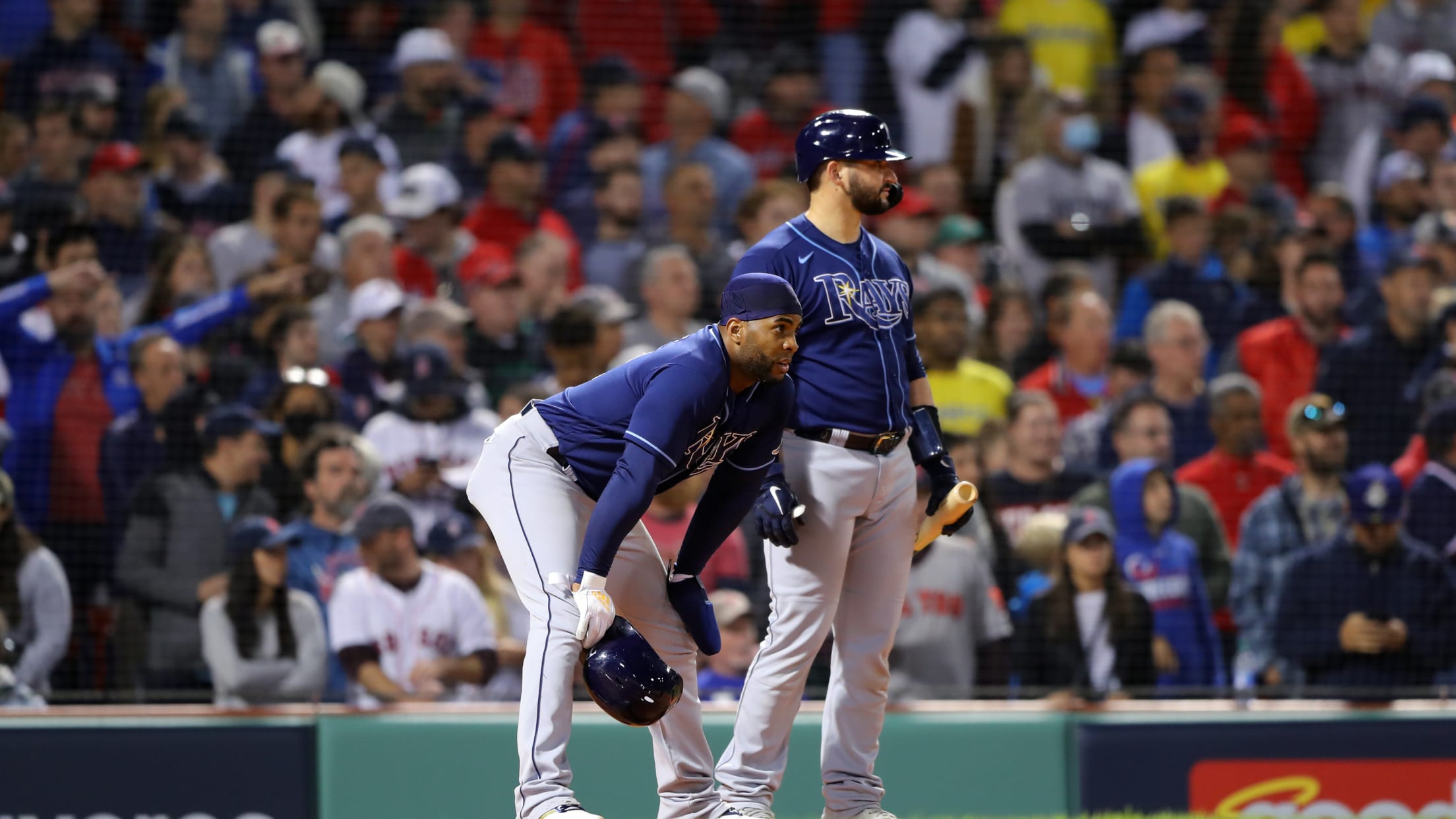 BOSTON -- The Rays have been here before: backs against the wall, their season on the line. They just didn't expect to be back so soon. After a 100-win season, the defending American League champions entered the playoffs set on winning the franchise's first World Series title. That has been
Schwarber fields grounder, sells the reaction
'It's a game. Like, you've got to be able to laugh at yourself'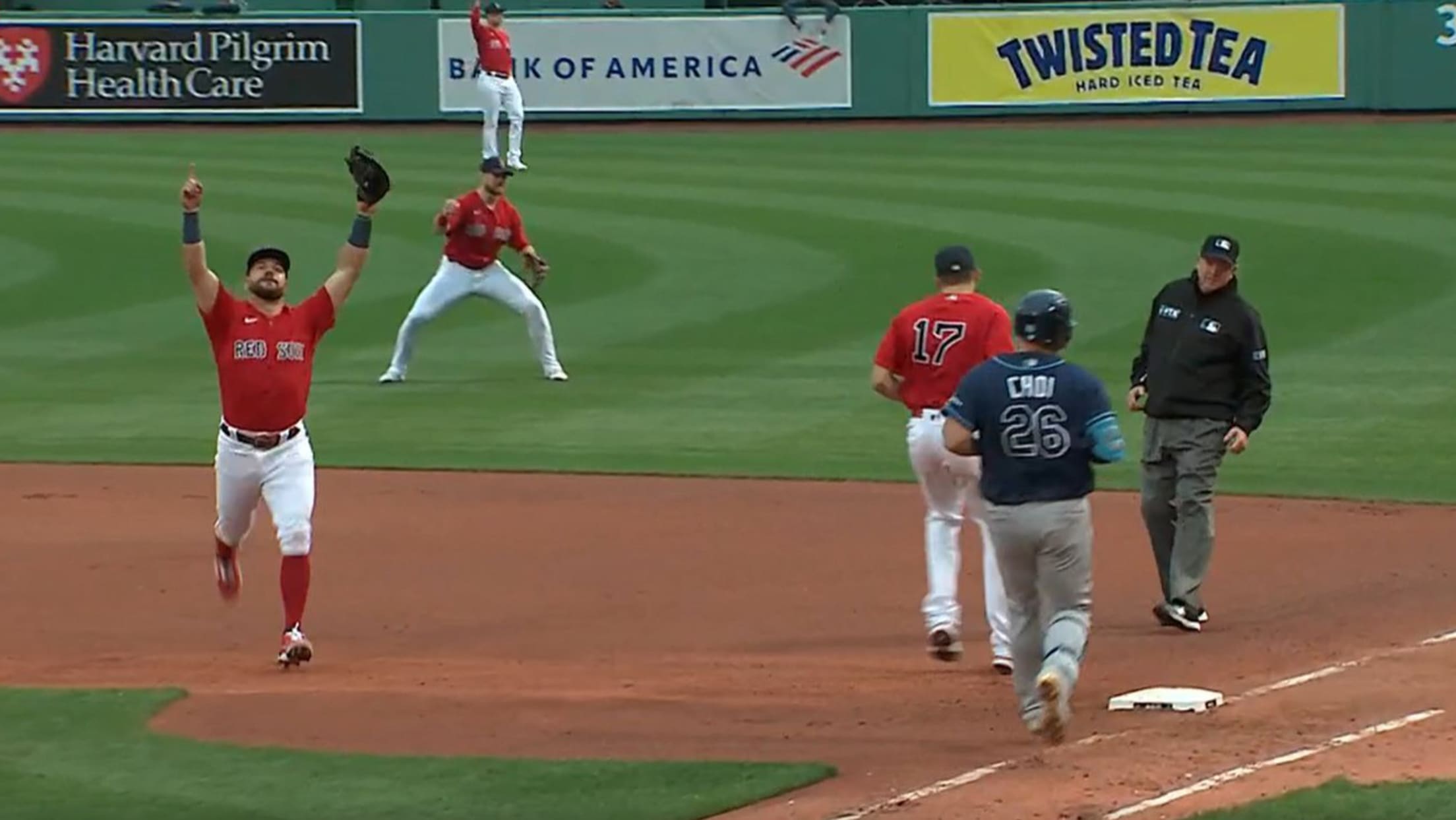 BOSTON -- You've seen a player tip their cap to the crowd after a diving catch or a leaping grab. But how about a first baseman getting an ovation after flipping the ball to his pitcher on a grounder to first? In the Red Sox's 6-4, 13-inning win over the
Kiké homers for historic 7th straight hit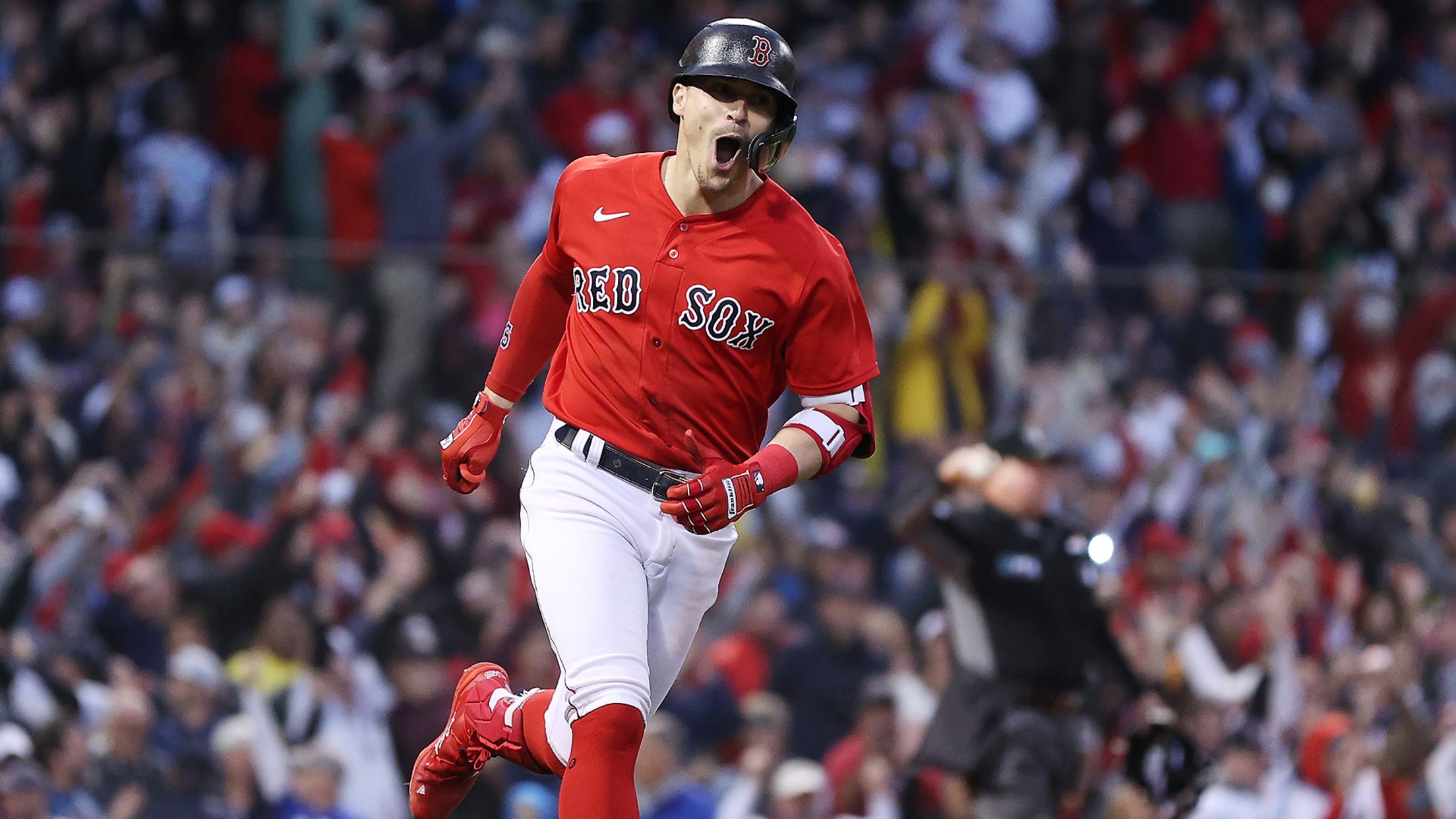 BOSTON -- It's difficult to follow a 5-for-6, three-run, three-RBI night in a postseason game. Kiké Hernández was up for the challenge.
Vázquez's walk-off HR ends thrilling classic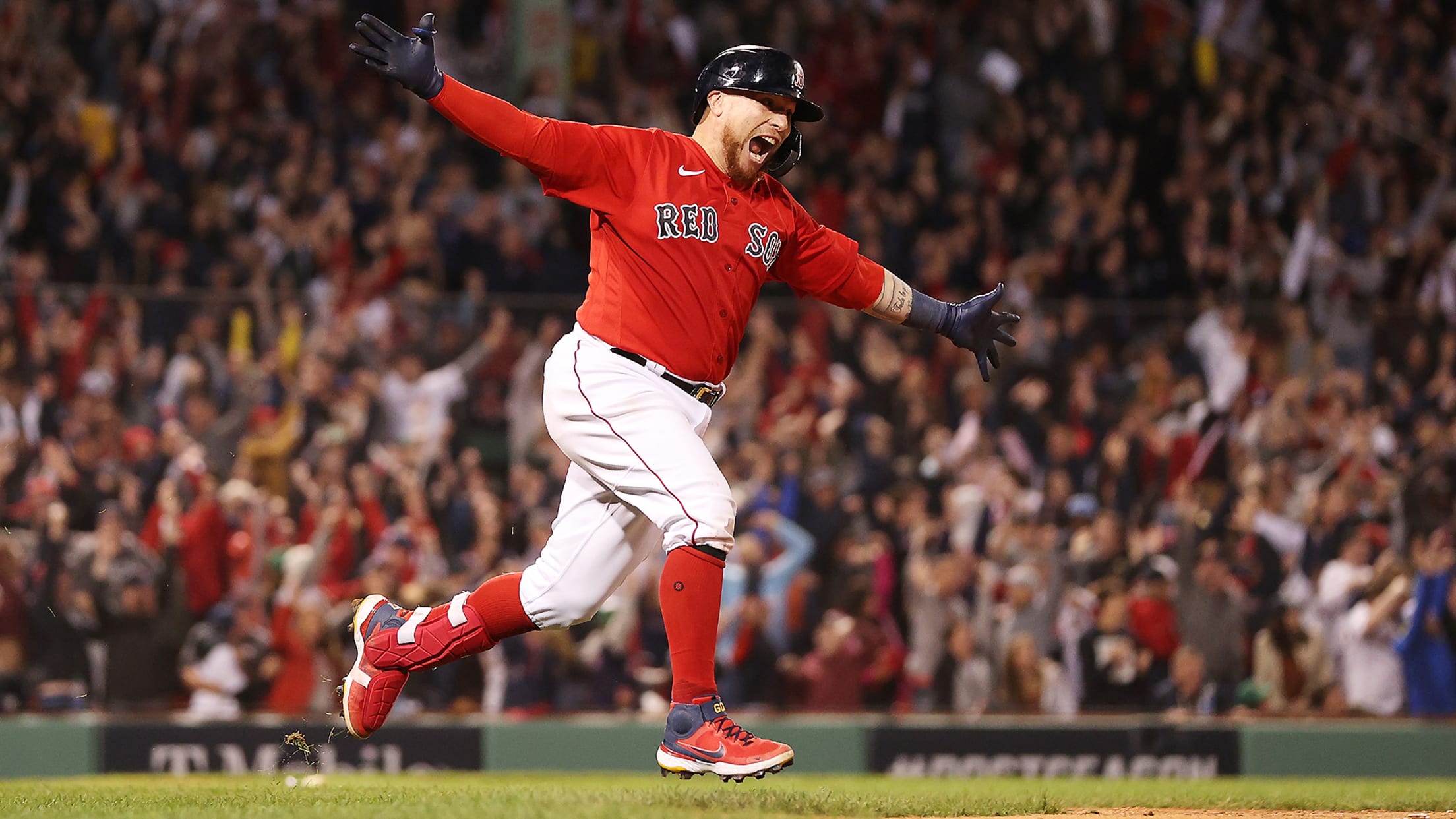 BOSTON -- The Red Sox are now holding the hammer in this American League Division Series against the Rays. And all it took for them to get there was a five-hour, 14-minute classic on Sunday that included wild swings of momentum, a quirky, game-saving ground-rule double you might never see
E-Rod to start G4 after Pivetta's G3 heroics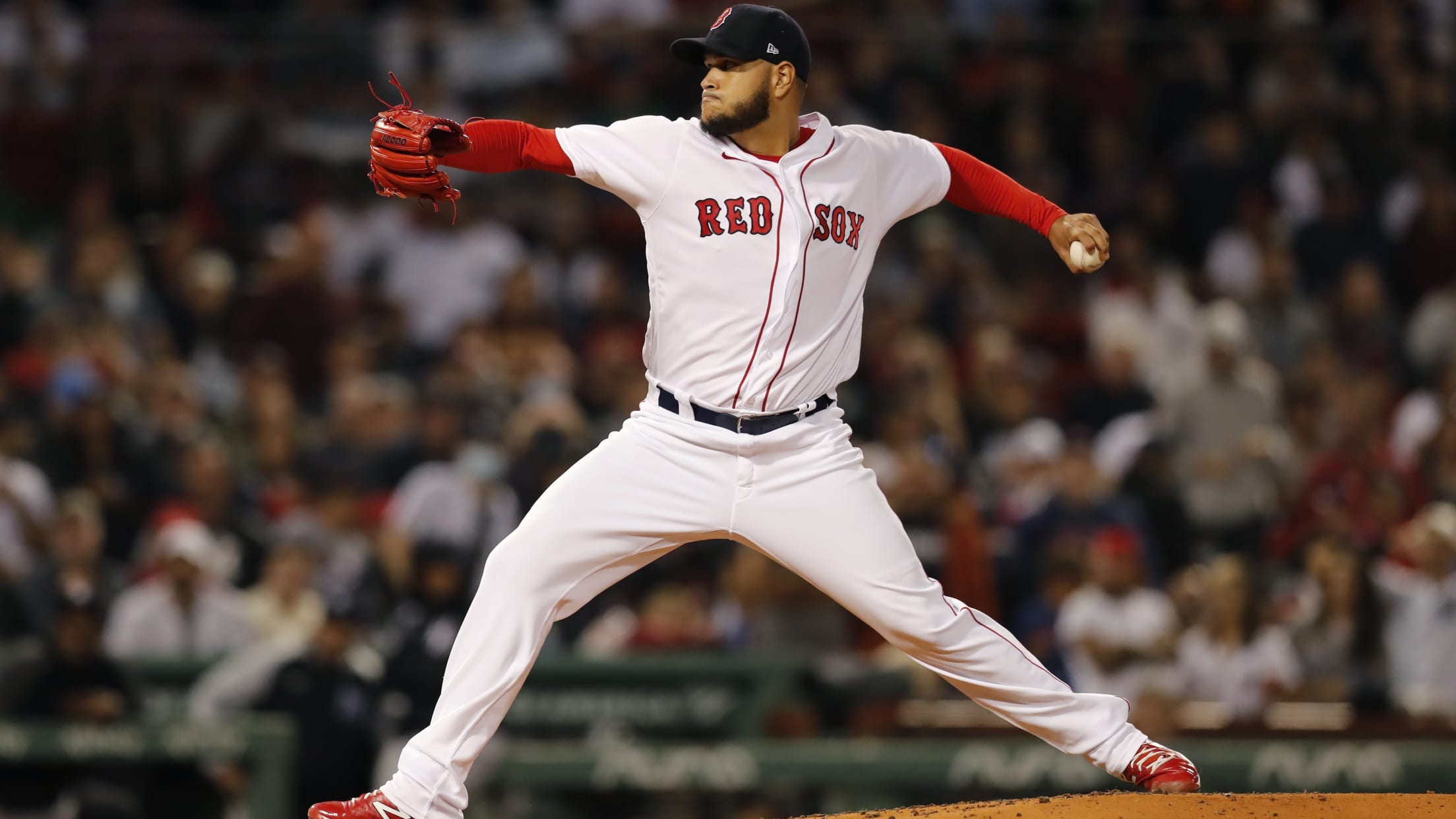 BOSTON -- Plan A for Red Sox manager Alex Cora was to hold Nick Pivetta out of Sunday's Game 3 of the American League Division Series against the Rays so he could hand the ball to the righty for a start in Game 4 on Monday.
Notes: Wisler; Lowe loves Fenway; Patiño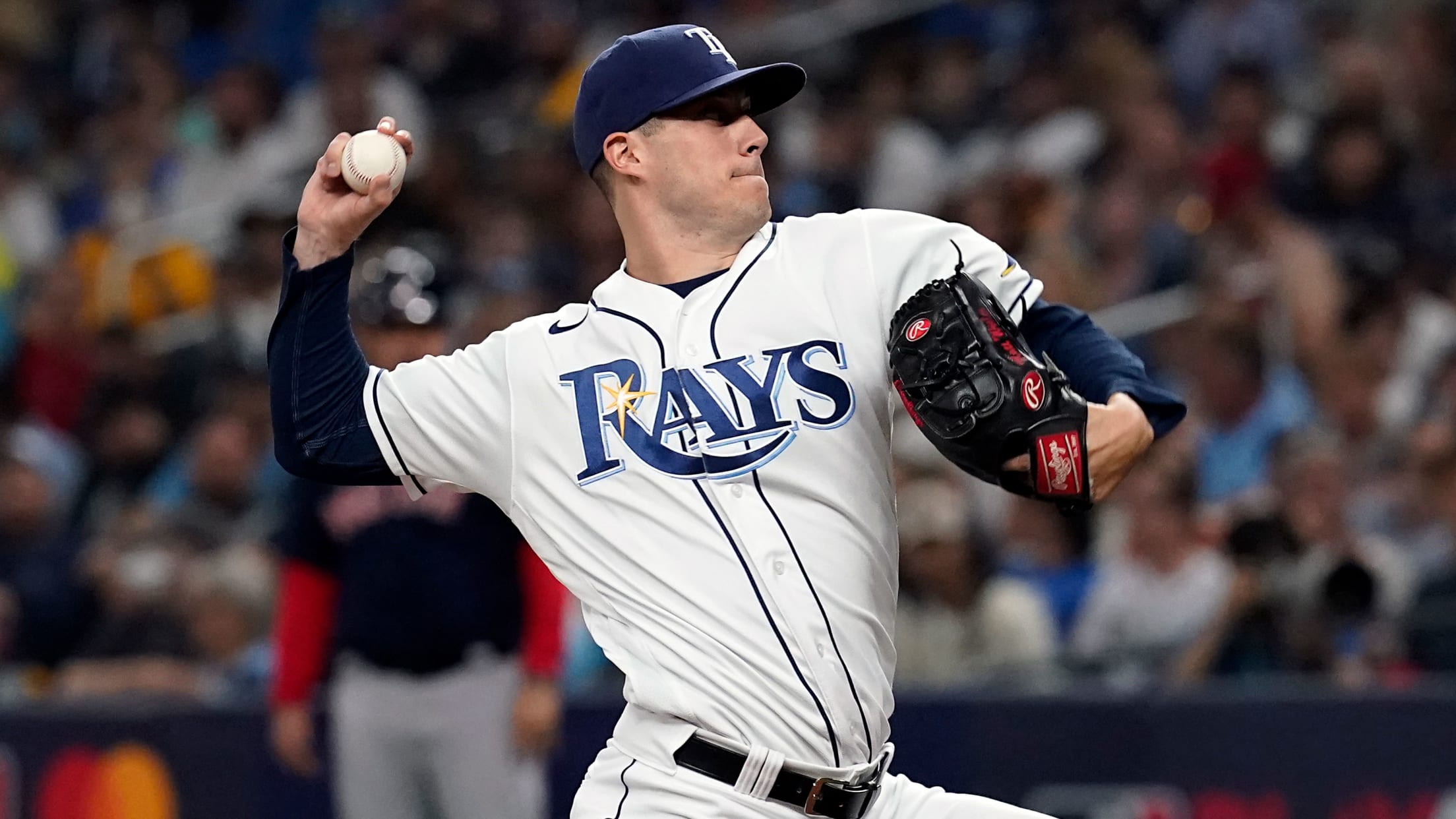 BOSTON -- Reliever Matt Wisler may have been struggling with more than his command Friday night at Tropicana Field. After Wisler gave up a single and a three-run homer in the fifth inning of the Rays' 14-6 loss to the Red Sox in Game 2 of the American League Division
Rays surprisingly an offensive juggernaut
Club known for pitching and defense creates second-highest scoring lineup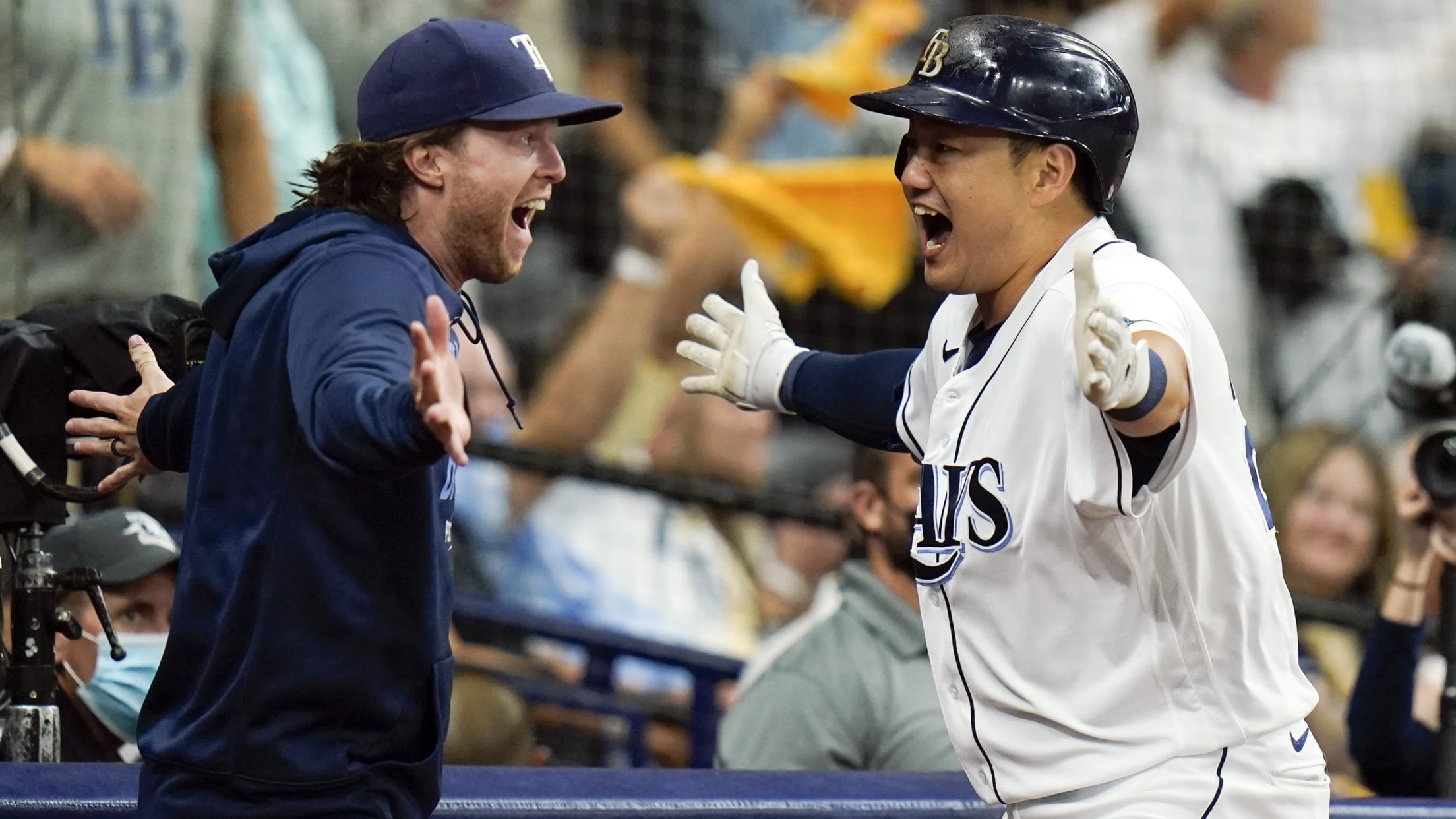 BOSTON -- This was a challenging season, physically, for Rays first-base coach Ozzie Timmons. You see, Timmons started a routine back in 2018. For every run Tampa Bay scored, he would do 10 pushups in the dugout. He's stuck to it, a man of his word motivated by some Rays
Full circle: Ras to start Game 3 at Fenway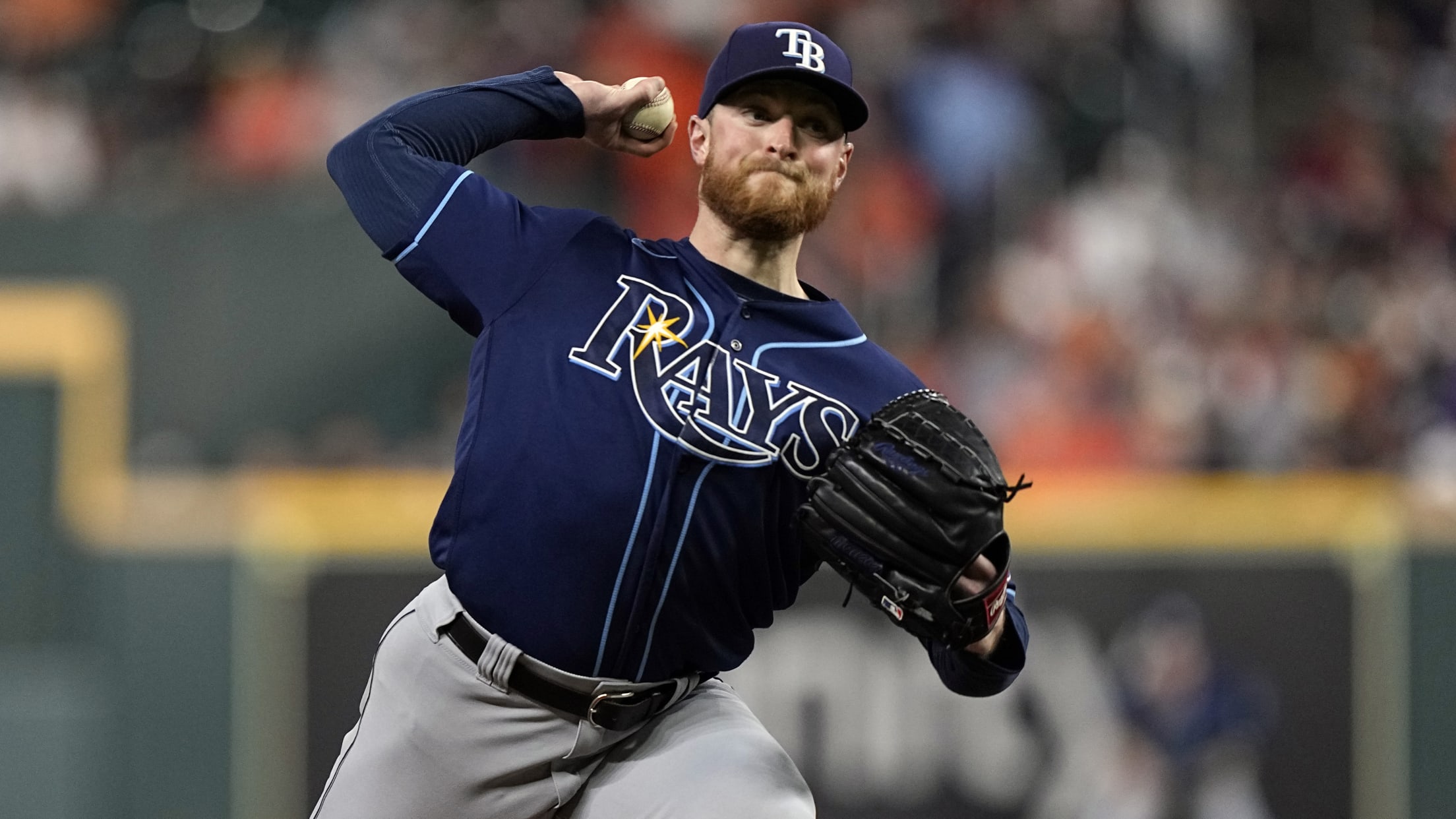 BOSTON -- Everything is about to come full circle for Rays starter Drew Rasmussen. It was here, at Fenway Park, exactly two months ago when the Rays realized he had the chance to be their next secret weapon -- just how they imagined it could be four years ago. Tampa
Rays-Red Sox G3 FAQ (4 ET, MLB Network)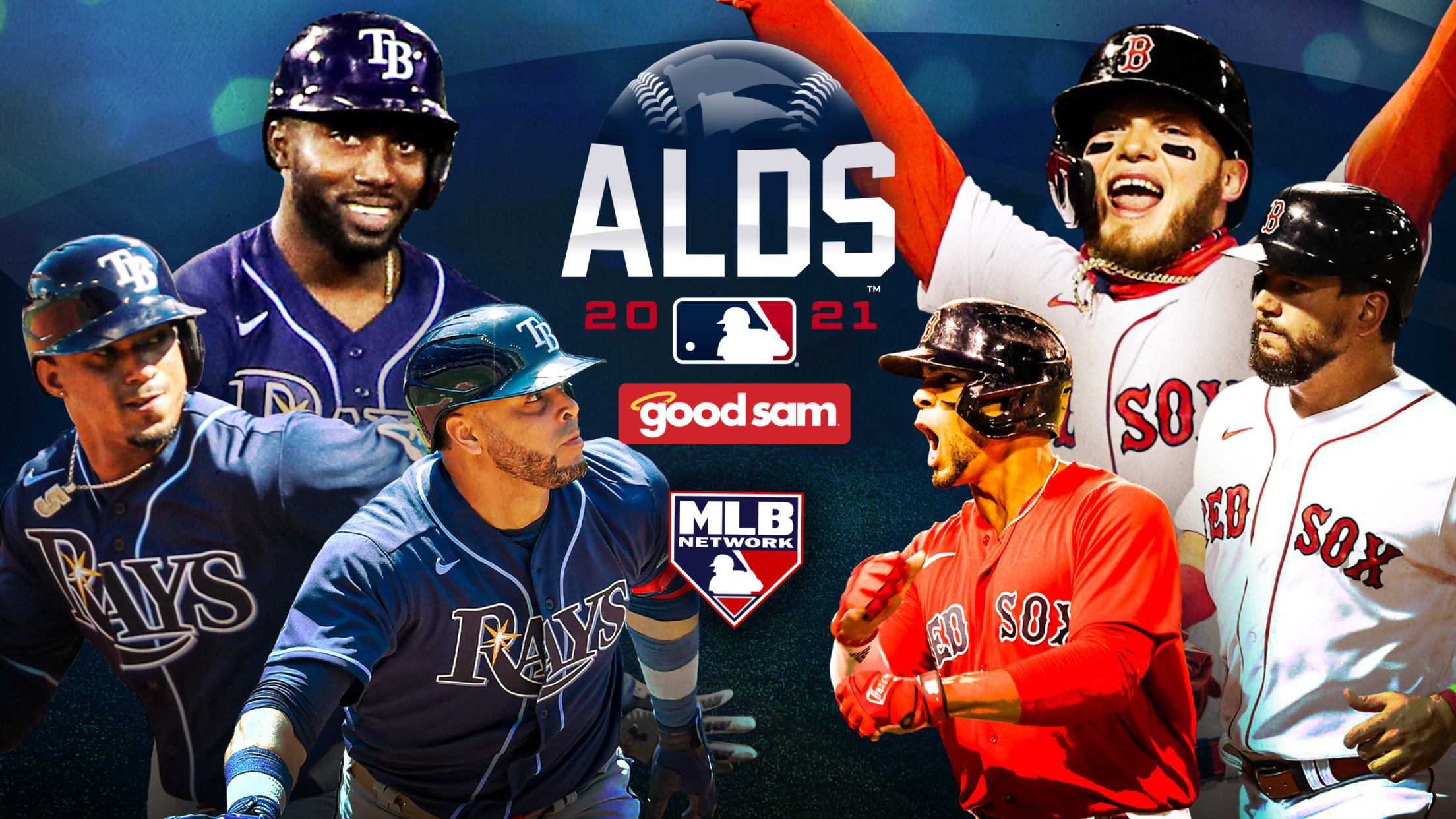 From the catwalks and the cowbells to the Green Monster and Pesky's Pole, this compelling American League Division Series between the Red Sox and the Rays is back in Boston with anyone's guess as to which way the momentum will turn. The Rays clearly had it when they won 5-0
Cora: Sale available from 'pen for Game 3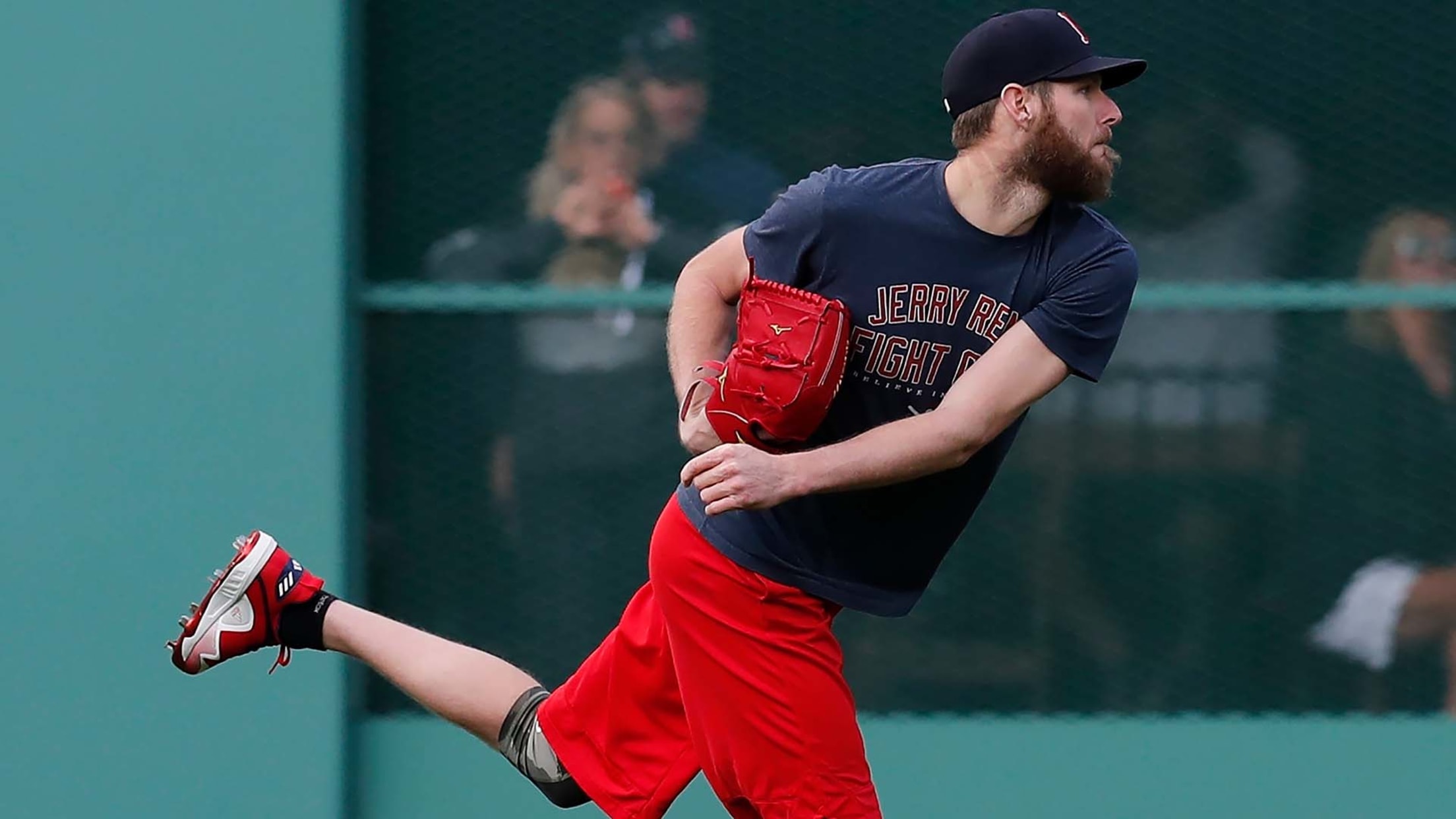 BOSTON -- Red Sox manager Alex Cora did an about-face on lefty Chris Sale's role in this American League Division Series, saying Sunday morning that the struggling ace will be available in the bullpen as soon as Game 3. Sale threw only 30 pitches in his Game 2 start on
Postseason star Verdugo: 'I live for this'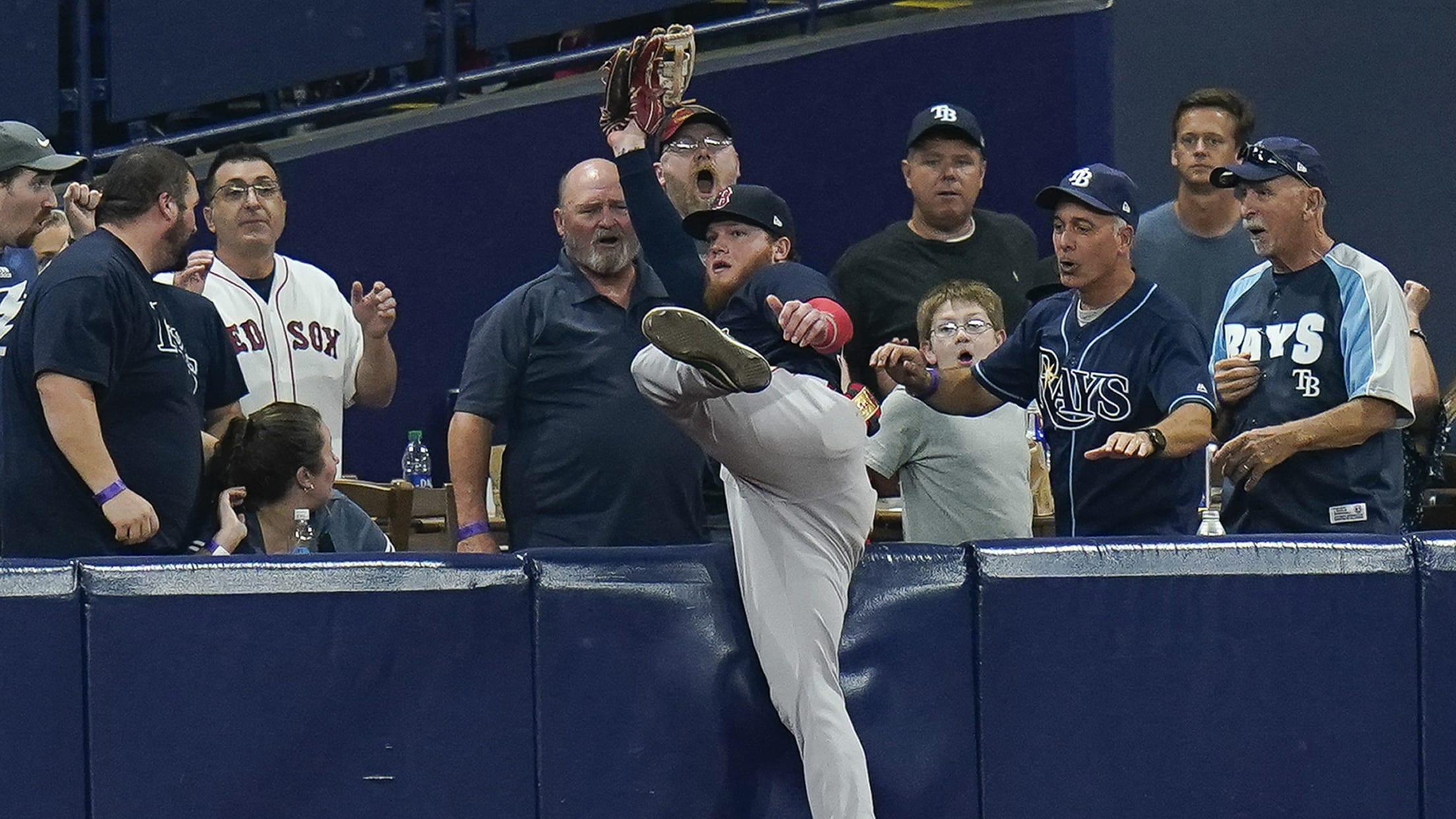 BOSTON -- Alex Verdugo already had two run-scoring hits, including a homer, as he raced toward the visiting bullpen at Tropicana Field in the sixth inning of Friday's Game 2 of the American League Division Series. He was in hot pursuit of a towering Nelson Cruz foul, nearly tumbling over