Giants roster moves for August 2, 2020
The Giants made the following roster moves today: LHP Drew Smyly placed on the 10-day IL with a left index finger strain RHP Andrew Triggs (#66) selected from Alternate Training Site. RHP Jandel Gustave designated for assignment
Giants set 2020 Opening Day roster
SAN FRANCISCO, Calif. — The San Francisco Giants, who will open their 138th National League campaign, have set their 2020 Opening Day roster. The 2020 Opening Day roster includes: Pitchers (16) RHP Shaun Anderson, LHP Tyler Anderson, LHP Caleb Baragar, RHP Sam Coonrod, RHP Johnny Cueto, RHP Rico Garcia, RHP
Giants sign LHP Kyle Harrison
SAN FRANCISCO, Calif. – The San Francisco Giants have signed LHP Kyle Harrison, the 85th overall selection from this year's First-Year Player Draft, the club announced today. The Giants have now come to terms with all seven of their selections from the 2020 First-Year Player Draft. Harrison was selected out
Dignity Health Partners with the San Francisco Giants, San Francisco 49ers and KNBR to help prevent the spread of COVID-19
Public Health Initiative Will Give Away 200,000 Co-Branded Masks To Fans, Underserved Communities, Frontline Public Employees, Hospital Workers and Community Partners
SAN FRANCISCO, July 16, 2020 – Initially 200,000 cloth masks will be distributed in Northern California communities through a unique public health initiative announced today by Dignity Health, the San Francisco Giants, the San Francisco 49ers and KNBR. This initiative brings together a healthcare company, two Bay Area professional sports
Giants and A's to play two exhibition games next week
SAN FRANCISCO, Calif. – The San Francisco Giants and Oakland Athletics have agreed to play two exhibition games ahead of Opening Day on July 20-21. The Giants will play at Oakland Coliseum on Monday, July 20 with first pitch slated for 6:40 p.m. and then will host the A's on
Giants Announce Tentative 2021 Regular Season Schedule
SAN FRANCISCO, Calif.– The San Francisco Giants released their 2021 regular season schedule today, which will feature the Giants opening the season in Seattle for three games beginning on Thursday, April 1. It will mark the first time in club history that the Giants will open the season at an
Giants sign RHP R.J. Dabovich
SAN FRANCISCO, Calif. – The San Francisco Giants have signed RHP R.J. Dabovich, the 114th overall selection from this year's First-Year Player Draft, the club announced today. The Giants have now come to terms with six of their seven selections. Dabovich posted a 0.77 ERA (1er, 11.2ip) with 17 strikeouts
Giants Announce Fan Cutout Program to Fill Oracle Park for 2020 Season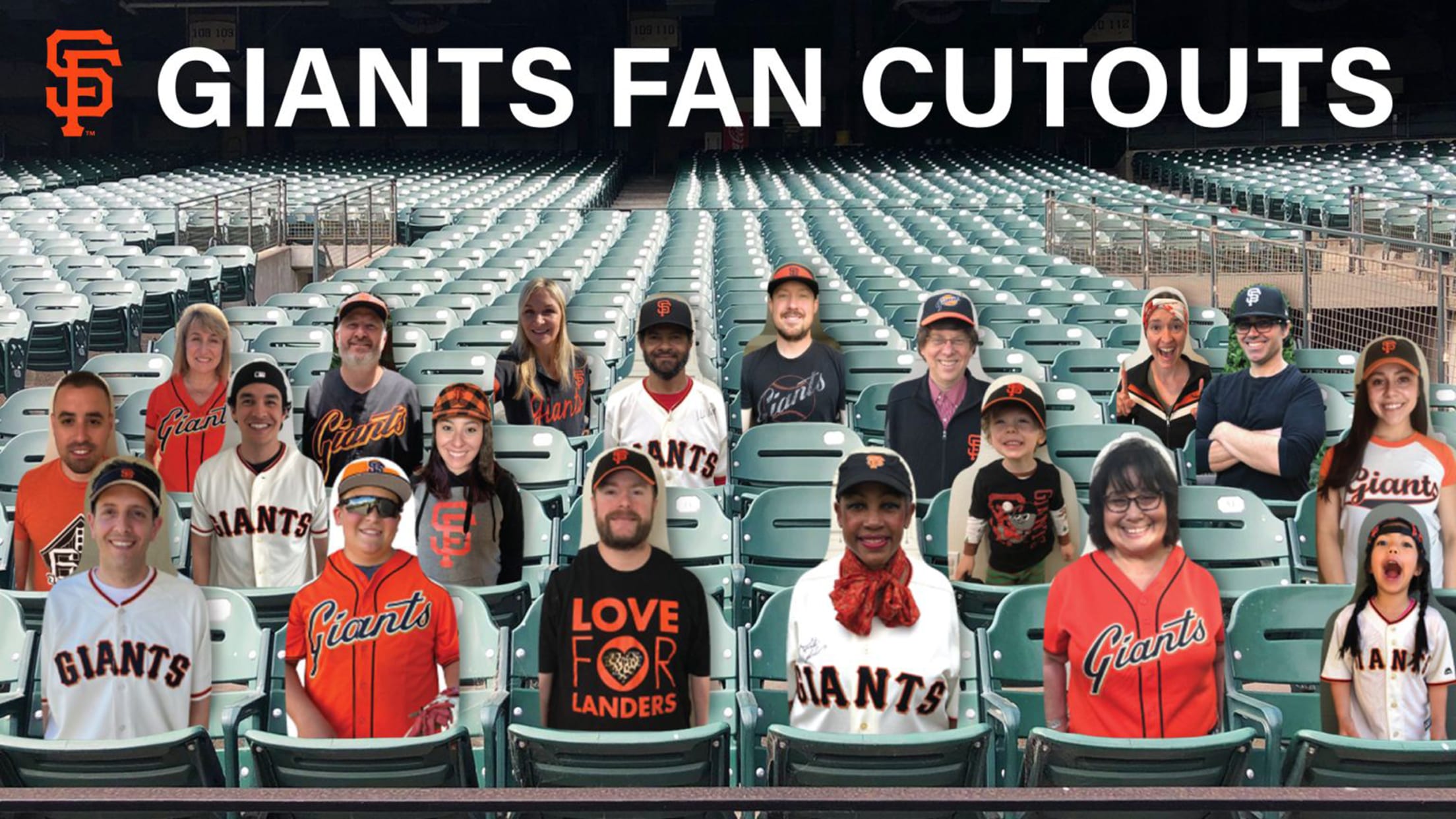 The seats at Oracle Park will not be empty when the 2020 Giants team begins the 60-game regular season at home on July 28 against the San Diego Padres at 6:45 p.m. Although fans will not be permitted at Giants games this year because of the COVID-19 pandemic, they will
Giants Announce 2020 60-Game Schedule
SAN FRANCISCO, Calif. – The San Francisco Giants released their 60-game schedule for the 2020 season today, which will feature the Giants opening the season on Thursday, July 23 at Los Angeles-NL for a four game series. It will mark the 10th time in Club history that the Giants will
Giants Covid-19 testing update
The San Francisco Giants confirmed two more individuals have tested positive for COVID-19 following mandatory club testing. No additional positive results for players or staff were received. The impacted individuals have been placed in self-isolation and will continue until MLB protocols for discontinuing isolation have been satisfied, including clearance by
Oracle Park cleaning protocols
The Giants Maintenance Team is implementing the most stringent protocols for cleaning, disinfection and infectious disease prevention at Oracle Park to protect the health and safety of all those working at the park during Spring Training and the 2020 regular season. They have created robust Sanitation Operation Procedures and are
Giants sign LHP Nick Swiney
SAN FRANCISCO, Calif. – The San Francisco Giants have signed LHP Nick Swiney, the 67th overall selection from this year's First-Year Player Draft, the club announced today. The Giants have now come to terms with five of their seven selections. Swiney went 4-0 with a 1.29 ERA (4er, 28.0ip) and
Levi's® and San Francisco Giants honor Bay Area non-profits during COVID-19 pandemic
Levi's® and the Giants are teaming up this summer to honor six non-profit organizations in the Bay Area community who are taking action and making a difference for those most in need during the COVID-19 pandemic. "Our world has changed in ways we could have never imagined, making the essential
Giants sign three additional players from 2020 Draft
SAN FRANCISCO, Calif. -- The San Francisco Giants announced today that they have signed three additional players from this year's First-Year Player Draft including; IF Casey Schmitt, the Giants' 49th overall pick, IF Jimmy Glowenke, the club's 68th overall pick and RHP Ryan Murphy, San Francisco's fifth round selection. The
Giants sign first-round pick Patrick Bailey
SAN FRANCISCO, Calif. – The San Francisco Giants have signed catcher Patrick Bailey, the 13th overall selection from this year's First-Year Player Draft, the club announced today. Bailey, 21, hit .296 with a team-leading six home runs and 20 RBI over 17 games (16 starts) during the 2020 season, which
Giants Community Fund recognizes Junior Giants at Home Achievements and Harmon & Sue Burns 2020 Graduating Scholars
Junior Giants at Home virtual program reaches 8,400+ players since May launch; second summer season begins on Monday, July 6
SAN FRANCISCO, June 29, 2020 —The Giants Community Fund today announced initial results from its virtual program, Junior Giants at Home, presented by Bank of America, reaching over 8,400 players across 24 states and four countries. The program was developed to continue the mission of the annual program hosted each
Giants announce Summer Camp roster
San Francisco, Calif. – The San Francisco Giants have announced their Summer Camp roster. There are 51 players that will be reporting to Summer Camp starting later this week at Oracle Park. The full roster is below.
Giants statement on the resumption of the 2020 Major League season
The San Francisco Giants are excited to get the 2020 season underway and welcome our players and coaches back to Oracle Park and the San Francisco Bay Area. All preseason workouts and home games during the 2020 regular season will take place at Oracle Park under the rules and guidelines
Former Giants pitcher and 1967 Cy Young Award winner Mike McCormick passes away
The San Francisco Giants Released the Following Statement on Behalf of the McCormick Family.
A Giant Among Us….. Mike McCormick, former New York and San Francisco Giant, passed away peacefully on Saturday, June 13, 2020 at his home in Cornelius, NC after a long battle with Parkinson's Disease. He was 81 years old. Mike is survived by his wife Dierdre, their daughter Tara, and
2020 San Francisco Giants First-Year Player Draft Information
Wednesday-Thursday, June 10-11, 2020
GIANTS DRAFT SELECTIONS: The San Francisco Giants had seven picks in the 2020 MLB First-Year Player Draft, tied with the St. Louis Cardinals for the most of any team. The Giants selected two infielders, two left-handed pitchers, two right-handed pitchers and one catcher. San Francisco selected six college players and
Giants select C Patrick Bailey with their first round selection (13th overall) in the 2020 First-Year Player Draft
San Francisco, Calif. - The San Francisco Giants selected catcher Patrick Bailey (North Carolina State) with the 13th overall selection in the 2020 First-Year Player Draft, the club announced tonight. The 6-foot-2, 207-pound junior hit .296 with a team-leading six home runs and 20 RBI over 17 games (16 starts)
Giants Community Fund announces launch of Junior Giants at Home, a four-week virtual season featuring involvement from San Francisco Giants coaching staff
To keep youth connected and active in times of isolation during COVID-19, the Giants Community Fund has announced the launch of Junior Giants at Home, presented by Bank of America. Starting the week of May 11, the four-week virtual season will provide youth, ages 5-18, the opportunity to connect with
Giants announce plans for Opening Day at Home presented by Oracle
SAN FRANCISCO, Calif. — The San Francisco Giants are marking the team's original home opener date on Friday, April 3 by encouraging fans to stay home and stay safe. The Club's 'Opening Day at Home Presented by Oracle' includes the re-broadcast of the historic 2014 NLCS Game 5 at 1:35
Introducing The Inside Giant Moments Podcast
The Giants and Oracle are thrilled to launch a new podcast called Inside Giants Moments. The podcast takes you behind the scenes of the most iconic moments in Giants history with the players who made these moments and memories. Host Mark Willard dives in each week with exclusive interviews on
Giants to establish $1 million fund to support event staff affected by postponement of Major League Baseball games
The San Francisco Giants today announced that it has established a fund of $1 million to assist those event staff affected by the postponement of the 2020 season. In addition to the $1 million pledged by the club, the Giants will ask its ownership group and business partners to also