As Quantrill struggles, other starters in groove
Notes on Myers, Martini, Urias, France, Munoz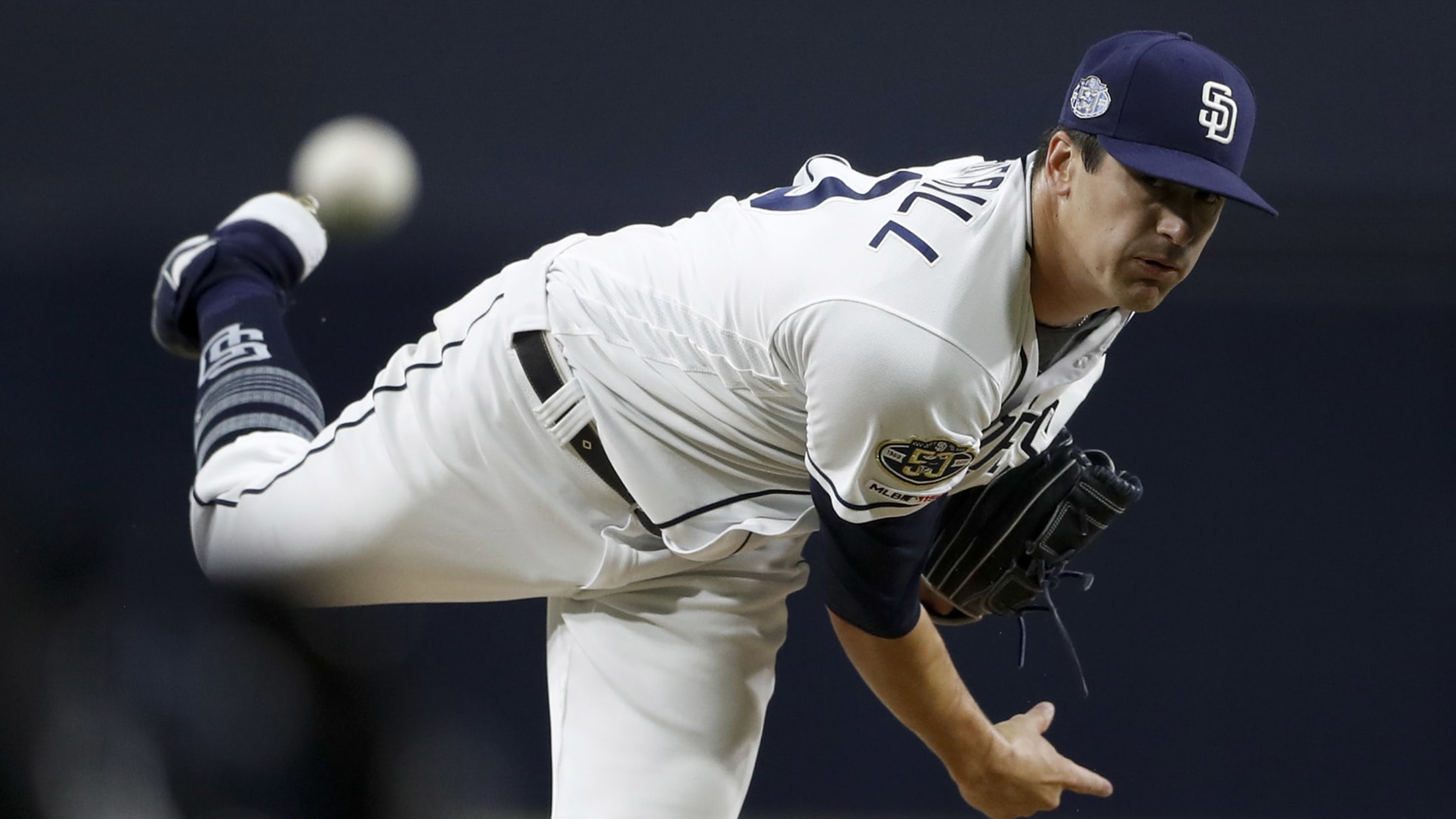 Bill Center, longtime sportswriter for U-T San Diego, is an employee of the Padres. Rookie right-hander Cal Quantrill has given up eight runs in each of his last three starts dating back to Aug. 27. But since that date, the Padres other starting pitchers -- excluding an "opener" start --
Bill Center, longtime sportswriter for U-T San Diego, is an employee of the Padres.
Rookie right-hander Cal Quantrill has given up eight runs in each of his last three starts dating back to Aug. 27.
But since that date, the Padres other starting pitchers -- excluding an "opener" start -- have an ERA of 2.62 with a 1.15 WHIP in 10 starts. The Padres are 6-4 in those games.
During the run, Padres starters not named Quantrill have given up 20 runs (17 earned) on 48 hits and 19 walks with 63 strikeouts in 58 1/3 innings. Chris Paddack has allowed one run in 12 1/3 innings. Joey Lucchesi has allowed one run in 12 innings.
Notebook
• OF Wil Myers was 1-for-4 with a run scored Tuesday night to extend his hitting streak to a season-best, 10 straight games. He is 15-for-31 (.484) during the streak with two doubles, three homers, eight RBIs and five runs scored during the streak while raising his batting average from .222 to .243. Myers has a .839 slugging percentage during the 10-game hitting streak for a 1.324 OPS. Myers streak is his longest since an 11-game stretch in 2017.
• LF Nick Martini was 1-for-3 with a sacrifice fly and two RBIs Tuesday night to stretch his hitting streak to nine straight games. He is 14-for-37 (.378) during the streak with two doubles, a walk, three RBIs and three runs scored.
• SS Luis Urías is 7-for-14 in a four-game hitting streak with a walk, two RBIs and two runs scored – including the winning run Tuesday night on the walk-off walk drawn by Manuel Margot. Tuesday night's 3-for-5 -- his first three-hit game of the season -- raised his batting average to a season-high .208.
• 2B Ty France snapped a 0-for-10 run with his sixth home run in the third inning Tuesday night. It was France's fourth home run this month (5-for-22, with eight RBIs and five runs scored).
• RHP Andres Muñoz had gone 85 at-bats into his Major League career without giving up a home run -- then he gave up two to the Cubs' Kris Bryant and Jason Heyward in a span of three hitters.