Offseason checklist: Padres' needs and moves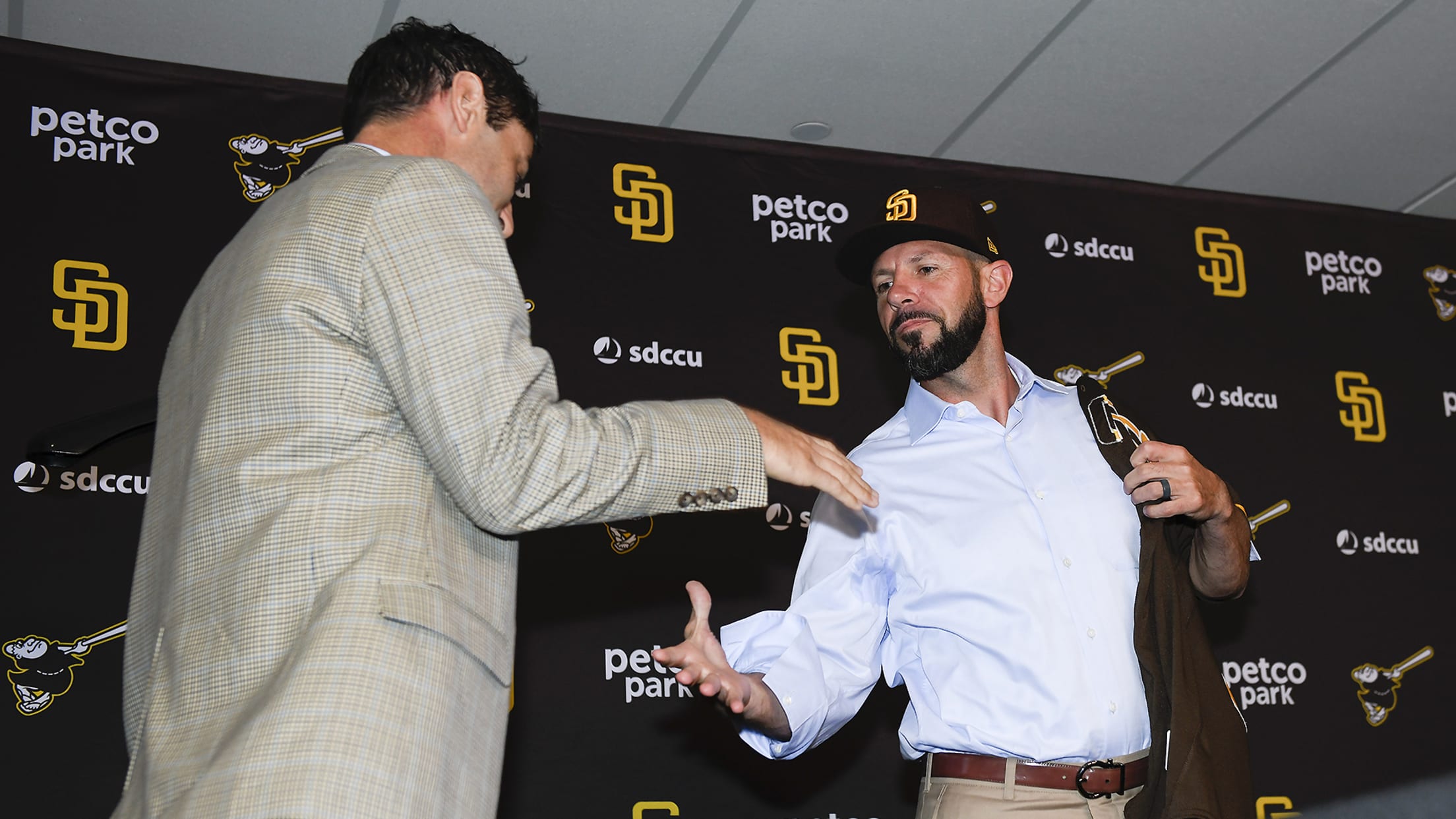 The Padres showed plenty of promise during the first half of the 2019 season, but fell to 70-92 and last place in the National League West with a disappointing finish. Clearly, San Diego has a few of the right pieces in place for a run at contention. Clearly, it needs
The Padres showed plenty of promise during the first half of the 2019 season, but fell to 70-92 and last place in the National League West with a disappointing finish. Clearly, San Diego has a few of the right pieces in place for a run at contention. Clearly, it needs to add a few more.
So what are the Padres' biggest needs entering 2020, and what moves have they made to address them? MLB.com is keeping track here. As the offseason continues, be sure to check back for updates.
BIGGEST NEEDS
Starting pitching
The Padres are enamored with their young rotation options. Chris Paddack could emerge as an ace next season, and top prospects MacKenzie Gore and Luis Patiño could break through as well. But the in-house options aren't enough. San Diego is almost certainly going to look for a front-line starter and perhaps some depth, too. General manager A.J. Preller has said he's "open-minded, open ears on any starting pitching" this winter.
Outfield
The Padres entered the offseason in search of a left-handed outfield bat, and they quickly landed Trent Grisham from Milwaukee in a trade. They also needed an everyday regular in the outfield, so they traded for Tommy Pham. Still, San Diego probably isn't done tweaking its outfield mix. Expect the Padres to shop Wil Myers (and the $61 million remaining on his deal) to try to balance the offense and create some financial flexibility. That could create room for another addition, perhaps in right field.
Bats
The Padres might stand pat at catcher. Now that they've traded for Jurickson Profar, they might be set at second base, too. But they still could make moves at those positions. The offense simply wasn't good enough in 2019. As a result, they'll explore all of their options for getting better offensively -- and that includes outfield, catcher and second base.
MOVES MADE
Jan. 16: Padres announce non-roster invites
The Padres unveiled a list of 27 non-roster players who they will invite to Spring Training, headlined by top pitching prospects MacKenzie Gore and Luis Patiño. The list also includes seven Minor League free-agent signings: outfielder Abraham Almonte, catcher Charlie Valerio, righty starter Jerad Eickhoff and righty relievers Kyle Barraclough, Chih-Wei Hu, Chase Johnson and Jimmy Yacabonis. It's unlikely that anyone from that group cracks the Opening Day roster, but Eickhoff -- who owns a 4.15 ERA after five seasons in Philadelphia -- is an intriguing bounce-back option.
Dec. 23: Johnson signs two-year deal
The Padres took a flier on a high-upside bullpen arm, signing Pierce Johnson to a two-year deal worth $5 million with a team option for a third year. Johnson, a 28-year-old right-hander, posted a 1.38 ERA in 58 appearances for the Hanshin Tigers in Japan last season. He struck out 14 hitters per nine innings and figures to fill a middle-innings role as a right-handed balance to the team's lefty-heavy group of setup men.
Dec. 12: Megill to Chicago, Reed to Oakland
The Padres entered the Rule 5 Draft with several well-regarded Minor Leaguers available to be selected. Only Trevor Megill was taken. The 26-year-old right-hander went to the Cubs with the ninth pick. But moments after the Draft ended, outfielder Buddy Reed – who had also been left unprotected – went to Oakland as the player to be named later in the Profar deal.
Dec. 6: Pham to San Diego in five-player deal
Preller capped a nine-day frenzy with his biggest move yet, sending Hunter Renfroe, Xavier Edwards and a player to be named later to Tampa Bay for Tommy Pham and Jake Cronenworth. Pham's arrival should go a long way toward solidifying the team's outfield and addressing its longstanding on-base woes. He batted .273/.369/.450 with the Rays last season. As for Cronenworth, he was added to the 40-man roster and should compete for a job as a backup middle infielder (though he also made seven appearances on the mound in Triple-A last season, sporting a mid-90s fastball).
Dec. 3: Avila, Diaz non-tendered, sign Minors deals
A day after Pedro Avila and Miguel Diaz were not tendered contracts and removed from the 40-man roster, the two young right-handers agreed to Minor League deals to remain with the club. Both Avila and Diaz dealt with injuries last season and were limited. (Avila is coming off August Tommy John surgery while Diaz had knee surgeries in February and July.) Still, the Padres are optimistic about the upside for both. If healthy, Diaz will presumably compete for a bullpen spot next spring.
Dec. 2: Padres land Profar in trade
In need of second-base help following the Luis Urías trade, general manager A.J. Preller moved quickly. The Padres dealt catcher Austin Allen and a player to be named to Oakland for Jurickson Profar. As things stand, Profar is expected to slot into the Padres' lineup as the starter at second base. But it remains likely that Preller continues to scour the market. Profar batted .218/.301/.410 with 20 home runs in 139 games for the A's in 2019, and he posted an .821 OPS during the second half.
Nov. 27: Padres land Grisham, Davies in trade with Brewers
The Padres' first major splash of the offseason came via trade with Milwaukee. Outfielder Trent Grisham and right-hander Zach Davies arrived in San Diego in exchange for infielder Luis Urías, left-hander Eric Lauer and cash or a player to be named. The deal is a swap of two young players with serious upside, in Grisham and Urías. But the Padres desperately needed a left-handed bat in their outfield, so they were willing to part with Urías -- whose departure leaves a hole at second base. Davies, meanwhile, slots into the San Diego rotation, providing much-needed pitching depth.
Nov. 27: Pomeranz agrees to 4-year deal
In 2016, Drew Pomeranz arrived in San Diego and revitalized his career. Four years later, he's looking to do the same -- only this time the left-hander will be pitching in relief. The Padres signed Pomeranz to a four-year deal worth $34 million in an effort to boost the back end of their bullpen. The 31-year-old slumped to a 4.85 ERA last season with the Giants and Brewers, but he posted a 1.88 mark in 28 appearances after moving to the bullpen.
Nov. 20: Oña added, Martini DFA-ed
Ahead of the deadline to protect players from December's Rule 5 Draft, the Padres were quieter than they'd been in recent years. Preller made just one move, adding slugging outfielder Jorge Oña to the 40-man roster, while designating Nick Martini for assignment. (Martini was later claimed off waivers by Cincinnati.) Oña hasn't quite lived up to the original hype surrounding his 2016 signing, but after missing a chunk of the 2019 season due to a shoulder injury, he posted a .957 OPS at Double-A Amarillo in 25 games. Among the Padres prospects left unprotected for the Rule 5 Draft were: Esteury Ruiz, Buddy Reed, Trevor Megill, Dauris Valdez and Michael Gettys.
Nov. 4: Roster trimmed to 40
The Padres reinstated a handful of players from the 60-day injured list, leaving them with four cuts to make on their 40-man roster. Carl Edwards Jr. cleared waivers and elected free agency, while fellow right-handers Jacob Nix and Eric Yardley were designated for assignment. Utility infielder Seth Mejias-Brean also cleared waivers and was outrighted to Triple-A El Paso.
Oct. 31: Jankowski to Cincinnati; Warren, Loup options declined
The Padres began a day of roster trimming after the World Series ended by sending Travis Jankowski to Cincinnati in exchange for international slot money. Jankowski had been a useful speed-and-defense threat for parts of five seasons in San Diego, but he wasn't quite the same hitter after returning from a wrist injury. In addition, Robert Stock was claimed by Philadelphia, Brett Kennedy was outrighted to Triple-A and Robbie Erlin was designated and elected free agency. As expected, the Padres declined 2020 options on relievers Adam Warren and Aaron Loup. Warren missed most of the season with a strained right forearm, and Loup only threw four innings following a left elbow strain.