Inbox: Syndergaard, rotation, prospects
Beat reporter AJ Cassavell answers questions from Padres fans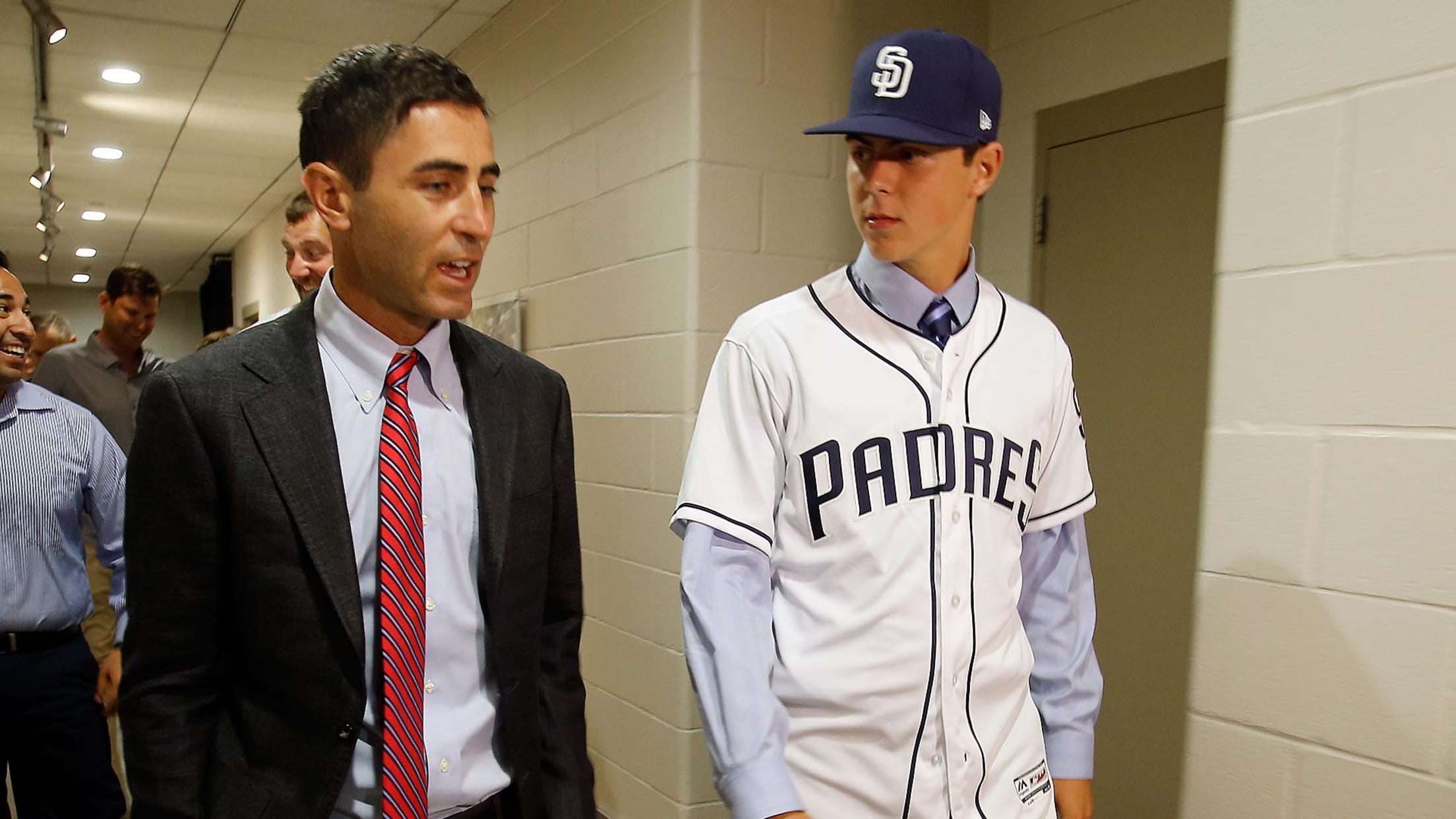 SAN DIEGO -- A.J. Preller has a history of being very active at the Winter Meetings. The Padres' general manager arrives in Las Vegas this weekend for baseball's annual offseason showcase, and the stage certainly seems set for more of the same.The Padres have a wide open left side of
SAN DIEGO -- A.J. Preller has a history of being very active at the Winter Meetings. The Padres' general manager arrives in Las Vegas this weekend for baseball's annual offseason showcase, and the stage certainly seems set for more of the same.
The Padres have a wide open left side of the infield. They have a surplus of outfielders they're looking to deal from. And, perhaps most importantly, Preller must address a starting rotation with very little certainty entering 2019.
This week's Padres Inbox centers around that rotation -- the biggest question mark for the franchise moving forward.
What are the odds the Padres land Noah Syndergaard?
-- Ryan C.
Significantly worse than they were a couple of weeks ago, when San Diego seemed like the best match for a potential deal. Mets general manager Brodie Van Wagenen has committed to a 2019 run at the National League East. That makes things difficult for the Padres, whose package for Syndergaard would presumably include some big league bats, but would likely be headlined by a big-name pitching prospect.
:: Submit a question to the Padres Inbox ::
If the Mets want to win now, the Padres can't really help them, pitching-wise. Syndergaard -- who is 26 and has three years of team control remaining -- still fits San Diego's trajectory perfectly, so you can bet Preller will check in. But those discussions are unlikely to bear any fruit.
It's far likelier the Padres go the free-agent route in adding a pitcher. They're interested in Nathan Eovaldi. Since the Red Sox have reportedly re-signed the right-hander, they'll probably settle on a more affordable option.
What's your prediction on the rotation next season? Who do you see cracking that five?
-- David L.
OK, so we've established that Syndergaard isn't really an option here. I'm still willing to bet there's at least one member of the Opening Day rotation who isn't yet a Padre. Maybe two.
Last season, San Diego starters combined to post a 5.09 ERA, the worst mark in the National League. If the Padres plan to move toward contention, their poor starting pitching needs to change. That means that Jacob Nix and Brett Kennedy aren't merely going to be handed spots because they're young, and Clayton Richard and Bryan Mitchell aren't merely going to be handed spots because they're under contract.
It sure sounds like that quartet will need to legitimately earn their rotation places next spring. That's especially true if the Padres can add pieces via trade or free agency. Without further ado, here's my Opening Day starting five:
1. Giovany Gonzalez (added via free agency)

Joey Lucchesi

Sonny Gray (added via trade)

Eric Lauer

Matt Strahm
How many "untouchable" prospects do you believe the Padres have, and who are they?
-- @patp_pod
Here's the full list:
Fernando Tatis Jr.
And that's the end of the list. Tatis could become a generational talent at shortstop or third base. Both of those spots are open, and the Padres are already planning for him to anchor one of them for the foreseeable future. As for the other prospects? They're all available -- for the right price.
Sure, the Padres love MacKenzie Gore, Chris Paddack, Francisco Mejia and Luis Urias. But I really don't think there'd be much hesitation if any of those four were to be the difference-maker in a deal for a Syndergaard-type arm.
Which Padres player left unprotected do you think has the biggest chance of being selected in the Rule 5 Draft?
-- Josh
The scripts sure have flipped, huh? Two years ago, Preller maneuvered to land the top three picks in the Rule 5 Draft. Then he used all three picks to swipe unprotected prospects from other clubs, and he stashed all three on the big league roster for the entire season.
Now, it's the Padres' system that's overflowing with Rule 5-eligible guys. Jason Vosler, their newly acquired third baseman, is likeliest to be taken. It surprised me that he wasn't added to the 40-man roster when they traded for him last month. He's 25 and seems big league ready after launching 23 homers in the upper levels of the Cubs' system last year.
Still, there's a chance he isn't taken. Even if he is, he'd be returned to San Diego if he doesn't make a roster elsewhere. It's also worth keeping an eye on outfielder Michael Gettys and righty reliever Trevor Megill. Both are fringe prospects, at best, but their skill sets could make them somewhat useful in one of the final spots on a big league roster.