A weird fact about a player on every team
Samurai swords, ailurophobia and more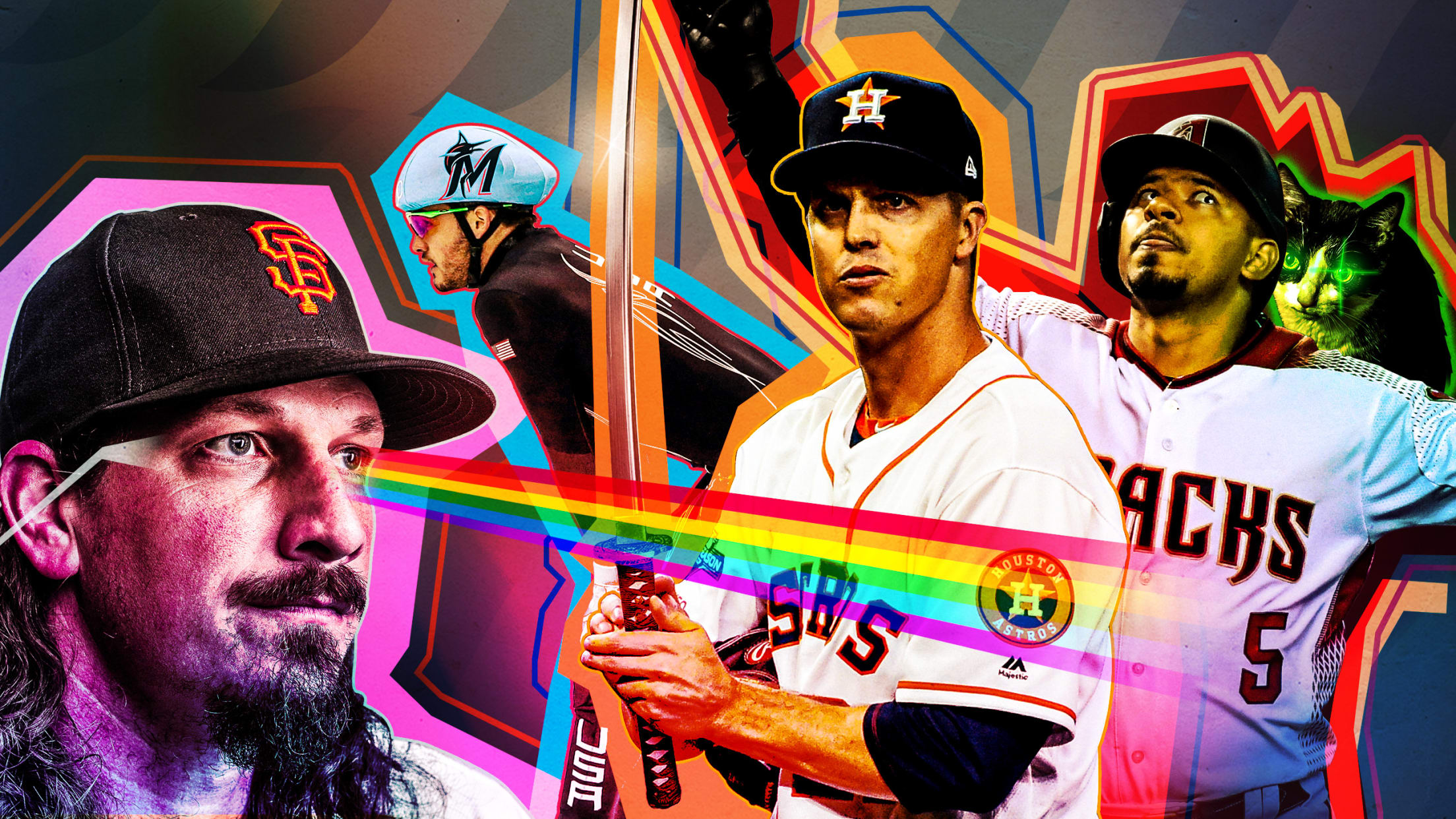 (Tom Forget / MLB.com)
A ballplayer's life doesn't begin and end at the park. Sure, they spend plenty of their time there -- lifting weights, drinking nutrient-dense smoothies and taking BP all before the game, but just like Walt Whitman, the players contain multitudes. So, we delved into the 2020 media guides, looked to
A ballplayer's life doesn't begin and end at the park. Sure, they spend plenty of their time there -- lifting weights, drinking nutrient-dense smoothies and taking BP all before the game, but just like Walt Whitman, the players contain multitudes.
So, we delved into the 2020 media guides, looked to the stars and wracked our brains to share one wonderfully fun, zany or just plain weird fact about a player on every team for 2020. These are the things you should use when making conversation with friends, when you need to win a bar bet or you're desperately looking for something to say at a networking event.
Without further adieu, here we go:
Angels
There are millions -- if not billions -- of Swifties out there. Some, for whatever reason, remain secretive about it, not wanting to reveal that they think "Style" is one of the greatest pop songs ever composed.
You know who isn't scared to admit it? Anthony Rendon. The World Series champ is proud to cop to his T-Swift fandom. He even wore a homemade "I Heart Taylor Swift" T-shirt during Spring Training in 2016.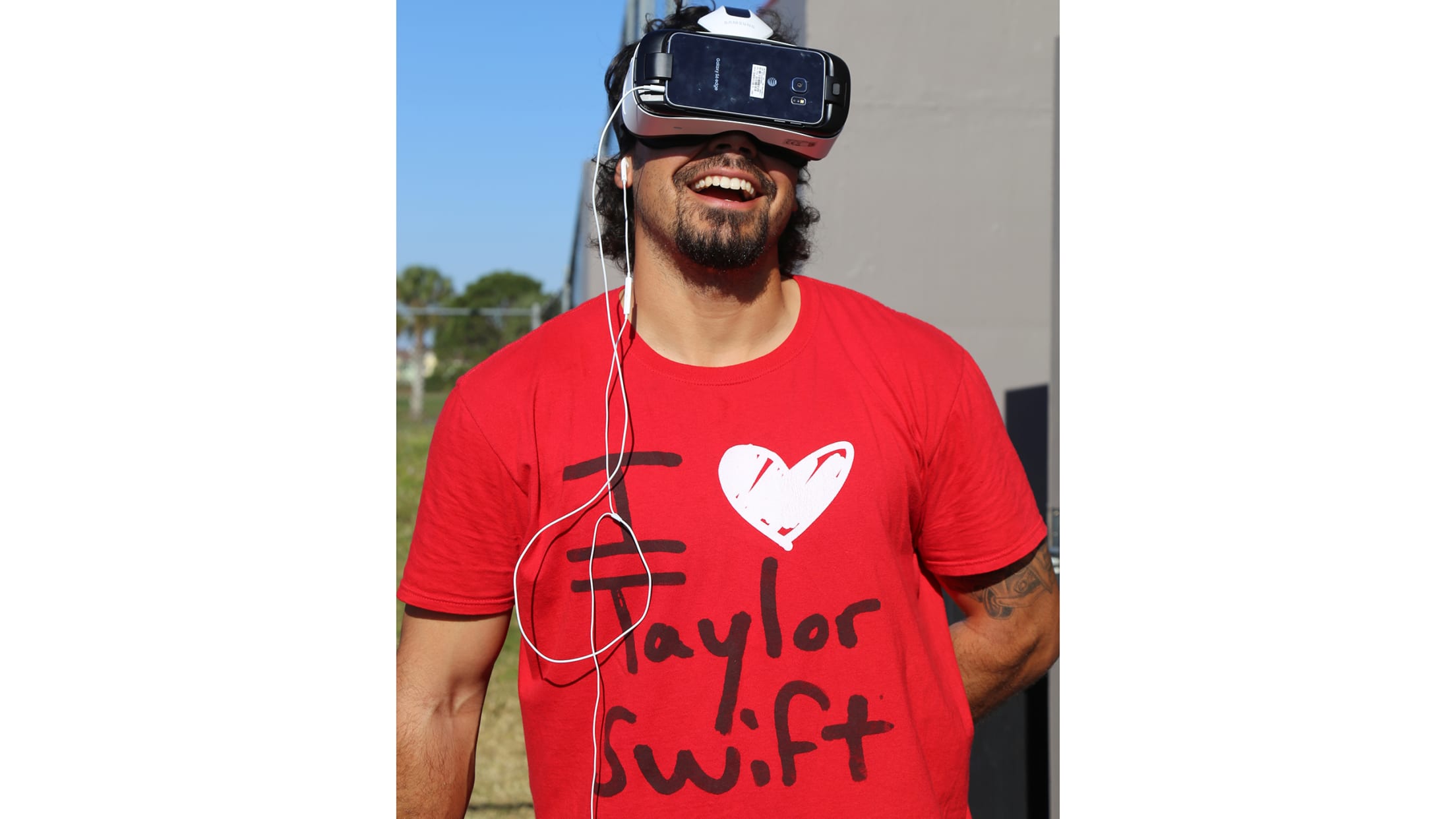 Astros
Are you ready for the most on-brand Zack Greinke story possible? When Greinke won the AL Cy Young Award in 2009, he was also given a samurai sword by Mizuno. While he gave the Cy Young trophy to his parents, he naturally kept the sword for himself.
"I've only kept one award in my whole life, and it's the coolest thing ever," Greinke said in 2010. "Mizuno gave me a samurai sword for winning the Cy Young. It's awesome."
A's
If someone ever asks you which A's player you want to have dinner with, there's only one answer: Mark Canha.
The outfielder has made great use of his big league travel by embracing all the amazing food he gets to eat -- even running an Instagram account devoted to his foodventures. You can find him @bigleaguefoodie and experience immense jealously with every dish you can only look at and not taste.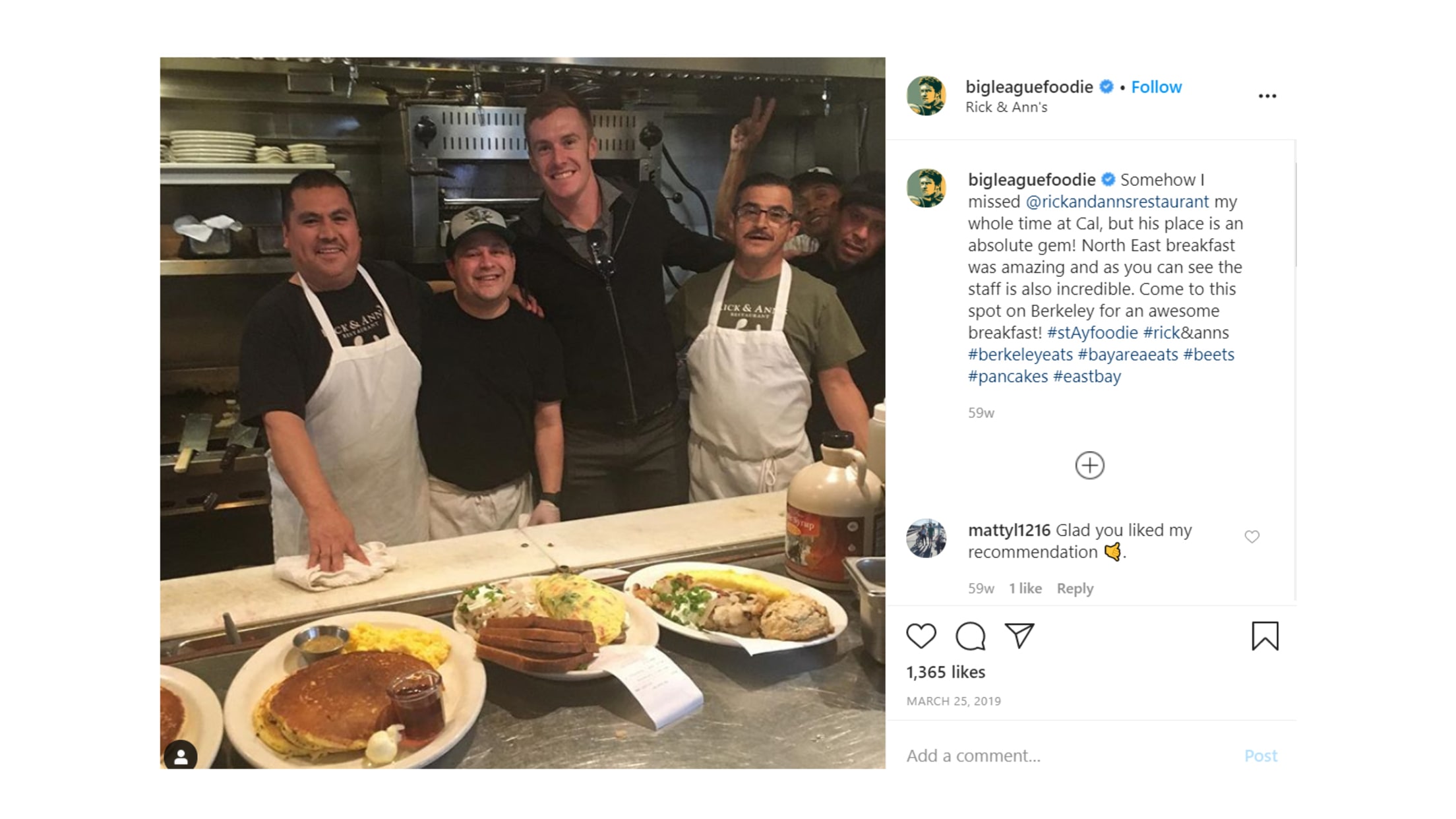 Blue Jays
Family reunions would be a lot easier if we did what Jonathan Davis and Anthony Alford did: They married a pair of sisters. Davis is married to Hannah Montgomery Davis, whose sister -- Bailey -- married Alford.
It helps that the two players are close, too.
"He's my best friend," Alford said about Davis -- before admitting that he spends more time with his teammate than he does with his wife.
Braves
Mike Foltynewicz might be the ballplayer I have the most in common with. That's because he's -- rightfully -- obsessed with pizza.
The right-hander was a picky eater growing up, so tended to eat a frozen pizza most nights of the week. He doesn't do it as often now that he's a professional athlete, but he'll still eat pizza the night before every start and he'll rock pizza socks when he's on the mound.
Here's where we disagree though: He doesn't like toppings. Looks like we're each getting our own pies, then.
Mike Foltynewicz & his pizza socks! Here's what the right-hander had to say about his eighth win of the season. #Braves pic.twitter.com/eJKYNRiIlU

— FOX Sports: Braves (@FOXSportsBraves) July 21, 2017
Brewers
Ronny Rodriguez's almost Craig Counsell-esque upright stance isn't the only interesting thing about him. The infielder also has a hip hop career under the name El Felino -- which translates to The Feline -- and his videos have racked up over a million views on YouTube.
You may hear them if you're at the park, too. Rodriguez naturally walks up to the plate to his own tunes, and Miguel Cabrera would occasionally walk up to El Felino's "Vivencias de la Vida Real" (Real-Life Experiences) when the two were teammates in Detroit.
As for what his songs are about, Rodriguez said, "It's about what happens in Latin America. Poor kids who want to make their dreams come true."
Cardinals
Did you know @RealPaulDeJong spent time last offseason with well-known scientist Dr. Lawrence Rocks to study the affects of heat on a baseball?

DeJong's newest #ToppsCards showcases his love for baseball and science. pic.twitter.com/jlQkPkjfPY

— St. Louis Cardinals (@Cardinals) June 18, 2018
It sounds like the plot to a bad 1950s sci-fi movie: Scientist teams up with hotshot baseball player to study baseballs. If this were a movie, then a horrible accident would have turned our ballplayer into some horribly disfigured human-baseball creature of the night. Instead, Cardinals shortstop Paul DeJong simply helped Dr. Lawrence Rocks test the effects of heat on the baseball back in 2017, finding that, yes, there is an ideal temperature to make the ball soar.
The connection isn't as strange as it sounds, though. DeJong's agent is Dr. Rocks' son, and DeJong majored in biology at Illinois State University.
Cubs
You may have thought that Craig Kimbrel has the most outrageous beard in his family's history.
Let me tell you: You're wrong. May I introduce you to Kimbrel's father, Mike, an electrician with the strangest beard you're ever going to see:
I'm pretty sure this is Craig Kimbrel's dad. Not joking. https://t.co/IGTcIIU11B

— Ted Berg (@OGTedBerg) August 16, 2019
D-backs
Eduardo Escobar broke out in a big way last year -- crushing 35 home runs and driving in 118 runs, with a career-high .831 OPS. But, just like Superman, he has one weakness: A debilitating fear of cats. And not jungle cats, either -- rather your simple, household variety tabby.
No one is sure when the fear started, with teammates telling The Athletic a variety of rumors they've heard, including one where a cat attacked him at the dinner table as a child.
While we may never know the origin, Escobar's teammates -- led by David Peralta -- have delighted in tormenting and/or inspiring Escobar with a stuffed black rally cat.
For the unaware, @escobarmaracay is terrified of cats.

So of course, David Peralta now carries a lucky cat in the dugout. 😂 pic.twitter.com/bkK3qFheZh

— Arizona Diamondbacks (@Dbacks) July 7, 2019
Dodgers
Dodgers' Enrique Hernandez Guest Stars On CBS' 'The Bold And The Beautiful' https://t.co/AnlNRexGai pic.twitter.com/QlJuNm9GFA

— Highlighthwd (@Highlighthwd) September 8, 2016
Superutility man Enrique Hernández is never one to shy from the spotlight, so it only makes sense that he appeared on an episode of the soap opera "The Bold and the Beautiful," in 2016. Hernández was tasked with helping a singer prepare for her rendition of "The National Anthem," something he's pretty used to hearing at his day job.
"It was during one of our days off and I said, 'Sure, why not?'" Hernandez said. "Since I was a little kid, I always wanted to be a baseball player and my plan B was to be an actor. People were sure I was kidding."
Giants
Jeff Samardzija may have the most unique meet-cute in the Majors. Sure, he met his now-wife, Andrea, backstage at a Pink Floyd concert when she was working for the band, but that wasn't where it ended. Oh no.
The pitcher then tasked his brother, Sam, to find out her name and mailing address. After sending her a letter -- what is this, the 19th century? -- that included his phone number, the two started talking before having their first official date a few weeks later in Chicago.
Indians
You may know Franmil Reyes as one of the biggest sluggers in the game, one who launches his home runs with such a thunderous crack they seem to steal the life force from pitchers.
If not for the big leagues, Reyes believes he could be a male model. Checking out his Instagram page, you'd be hard-pressed to disagree with him. It's always good to have career goals.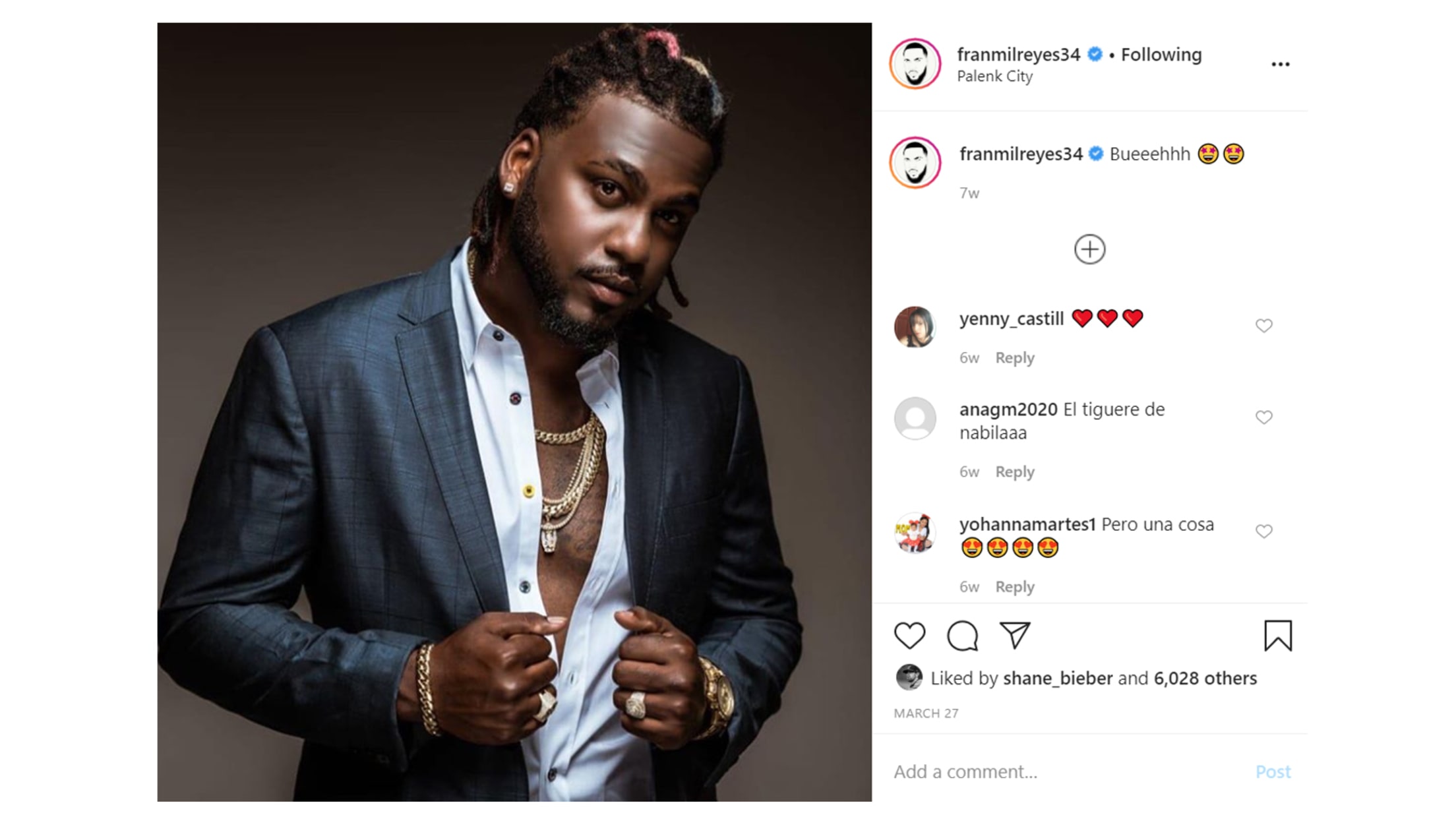 Mariners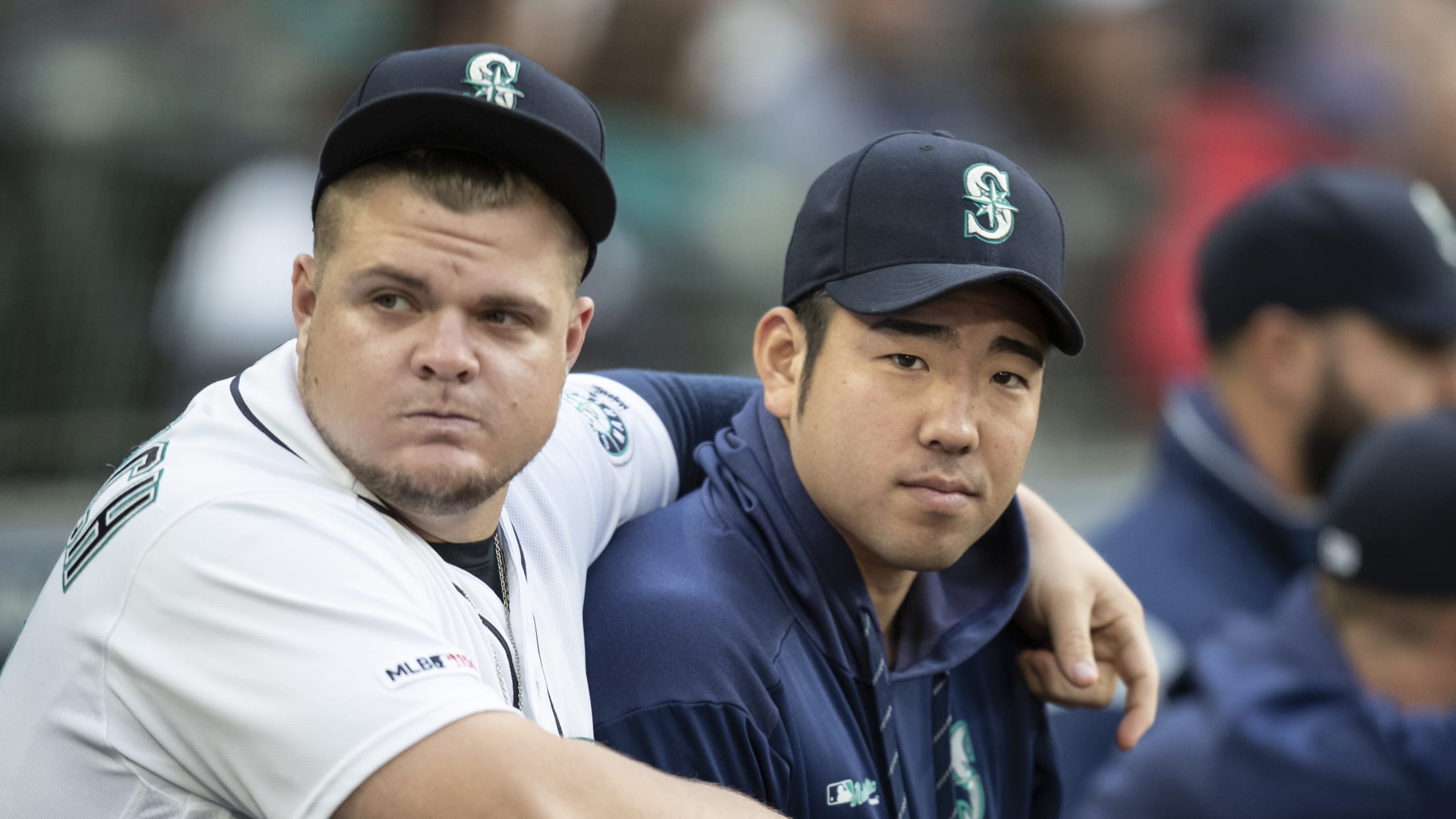 In late June last year -- just a few months after starting his first season with the Mariners -- Yusei Kikuchi took a leave from the team to be there for the birth of his son a few days later. His name: Leo Daniel Kikuchi.
That may not seem so odd until you realize that the middle name is for Daniel Vogelbach, Kikuchi's teammate and immediate BFF.
"He has been such a good friend. I want Leo to grow up with a big heart and soul like Vogey," Kikuchi told The Athletic through his translator Justin Novak.
Marlins
Forget guys like Deion Sanders or Bo Jackson. Eddy Alvarez might be the game's most impressive two-way star. A non-roster invitee to Spring Training this year, Alvarez posted a .323/.407/.570 batting line in Triple-A last year, and it's far from his greatest athletic accomplishment.
That's because Alvarez is an Olympic speedskater, taking home the silver in the 2014 Winter games in Sochi for the men's 5000m relay short-track.
Mets
Outfielder Michael Conforto won't be the first Hall of Famer in his family. His mother, Tracie, won two gold medals in synchronized swimming at the 1984 Summer Olympics and a silver medal in 1988. She was later inducted into the International Swimming Hall of Fame.
Check out one of her gold medal-winning performances below:
Nationals
Sean Doolittle is many things. He's a rare left-handed closer, a lover of books who stops at an indie bookstore in each town he visits and perhaps the biggest Star Wars fan you'll ever come across. Not only was he given his own Obi-Wan Kenobi bobblehead (that he had a creative say on, by the way) but he also set a record as the first player to ever celebrate a Championship Series victory with a lightsaber.*
*Note: This has not been confirmed by Elias Sports, or any reputable record-keeping company. We're just kind of assuming it.
Fine here's the full context, in order. pic.twitter.com/pc92ApUzu2

— Eireann Dolan (@EireannDolan) October 16, 2019
Orioles
Richie Martin may be in the big leagues, but his grandfather may have the cooler baseball stories. Martin's grandfather was Walter "Bancy" Thomas, who played in the Negro Leagues from 1935-46. He was on the Chicago American Giants alongside Turkey Stearns, and played two seasons as an outfielder with the Kansas City Monarchs in 1944-45, putting Thomas on the same team as Jackie Robinson and Satchel Paige.
Last year, when the O's were in Kansas City to play the Royals, Martin got a tour of the Negro Leagues Museum.
Padres
Not being able to get a haircut right now must be difficult for Padres starter Joey Lucchesi. The southpaw with one of the strangest deliveries in the game gets a haircut before every start.
Phillies
At this point, it's only a matter of time until Andrew McCutchen gets his own biopic ... or at least a Quibi. The outfielder's Instagram is home to a number of his too-long-for-a-Vine, too-short-for-film videos, and he's even been spending his quarantine launching a brand new character, Uncle Larry.
Oh yeah, and he got engaged on "The Ellen Show" in 2013. Pretty sure no other big leaguers have done that.
Pirates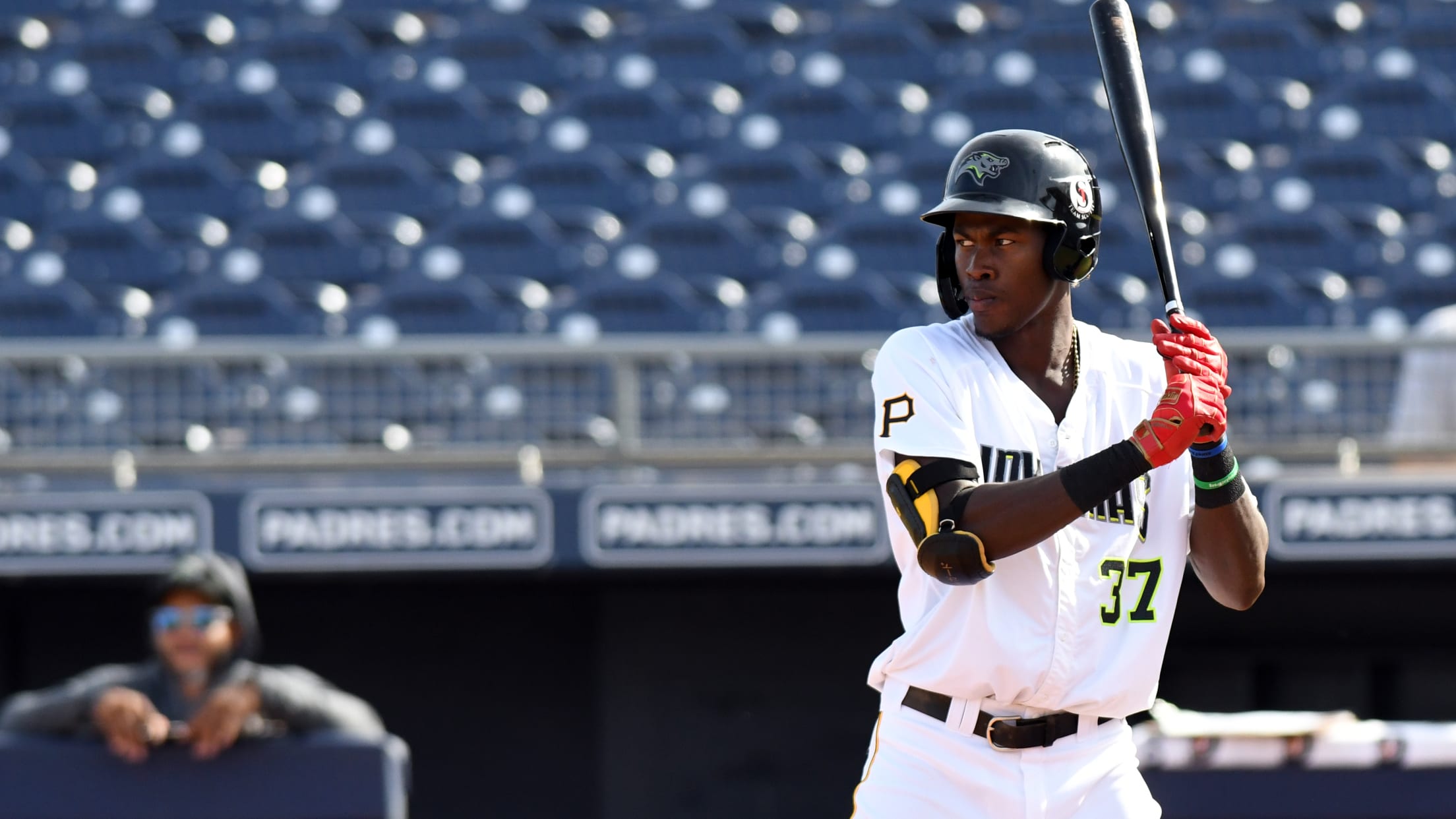 Pirates prospect Oneil Cruz was practically fated to be a ballplayer. The No. 64 prospect in the game was given his name because his father was a big fan of Yankees outfielder Paul O'Neill.
He's far from the only one with a baseball-inspired name in the family: His brother is named Homer and plays in the White Sox system.
Oh yeah, and if the 6-foot-7 Cruz does make his big league debut at shortstop, he would become the tallest player to ever regularly play the position. (Only Joel Guzman, who played a total of nine innings at the position, has also done it.)
Rangers
Taylor Hearn might have the most Texas background possible. That's because the pitcher, who made his big league debut in 2019, grew up on the rodeo circuit. He was a standout, too -- going all over the country to participate in calf roping competitions.
For now, Hearn is also not the most famous athlete in his family. His grandfather, Cleo Hearn, was the first African American to attend college on a rodeo scholarship and the first to win a major calf roping event in 1970 at the Denver National Rodeo.
Rays
Should the Rays ever have a pest problem, they don't need to hire an exterminator. Just call on slugger Hunter Renfroe.
Just days after the Padres drafted him in 2013, Renfroe captured a possum with his bare hands. Unfortunately for Renfroe, the clips were captured on now-deleted Vines, and his new employers weren't exactly thrilled with his new passion.
As far as we know, the rosy-cheeked Renfroe has not caught any more possums since then, barehanded or otherwise.
Reds
Long before you ever saw Kyle Farmer step on a big league field, you probably saw him on the big screen. Farmer had a cameo as a quarterback in the 2009 film, "The Blind Side."
Why did the then-high school athlete get the part? "They needed someone who could throw," Farmer told True Blue LA's Eric Stephen.
You can watch him in action below. He's the QB in the yellow practice jersey:
Red Sox
Staying in Hollywood, there's another catcher with some movie bonafides. Jett Bandy's father, John, was a bartender known for the flashy way he made drinks. Thanks to a chance encounter, John was recruited to help teach Tom Cruise how to show off with the bottles for the movie, "Cocktail."
You can see John show off some of his skills and the soft hands he passed down to Jett in the "Bartender Olympics" below.
Jett's name is also thanks to his father. It's a combination of his father's name and his grandfather's name, Chester.
Rockies
Forget the Ghostbusters. If you wake up in the middle of the night to see some spooky spectre hovering over your bed, you should call up starter Jon Gray. When not on the mound, Gray enjoys investigating haunted buildings.
He's even checked out the Pfister -- the famously haunted Milwaukee hotel that inspires many visiting ballplayers to make their own housing arrangements.
Royals
Here are three things you need to know about Whit Merrifield:
1) He's led the AL in hits and stolen bases twice.
2) He went to Japan for the MLB vs. NPB All-Star Series in 2018.
3) Most importantly, while there, Merrifield took part in a Japanese game show that required him to go shirtless (why? who knows!) while diving for volleyballs that fell out of the sky.
I hope you enjoyed these very important facts.
Looks familiar @WhitMerrifield @KMAC_n_cheez15 pic.twitter.com/IqelyyGPLG

— Peter Moylan (@PeterMoylan) January 3, 2018
Tigers
Jonathan Schoop may be a second baseman, but in the biggest game of his career, he played closer. Schoop was on the Little League World Series-winning Curaçao team in 2004 and was on the mound to close out the championship against Thousand Oaks (Calif.) in the 5-2 win. Of course, Schoop also went 2-for-3 in that game, so it makes sense that he stuck with the bat.
"One thing I remember, I was pitching and the crowd was going crazy with, 'USA, USA,'" Schoop said. "It was so loud. I wasn't even feeling my hand. I was throwing, but I was nervous. That's a moment you won't forget."
Twins
Dogs? Passe. Cats? No thanks. If you want to see a real pet, you're going to want to head to Lewis Thorpe's home in Australia. That's where the Twins' pitcher keeps his 3-year-old kangaroo.
Yes, you read that right. Thorpe has a pet kangaroo named Skippy. Now to just wait for the "Kangaroo Jack" reboot.
DID YOU KNOW:

Lewis Thorpe has a pet kangaroo named Skippy back home in Australia. #TwinsBits #MNTwins

— Dustin Morse (@morsecode) March 8, 2019
White Sox
Tell Lucas Giolito that you just had a "damn fine" cup of coffee, and the Cy Young Award finalist and Players League runner-up will probably know what you mean. His uncle is Mark Frost, who co-created "Twin Peaks" along with David Lynch.
The entire Giolito family is loaded with stars. His father Rick has appeared in several TV shows, including "As the World Turns" and "Who's the Boss," his mother Lindsay acted in "The Ring" and "Collateral Damage," among others, and his grandfather Warren Frost played George Costanza's father-in-law on "Seinfeld."
With that kind of background, it's only a matter of time before Giolito makes his own screen debut, right?
Yankees
Please note: It's Zack, not Zach Britton.
Why are we making the distinction? Well, that's simple. For the first eight years in the big leagues, the relief ace's name was always spelled with an "H" despite his contracts all spelling his legal name -- Zack -- correctly.
So, last year, after signing a three-year contract with the Yankees, the team used the wrong spelling on the legally binding document. That meant it was finally time to get rid of the "stage name," as he called it.
Breaking News: I will be going by my legal name "Zack" instead of my stage name "Zach"..... everyone continue to breath normally... #beenlivingalie #birthcertfail

— Zack Britton (@zbritton) February 7, 2019
"My wife [Courtney] is an attorney, and she's like, 'Legally, we need to have them change it,'" Britton told MLB.com's Bryan Hoch. "I'm like, 'Ugh, I don't want to go through this process again.' So I called my agent and said they need to change my name, my legal name is with a 'K.' Just like a minor thing. Then I talked to the Yankees and they were like, 'Why were you going with an "H?"'"
Michael Clair writes for MLB.com. He spends a lot of time thinking about walk-up music and believes stirrup socks are an integral part of every formal outfit.