Red Sox sticking with closer-by-committee tactic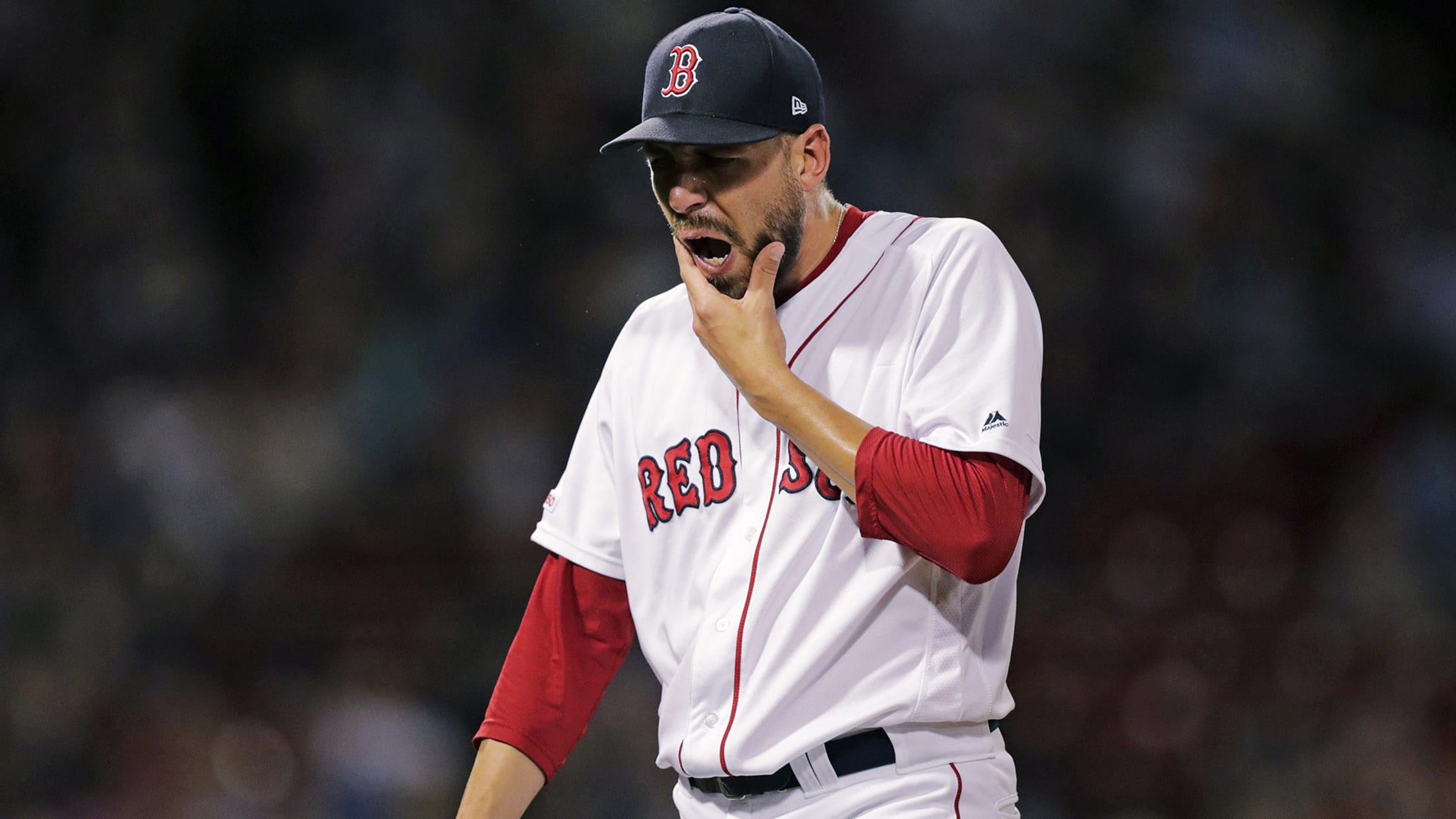 BOSTON -- The ninth inning has not worked out well for the Red Sox so far this season, but manager Alex Cora has no current plans to switch his closer-by-committee approach. Matt Barnes couldn't hold a 2-1 lead in the ninth inning of Monday's 4-3 loss to the Rangers in
BOSTON -- The ninth inning has not worked out well for the Red Sox so far this season, but manager Alex Cora has no current plans to switch his closer-by-committee approach.
Matt Barnes couldn't hold a 2-1 lead in the ninth inning of Monday's 4-3 loss to the Rangers in 11 innings, dropping another game in which Chris Sale went deep and twirled a gem.
Entering Tuesday's game, Boston pitchers had a 6.00 ERA and an opponents' OPS of .860 in the ninth inning.
Opportunities to close games will continue to be distributed among the quartet of Barnes, Brandon Workman, Marcus Walden and Heath Hembree.
"I feel great with the four guys that we have throwing the ball right now," said Cora. "Heater has been amazing. Work. Waldy. And Barnes. Yesterday, it didn't work out with Barnes."
The Red Sox are 14-for-24 in save opportunities. Only three American League teams have fewer saves.
"I think we're still getting people out," Cora said. "That has been going on. You compare us to other bullpens, yeah the saves are not there but we're still doing a good job. We're still matching up and finding matchups that are going to benefit us."
It stands to reason, however, that the Sox could use some help before the July 31 Trade Deadline. Cora thinks some of that help will come from within.
Brian Johnson, Hector Velazquez and Tyler Thornburg are all on the injured list, and Steven Wright is eligible to come back from his suspension for violating Major League Baseball's Joint Drug Prevention and Treatment program on June 25.
Johnson could start this weekend
Cora doesn't think that Johnson -- who has been sidelined since April 6 due to left elbow inflammation -- will need another Minor League rehab start.
Instead, Johnson should return to the Red Sox within the next few days, perhaps initially as a starter.
Darwinzon Hernandez was called up from Double-A Portland to make his first MLB start on Tuesday. Johnson could take that turn in the rotation on Sunday in Baltimore. The Red Sox are still down a starter with Nathan Eovaldi on the injured list. The hard-throwing righty had surgery in April to repair loose bodies in his elbow.
Eovaldi was supposed to go on a Minor League rehab assignment this week, but those plans have been delayed by a bout with biceps tendinitis.
"Just getting treatment, doing his work inside. But nothing as far as throwing yet," said Cora.