Inbox: Witt's path, '20 keys, early surprises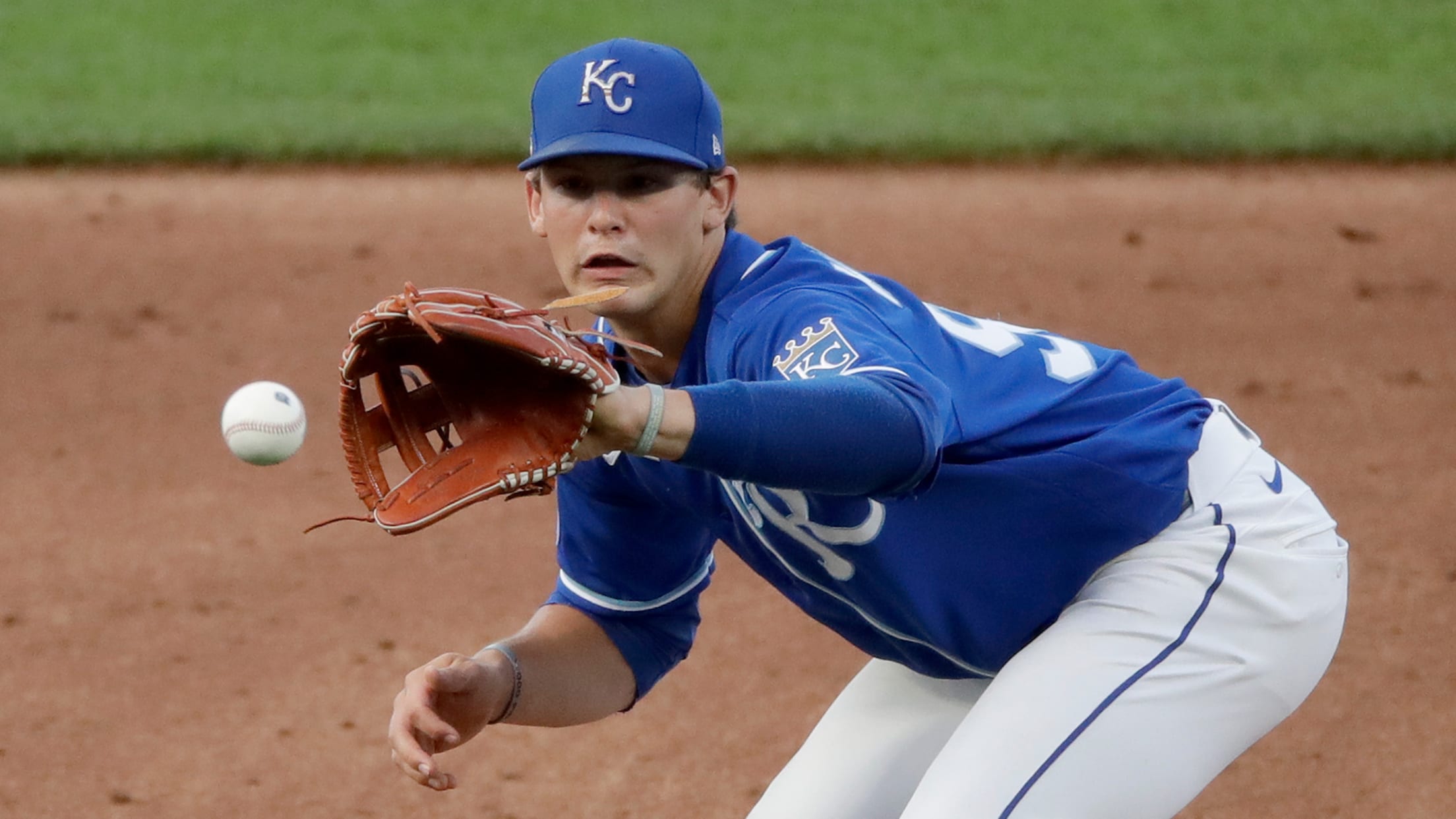 KANSAS CITY -- Royals manager Mike Matheny predicted Summer Camp would fly by. And he was right. We are a week away from the Royals' opener at Cleveland, and many decisions still must be made regarding the rotation and the bullpen spots. The good news is that the catching situation,
KANSAS CITY -- Royals manager Mike Matheny predicted Summer Camp would fly by. And he was right.
We are a week away from the Royals' opener at Cleveland, and many decisions still must be made regarding the rotation and the bullpen spots.
The good news is that the catching situation, now that Salvador Perez and Meibrys Viloria are back, isn't as dire as it was a few days ago.
With that, let's get to your questions for this week's Royals Inbox. I tried to keep the answers short to get to as many questions as possible.
If Witt continues to impress so much in camp, do you think the Royals will start him next year at a level with a path to a 2021 call-up, like AA or AAA? I've looked up other top-3 HS shortstops, and the ones who make it generally debut at 20-21 years old (next year for Witt.)

— Stephen Suffron (@PastorSuff) July 15, 2020
No doubt that shortstop Bobby Witt Jr., the team's No. 1 prospect per MLB Pipeline, has been creating a buzz all camp. He has shown tremendous athleticism in the field and at the plate, along with unheard-of poise for a 20-year-old in what is basically his big league camp debut. Danny Duffy even semi-jokingly called him the best hitter of all time. Witt won't make his big league debut in 2020, but the Royals may accelerate his progression through the Minors now, meaning he may be on a fast track to Class A Advanced and Double-A ball next year. He's that good already.
Biggest surprise improvement since training camp?

— J.C. 2-3 Jet Chip Wasp !! (@rock_climber02) July 15, 2020
I'll go with three guys: center fielder Bubba Starling, right-hander Kevin McCarthy and super-utility man Erick Mejia. Starling looks so much more confident at the plate. McCarthy's added splitter gives him that swing-and-miss pitch he needed. And Mejia just looks like he now belongs in the bigs and can play any position well.
Since this 60 gane sprint kind of makes this season an open competition, What do you consider the biggest key for the Royals to come out and shock some people

— Nathan (@Best4Business15) July 15, 2020
The bullpen. And not just because it was second worst in the American League last year. The bullpen will be key, especially early, because the Royals may enter Opening Day weekend with just three proven starters (depending on when Brad Keller is cleared to return). That lack of starting depth puts some added pressure on the bullpen to perform well -- there could be several games pitched by committee, with an opener and then several relievers behind him.
It seems like the Royals have been close to a TV deal for months. Any idea why it's not finalized?

— Greg Smith (@gsmith601) July 16, 2020
The Royals' deal with FOX Sports Kansas City and Sinclair seemingly has been close to being finalized for a long time. The handshake deal was in place in spring, as MLB.com reported. And we've learned that the Royals will air 59 regular-season games (Aug. 6 vs. the Cubs will be televised nationally on FOX). Next week's three exhibition games also will air on FSKC. Point being, neither side is too worried about the deal being completed, as they've already cemented the schedule. The pandemic brought negotiations to a halt before they could bridge the gap on some minor issues that are now again being discussed.
What is the overall opinion from the players about playing this year? Not the soundbite that they want the media to hear, but the actual opinion?

— Seth Brown (@panesanddrains) July 15, 2020
I can't speak for players on other teams, but to a man, the Royals I've talked to privately are 100 percent all in that the season will start and be completed. They are confident.
Any real progress to report on Pratto, Matias and Melendez?

— Ed Campbell (@EdCampb93252634) July 15, 2020
I had basically only seen Seuly Matias and Nick Pratto in the fall instructional league, so I'm getting a closer look now, and I have been very impressed. We know how strong Matias is (31 home runs in the Minors in 2018). Matias seems to have a better feel for the strike zone. We also knew Pratto was a tremendous defender at first base (smooth, like Eric Hosmer), and he's shown that again in camp. But Pratto also is making strides offensively. MJ Melendez has bulked up and can drive the ball much better now. Matheny is high on Melendez's receiving skills, too.
Who is the player you think will be the biggest surprise to make the 40 man, if any?

— Nate (@lawdogg1983) July 16, 2020
I don't think they'd be surprises at this point, but Mejia and right-hander Tyler Zuber have excellent shots at getting on the roster. And with the rotation so thin, it wouldn't shock me if Brady Singer cracks the 40-man and thus the Opening Day roster. Singer would have enough protection with an ample bullpen to make a start or two to see if he's ready. The problem is, it's not that easy knocking guys off the 40-man to make room.
Can you give some insight on how the backend of the bullpen will look at the beginning of the season.
Thanks

— Mark Flanegin (@MarkFlanegin) July 15, 2020
That's a good question, and I think Matheny will be flexible. But I expect Ian Kennedy to be the closer, and his go-to setup men will be Trevor Rosenthal, Scott Barlow, Josh Staumont and Greg Holland. I also wouldn't be surprised to see Rosenthal get some save opportunities as well. He looked unhittable in Spring Training.
Who is the first player not currently on the 40 man roster to be added?

— Eli Nitz (@bigtrainEliNitz) July 15, 2020
I'll go with Holland or Mejia.
How is Dozier looking in the outfield? Is he comfortable? How has he been learning the new position?

— Alex Parker (@AlexParker) July 15, 2020
Hunter Dozier looked really good in Spring Training in the outfield. We don't get to see as much now with limited media access. But he's such a good athlete, I think he'll adjust fine. He actually has a fair amount of experience in right field under his belt, and outfielder guru coach Rusty Kuntz was a big help to him in Arizona. Dozier lost one ball in the sun the other day, but that's the only blip I've noticed.
I feel like Nicky Lopez could be the most improved player from last years team. Bigger, stronger and I think the balls coming off his bat differently this year. Agree? What have you seen from him?

— Bryce (@BPerryKC) July 15, 2020
I would agree. We noticed the added bulk in Spring Training, and Lopez was really driving the ball. Same here in Summer Camp. He is going to be a sneaky weapon at the bottom of the order.
What is Matheys approach to running game and putting pressure on opposition? Do they still feel the approach of contact over trying to slug out other teams is better?

— jhb2006 (@jhb2006) July 15, 2020
You will see an action game from the Royals, just like in past years. They have too much speed in Whit Merrifield, Adalberto Mondesi, Lopez and Dozier (as well as possibly Mejia and Nick Heath) not to be an offense in motion. And they've attempted steals like crazy in intrasquad games, and hit-and-run quite a bit.
Has Mcbroom solidified the 1B job with o'hearn sidelined these couple weeks?

— Alex Maggard (@AlexJMaggard) July 15, 2020
Ryan McBroom, like he did in Spring Training, looks ready to be a force in the lineup. And he'll likely be the guy as Ryan O'Hearn remains in isolation. I joked with McBroom on Thursday about being the starter right now, and he wasn't having any of it: "Too soon; you just never know."
Which players that aren't on the 40 man roster, have the best chance to be on opening day 30 man? Thanks as always!

— Rupert (@royalrupert) July 15, 2020
In order, Holland, Mejia, Zuber and Singer.