Every Royals Players' Weekend nickname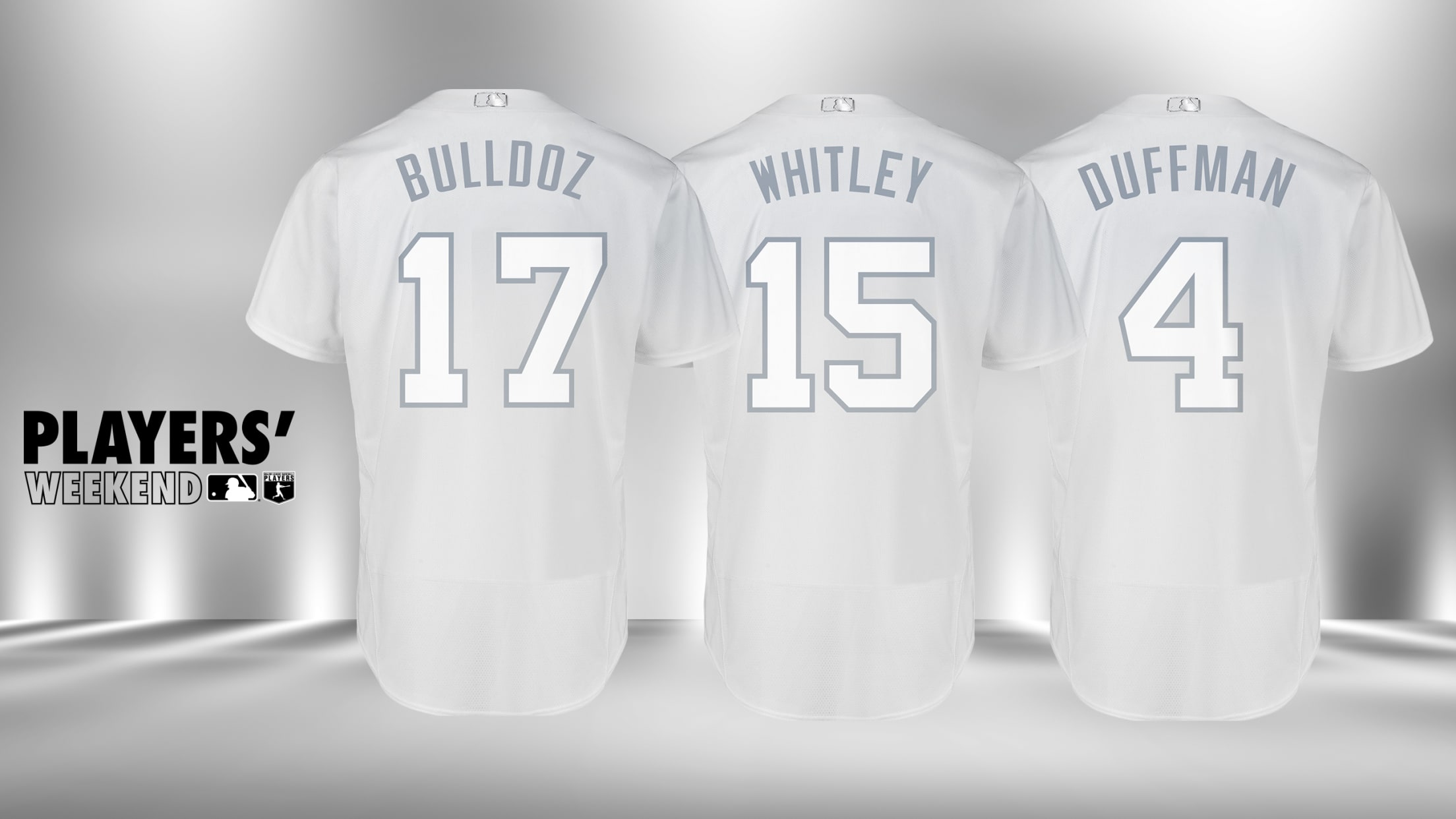 KANSAS CITY – Royals right-hander Brad Keller had little doubt what he wanted his nickname to read on the back of his jersey for Players' Weekend, which runs Friday through Sunday when the Royals are in Cleveland. Keller is going with "YELDARB." That's his given name, Bradley, spelled backwards. And
KANSAS CITY – Royals right-hander Brad Keller had little doubt what he wanted his nickname to read on the back of his jersey for Players' Weekend, which runs Friday through Sunday when the Royals are in Cleveland.
Keller is going with "YELDARB." That's his given name, Bradley, spelled backwards. And there is a story to that.
"When I was little, when I first started to learn to write my name," Keller said, "I used to write my name backwards. I always wrote it, 'Yeldarb.'"
• Every team's Players' Weekend nicknames
And why did Keller do that?
"I have no idea," Keller said, laughing. "I really don't. I just did. I think my parents probably thought there was something wrong with me."
Keller said he stopped writing his name backward before he got to the first grade. And now he plans on giving his jersey with "YELDARB" on it to his parents.
"They used to even call me 'Yeldarb,'" Keller said.
Here's a look at all the Royals' Players' Weekend nicknames.
• Shop for Players' Weekend gear
Humberto Arteaga: "ARTY"
Scott Barlow: "SCOOTS McGOOTS"
Barlow explains that this past Spring Training he purchased a scooter and could be seen buzzing around Surprise, Ariz., with it, and around camp. Teammate Kyle Zimmer dubbed him, "Scoots." That eventually morphed into "Scoots McGoots," and we'll just leave it at that.
Cheslor Cuthbert: "ISLAND BOY"
Cuthbert is from the Corn Islands in Nicaragua.
Hunter Dozier: "BULLDOZ"
Danny Duffy: "GORDO"
Duffy is on the injured list, but he could be activated in time for Players' Weekend. He said Alex Gordon and him decided to switch their nicknames in Spring Training.
"So many times in Spring Training we'd be shagging fly balls in the outfield, and I'd catch one and fans would yell, 'Hey Gordo, throw me the ball,' and vice versa," Duffy said. "So, we just decided to make it easier for everyone.
"And then, just the other day, I'm walking into the stadium with red shorts on and someone yells, 'Hey Gordo. Go Big Red [Nebraska]!' I mean, do I really look sculpted like Gordo?"
Cam Gallagher: "GALLY"
Alex Gordon: "DUFFMAN"
Tim Hill: "TIM JIM"
Hill explained that his full given name is Timothy James Hill. While he was growing up, his family called him, "Tim Jim." He'll be using this nickname just once, he said, and then give the jersey to his mother. "She deserves it," Hill said.
Jakob Junis: "JUNE BUG"
Junis said teammates started calling him that in the Minor Leagues. "I have no idea why," he said.
Brad Keller: "YELDARB"
Ian Kennedy: "E"
Kennedy said that when he was growing up, coaches and family all called him, "E," short for Ian. To this day, his grandmother still calls him, "E," and he plans to give her this jersey.
Jorge Lopez: "EL PICHU"
Lopez said this was a nonsensical nickname that was given to him as a young boy in Puerto Rico. "It doesn't really mean anything," Lopez said, "other than I was a little boy trying to act big and throw hard like the big boys. So, they called me a little 'Pichu.'"
Nicky Lopez: "SHORTS"
Lopez said he got this nickname from his father while growing up. "I was pretty tiny growing up," Lopez said. "So, that one kind of stuck. I didn't really have a growth spurt until I got to high school. But I was always 'Shorts' to my dad before that."
Richard Lovelady: "LOVE"
Kevin McCarthy: "MAC"
Whit Merrifield: "WHITLEY"
Adalberto Mondesi: "ACE"
Mondesi, who is on the 10-day injured list, uses this nickname as a tribute to his friend, the late Yordano Ventura.
Mike Montgomery: "MONTY"
Ryan O'Hearn: "BROHEARN"
Salvador Perez: "EL NIÑO"
Royals fans know the story behind this. Former teammate Eric Hosmer gave Perez this nickname early in the Minors when Hosmer was in awe of "the boy," and what he could do on the baseball field. It stuck.
Brett Phillips: "MAVERICK"
While some people assume this comes from the character in "Top Gun," it's actually from an old, popular television series called, "Maverick," starring James Garner, whose character was named "Bret Maverick." Phillips' grandfather loved the show and used to call Phillips' father, whose real name was Brett James Phillips, "Bret Maverick."
"Then, when my dad came of age to have a family, he wanted to name a child, 'Brett Maverick Phillips,'" Phillips said. "So, I was named that."
There was one problem, though.
"When I was younger, any time my mom [Jody] or my sister [Brittany] would yell out 'Brett,' both my dad and I would answer," Phillips said. "So, my mom said, 'This isn't going to work.' So, they started calling me Maverick instead."
Glenn Sparkman: "SPARKY"
Jorge Soler: "EL CRUDO"
Coach Pedro Grifol said this nickname in Cuba essentially means "raw" or "ripped," and "well-cut," in terms of one's physique. That's fitting.
Bubba Starling: "BUBS"
Josh Staumont: "STAUMONT"
Meibrys Viloria: "EL FRESCO"
Viloria said this essentially translates into "swagger," or just someone who likes to play around. And anyone who has seen Viloria's bat flips know that is appropriate.
Kyle Zimmer: "ZIM"