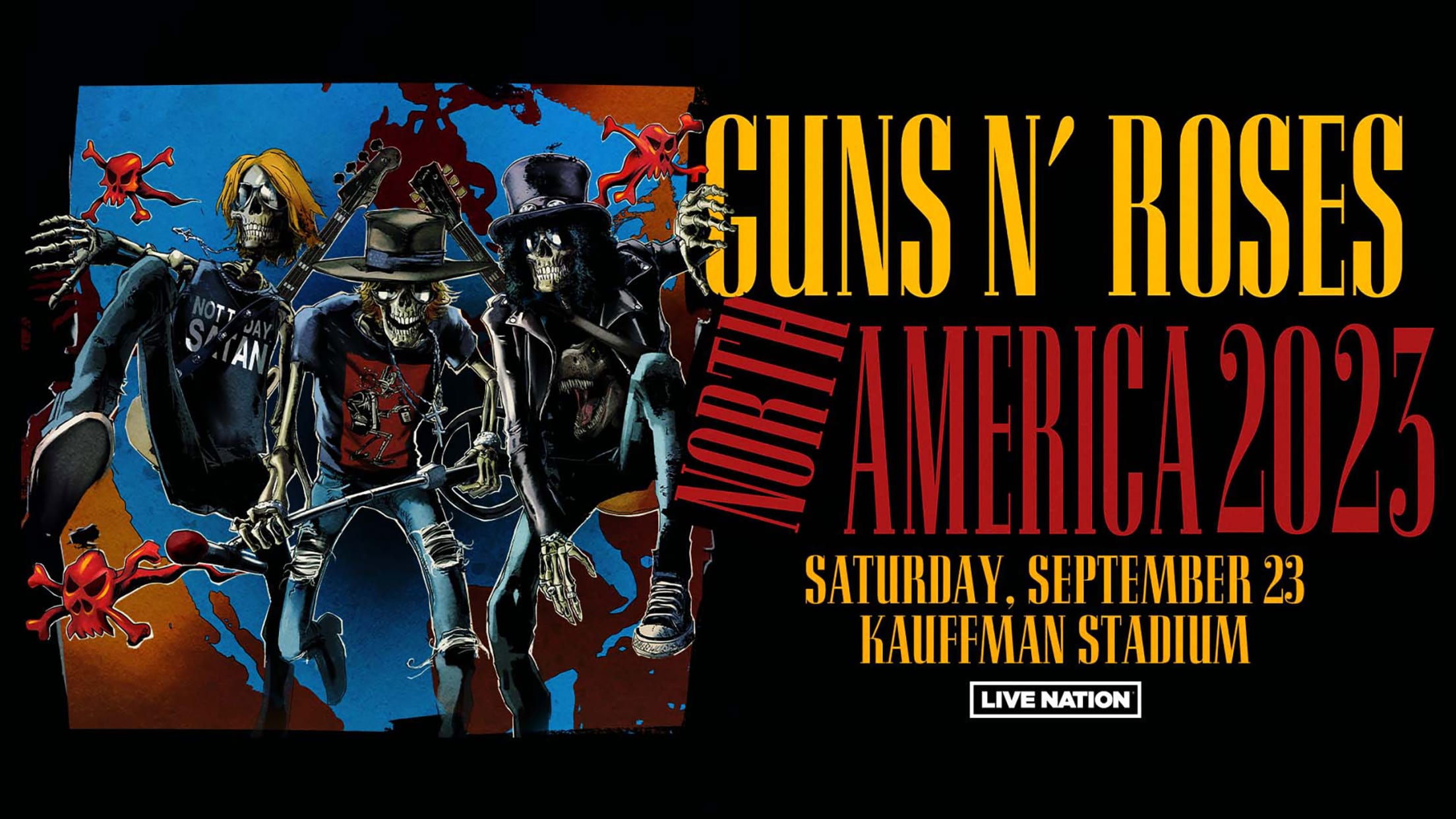 Concert Details
Show Date: Saturday, September 23, 2023
Show Time: 6:00 p.m.
Gates Open: TBD
Parking Opens: TBD
Artist: Guns N' Roses
For premium seating options, including suites, Craft and Draft, and Diamond Club email [email protected] or call 816-504-4040 option 4.
VIP Packages
Welcome to the Jungle Experience
Paradise City Lounge Package
Patience Early Entry Package
Live and Let Die Premium Ticket Package
Nightrain Premium Ticket Package
Thank you for purchasing a Guns N' Roses VIP Package. Package details and tour production subject to change without notice. Tickets will be distributed based on your elected delivery method. Your merchandise items that are included in the package will be available for pickup at the venue the day of the show at the designated VIP check in location (or other designated location at the venue). Pick up on the date of the event only. CHECK-IN LOCATION & TIME INFORMATION WILL BE EMAILED OUT BY [email protected] 3-5 DAYS PRIOR TO THE DAY OF THE SHOW. If you have not received this 3 days before the show please contact us immediately ([email protected]). All packages are NON-REFUNDABLE. All sales are final. You must bring a valid PHOTO ID matching the PURCHASER NAME on this order. Those who cannot present a photo ID matching the PURCHASER name on the order will be turned away. You may be required to sign a waiver & release of liability. If you have any questions regarding the ticket portion of your purchase or have not received your confirmation email, please email [email protected] OR call 816-921-8000. Guns N' Roses VIP Packages CANNOT BE RESOLD. All package elements will be rendered invalid if resold. Please check with the venue directly for any age restrictions. If you have ACCESSIBLE needs: please call or email our customer service representatives as soon as you have placed your order, and we will do our best to accommodate your needs based on availability. If you have any questions about VIP packages please email [email protected] or call 888-458-8297.
Seating Map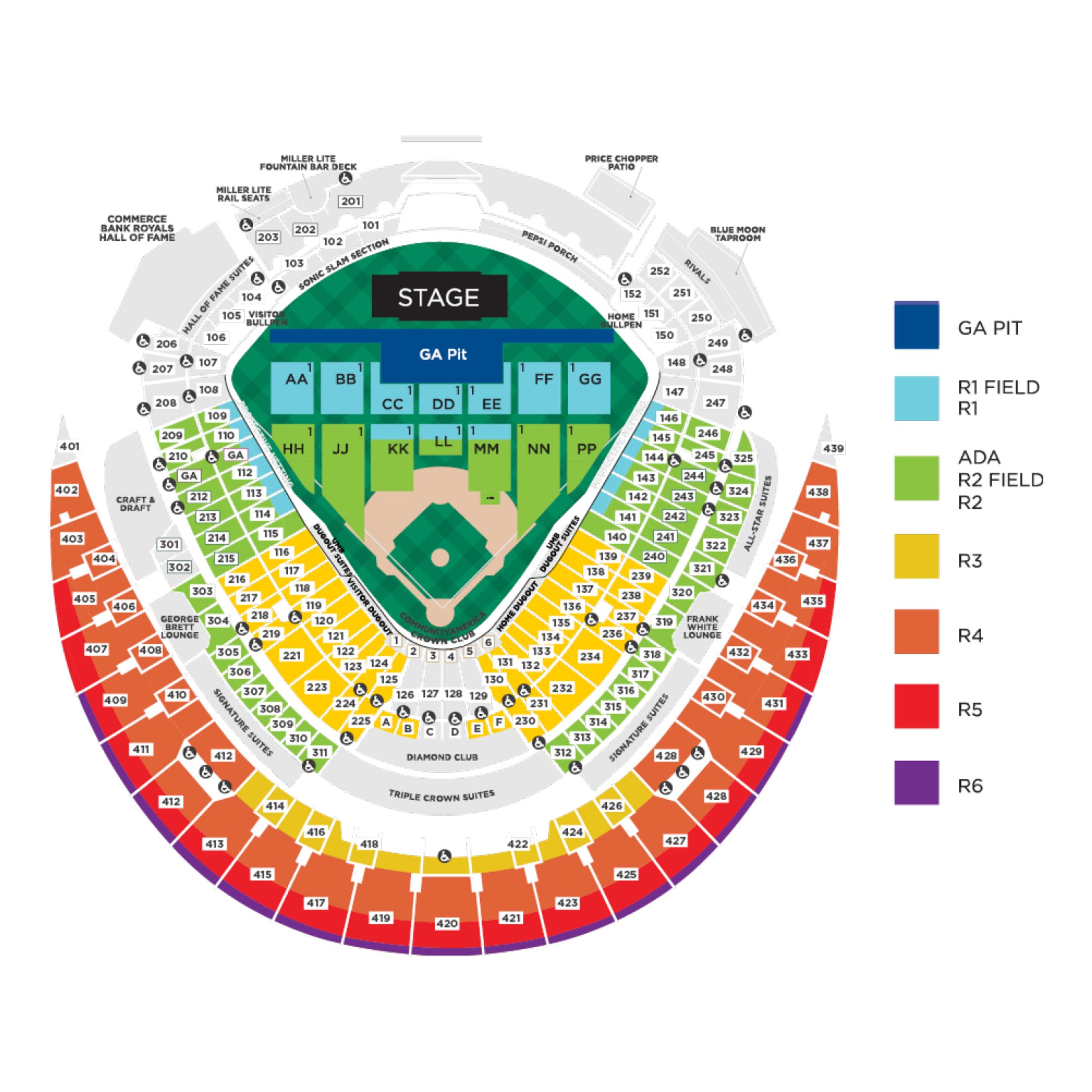 General Concert Information
Parking lots will open at TBD
General parking will cost $30, oversized vehicles will be $45 and bus and RV parking will be $60. All parking must be purchased in advance.
Kauffman Stadium is a cashless venue.
Cabs, ride shares, and drop-offs should enter through Gate 3 prior to the event. They will be directed to drop off next to the blue fence outside Gate D.
After the event starts, cabs, ride shares, and drop-offs should enter through Gate 2 and line up in Lot A for pick up.
All ticket holders will be subject to metal detection and bag check.
Prohibited items are listed below. Please note NO BACKPACKS allowed, all purses will be searched.
Ballpark staff will NOT be able to hold or check any items for you.
There is a no re-entry policy at Kauffman Stadium. Once you leave the ballpark, you may not re-enter.
Due to heightened security measures, guests are advised to arrive at least one hour prior to show time.
Guests with field seating are encouraged to have their tickets ready upon entrance to the field. Field entrances will be located at the following areas: inside Gate A past the Royals Hall of Fame, sections 111, 112, 113, 114, and 115 on the 3rd base side, and 139, 140, 141, 142, and 143 on the 1st base side. Guests with disabilities and ADA needs will enter the field by using the elevator in the Diamond Club to Level 1 and will be escorted to a lift.
The Outfield Experience will be closed to public access.
The Diamond Club Lounge will be open to the public.
Concessions/Bars will be open on Plaza, Loge and View Levels and there will also be bars located on the show floor.
The Royals Team Store will be open all day and throughout the concert.
The Royals Ticket Office will not accept any third party will call drop offs.
Food and Drink Policy
To ensure the safety and enjoyment of all guests at the ballpark, coolers, alcoholic beverages, or other non-clear liquid containers are not permitted.
Food that resembles individual portions in a clear, plastic bag that is no larger than one gallon is allowed in the stadium.
Guests may bring water bottles into the stadium, provided the water is in a plastic 1-liter or smaller sealed/unopened plastic bottle (one per person), and not frozen.
Bag Policy
All bags are not allowed into the stadium with the exception of 5" X 9" CLEAR clutch purse (hand carried or positioned at the waist). Exceptions may be made for medical needs.
Prohibited bags: backpacks, multi-pocket bags, coolers of any kind
Prohibited Items
*Re-Entry will not be permitted*
Prohibited items include but are not limited to the following items:
Backpacks or multi-pocket bags
Any alcoholic beverages, cans, and bottles
Weapons (including all guns and pocket knives)
Fireworks
Items that could be projectiles
iPads and tablets
Video Cameras or Professional Cameras
Banners or flags with sticks in them
Bullhorns/airhorns/cowbells (or other noise makers deemed by staff unacceptable)
Lasers or laser pointing devices
Coolers of any kind
Anything that can obstruct a fans view
Wrapped presents and/or gifts of any kind*
Pets or animals not documented as service dogs
Aerosol cans (i.e. sunscreen, hairspray, mace, etc.)
Toy guns or toy knives
Baseball Bats
Beach Balls or other inflatables
Unmanned Aerial Vehicles