Detroit still a 'special' place for Granderson
Veteran outfielder reminisces upon return to Motor City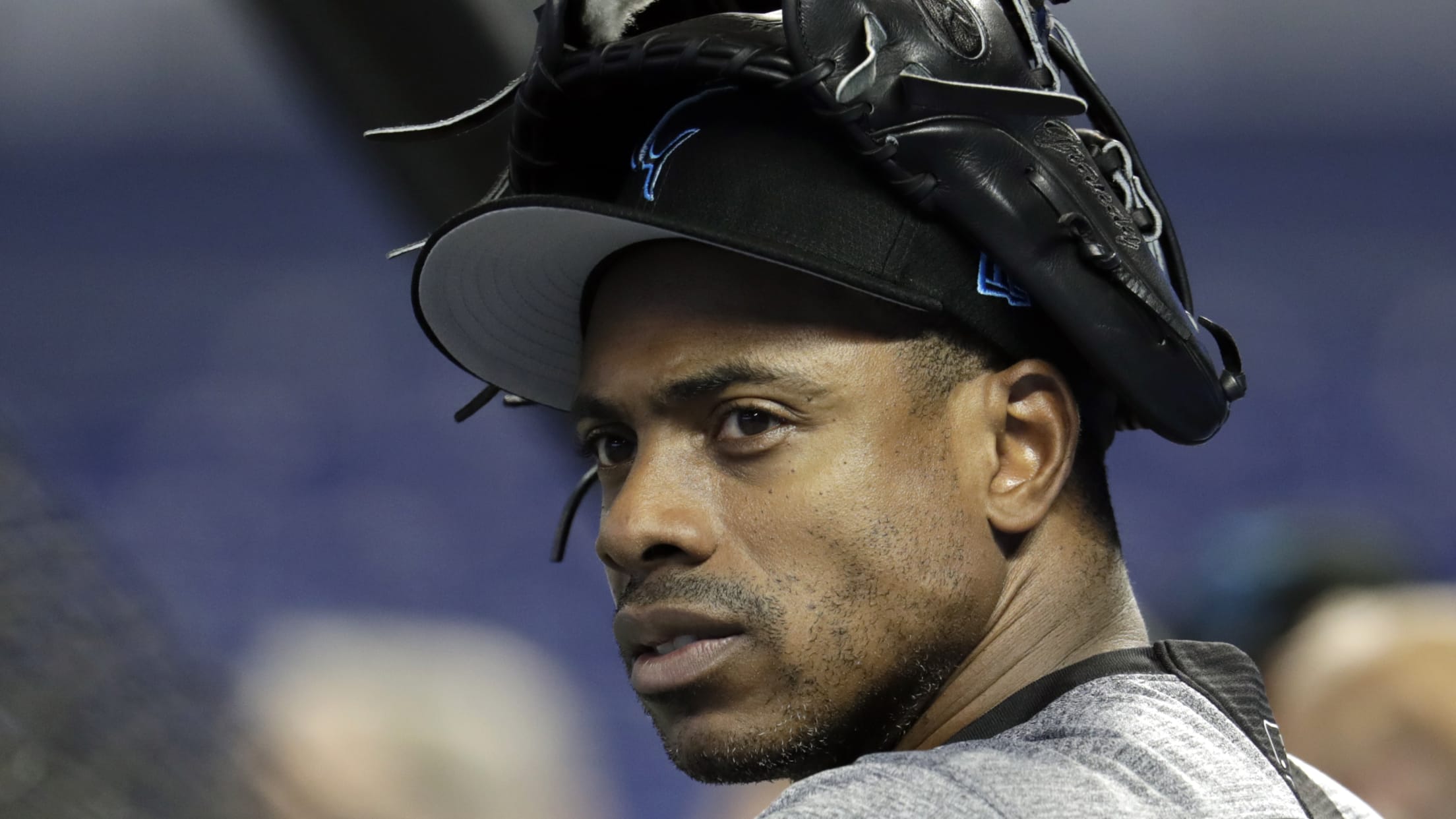 DETROIT -- Pardon Curtis Granderson if some of the memories from his days in a Tigers uniform are fading a bit. He turned 38 in March and hasn't called Comerica Park home since 2009, playing for six different teams since then. But he can still remember his first memories of
DETROIT -- Pardon Curtis Granderson if some of the memories from his days in a Tigers uniform are fading a bit. He turned 38 in March and hasn't called Comerica Park home since 2009, playing for six different teams since then. But he can still remember his first memories of the ballpark shortly after he was drafted out of the University of Illinois-Chicago.
"Signing my contract in '02, I remember the first time coming on the field and getting asked, 'Do you think you can play center field here?'" the Marlins outfielder recalled from his corner in the visiting clubhouse Tuesday afternoon. "And this is before they had moved the fences in. My thought process was like, 'There's no chance. I mean, the flagpole's still out there and it's 438 feet [from home plate]. Like, how is that going to happen?'"
It happened, just like the fences moving in the following year. Granderson turned not only center field in Detroit into his home for the better part of five years -- he made Detroit his adopted city, making a lasting difference in the community and forging a legacy that lingers years later.
While the Tigers' current homestand has seen a lot of old, familiar faces come through, from Justin Verlander and Don Kelly to Fernando Rodney, Granderson holds a unique place in team history because of his on- and off-field impact. The same goes for the city's place in Granderson's heart.
Sliding into a new series like... Excited to head back to Detroit where it all started 👊🏾 pic.twitter.com/gY7kuGxp4M

— Curtis Granderson (@cgrand3) May 20, 2019
He admits that he never thought, back then, that he would play this long, but as Granderson takes in Detroit in what could be his final visit, he savors it.
"A lot of people assume that because I played in New York, that automatically trumps this, because New York City's a big market," Granderson said. "And that's a special place, too. But your first -- there's nothing that can ever take that away. I got a chance to go to my first World Series here. I made my first All-Star Game here. I played in my first World Baseball Classic here. So I had a lot of firsts here and enjoyed it so much. Plus, with it being in the American League Central, I got a chance to go home to Chicago three times a year, which was awesome. And my family got a chance to come up here a lot because they could drive, they could train, they could bus. They could get here really quick. There's a lot of special things that Detroit was for me."
Likewise, there are a lot of special things that Granderson sees happening in Detroit now, things he could only dream about back when he played here.
"There are things that I had mentioned before and said, 'Man, if Detroit's gonna make a change, it's going to have some of these things.' And sure enough, each time I come back, some of those things start to come in and some of those changes start to happen," he said. "You see it slowly but surely start to get to that point where it can ultimately get to the stories of what I've heard in the past: about how Detroit was this place back in the '50s, '60s and '70s. Obviously, things go through cycles, so you hope it can get back to a situation like that."
Injury updates
• Jordy Mercer is expected to go on a Minor League rehab assignment in the next day or two, after doing more running drills on Tuesday to test his strained right quad.
• Jordan Zimmermann threw off flat ground at 120 feet on Tuesday, and he hopes to throw off a mound next weekend as he works his way back from an ulnar collateral ligament sprain and more recent flexor pronator tightness in his right arm.