Jimenez excited to take closer role
Tigers to use righty in ninth after trading Greene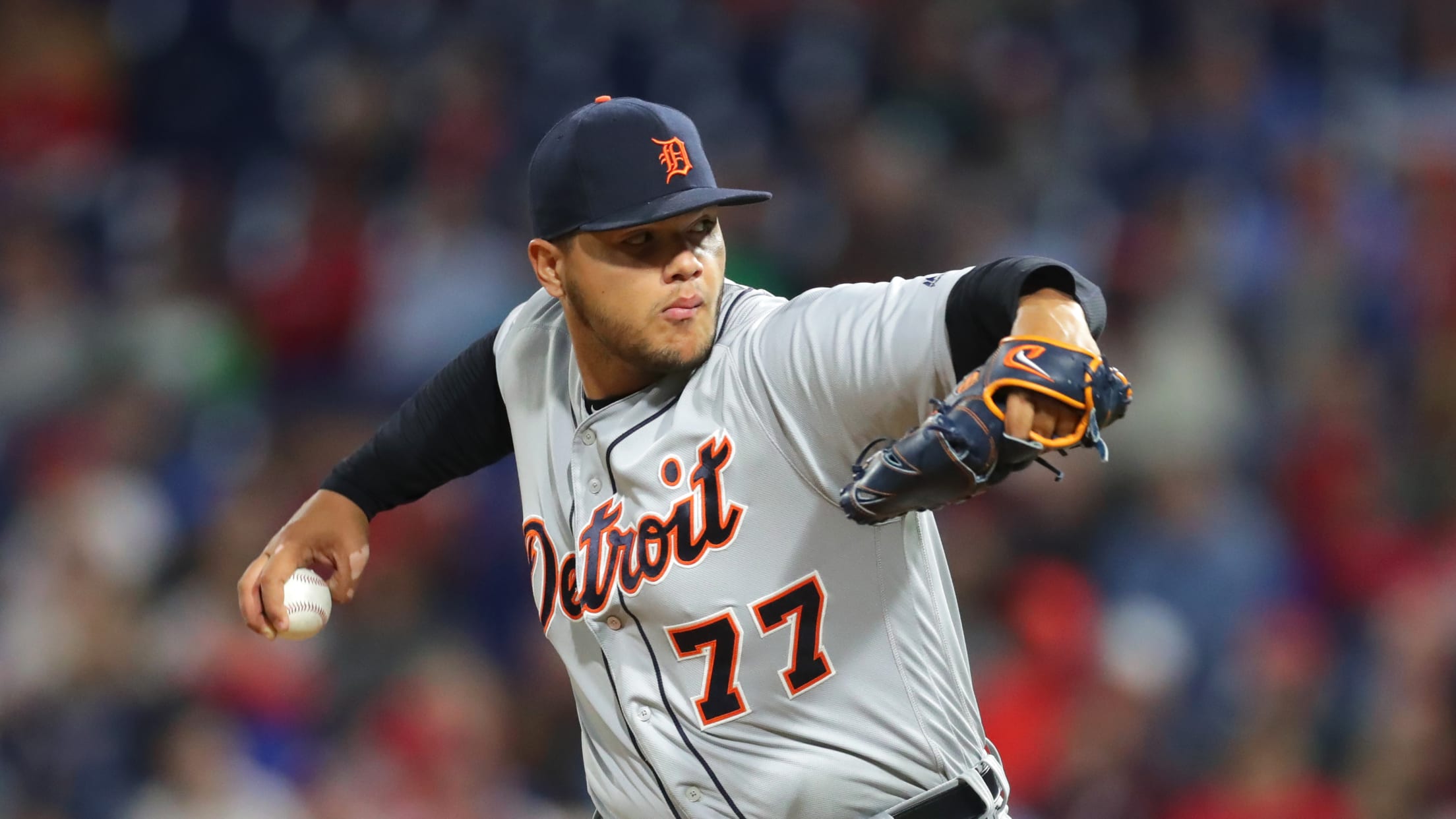 ARLINGTON -- Joe Jimenez has been preparing for the Tigers' closer role since he was a teenager in Detroit's farm system. He still wasn't sure if this would be his time to take it. "To be honest, I didn't know," Jimenez said on Saturday, "just because there's some guys out
ARLINGTON -- Joe Jimenez has been preparing for the Tigers' closer role since he was a teenager in Detroit's farm system. He still wasn't sure if this would be his time to take it.
"To be honest, I didn't know," Jimenez said on Saturday, "just because there's some guys out there doing better than me. Maybe they thought, I don't know, that someone else can do the job better than me. So, I wasn't expecting that."
Perhaps, but there was never a doubt in Tigers manager Ron Gardenhire's mind. He'd called it a week before Shane Greene was dealt, that Jimenez would move into the job.
No matter the club's struggles this season, or the presence of a recent MLB closer in Trevor Rosenthal, this is what Jimenez has been groomed for.
Before the high of Jimenez's All-Star season last year and the low of his struggles this summer, he was the closer in waiting, charging up the Minor Leagues. His 2015 campaign at Class A West Michigan is the stuff of legend; he allowed just 23 hits over 43 innings, with 11 walks and 61 strikeouts on his way to 17 saves. He topped that with 30 saves in 2016 on his rise from Class A Advanced Lakeland to Double-A Erie to Triple-A Toledo, leaving fans clamoring for the Tigers to bring him into their American League Wild Card chase.
"Coming from the Minor Leagues, I closed a lot of games," he said. "That's what I learned to do, and obviously I like it a lot. They gave me the chance, so I'm just going to take advantage of it and try to do my job every day."
After riding the Toledo-Detroit shuttle in '17, he stuck for good last year, learning under Greene's leadership. He also picked up three saves on days that Greene was on rest. Despite Greene's heavy workload early this season, that opportunity never came about this year, though he felt like his setup work was a suitable prep.
"Throwing the eighth, I'm basically doing the same thing," Jimenez said. "It's just a different inning. Same thing, different inning."
That's the mindset Gardenhire wants him to take.
"It's a natural progression for him to step into this role and see what he can do," Gardenhire said. "I mean, he's got the velo. He's got the pitches. So now, we just have to see if he can do it. It's going to be on his shoulder, and it'll be fun to see what happens."
Unless the Tigers go on a late-season tear, it won't be a challenge of durability. Detroit hasn't had a save since June 29. Greene had just two save opportunities in July, and he didn't pitch on consecutive days since July 3-4. He had five days' rest before his last outing as a Tiger on Monday in Anaheim.
That type of irregular workload can present a challenge in itself. Jimenez has pitched on more than three days' rest just four times this season, once for the All-Star break. The flip side is that the save opportunities are in some ways more critical for a team searching for wins. A blown opportunity can be tougher on team morale, given the fight required to carry a lead to the ninth.
Some of Jimenez's struggles, Gardenhire said, have involved missing his spots over the plate rather than off it. In the quest to not give away a walk, he has been punished for hits.
"In this closer's role, you have to learn that it's better to miss wildly than miss over the plate," Gardenhire said. "It'll be a learning experience for him. It'll be interesting to see what happens."
Setup role remains open
While the ninth inning now belongs to Jimenez, the eighth inning will be a mix. Buck Farmer, who has pitched in every inning but the third this season, will be utilized. But so will Rosenthal, who has provided reason for encouragement in recent outings after a rocky first couple innings.
"I'm just as interested in [Rosenthal] as you are," Gardenhire said. "I think it's interesting to watch him go out there. He might misfire a couple of pitches, but then he's been pounding it in there. When he misfires with the fastball, he goes and throws a little slider in there and kind of finds himself again, slows it down a little bit, and then his fastball's better. It's an interesting thing."
Farmer isn't worried about a role. He said he planned to talk with pitching coach Rick Anderson about still being available to pitch the sixth and seventh innings if needed, depending on the situation.
"I still see myself as that everyday [reliever]," he said. "I just want to be out there, be that guy for whatever situation is going to help the team win or stay in a good spot."
Farmer didn't settle into a seventh-inning role until fairly recently, a product of his stingy pitching since mid-June. He entered Saturday having allowed two runs on 13 hits over 16 2/3 innings in his past 18 appearances, walking seven and striking out 19.