The 11 hardest-throwing rotations for 2019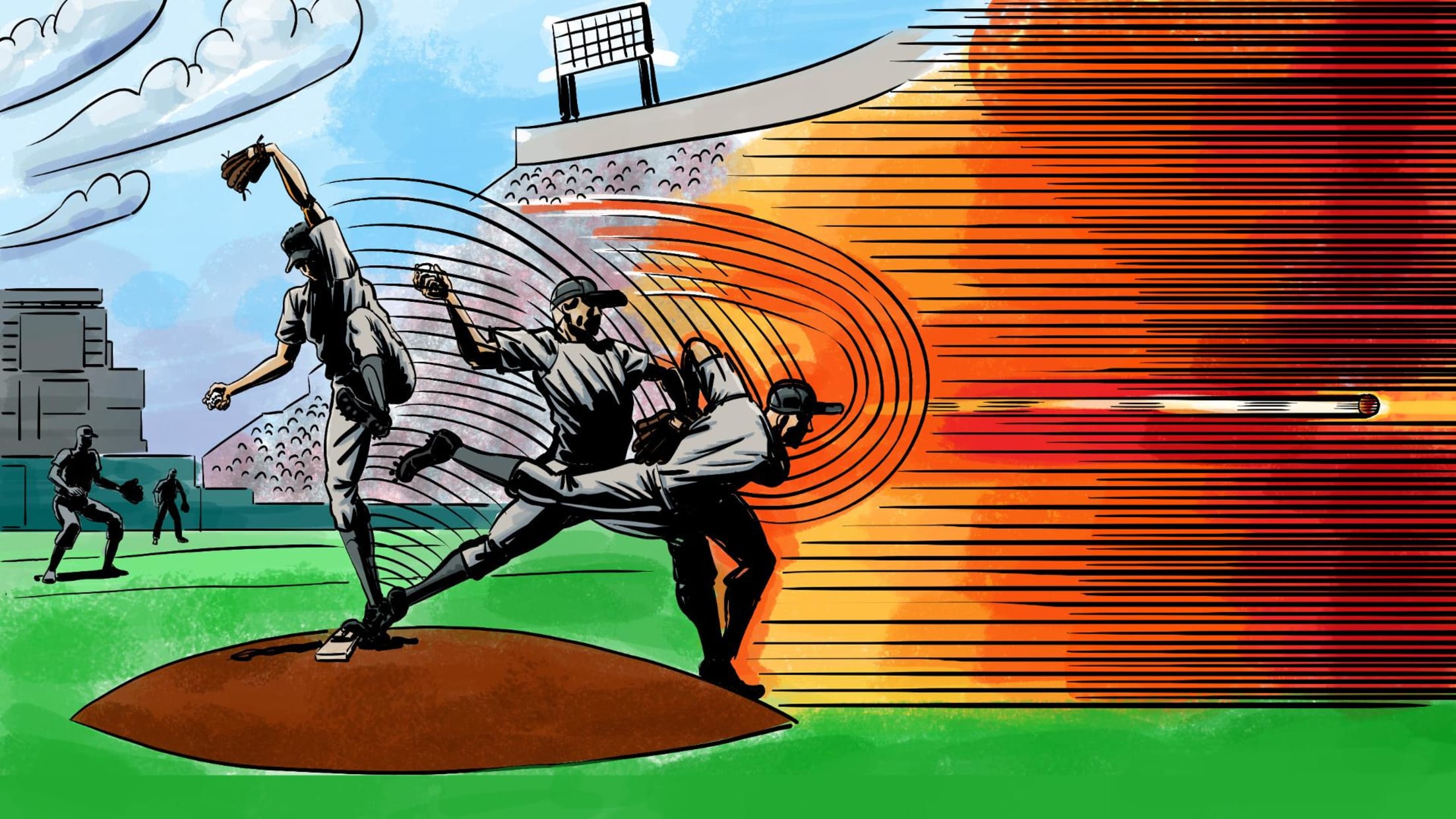 Velocity certainly isn't everything. Location, movement and spin all play a role in a fastball's effectiveness, not to mention how it works with the rest of a pitcher's repertoire. But velocity does help. It increases pressure on hitters and widens a pitcher's margin for error. Just check out these MLB-wide
Velocity certainly isn't everything. Location, movement and spin all play a role in a fastball's effectiveness, not to mention how it works with the rest of a pitcher's repertoire.
But velocity does help. It increases pressure on hitters and widens a pitcher's margin for error. Just check out these MLB-wide numbers from 2018, based on hitters' weighted on-base average (wOBA) against starting pitchers' fastballs (four-seamers and two-seamers/sinkers).
• Less than 90 mph: .379
• 90-92 mph: .365
• 92-94 mph: .355
• 94-96 mph: .335
• 96-98 mph: .281
• More than 98 mph: .270
For context, hitters had an overall wOBA of .316 last season against starters on all pitch types.
Given that breakdown, it's worth considering which teams' rotations have the best velocity going into next season. Determining this isn't an exact science, but MLB.com took a shot at it, using Statcast™ data and 2019 projected rotations recently provided by the 30 MLB.com beat writers -- with a few updates.
Before we get to the high heat, a few notes about the methodology:
• "Fastball" was defined as four-seamers and two-seamers/sinkers.
• MLB data from 2018 was used for every pitcher, except those who didn't start in the Majors last year or haven't pitched in MLB yet. In the former case, data from their most recent season was used; in the latter case, those few pitchers simply weren't counted for the purposes of this exercise.
• Since most pitchers see their velocity increase when used out of the bullpen, only data from starts was used. The average fastball from an MLB starter in 2018 was 92.3 mph, compared with 93.4 mph for relievers.
• A team's average is the average of every fastball thrown by those pitchers last year, as opposed to just an average of each pitcher's average fastball velocity. So if one pitcher threw 2,000 fastballs and another threw 500, the first pitcher's fastball received a lot more weight. In other words, playing time and pitch usage mattered.
Without further delay, here are the top 11 hardest-throwing rotations in MLB, with each group listed in descending order of velocity:
1) Rays: 95.8 mph
Tyler Glasnow 96.5 mph, Blake Snell 95.8 mph, Charlie Morton 95.7 mph
The Rays get a big asterisk in this spot, with only three true starters included due to their use of the opener. Counting Ryan Yarbrough (89.2 mph), who pitched 147 1/3 innings last year despite making just six starts, would bring down that average. On the other hand, the live-armed Glasnow has a shot to play a bigger role in Tampa Bay's rotation after coming over from Pittsburgh last summer.
2) Astros: 95.0 mph
Josh James 96.9 mph, Gerrit Cole 96.5 mph, Justin Verlander 95.0 mph, Framber Valdez 91.9 mph, Collin McHugh 90.3 mph (2017)
Although Houston's rotation was spectacular in 2018, Dallas Keuchel is a free agent, Morton is gone and Lance McCullers Jr. underwent Tommy John surgery. Even so, American League Cy Young Award candidates Cole and Verlander are two of the game's hardest-throwing regular starters, and James showed a great arm during his brief '18 debut, topping 101 mph at one point. (Half of James' six MLB appearances last year came out of the bullpen, but he was primarily a starter in the Minors during the season. He is penciled into the Astros' rotation.) McHugh averaged 92.1 mph last year, but that was entirely out of the bullpen.
3) Mets: 94.5 mph
Noah Syndergaard 97.4 mph, Jacob deGrom 95.9 mph, Zack Wheeler 95.9 mph, Steven Matz 93.4 mph, Jason Vargas 86.4 mph
With the defending National League Cy Young Award winner, plus Syndergaard and Wheeler, the Mets boasted three of last season's top seven starters in average fastball velocity out of the 108 who threw at least 1,000 heaters. Vargas, however, drags down the rest of the group.
4) Yankees: 94.0 mph
Luis Severino 97.6 mph, James Paxton 95.4 mph, J.A. Happ 91.9 mph, Masahiro Tanaka 91.6 mph, CC Sabathia 90.1 mph
No starter last season averaged a higher fastball velo than Severino, whose 151 pitches at 99-plus mph were by far the most in the Majors for someone in that role. The acquisition of Paxton from Seattle gives New York the game's second-hardest thrower among lefty starters, behind only Snell. While Tanaka and Sabathia don't throw hard, they also used their fastballs less often than any other regular starters. (Sabathia does use a cutter heavily.)
5-tie) Phillies: 93.6 mph
Nick Pivetta 94.8 mph, Zach Eflin 94.3 mph, Vince Velasquez 93.8 mph, Jake Arrieta 93.0 mph, Aaron Nola 92.4 mph
Nola is coming off a spectacular season for reasons other than premium velocity, with opponents batting just .206 and slugging .309 off his four-seamer and sinker. In his first season with Philly, Arrieta's velocity was up from the year before (92.2 mph), but it was still down quite a bit from 2016 (94.4 mph).
5-tie) White Sox: 93.6 mph
Reynaldo López 95.5 mph, Dylan Covey 94.0 mph, Carlos Rodón 93.0 mph, Ivan Nova 92.8 mph, Lucas Giolito 92.3 mph
Giolito's lack of fastball velocity relative to what he showed as a top prospect has been jarring, but the White Sox hope he and Lopez take steps forward in 2019. Covey is just one fifth-starter candidate, along with Manny Bañuelos, whose only MLB action came in '15.
7) Indians: 93.3 mph
Trevor Bauer 94.5 mph, Mike Clevinger 93.6 mph, Carlos Carrasco 93.4 mph, Shane Bieber 93.0 mph, Corey Kluber 92.0 mph
Cleveland is bringing back the entirety of a rotation that ranked as one of baseball's best last year -- but perhaps not primarily because of its stellar velocity. Tribe starters had the fourth-lowest fastball usage rate, with Bauer, Clevinger, Carrasco and Kluber all sporting dominant secondary pitches.
8) Red Sox: 93.2 mph
Nathan Eovaldi 97.1 mph, Chris Sale 94.9 mph, Eduardo Rodriguez 93.3 mph, David Price 92.7 mph, Rick Porcello 90.4 mph
After having his second Tommy John surgery and missing all of 2017, Eovaldi returned to the Majors -- and to his place as one of the game's hardest-throwing starters. He ranked third in that category (minimum 500 fastballs), behind only Severino and Syndergaard. Sale, Rodriguez and Price all are considerably above average for southpaw starters (91.4 mph).
9-tie) Braves: 93.1 mph
Mike Foltynewicz 96.4 mph, Kevin Gausman 93.6 mph, Sean Newcomb 93.0 mph, Mike Soroka 92.6 mph, Julio Teheran 89.7 mph
Foltynewicz enjoyed a breakout season behind one of MLB's hardest fastballs. However, Gausman's average velocity has dropped by nearly 2 mph since 2016, and Teheran's by 1.6 mph just since '17. Soroka is one of a handful of young Atlanta pitchers who could factor into the rotation, including lefty Luiz Gohara, who has averaged 96.2 mph as a starter in his young career.
9-tie) Cardinals: 93.1 mph
Miles Mikolas 93.9 mph, Michael Wacha 93.6 mph, Carlos Martínez 93.5 mph, Jack Flaherty 92.6 mph, Adam Wainwright 89.5 mph
Martinez averaged 95.6 mph in 2017, but he is coming off a frustrating year that included three DL stints and time in the bullpen. Wainwright's lack of velocity is a frequent topic as well, but it ticked up a bit when he returned late in the year, and St. Louis re-signed the 37-year-old for another year. One thing to watch is whether flame-throwing Alex Reyes stays healthy and gets a chance to start.
9-tie) Pirates: 93.1 mph
Jameson Taillon 95.2 mph, Chris Archer 94.7 mph, Joe Musgrove 93.0 mph, Jordan Lyles 92.9 mph, Trevor Williams 90.4 mph
This could be an underrated group, led by Taillon, who broke out in 2018 while topping 95 mph with both his four-seamer and sinker. On the other hand, Archer's velocity was down nearly 1 mph from '17. Williams' velocity also declined (from 91.8 mph), yet he got great results by limiting hard contact.
And here are the bottom five teams on the list:
26)Giants: 91.1 mph
27) Brewers: 91.0 mph
28) Cubs: 90.4 mph
29) A's: 89.9 mph
30) Mariners: 88.7 mph
Three of these teams made the postseason last year, and four finished above .500, so there is obviously much more to winning than just having a hard-throwing rotation. (Though it should be noted that none of the five finished higher than 13th in starting pitching WAR, according to FanGraphs.)
A big question for the Giants is the health of Madison Bumgarner, Jeff Samardzija and the newly signed Drew Pomeranz, the latter two having suffered significant velocity declines last year. The Brewers would move up with a healthy return from Jimmy Nelson and more starts for young arms such as Brandon Woodruff and Corbin Burnes. The Cubs' veteran staff is highly accomplished but not high octane -- though a Yu Darvish rebound would help. Rookie left-handers Jesus Luzardo (MLB Pipeline's No. 12 prospect) and Yusei Kikuchi didn't count for this exercise, but they could be big boosts for Oakland and Seattle, respectively. However, with Paxton traded, no returning Mariners starter averaged above 90.1 mph last year.