Billy Joel
Minute Maid Park - Friday, September 23, 2022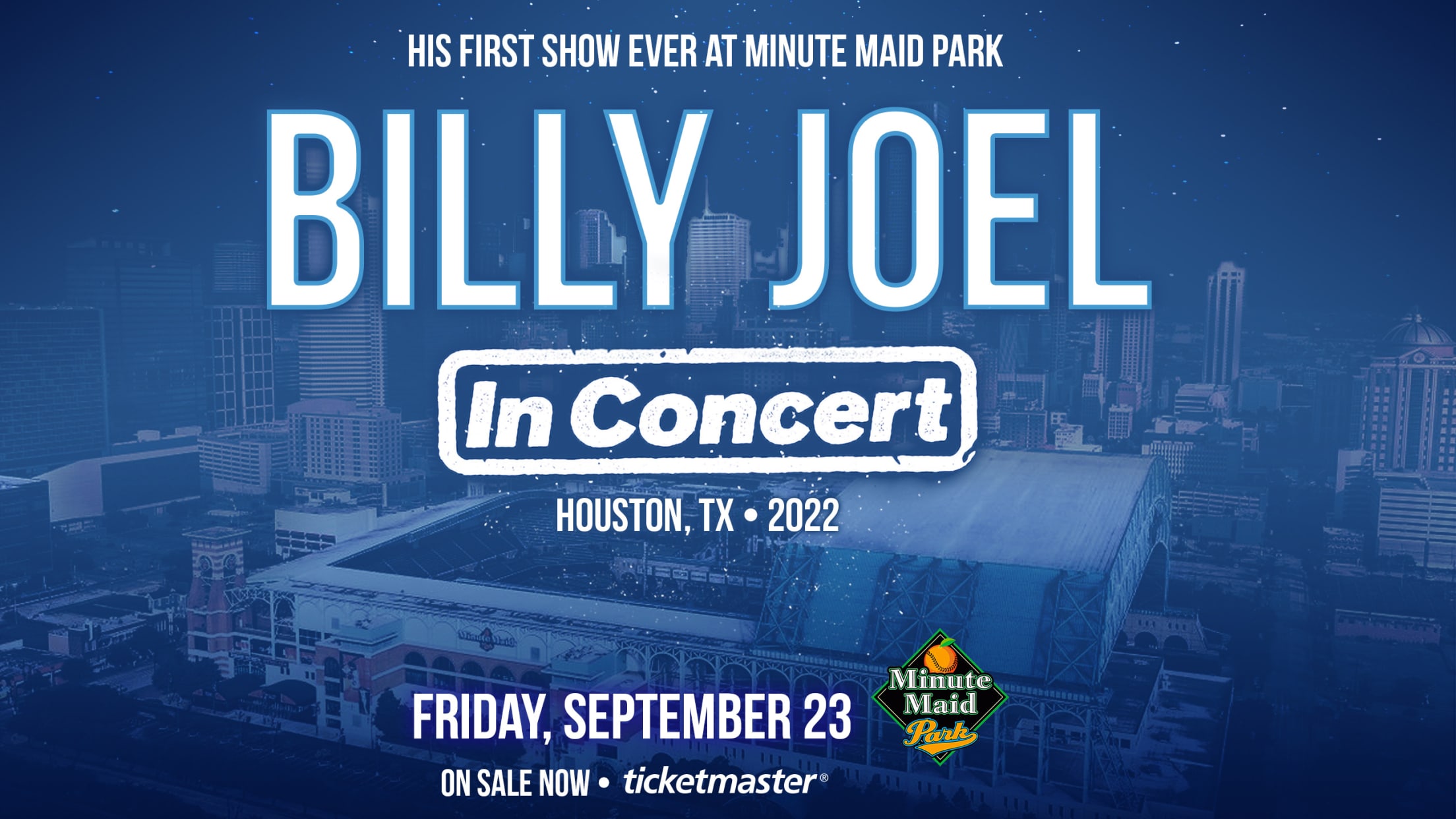 Legendary musician and songwriter Billy Joel is coming to Houston, TX, to make his Minute Maid Park debut on Friday, September 23, 2022, at 8:00pm.
Concert Information
Location: Minute Maid Park
Date: Friday, September 23, 2022
Time: 8:00pm
Parking
---
Please note, the foul ball netting stays up during concerts.
Camera policy:
There will be no cameras, still or video, allowed to enter the Ballpark.
Outside Food & Beverage Policy:
No outside food or beverage will be permitted in the Ballpark.
Exit / Re-Entry Policy:
There is no re-entry into the ballpark once fans are scanned in. All fans must either have their printed tickets in hand or on their mobile devices.
PROHIBITED ITEMS
The following items will not be permitted inside Minute Maid Park:
Aerosol cans
Alcohol
Animals (except for service animals)
Bags larger than 16" x 16" x 8"
Backpacks
Baseball Bats and Ball retrievers
No signs of any size allowed to enter the Ballpark
No signs may be affixed to the ballpark
Beverages
Clothing deemed obscene or indecent
Coolers including hard sided and Styrofoam coolers
Costumes / Costume masks
Drones
Fireworks
Folding chairs
Hover boards and other personal recreational devices
Inflatables (i.e. beach balls, basketballs, balloons)
Illegal drugs
Large chains, spiked bracelets or wallet chains
Large Umbrellas (must be compact)
Laser pointers
Luggage
Noise makers (whistles, horns, bells, etc.)
Poles or sticks of any kind (i.e. flagpoles, broom handles, nets, selfie sticks)
Professional camera, audio or video recording devices
Seat cushions
Skateboards, roller skates, roller shoes, bicycles, wagons for children
Tripods, bipods, or monopods
Weapons - including but not limited to firearms, knives, mace
Any item deemed to be inappropriate, hazardous, distasteful
Video cameras and the use of video capable devices including GoPro Devices
Fans are reminded to leave all prohibited items at home.