ATL-LA NLCS Gm. 1 lineups, FAQ (FOX, 8 ET)
The Braves and Dodgers will extend their recent playoff history when they meet in the National League Championship Series. This marks the third time in the past eight years, and second time in three years, these two teams have met in the postseason. But this is the first time they
The Braves and Dodgers will extend their recent playoff history when they meet in the National League Championship Series.
This marks the third time in the past eight years, and second time in three years, these two teams have met in the postseason. But this is the first time they meet in the NLCS, starting Monday at Globe Life Field in Arlington.
• NLCS presented by Camping World, Game 1: 8 p.m. ET/ 5 p.m. PT on FOX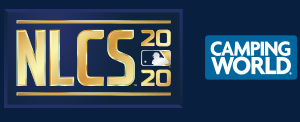 Although the Braves might once again be considered underdogs, they match up much better than they did when they faced the Dodgers in the NL Division Series in both 2013 and '18. Ronald Acuña Jr., Freddie Freeman and Marcell Ozuna sit atop an Atlanta lineup that has been nearly as potent as Los Angeles' offense, which joined former MVP Award winners Mookie Betts and Cody Bellinger this year.
• LA juggernaut cruises to 4th NLCS in 5 years
But while the Braves' offense has been a focal point all season, Atlanta's pitching staff has stolen the spotlight while recording shutouts in four of the team's five postseason games.
• 'This team is special': Braves sweep to NLCS
Here are some of the questions you might have about Game 1 of this series:
When is the game and how can I watch it?
The game will air Monday night at 8 ET/5 PT on FOX. It also will be available to stream on MLB.TV with authentication.
Which is the home club? As the No. 1 seed, determined by overall record, the Dodgers will be the home team and bat last in Games 1, 2 and 6 and 7 (if necessary). The Braves will be the home team in Games 3, 4 and 5 (if necessary).
What do the starting lineups look like?
Braves: Freeman is a front-runner for the NL MVP Award, and Ozuna led the NL with 18 home runs this year. Both continue to benefit from Acuña providing power and speed in the leadoff spot.
1) Ronald Acuña Jr., CF
2) Freddie Freeman, 1B
3) Marcell Ozuna, DH
4) Travis d'Arnaud, C
5) Ozzie Albies, 2B
6) Dansby Swanson, SS
7) Adam Duvall, LF
8) Nick Markakis, RF
9) Austin Riley, 3B
Dodgers: The offense gained traction this year once Betts became the permanent leadoff hitter with Corey Seager behind him. Although the Dodgers led the Majors in home runs, they've also showed the ability to transition to spacious Globe Life Field with a pass-the-baton offense that pounded out 14 hits without a home run in the NLDS clincher.
1) Mookie Betts, RF
2) Corey Seager, SS
3) Justin Turner, 3B
4) Max Muncy, 1B
5) Will Smith, C
6) Cody Bellinger, CF
7) AJ Pollock, DH
8) Enrique Hernández, 2B
9) Chris Taylor, LF
Who are the starting pitchers?
Braves: Max Fried (0-0, 3.27 ERA in postseason)
Fried will be looking to rebound after allowing four runs over just four innings in Game 1 of the NLDS against the Marlins. The lefty had been coming off seven scoreless innings in his first career postseason start in Game 1 of the Wild Card Series against the Reds. He was an NL Cy Young Award candidate before lower back spasms sidelined him for nearly two weeks in September.
Dodgers: Walker Buehler (0-0, 3.38 ERA in postseason)
Because of his right index finger blister, Buehler has become a four-inning pitcher. But he's had the opener for the first two postseason series and will again for the NLCS, followed by Clayton Kershaw in Game 2. The Dodgers piggybacked Buehler with Julio Urías in the Wild Card Series and Dustin May in the NLDS, although with no days off in a best-of-seven series, that won't be likely this time around.
• LA sticks to plan: Buehler in G1, Kershaw G2
How will the bullpens line up after the starter?
Braves: With three days separating the end of the NLDS and start of the NLCS, the Braves will enter fully rested. The depth of their bullpen could prove influential. Closer Mark Melancon, Will Smith, Darren O'Day and Tyler Matzek all worked during Games 1 and 2 of the NLDS, while top high-leverage options Chris Martin and Shane Greene each made one appearance. An improved A.J. Minter and a healthy Jacob Webb give Atlanta the game's deepest bullpen.
Dodgers: Let's start at the end. Official or not, Kenley Jansen isn't the closer. Management might not even want one, preferring to select relievers based on favorable matchups, as when Brusdar Graterol came on in Game 2 in the seventh inning to face Fernando Tatis Jr. Graterol throws hard, but lacks the punchout. Blake Treinen has improved from last year, but he rarely gets the ball in the ninth inning. Joe Kelly has been erratic. Pedro Báez pitched well on Thursday.
Are there any relievers who are unavailable?
Braves: No
Dodgers: No
Any injuries of note?
Braves: Mike Soroka tore his right Achilles tendon on Aug. 3, and Cole Hamels ended up making just one start this season because of a weak left shoulder.
Dodgers: Left-hander Caleb Ferguson is sidelined after undergoing Tommy John surgery.
Who is hot and who is not?
Braves: d'Arnaud is 8-for-19 with two doubles, two homers and a 1.342 OPS through five games this postseason. Freeman is 3-for-18 with no extra-base hits, and Albies has gone 4-for-20 with one double.
Dodgers: Betts has five doubles in five postseason games. Smith had five hits Thursday. Seager has been just as consistent as Betts, without the buzz. Bellinger is somewhere between last year's NL MVP Award-winning form and this year's season-long struggle. Muncy still isn't mashing, but he's walking more and striking out less.
Mark Bowman has covered the Braves for MLB.com since 2001.
Ken Gurnick has covered the Dodgers for MLB.com since 2001.