Revamped bullpen stumbles in walk-off defeat
Recently acquired reliever Martin surrenders decisive homer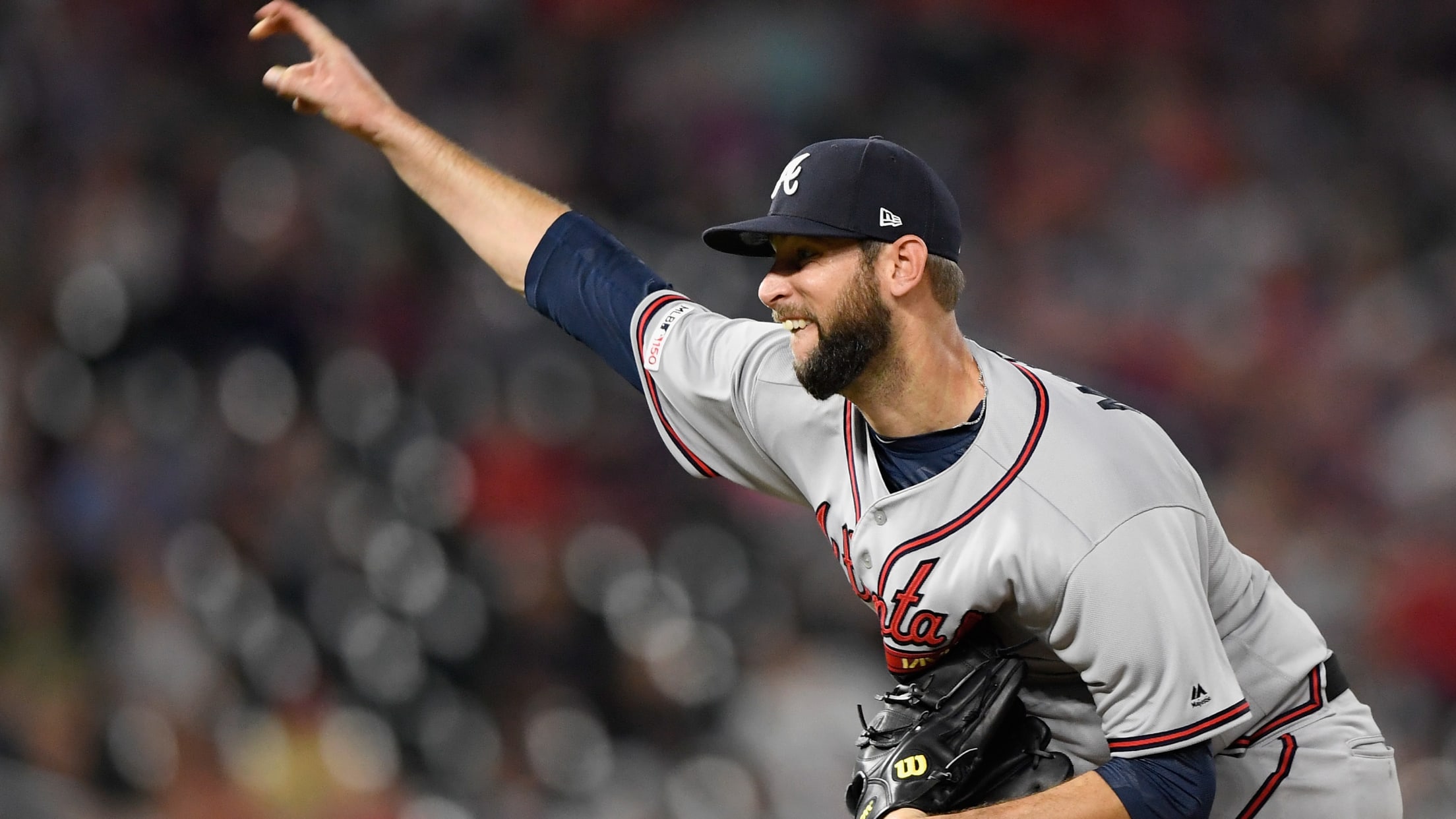 MINNEAPOLIS -- If he were still playing, Chipper Jones would have assessed these past three days by saying the baseball gods were having fun at the Braves' expense. There certainly wasn't reason to laugh when Chris Martin surrendered a walk-off homer that gave the Twins a 5-3 win at Target
MINNEAPOLIS -- If he were still playing, Chipper Jones would have assessed these past three days by saying the baseball gods were having fun at the Braves' expense.
There certainly wasn't reason to laugh when Chris Martin surrendered a walk-off homer that gave the Twins a 5-3 win at Target Field on Monday night. But despite the fact two of their new top relievers have experienced a rough initiation to their new environment, the Braves aren't hitting the panic button.
"I have a lot of confidence in every one of those guys down there," Braves manager Brian Snitker said. "They've all been in stressful innings, the whole bullpen pretty much. There's a little bit of newness to it right now. It's going to take a while to be hitting on all cylinders for everybody."
As outfielder Ronald Acuna Jr. began jogging toward the dugout well before Miguel Sano's 443-foot game-ending blast sailed over the center-field wall, the Braves were forced to face the reality that acquiring three new relievers before last week's Trade Deadline provided no guarantees. Their new closer Shane Greene blew a save on Saturday night and then surrendered a decisive three-run homer in Sunday's series finale against the Reds.
So it's safe to say, this was not a good time for Martin to allow a run for the first time in a Braves uniform. Along with following Greene's two frustrating outings, this appearance squandered the impressive effort made by Mike Soroka, who allowed three runs over seven innings against one of the game's most potent lineups.
"I'm not adding extra pressure on myself," Martin said. "I'm going out there and doing the same thing I normally would. It hits a little harder when it's a new team and with what's been going on the past few days. Short-term memory. If we get on a roll tomorrow, everybody forgets about this."
Just a few bad games, right? Maybe. For now the Braves can only hope this was just one of those stretches when bad things occur in threes. They do have the luxury of still having a six-game lead in the National League East. But their new bullpen was supposed to make life easier down the stretch.
"These guys are putting their heart and soul into it," Soroka said. "They understand the special team we have, and they're excited to be here. We know what they can do, and we have no doubt over the long-term course, it's going to get done."
It hasn't been all bad for Atlanta's new bullpen trio. Mark Melancon followed Soroka by providing his second scoreless appearance since being acquired from the Giants. With Greene unavailable after pitching the previous two days, Snitker gave the ninth inning to Martin, who was acquired from the Rangers to serve as the primary setup man.
While the Braves certainly weren't expecting to see Greene allow four earned runs through his first two innings, or one less than he did over 38 innings for Detroit, Martin being damaged by the long ball was not necessarily an unexpected result.
Martin's entered Monday with a 1.37 ERA over his last 20 appearances (19 2/3 innings). But he has now allowed nine homers over 39 2/3 innings, or one every 16.6 at-bats. The 2.04 home runs he's allowed per nine innings would have ranked as the eighth-highest rate among qualified relievers entering this series.
Of course, there have been plenty of others who have been damaged by the incredible power of Sano, who has homered once every 11.8 at-bats while totaling 19 through just 63 games (224 at-bats) this year. The Twins' right-handed slugger looked at a slider and then jumped on a 0-1 cutter that stayed on the outer third of the plate.
"I just didn't execute the pitch," Martin said. "That was supposed to be off the plate, get him leaning out a little bit and then go from there. Obviously, you saw what happened."
Everyone has seen what has happened to the Braves' upgraded bullpen over the past few days. There's certainly a chance this plot will soon turn toward its expected direction. But even if there's a happy ending, nobody is going to forget how the story began.
"There's a bunch of veteran guys down there," Martin said. "We know how this game is. It's tough. You go out there sometimes and make the pitches and still get beat. That's just the way it goes. You've got to have short-term memory."
Mark Bowman has covered the Braves for MLB.com since 2001.