Q&A: Coppolella on challenges Braves face
GM discusses frustration of 0-9 start, team's commitment to sustainable success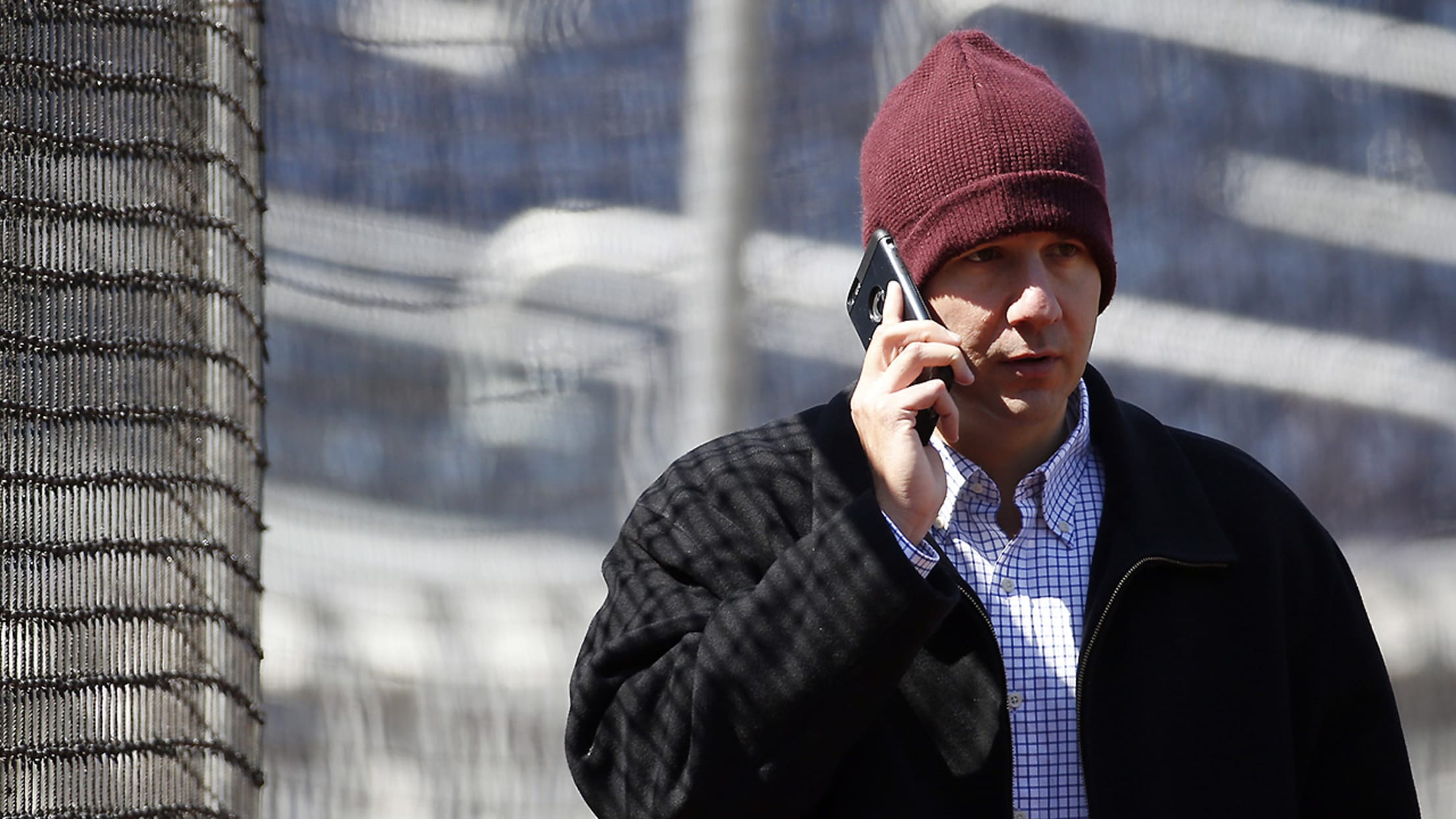 General manager John Coppolella is frustrated by the Braves' start, but he feels the team is better than it was in 2015. (AP) (Alex Brandon/AP)
Braves general manager John Coppolella has engineered the massive rebuilding process since the conclusion of the 2014 season, enriching the club's future via the acquisition of many highly regarded prospects. But while the Braves were aiming to be more competitive than they were during last season's second half, they are
Braves general manager John Coppolella has engineered the massive rebuilding process since the conclusion of the 2014 season, enriching the club's future via the acquisition of many highly regarded prospects. But while the Braves were aiming to be more competitive than they were during last season's second half, they are off to a 0-9 start.
During a conversation with MLB.com, Coppolella discussed this disappointing start, the club's direction and what he hopes Braves fans will experience this year and beyond.
MLB.com: The early-season schedule will not get much easier, and it has already pitted your team against the Nationals and Cardinals. How has this impacted the start?
Coppolella: It's been a challenging schedule, and unfortunately, we haven't been able to meet the challenge. The schedule will get better for us as the season progresses, but ultimately it comes down to our execution, and we haven't played up to our abilities early in the season. It's very disappointing.
MLB.com: You agonized through the 1-19 stretch your team endured during last year's second half. Has the start of this season been more frustrating?
Coppolella: It's different, because we had the opportunity to win five of the first seven games with leads late into the game. During that horrific streak last season, we were getting blown out. But in 2016, we have just fallen short of one big hit, one big play or one big pitch. It's harder now, because it's at the start of a season, where it gets magnified. We also feel that we have a better team than we did in 2015.
MLB.com: Is it fair to say that injuries have played a part in these early-season struggles?
Coppolella: We lost Ender Inciarte -- likely for a few weeks -- in the third game of the season. We lost Danny Winkler for the year in the fifth game of the season. Jason Grilli and Jim Johnson are still working their way back into shape from offseason surgery. However, every team has injuries, and we just need to play better with the players we have who are healthy. Injuries should not be an excuse.
MLB.com: It has been your goal from the very beginning to build the Braves back into a team that can have sustainable long-term success. What does that mean for 2016?
Coppolella: From a talent pool and financial resources standpoint, 2016 is tougher for us than the upcoming years will be. But that challenge presents opportunity, and many of the young players we have acquired over the past 18 months could surface in Atlanta this season. Inciarte's injury presented an opportunity for Mallex Smith getting called up, and it's possible we could see at least a half-dozen more young pitchers and hitters.
MLB.com: How do you handle the frustration associated with such a bad start?
Coppolella: We have a great support system in place, starting at the very top with Terry McGuirk, John Schuerholz, John Hart and Bobby Cox. All four of these men have been through similar situations and understand what we're going through and what we are building toward for our fans. At the same time, on a personal level, it's excruciating. I feel so much responsibility to these four men, and especially to our fans, for such a poor start.
MLB.com: How important is winning?
Coppolella: It's everything. The Braves are a gold-standard organization, and to start out the season in this manner is embarrassing and unacceptable. John Schuerholz and John Hart have been great mentors in terms of trying to keep things in perspective. We have so many other great things going on in other areas of our organization, but we do need to start playing better and winning more games.
MLB.com: Is manager Fredi Gonzalez's job in danger if this losing continues?
Coppolella: We care about Fredi, and we all hope we can turn things around and start winning games. That will take pressure off everybody.
MLB.com: How do you deal with the pressure?
Coppolella: We understand where we are in the cycle of this process. We're in the second year of this plan, and we have made incredible progress in so many areas. We can't let a poor start and a small sample size overshadow so many other things. We know we are better than our record indicates. More importantly, we know there are better days ahead for our organization and our fans. Nothing productive comes from panic.
MLB.com: You've pointed to the Royals, Pirates, Cubs, Astros and Mets as teams you are trying to emulate.
Coppolella: All of those teams have done great work, but it took time. Our fans are terrific, and they deserve so much better than this and have every right in the world to be frustrated -- we are all frustrated. Go read the newspaper clippings for the Royals, Pirates, Cubs, Astros and Mets. I'm sure the fans of the Royals, Pirates, Cubs, Astros and Mets were frustrated a few years ago. John Schuerholz gave me a great article last week about Dayton Moore and how he rebuilt the Royals. It took Kansas City nine years to reach the playoffs, and the Royals started out 3-14 in 2012 [their seventh year under Moore], but they stayed patient and were ultimately rewarded.
MLB.com: What message do you want to send to Braves fans and Braves Country?
Coppolella: John Schuerholz said: "Winners make commitments and losers make excuses." We aren't going to make excuses for our terrible start -- close games, tough schedule, injuries -- we just haven't done the job. We have made a commitment. We are committed to playing better in 2016. We are committed to our plan of building through the many young and exciting players in our top-rated farm system. And, above all else, we are committed to bringing another World Series to the city of Atlanta and to Braves fans.
Mark Bowman is a reporter for MLB.com.