Inbox: What to expect from Hamels, Félix?
Beat reporter Mark Bowman answers fans' questions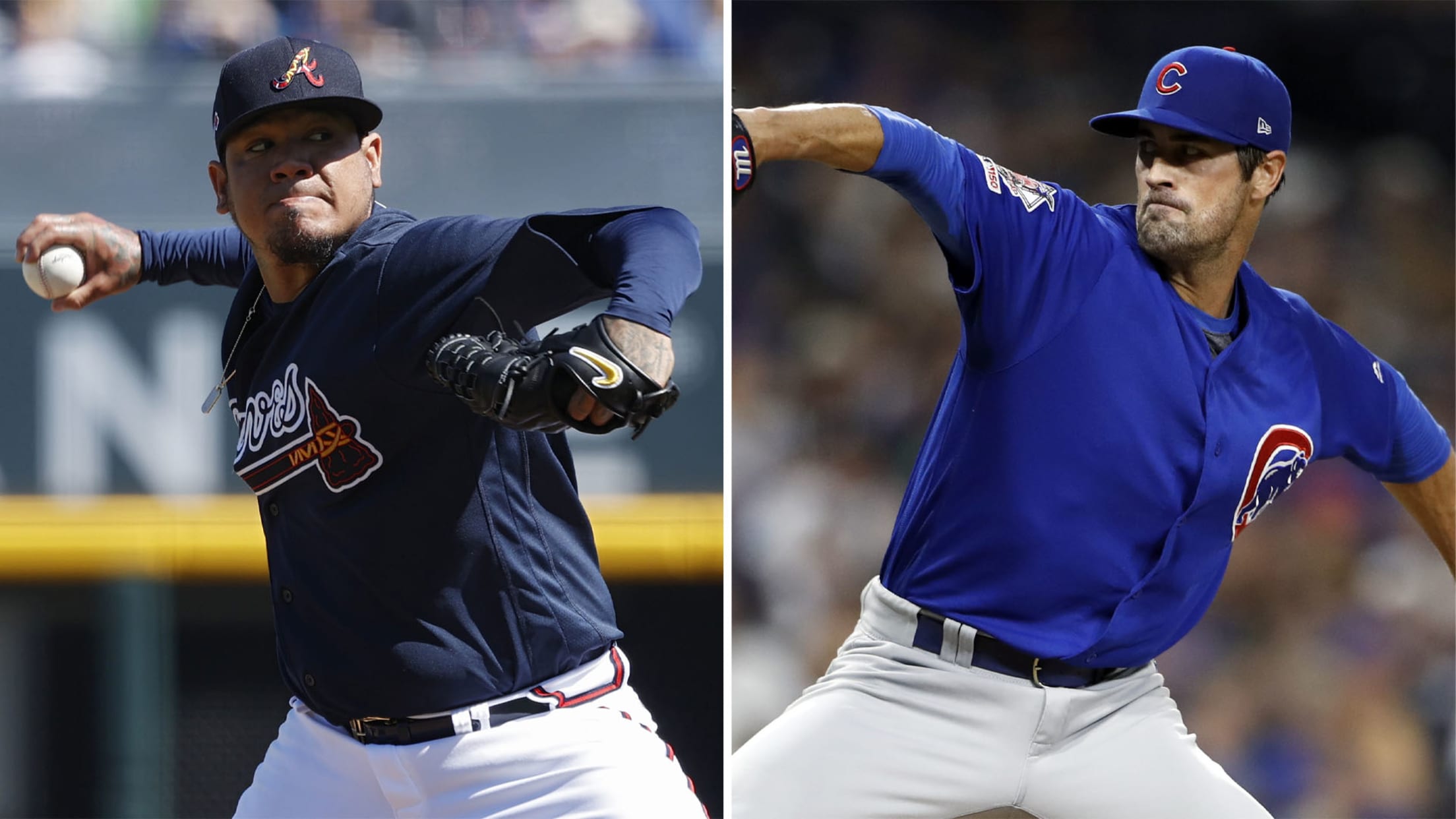 Now, that teams are gearing up for Summer Camp and the start of the 2020 season, it's time to bring the Braves Inbox back for the first time since the coronavirus shut things down back in March. This week's edition includes questions about the rotation and roster. As a bonus,
Now, that teams are gearing up for Summer Camp and the start of the 2020 season, it's time to bring the Braves Inbox back for the first time since the coronavirus shut things down back in March. This week's edition includes questions about the rotation and roster. As a bonus, you'll find a funny memory from Fredi Gonzalez's days as Atlanta's third-base coach.
• Braves FAQ: Details on the upcoming season
In your opinion, what can we expect from Cole Hamels?
-- Brian Swick
One primary concern about the Braves signing Hamels to a one-year, $18 million deal was the fact his left shoulder was a problem at the end of last season. Yeah, he came back to strike out eight Cardinals over four innings with 11 days of rest on Sept. 28. But that certainly wouldn't have been enough for me to make this investment, which obviously became more concerning when a weighted ball exercise aggravated the left shoulder again in late January.
At least six weeks had passed between Hamels incurring this ailment and Spring Training shutting down without him having ever thrown a baseball. Had the coronavirus shutdown not occurred, the veteran southpaw may not have joined Atlanta's rotation before the end of May. Then, fingers would have been crossed over the course of four months and a postseason.
• Braves expect Hamels to be ready for season
But now, there's reason to be more optimistic what the Braves could receive from Hamels. Along with getting a few more months to rest, Hamels is now looking at the possibility of having to make approximately 12 regular season starts. We also know the first two starts will likely consist of less than five innings.
So this new landscape could certainly benefit the value of this investment. Thoughts of him possibly entering a postseason having completed about 65-75 innings is much more comforting than gambling on the shoulder staying strong over the course of a traditional season.
Will Félix Hernández throw an MLB pitch for the Braves?
-- @rbi_shop
Barring an injury, I would expect to see Hernández on the Braves' Opening Day roster. His one-year, $1 million deal puts him at a pro-rated cost of a little less than $400,000. That could be a bargain if his presence and ability to eat innings leads to an extra win or two during this shortened season.
As impressive as Hernández was during the first couple weeks of this year's Grapefruit League season, it was going to be interesting to see how his stuff would have played once he started facing a greater percentage of big leaguers near the end of camp.
The Braves will no longer have a chance to evaluate Hernández over multiple preseason starts. But when you account for the cost and experience, there's certainly reason to believe he could be crafty enough to take advantage of hitters, who I believe will remain "behind" the pitchers during the season's first couple weeks.
Will the Braves use a six-man rotation to at least start the season?
-- @FoxHollowFilms
As you've likely read or heard, the Braves are planning to piggyback many of their starters while working with the luxury of a 30-man roster within the regular season's first two weeks. This means most starters will throw 3-4 innings and then be followed by a reliever targeted to also complete approximately three innings.
• FAQ: Roster and transaction rules for 2020
With this arrangement, it would be very easy to utilize what could be described as a six-man rotation. If facing a team that seems to be weaker against left-handed pitching, Sean Newcomb could be considered a better option than Hernández. Five days later, if the opponent appears more susceptible to right-handed pitcher, it may make more sense to start Hernández and have Newcomb available out of the bullpen.
Who would the first options be to get dropped from the 40-man to open up spots?
-- @bravesdaniel
When weighing the possibility of Hernández being on the Opening Day roster, it must be remembered that he is not on the 40-man roster. Neither are Charlie Culberson or Josh Tomlin. So in order to fit all three on the 40-man, the Braves would currently have to create two spots.
Glancing at the 40-man, I'd say the two most likely candidates to be removed would be left-handed reliever Grant Dayton or right-handed reliever Chad Sobotka. Dayton's value is reduced with the presence of the three-batter minimum rule, and Sobotka has struggled to regain that great promise he showed at the end of 2018.
Still, it's never easy to sacrifice pitching depth. So, Hernández, Culberson and Tomlin will all need to build strong cases over the next few weeks.
Who are the top 5 first-base coaches in Braves history?
-- @ericfedwards
Since I started this first-base coach thing with my Twitter request, I'll bite by giving you a funny story about a question Fredi Gonzalez received while serving as Atlanta's third-base coach.
Shortly after Mark DeRosa committed four errors while playing third base at Coors Field on May 2, 2004, a media member approached Gonzalez and asked what he was doing to help DeRosa.
After Gonzalez responded with a puzzled look, the media member said, "Well, you are the third-base coach."
Mark Bowman has covered the Braves for MLB.com since 2001.